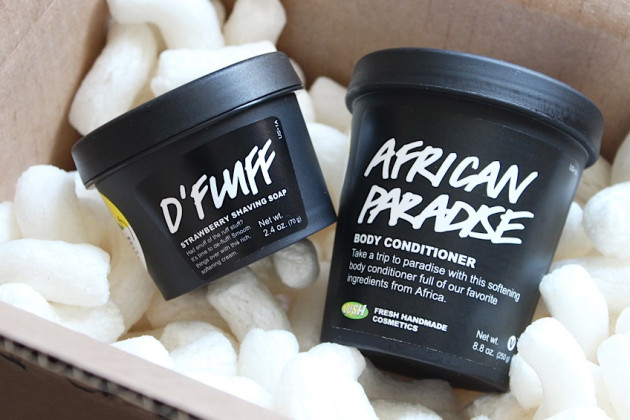 The products: LUSH D'Fluff Strawberry Shaving Soap, African Paradise Body Conditioner
New this summer to the permanent LUSH range are D'Fluff and African Paradise, two cruelty-free, self-preserving products.
Read on to find out what I thought of them, and in the meantime, maybe you could try to find it within yourselves to forgive me for all the body products I've been writing about recently. I don't know what's up with that, dude.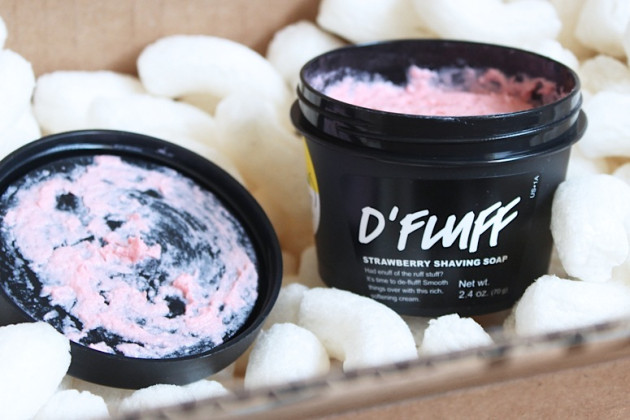 D'Fluff Strawberry Shaving Soap ($9.95 CAD/70g)
Inspired by strawberry marshmallow fluff (is that a real thing?? can I eat it??), D'Fluff is just as pink and fluffy as you'd expect. It feels like some sort of foam; like space-food from the future or something, and is scented with strawberry and vanilla. I wasn't crazy about the scent, but Ri loved it, so I guess it can really go either way!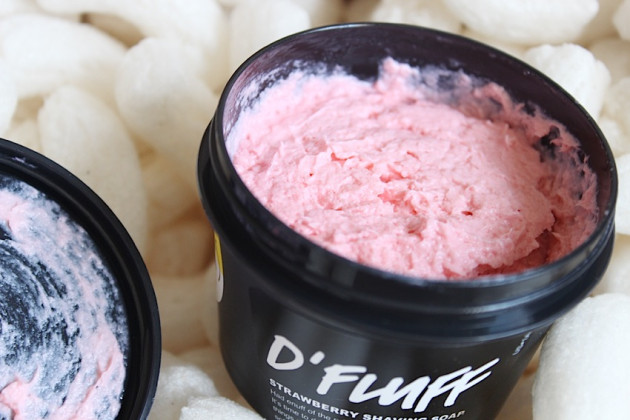 D'Fluff contains a ton of good stuff, from actual strawberries and egg whites to coconut oil and organic maple sugar. But, despite its cool texture and awesome ingredient list, I just couldn't get on board with its formula, either. It's pretty expensive at $9.95 CAD, and I found that I had to use a lot of product for each use — this pot would probably only last me a week, if I used it to shave my legs & underarms every day.
Cool as it is, I'd say skip D'Fluff, and opt for a good moisturizer instead. Followed up with African Paradise or pumpkin seed oil, I found that my skin felt just as soft shaving with good 'ol bar soap as it does shaving with D'Fluff.
LUSH D'Fluff Strawberry Shaving Soap ingredients: [EXPAND]
Water, Rapeseed Oil, Coconut Oil, Saccharide Hydrolysate, Glycerine, Organic Rose Hip Oil, Cocoa Butter, Fresh Strawberries, Egg Whites, Fragrance, Maple Sugar, Vanilla Absolute, Sweet Wild Orange Oil, Rose Absolute, Sodium Chloride, EDTA, Tetrasodium Editronate, Sodium Hydroxide, Titanium Dioxide, Eugenol, Limonene, Benzyl Alcohol, Hexyl Cinnamal, Red 27, Red 40. [/EXPAND]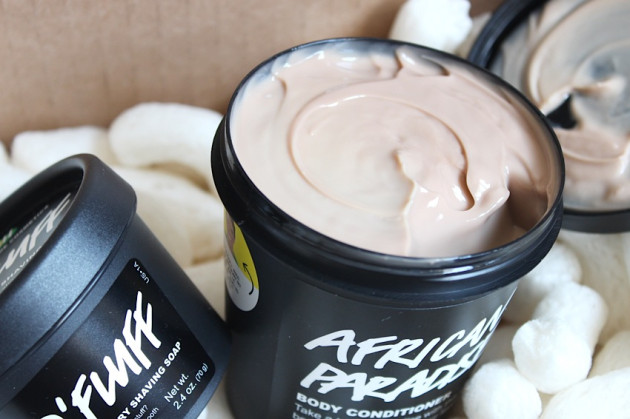 African Paradise Body Conditioner ($39.50 CAD/250g)
Named for its African-sourced Fair Trade ingredients, this body conditioner (also called a "shower smoothie," but thinking about drinking this really freaked me out) features shea buter & moringa oil from Ghana, plus aloe from Kenya. It's the first in-shower moisturizer that I've tried, but I'm actually really liking it — which surprised me, because I wasn't expecting it to do much for my super-dry skin!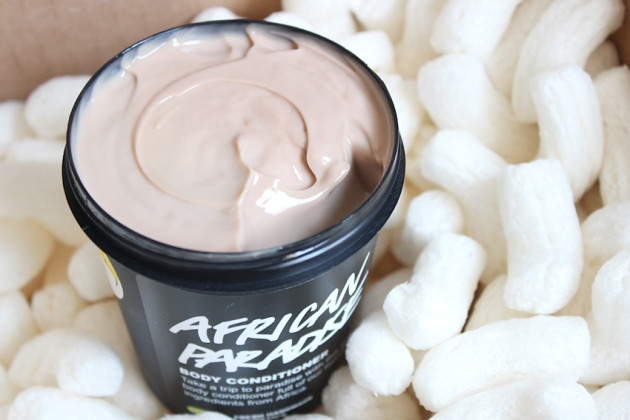 Glycerine-sticky and heavily fragranced, Lush's African Paradise Body Conditioner feels a little weird at first use. Once you rinse off (don't scrub!) and towel dry, though, the formula suddenly makes sense — the perfect amount of product gets left behind, and you end up with soft, scented skin long into the night. It's not as hydrating as an intensive moisturizer or body butter, but is super quick to apply and moisturizes about as well as your average drugstore lotion or body oil.
Worth noting too is that you actually need very little of this moisturizer for each use, so the 8.8 oz pot will go a long way. I've used this about twice as often as my little pot of D'Fluff, but while I'm halfway done the latter, I've barely made a dent in African Paradise.
LUSH African Paradise Body Conditioner ingredients:
Water, Glycerine, Almond Oil, Moringa Oil, Fresh Aloe Gel, Shea Butter, Stearic Acid, Marula Oil, Baobab Oil, Kalahari Melon Oil, Fragrance, Triethanolamine, Fresh Mango Juice, Cocoa Butter, Ylang Ylang Oil, Vanilla Absolute, Geranium Oil, Frangipani Absolute, Sicilian Lemon Oil, Cetearyl Alcohol, Benzyl Salicylate, Citral, Citronellol, Farnesol, Geraniol, Coumarin, Limonene, Linalool.
What are your favourite in-shower moisturizers? And, more importantly: do food-like products freak you out a little?
I think the problem is that I don't trust myself around them. Like, I'm scared that one day I'm going to let my guard down and accidentally maybe eat a little bit of them.