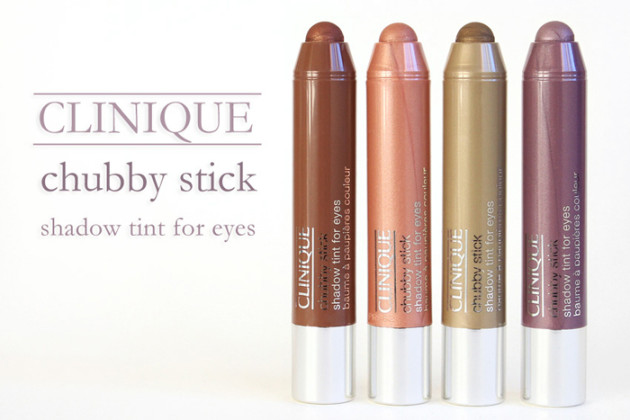 The product: Clinique Chubby Stick Shadow Tint for Eyes
↳ in 03 Fuller Fudge, 04 Ample Amber, 05 Whopping Willow, and 09 Lavish Lilac
When I heard Clinique was doing a Chubby Stick for Eyes, I was thrilled. A longtime fan of the original Chubby Sticks, I couldn't wait to see how these would fare on my finicky lids: would they be just as chic, smooth, and sheer? Or would they let me down, like so many other cream eyeshadows?
This review has taken me much too long to put together (I think I've had these since the end of January), but I hope you enjoy the post nonetheless.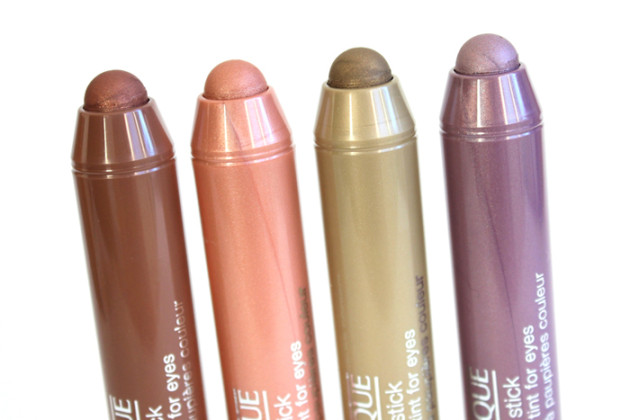 L-R: Clinique Fuller Fudge, Ample Amber, Whopping Willow, and Lavish Lilac
The formula: Designed to be sheer, buildable, and long-wearing, the Clinique Chubby Stick Shadow Tints for Eyes apply smoothly and blend out easily. I know layerable, medium-sheer products get a lot of flack in beauty blogging, but it's hard to fault these for it — after all, that's what they're designed to be.
I find these to be drier and more silky than most cream eyeshadows, in a way that makes them a dream to work with. There's no catching, sticking, or rush when you blend these out, and they're not going to crease if you open your eyes before they're fully set. The formula isn't flawless (more on that in "the wear,") but I really enjoy the shades & texture of the Chubby Sticks for Eyes.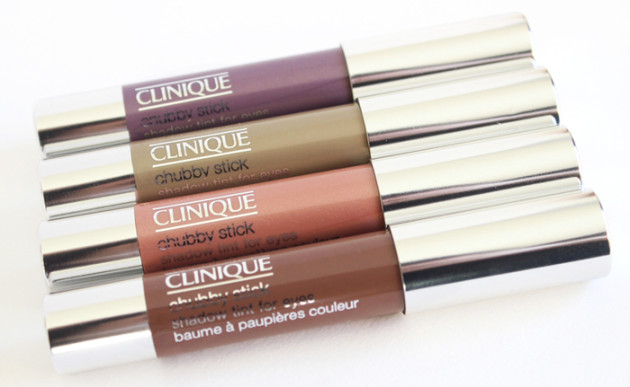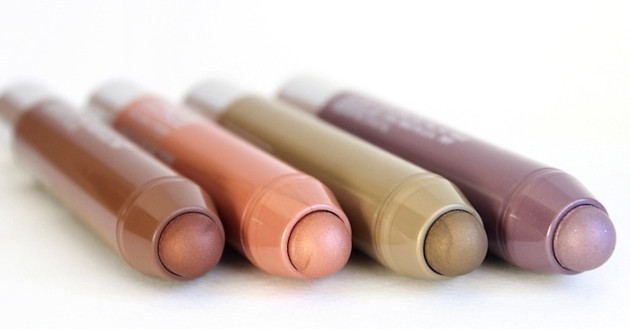 The packaging: The formula paired with a soft-click lid means that I have no worries about these drying out — I've been testing them on and off for at least five months, and the texture is no different. It's a nice change from potted cream eyeshadows with a six-month lifespan, and I like not having to store these upside-down to keep them from becoming unusable!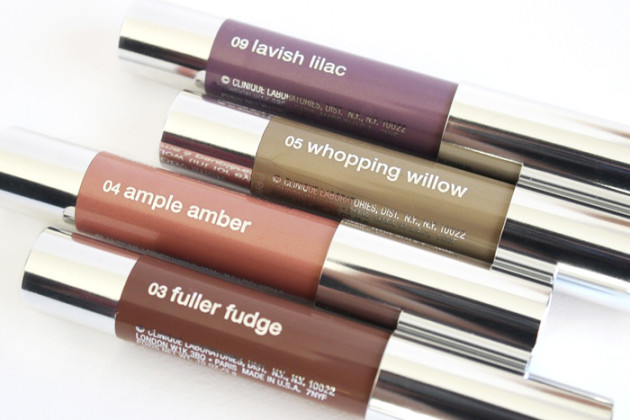 The wear: Like every other eyeshadow I've ever tried, I don't get all-day wear with these. I do get good wear, for my stubborn lids, however: overtop NARS Smudge Proof, I get 6-8 hours from these before the creasing becomes noticeable. (For comparison, 2-3 hours is the norm for cream eyeshadows on my lids.)
These weren't a holy grail product for me, but I've heard really great things about them from other bloggers – Christine, for instance, gets a solid 10-12 hours out of them!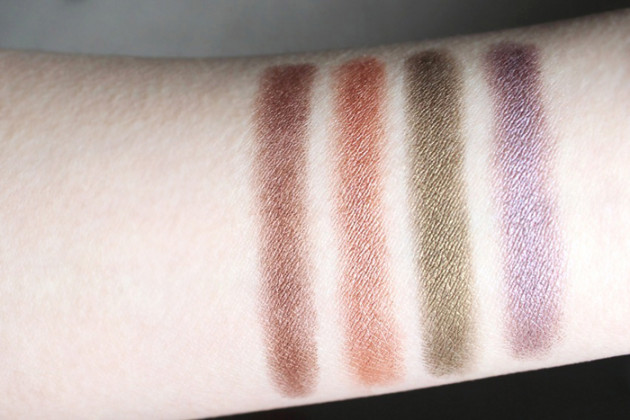 Swatched L-R: Clinique Fuller Fudge, Ample Amber, Whopping Willow, and Lavish Lilac
The shades: Finally, I get to talk about sparkly things!
As someone who likes colour, but doesn't always love a super-bold look, I really like the Clinique aesthetic. These Chubby Stick Shadow Tints are no exception: soft, flattering, and medium-sheer, they tout a slightly frosty finish (think "soft metallics," not "era makeup,") and contain gorgeous, dimensional microshimmer (everything from fuchsia to light blue, all in tiny amounts) to add mesmerizing depth.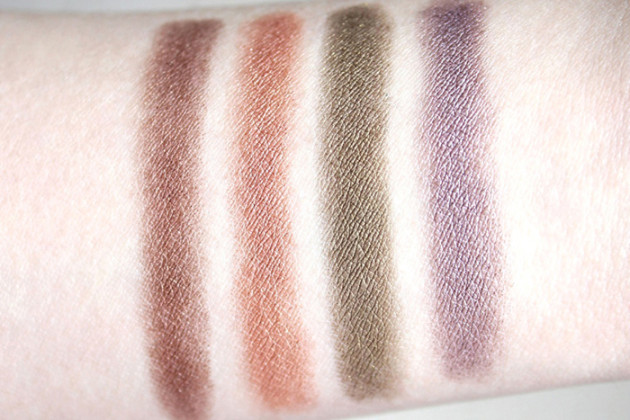 So, quickly: 03 Fuller Fudge is a warm bronzed-brown with a frost finish and red undertones. 04 Ample Amber is a bit similar (in that they're both warm and would pair together beautifully), a slightly-coppery soft amber "everyday" shade.
05 Whopping Willow is an mossy olive/khaki green with a distinct "old gold" sheen – a great not-quite-neutral for anyone starting to wear colour. Finally, the metallic 09 Lavish Lilac is my favourite of the bunch: a beautiful, silvery-grey lilac, it's perfect for both spring looks (try it with a cool taupe) and autumn ones (pair it with a chocolate brown in the crease).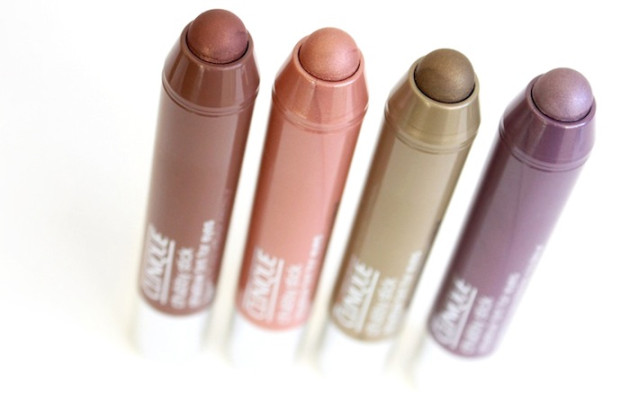 The verdict?
If you love cream eyeshadows, I'd probably skip these. But here's the catch: if you love the theory of cream eyeshadows, these might just be perfect for you. 
With a drier, smoother formula and a softer finish, these are sort of the cream-to-powder product of the eyeshadow world. I'd say give them a pass if you want startling, opaque colour, but try them out if cream eyeshadows have never quite worked the way you wanted them to.
(Or if you love subtle, shimmering shades. These are actually medium-opaque if you ask me, and they're very, very pretty!)
Availability: $16 USD/$19 CAD, in-stores and online. All 12 shades are permanent.