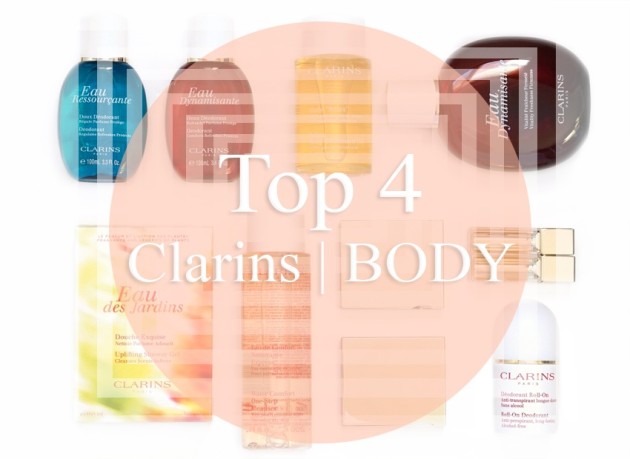 I've loved a lot of Clarins over the years: their Mineral Eye Palettes, for one, or their lipsticks. (Or, right now, their One-Step Water Cleanser, which smells like peaches. I love the smell of peaches.) So, when they asked me if I wanted to pick out my four favourite body products from the line, I was like, YES PLEASE, I WILL DO THIS.
It's always a little hard to find skincare favourites when you can't use silicones, but here are my four top products from the line!
» Shop my favourites here with free shipping on all orders (use code RAE at checkout!)
4. Eau Ressourçante Gentle Fragranced Deodorant (
$25 CAD
)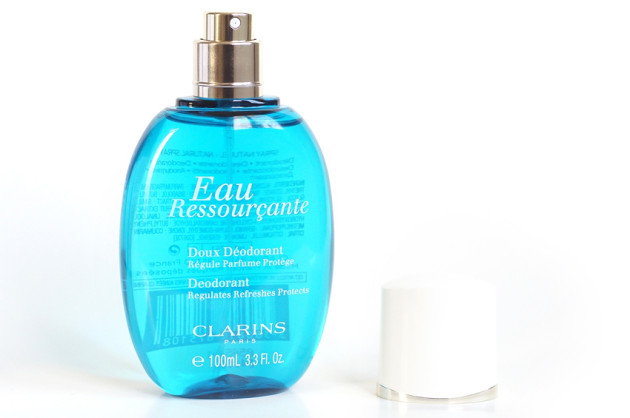 Clarins Gentle Fragranced Deodorants
I can't actually use Clarins' spray-on deodorants (I swear the internet implied that they would be 'cone-free somewhere, but apparently not so), but they're just so unique.
I mean, a non-aerosolized deodorant that you spray on that's scented with a proper fragrance, rather than a fruity $2 Unilever blend? You gotta give points for coolness. (And this packaging is totally too classy for my underarms — I feel like I'm about to grab lunch with Moira Queen or something.)
A runner up for my cool-cred favourite was Clarins' Eau Dynamissante Treatment Fragrance, which is insanely huge. It's bigger than a baby's head, and when you pair the scent with the way that the bottle is styled, it gives off major '80s mob boss' wife vibes.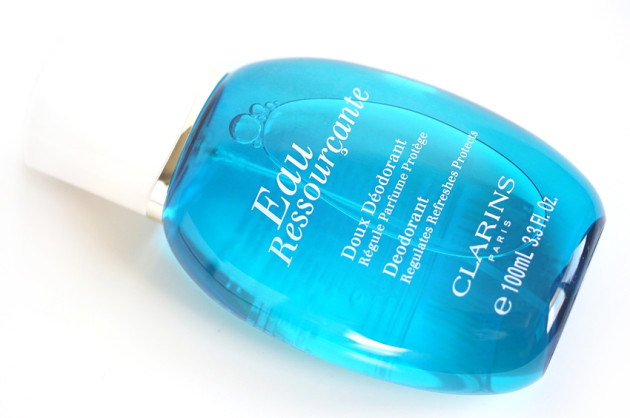 Clarins Eau Ressourçant Deodorant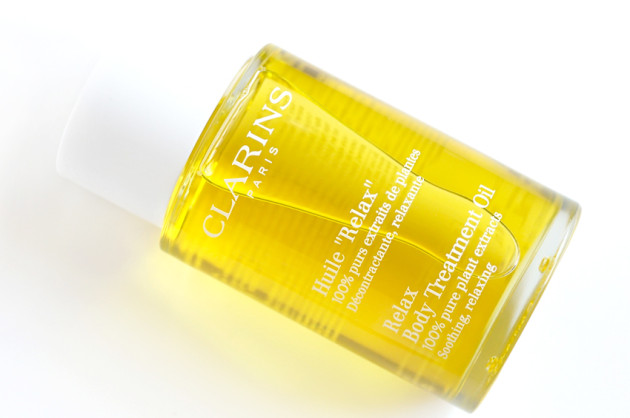 Clarins Relax Body Treatment Oil
3. Relax Body Oil ($57 CAD)
I like to keep my body oils as affordable as possible, but every now and then, a girl's gotta splurge.
Clarins makes three: Relax, which smells very herby and spa-like (it's similar this oil, but in way better packaging) with geranium, petit grain, camomile, and basil extracts; "Anti Eau," which is meant to–and I quote–"prevent sponginess" by eliminating toxins; and Tonic, with a lot of citrus and rosemary to its scent.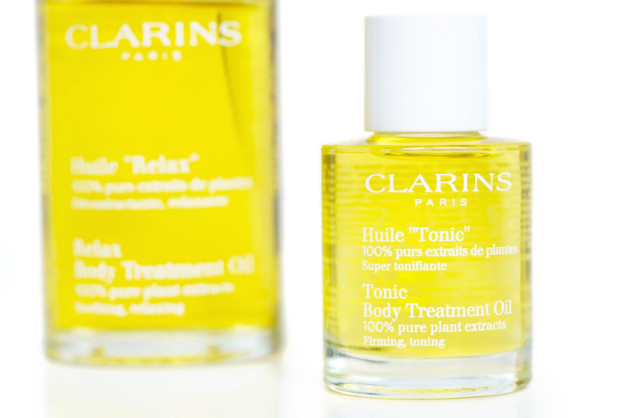 Lookit the tiny baby Tonic Body Treatment Oil! So tiny!
All three are preservative-free with a base of hazelnut oil, and they come in the most gorgeous glass bottles. Unlike the rest of the Clarins Body range, which I can find to be rather perilous (especially those damn shower gels!), the Body Oils are hefty and easy to use, and the smooth lids and heavy glass packaging seriously class up the product.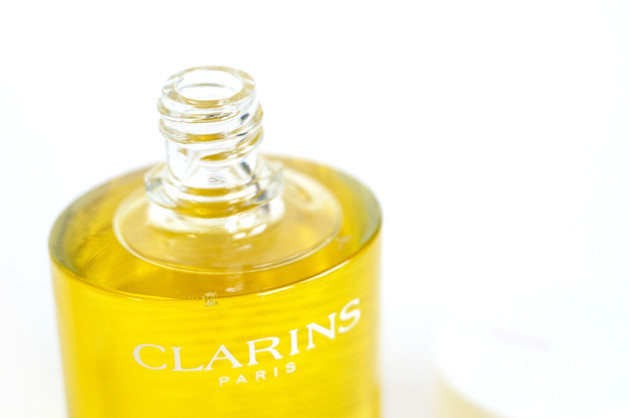 Clarins Body Oil packaging
2. Eau des Jardins ($53 CAD)
I'm using the Eau des Jardins Uplifting Shower Gel ($37 CAD) right now, and while the box is gorgeous, the bottle itself is pretty (charmingly?) comical. I mean, it smells great, but it is constantly falling over in my shower with its wide, flat body and tiny, tiny base!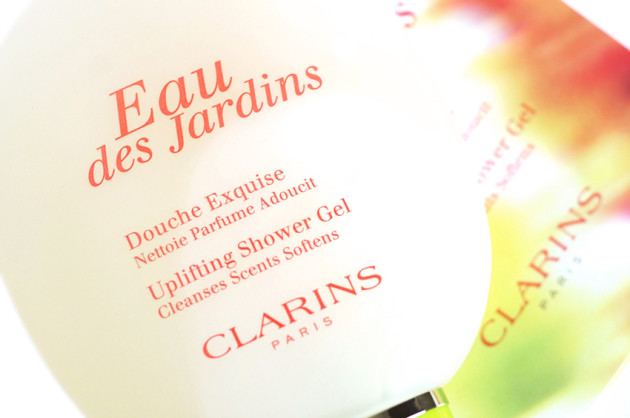 Clarins Eau des Jardins Uplifting Shower Gel
That said, I do love a good citrus-based body product, and this one is no exception. It kind of reminds me of L'Occitane's Frisson de Verveine (which I adore), with more garden and less unavailability. I like the shower gel a lot, but if you're going to go for it, I say get the EdT instead!
1. Gentle Roll-On Deodorant ($21 CAD)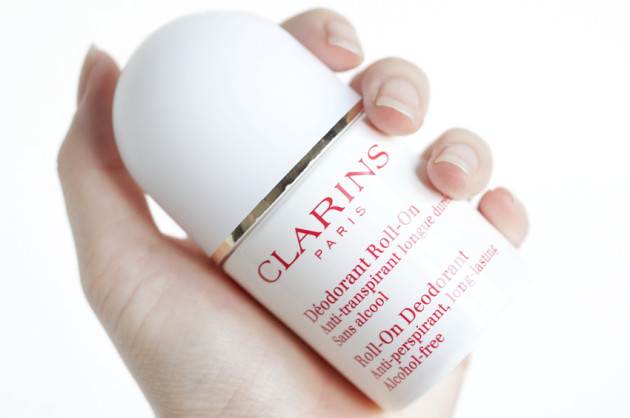 Clarins Roll-On Deodorant/Anti-perspirant, AKA THE BEST EVER
Do you know how hard it is to find a silicone-free antiperspirant? I'm guessing "no," but just in case you're not clear on it: it's really bloody hard. When I went searching, I think I found a whopping three. But, because this one's labelled as a deodorant, I didn't even realize it was a candidate until this month!
Despite the misnomer, Clarins' Gentle Roll-On Deodorant is actually not a deodorant (read: scent masker) at all — it's an antiperspirant, which minimizes sweatiness. And it is the best of the damn bunch. This roll-on keeps my underarms significantly drier than anything I have ever tried before, including the "clinical" stuff.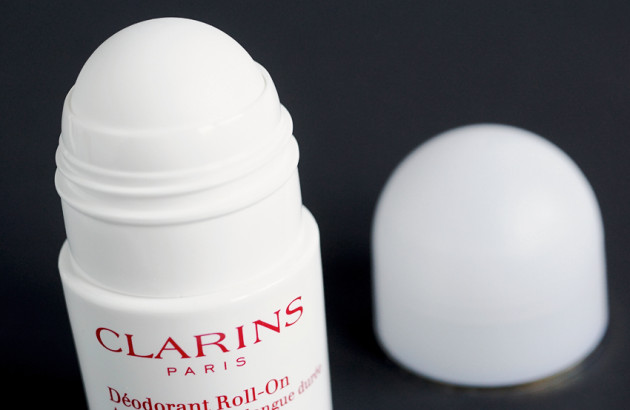 Clarins' spaceship-esque Roll-On Deodorant
This beauty takes few minutes to dry, but it's leaps and bounds better than my last two 'cone-free antiperspirants. It smells fresh and a little powdery, doesn't sting at all, and despite the wait, it actually dries really quickly for a roll-on. (Literally five times faster than last one I tried.)
If you're a sweaty-Betty looking for a fantastic antiperspirant for sensitive underarms, give this one a try! It does contain aluminum, but it doesn't leave that super-gross aluminum-silicone film behind (ugh) and never leaves your underarms feeling itchy.
What body products have you been loving recently?