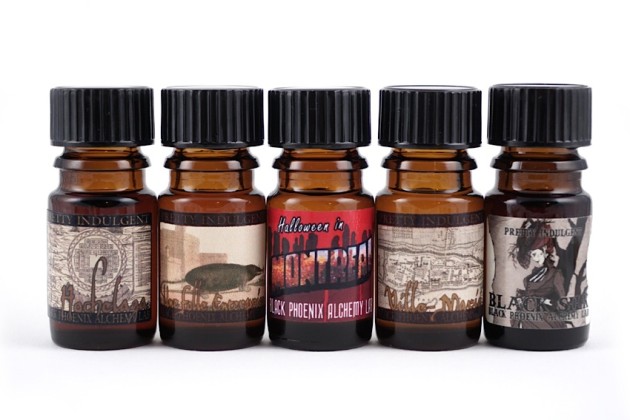 If you haven't heard of them before, Black Phoenix Alchemy Lab is one of those alt/hippie companies with a crazy-wonderful following (think Fyrinnae and LUSH) — and I mean this in the most amazing way possible. They're a small company with an enormous library of super-concentrated fragrance oils that seems to produce one cult hit after another, and after seven years of beauty blogging, I have finally had the chance to try a few of their scents.
Today, I'm covering five fragrances exclusive to Pretty Indulgent, an online store run by Maggie of Maggie's Makeup (who I have the biggest girlcrush on, but shhh.) These tiny–but potent, seriously–little bottles retail for a mere $23 each, and each scent in this limited run celebrates the rich culture and history of Quebec and Montreal.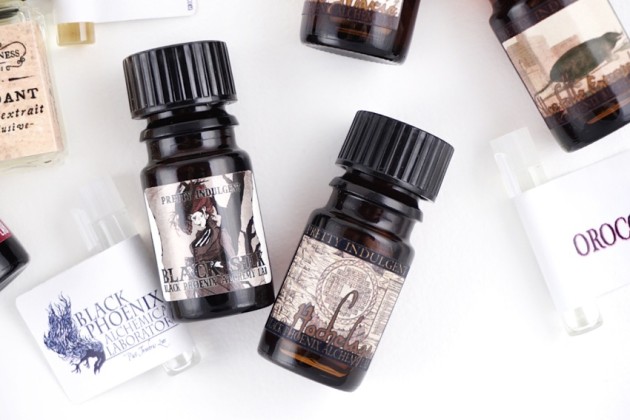 The first scent I tried on was Hochelaga, which features dry, warm woods and musk alongside elegant threads of buttery old herbs, spices and wildflowers. It smells like walking into an antiques/thrift store in the winter, surrounded by knitted blankets and knick-knacks in old wooden cabinets that once held metal pots for stew.
Next, I tried Black Silk, which seems to have been the big hit of the collection — it sold out in less than a day! Unfortunately, I don't think there will be a second run (one of its ingredients is very difficult to source), but it smells absolutely incredible. While sharp in the bottle, it rounds itself out beautifully on the skin and the tobacco absolute/bourbon vanilla cream notes blend together to create a boozy, almost nutty animalic sweetness unlike anything I've ever smelled before. Think smokey, smooooth benzoin-tobacco overtones with just a whisper of patchouli for this one.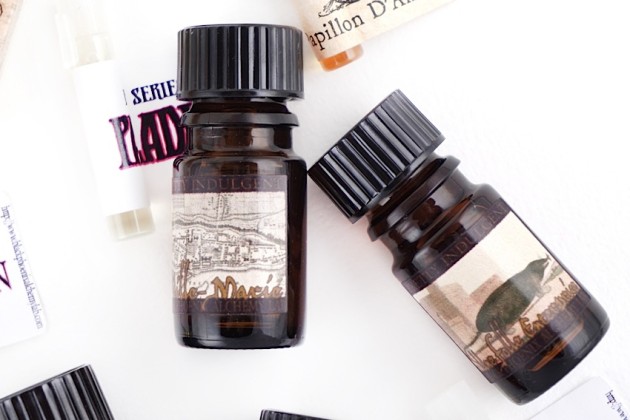 Then came Une Folle Entreprise, which I wasn't crazy about — but WOW does it ever last. I got a drop (and I mean a literal drop) of this on my sweater, and the base notes stuck around for a week. Thanks to the violet note, it's sweet like a chocolate martini; sharp but cloying with patchouli, licorice root, and tonka bean.
Next is Ville-Marie, which was just a treat to experience. It's bright and sugary (there are so many different kinds of sweetness in this post!), and yet again, I've smelled nothing like it before. The cream soda opening lifts within minutes, and the scent blooms on the skin to reveal a lemony bouquet of orchids, lilies, and a whopping five different varieties of lilac, ending in a creamy vanilla-musk.
And, finally, we end with Halloween in Montreal, which covers the final corner of the sweetness spectrum. This one really does smell like Halloween, as promised — it's bottled-up leaves, snowflakes, chimney smoke, and candy, and you can smell it all by simply closing your eyes. (Weirdly, it also smells like walking into a Pier 1 Imports or something, open-top candles everywhere).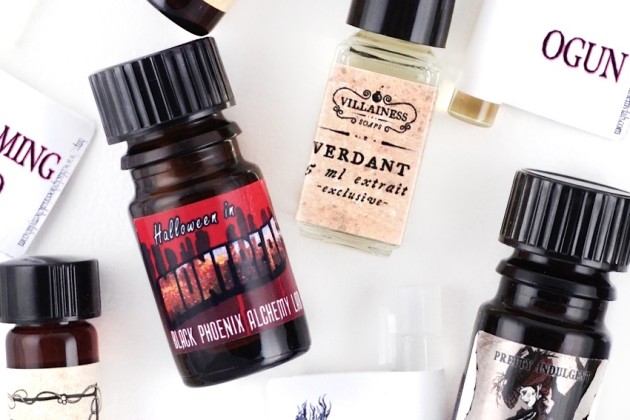 Buying guide
This is a lot to take in, so here's your SparkNotes version!
If you love smelling things but you've never tried a BPAL creation before… you owe it to yourself to experience these beauties. Heck, it doesn't even matter if you like any of them; they're an olfactory experience like no other, and that makes them fascinating. Unlike mainstream scents, which tend to be identifiably "perfumey", these fragrances smell like Things — places, times, memories. Order yourself a few Imps (samples) to get started, and go from there.
And to pick your perfect Pretty Indulgent exclusive ($23 CAD each, and yes, the site takes Paypal), here they are in order of must-haveability!
Happy sniffing, scoundrels!