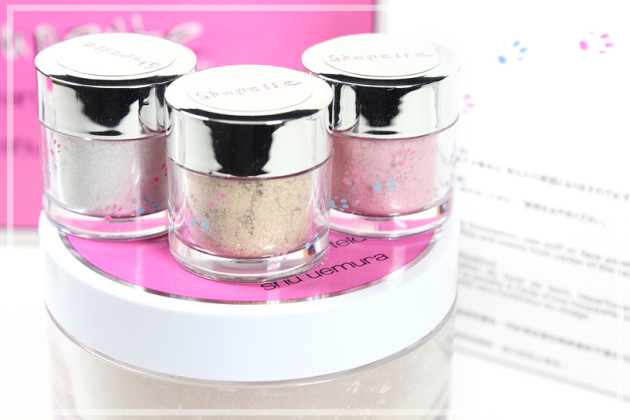 The products: Shupette by Karl Lagerfeld for shu uemura (holiday 2014)
↳ eye-need-shu trio 01 Parisienne Chic and 02 Tokyo Kawaii; my precious glitter set
I always take forever to get reviews up, but for once, I put a rush order on this one — because what's more exciting than a holiday collection adorned with cats? (Look at all those little itty-bitty footprints!!)
So, here are swatches, photos, and "mini reviews" featuring shu's long-awaited, Choupette-inspired holiday collection. If you're interested in seeing a particular item from the collection worn, or hearing about its wear time, please let me know in the comments & I'll put a look together with the most popular products!
Availability: Online at shuuemura.ca and in-stores at Holt Renfrew (as well as select Sephora and Hudson's Bay locations) this November. Or, enter to win the entire collection at shuuemura.ca.
» This post has been split up into two parts. Part two will go up on Friday!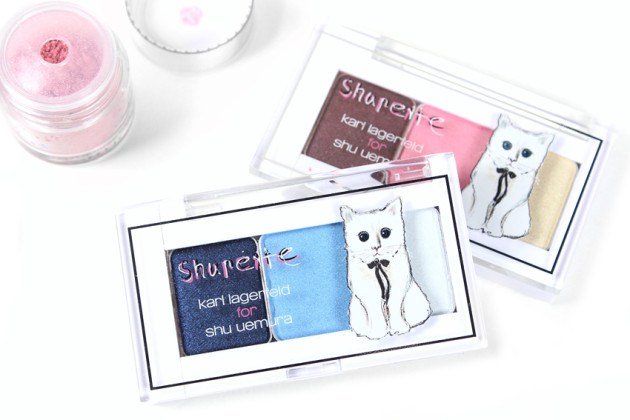 Eye-Need-Shu Eyeshadow Trios ($45 CAD each)
If there is one product in this collection that I think most will love, it is these. Smooth and pigmented, they're the most "reliable" of the products that I tried, and easily create day-appropriate looks… unlike those fluffy pink eyelashes!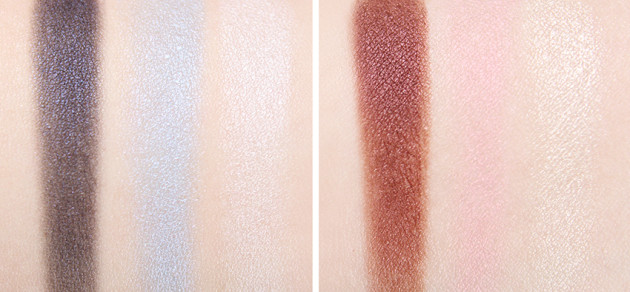 Shupette by Karl Lagerfeld for Shu Uemura swatches: Parisienne Chic (L) and Tokyo Kawaii (R) Eye-Need-Shu Eyeshadow Trios
I wish there had been a neutrals trio (brown/taupe/highlight, or even taupe/gold/ivory), but these are still a great way to work a little Choupette into your makeup collection without spending too much. The cool-toned Parisienne Chic contains a navy blue (blue shimmer on a very dark base), sky blue, and white, while the warmer Tokyo Kawaii contains a rich, rust-toned red alongside a baby pink and a light yellow.
The middle shade of each of these trios was a little more see-through than the rest, but over all, I think Tokyo Kawaii is a little bit better in terms of quality.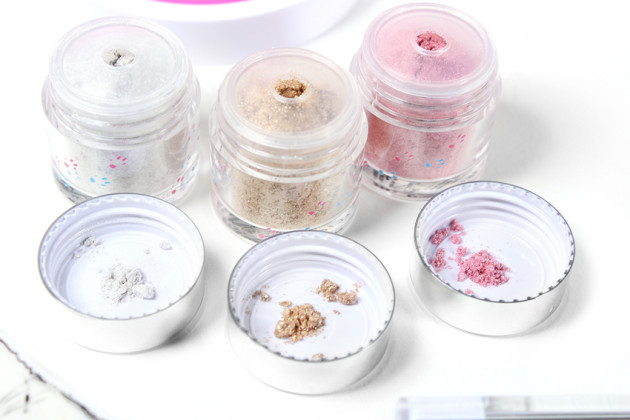 My Precious Glitter Set ($58 CAD for the trio)
The My Precious Glitter Set was the product (were the products?) that I was most excited for from the Shupette collection, but unfortunately, it was also the biggest letdown. They're very tiny, a mere 0.035 oz each, and feature chunky shimmer — which, while pretty, isn't glitter. None of the three can create opaque colour, even with primer underneath, and they're best worn layered carefully over other eyeshadows for a lucent, uplifted look.
That said, each little pot has kitty footprints tracked around the outside, and it is pretty cute.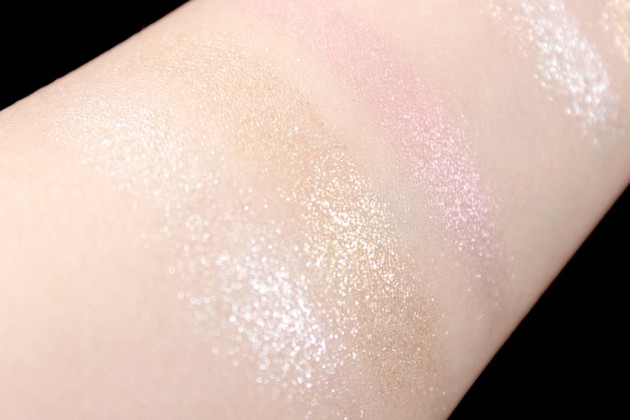 Shupette My Precious Glitter Set swatches: Platinum, Gold, Pink (over primer)