Monday, November 18, 2013
Our New This Week (& etc) posts always operate on the same concepts–new products and collections featured in scrollable widgets,–but I thought I'd try something a little different today.
Rather than everything that's come out recently, here are just a few of my holiday picks, in (clickable!) images with text (actual words!) beneath.
Dior Golden Winter Holiday Look 2013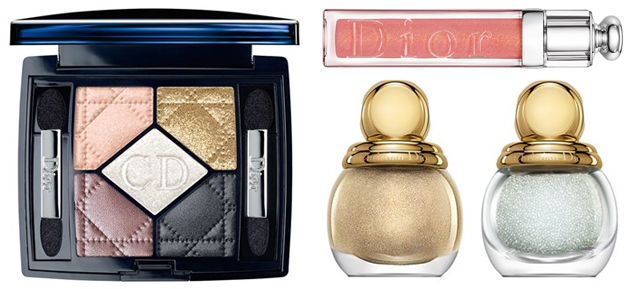 Dior 5 Couleurs Eyeshadow Palette in Golden Snow ($60.00) – One of two Golden Winter eye quints, Golden Snow seemed like a good inclusion for this post. It's a soft, pretty palette that's both lovely to look at and (presumably) easy enough to work with, making it ideal gift-giving material (especially for lighter, cooler skintones).
Dior Addict Gloss in Enchanted Rose ($29.50) – Again, one of two shades in the Golden Winter collection, and again: pretty easy to wear. I'd actually panic if someone gave this to me, because my intense fear of shimmery lip products would take over, but — well, I hear shimmer is a thing people actually like. (I guess that's why it's found in 80% of the lip colour market, and beginning to infiltrate even the skincare ranks.)
Dior Diorific 3D Jewel Manicure Duo ($39.00) – These are weird, admittedly, and packaged in those strange little bottles that no one actually seems to like. The concept, however, is pretty novel for a mainstream brand: the shimmering gold is made to be a base colour, and the silvery shimmers (clear crystal micro pearls) are meant to be applied on top. Think Ciaté, but more chic.
Armani Holiday 2013: #400 reds