Thursday, October 24, 2013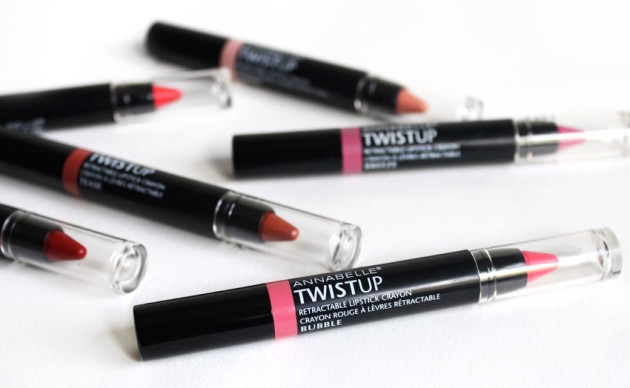 The product: Annabelle TwistUp Retractable Lipstick… in all 24 shades!
   ↳ See all 24 shades swatched here.
The formula: Your average TwistUp is creamy, comfortable, and very well pigmented — so much so, in fact, that they've quickly become not only one of my favourite drugstore lipsticks, but one of my favourite lipstick formulas overall. They apply with a nice sheen, settling into a lovely cream finish, and fading down nicely into a stain. I get 3-4 hours of wear out of the average TwistUp before I need to reapply (less if I eat or drink anything).
The TwistUp Retractable Lipstick formula is also scent-free, which gets it big points in my books, and applies without any catching or tugging. I didn't notice any settling into dry bits or lip lines, despite how creamy the formula is upon application.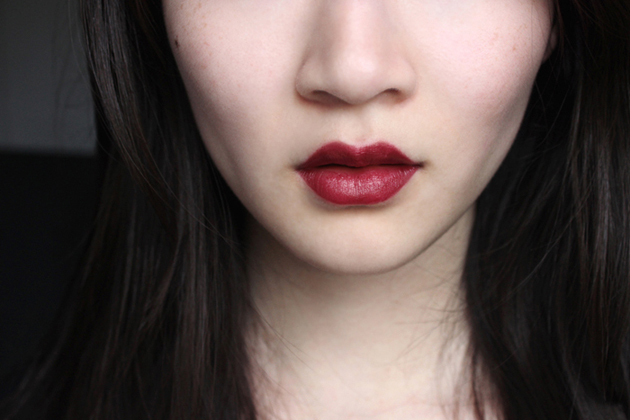 Day 24′s (that's today!) #24Days TwistUp: Vamp. See the other shades here!
Compared to other lip crayons: Okay, so hopefully someone has wondered how these compare to the Clinique Chubby Sticks by now. (Someone? Anyone?? Helloooo?)
Annabelle's TwistUps are most similar to the Clinique Chubby Stick Intense Moisturizing Lip Colour Balms ($17 USD/$19 CAD), and I would definitely recommend both ranges. I find that the Chubby Stick Intense formula is more slippery at first, but wears for a smidgen longer once it sets (an extra hour or so). I also find that the Clinique lipsticks are a hair less comfortable; however, the two products weren't wear-tested during the same season.
It may be helpful to note, for some, that the Clinique formula is quite a bit more simple and far more natural — these two lipsticks feel and perform very similarly, but the formulas couldn't look less alike. (Full ingredients for the TwistUps at the bottom of this post.)
The variation: Quite a few brands nowadays are doing split ranges (e.g. MAC Amplified/Lustre/Matte, YSL Rouge Pur/Rouge Pur Couture/Rouge Pur Couture The Mats/Rouge Pur Couture Golden Lustre), but the TwistUps are all sorted into one category. It not a bad thing by far, but it does mean that you can't know what to expect from a stock photo! 
This will be discussed further in tomorrow's post, but in general, most of the line is similar to the Clinique Chubby Stick Intense range: high coverage, creamy, and comfortable. However, a few of the TwistUps are more like NARS Velvet Gloss Lip Pencils (Fizz) or the original Chubby Sticks (Tease, Absolute), and a couple are more dry than the rest (Havana, Naked, Cherry).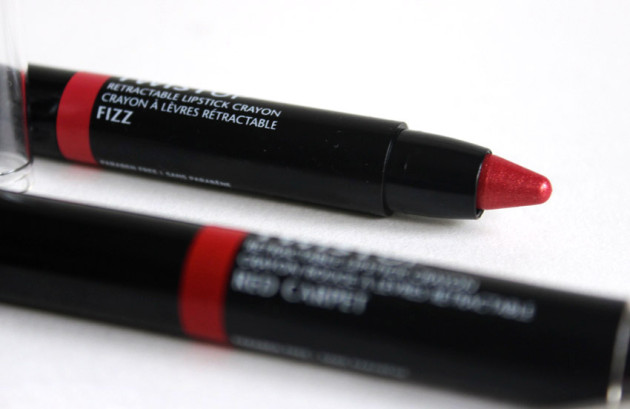 The verdict?
Honestly, I cannot recommend these enough. Not only are the Annabelle TwistUp Retractable Lipsticks impressively pigmented (in general) and wonderfully scent-free, but they're also very portable, well-priced, and comfortable to wear. Annabelle has done a wonderful job with both the finish and (lack of a) scent with these, and the shade range is fantastic.
My personal favourites from this range are Cherry and Naked. For individual shade descriptions, swatches (arm and full-face photos), and overall recommendations, check back tomorrow!
Availability: $9.95 CAD online and in Canadian drugstores across the country. (On sale for $7.25 CAD each at the Annabelle.ca site as I write this!)