Tuesday, October 13, 2015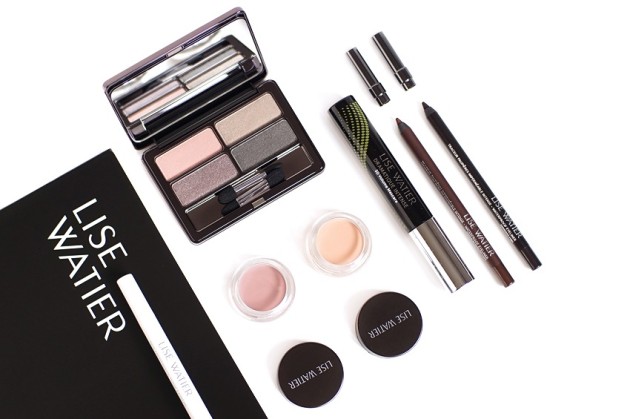 The products: Lise Watier EYEvolution Fall 2015 collection
Lise Watier's fall collection is a bit of a unique one, both for the brand and for the makeup community. It features only eye products, and it was designed by Rachel Ladouceur, Lise Watier's former public relations manager who now works as their product creator. (For real!!)
Rachel's quiet transition into her new role has quite a fairytale vibe to it, if you ask me, and EYEvolution is a beautiful first collection to put out. Plus, all of the products are either limited edition or new to the permanent line, so there are lots of new, pretty basics for the rest of us to dig into this season!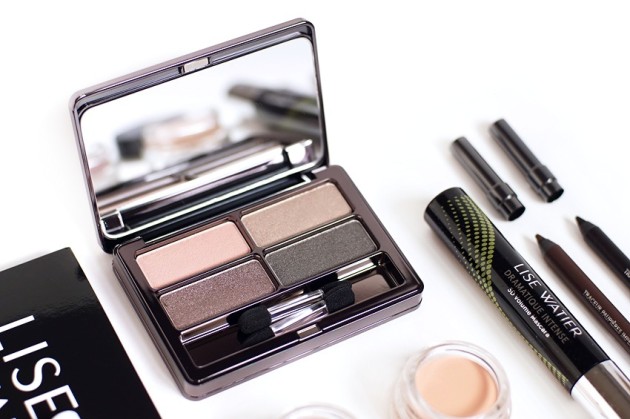 Lise Watier EYEvolution Eyeshadow Quartet ($37 CAD, LE)
The highlight of the collection, if you ask me, is the EYEvolution Eyeshadow Quartet. It's limited edition and will likely disappear off of shelves at the end of the month, so make sure to get it while you can.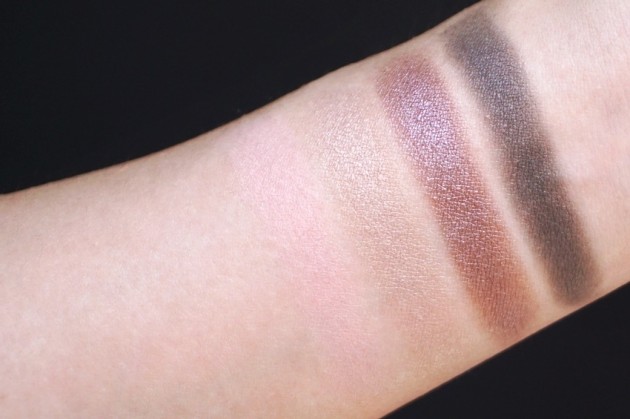 Lise Watier EYEvolution Eyeshadow Quartet swatches (indirect sunlight; swatched over primer)
The formula used for these eyeshadows is described as a "half-cream, half-powder formula," and it results in a really smooth, creamy pressed powder eyeshadow experience. The peach and charcoal shades have a slightly sheerer semi-matte finish, while the khaki and taupe have a slightly more luxurious, medium-opacity satin finish.
This quad was meant to be the perfect everyday/night palette, and I think it does a great job of it. It looks fantastic both on light skin and on a tan (not my tan; an actual tan), and I think that those with yellow and olive undertones in particular will really like this one!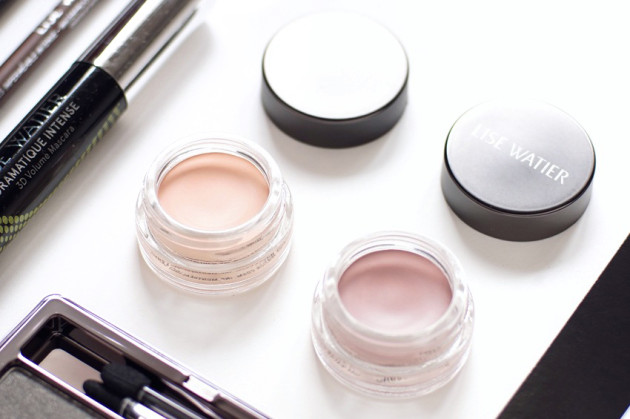 Lise Watier Ombre Velours Suprême Eyeshadow in Rose Thé Velours and Pèche Velours ($25 CAD/each, new)
Next up are the Ombre Velours Suprême Eyeshadows, which are the brand new matte counterparts to Lise Watier's well-loved (but crazy shimmery) Ombre Soufflé Suprême Eyeshadows ($25  CAD). 
The new Ombre Velours shadows have a gorgeous, marshmallow-y cream texture, and still somehow manage to maintain the same "bounce" that the Ombre Soufflé eyeshadows have. They dry to a powder finish and hold up very well when swatched, but unfortunately, my eyelids decimate these sheer creams within two hours.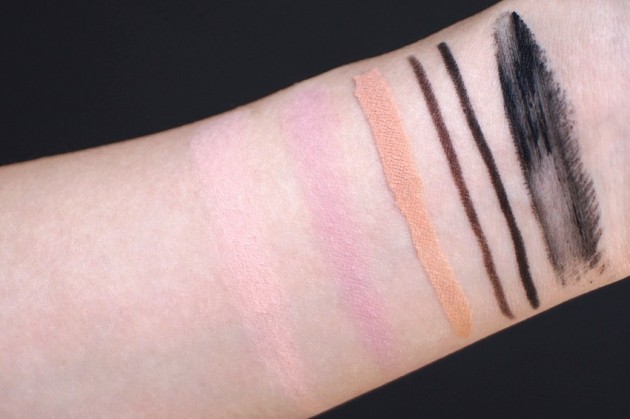 Swatched L-R: Lise Watier Ombre Velours Suprême in Péche Velours, Rhose Thé Velours; Extreme Hold CC Eye Primer; Intense Waterproof Eyeliner in Chocolat Intense and Espresso; Dramatique Intense 3D Volume Mascara in Noir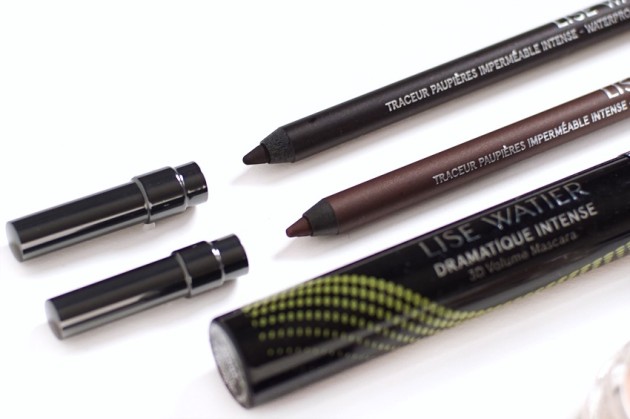 Lise Watier Intense Waterproof Eyeliner in Espresso and Chocolat Intense ($22 CAD/each, new)
Next up, the new Intense Waterproof Eyeliners. Here, Lise Watier has taken a page out of Clinique's book and updated an old favourite with more pigment — in this case, the Lise Watier Waterproof Eyeliner ($22 CAD).
I tried out Espresso and Chocolat Intense, and both are super smokey and, yes, intense. With this much pigment, though, I would love to have seen a more workable formula — these set almost immediately, and within seconds, they're locked down tight. They do wear very well, however (much better than the originals!) and still look intense and smokey at the end of the day.