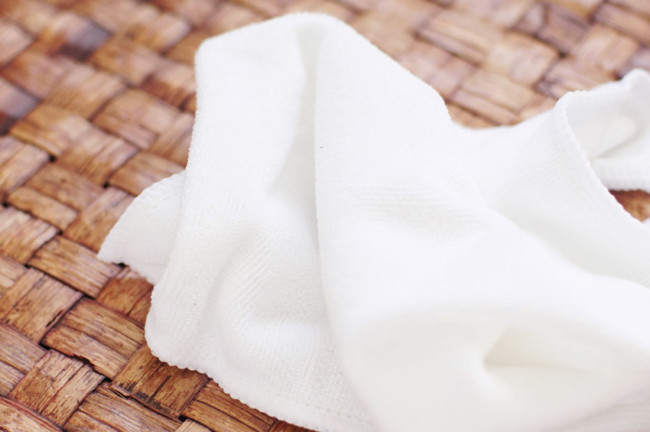 The product: FaceOff Cloth All-in-One Makeup Remover
The trend of the moment may be silicone makeup sponges, but this week, I've been testing out microfibre face cloths. I have the FaceOff Cloth ("Your All-in-One Makeup Remover"), which is one of the more budget-friendly versions of this product: one cloth will run you $12.95 CAD.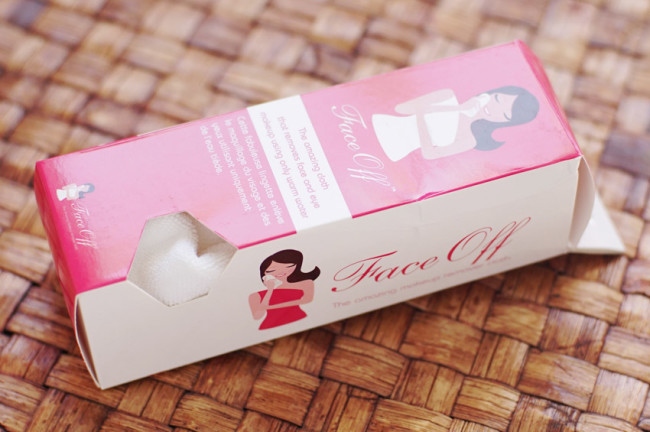 How microfibre makeup removers work
Just like in a regular cloth, each fibre in a microfibre cloth picks up particles of dirt, grime, and makeup, trapping them in the cloth. However, the fibres in microfibre cloths are, well, micro. They're really bloody small, and the more fibers you have, the more surface area you're working with – so the more thoroughly you can clean something in one swipe.
These particles are then supposed to wash out easily with hot water, which relaxes the fibers slightly and un-traps the dirt. This is mostly true, but my cloth is definitely showing signs of staining.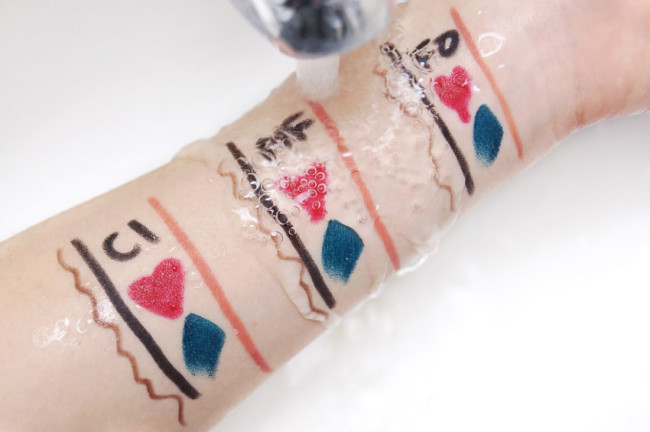 Swatches – before the cloth! They're all long-wearing or waterproof products.
How the FaceOff Cloth compares
I tested the FaceOff cloth against two other cloths, all with the same products – a mix of eyeliners, lip liners, and lipsticks. My first cloth tested was just a regular cotton washcloth (Cl). It did the worst job of the bunch, barely removing any product at all.
My second cloth was a microfibre with larger fibers (MF). I wanted to show the wide of variation between different cloths, so I went with a cheap cleaning microfibre. It did quite well, removing just as much makeup as the FaceOff Cloth, but with a little more friction needed.
Finally, the last set of swatches was removed by the FaceOff Cloth (FO). It removed almost all of the makeup, with the least friction necessary. However, it wasn't perfect; pigment stains were still left on my skin, and you can see in the photos how irritated my skin was afterwards.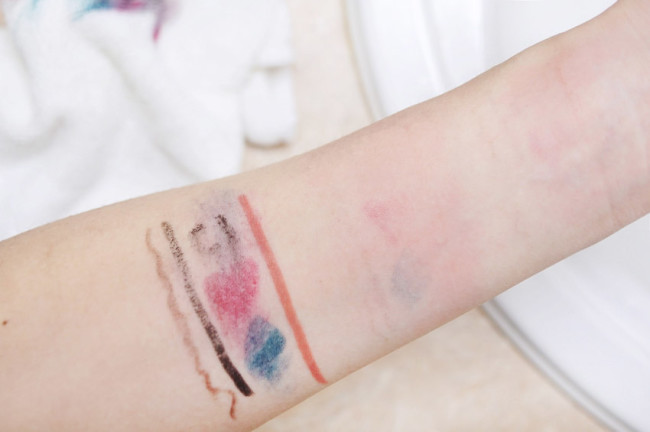 Washcloth/microfibre/FaceOff Cloth
My thoughts on the FaceOff Cloth
The FaceOff Cloth worked a lot better than I expected it to, removing as much of my makeup as an oil-based makeup remover would. However, it's still not something that I would purchase on my own – and for a very good reason.
I have sensitive skin, and even though the FaceOff Cloth feels very soft to the touch, it's way too aggressive for my skin. In order to remove my makeup with it, I have to wipe pretty firmly, and it leaves my skin feeling really raw each time. It's the worst in my eye area, where my skin is left bright red and tender to the touch until the next day.
This sensitivity makes sense, because a cloth can't discern what's makeup from what's skin. Alongside all of the grime from the day, the FaceOff Cloth is removing all of my dead skin cells, and likely a few that aren't quite ready to go yet, either.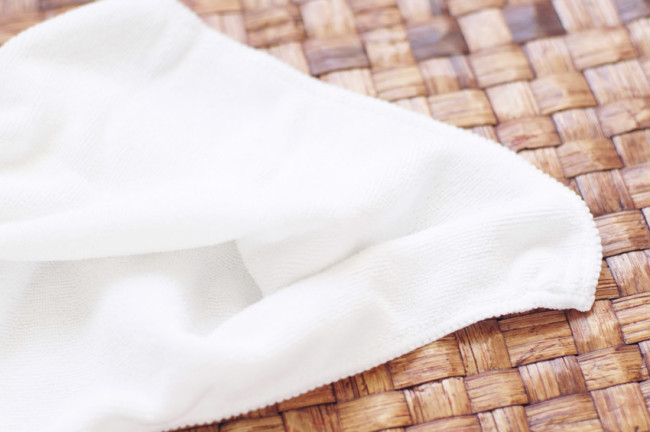 The verdict?
As cool as removing my makeup with just a cloth is, I'm not a fan of the microfibre cleaning method. It's even harsher on my skin than getting a chemical peel at a dermatologist's office, and I shudder at the thought of doing that to my face every day. So, while the FaceOff Cloth does technically work, I wouldn't recommend it. It would be way too easy to over-exfoliate your face with this cloth, which risks breaking down your skin's natural lipid barrier and triggering the overproduction of sebum.
If you must try a microfibre face cloth, I'd recommend looking them up on Amazon, where you can get the same quality of product for half the price. And hey – order yours in black to hide the staining.
Availability: $12.95 CAD at FaceOff Cloth; on sale for $5 CAD at Showcase.