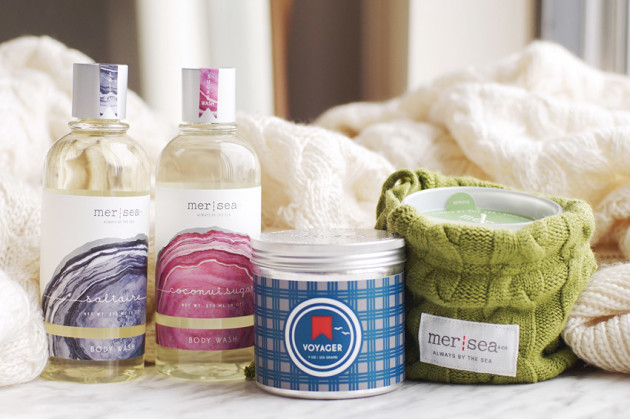 The products: Mer-Sea & Co. Body Wash in Coconut Sugar and Saltaire, Sea Pines Sweater Sandbag Candle, and Voyager Sea Tin Candle (Holiday 2016 edition)
With Canada Post's last recommended day for holiday shipping having come and passed us by (if you haven't sent out your packages yet, take note that it's today), I've been trying to focus the rest of my December calendar on gifts that us procrastinators can buy in person.
Today's post is all about Mer-Sea & Co., a small brand founded by three friends (all women!) in Kansas. The French-English mixed name is pronounced like "merci," and it's available in-stores at Anthropologie.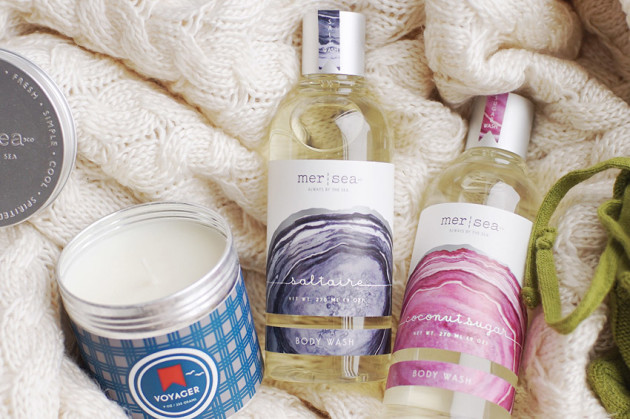 I tested the brand's Body Wash in Coconut Sugar and Saltaire ($18 USD) to begin, but my feelings about the line are mixed. While each item looks extremely giftable, I haven't found anything yet about that line that feels really special.
Coconut Sugar is sweet and coconutty, while Saltaire reminds me of going to the pool as a kid – our local pool was salt water instead of chlorine, and this scent totally smells like salty water and floral suds wafting out of the shower room. The formula of the body washes isn't too stripping, but it's pretty standard, and Saltaire is left feeling like a complementary shower gel at a mid-range hotel.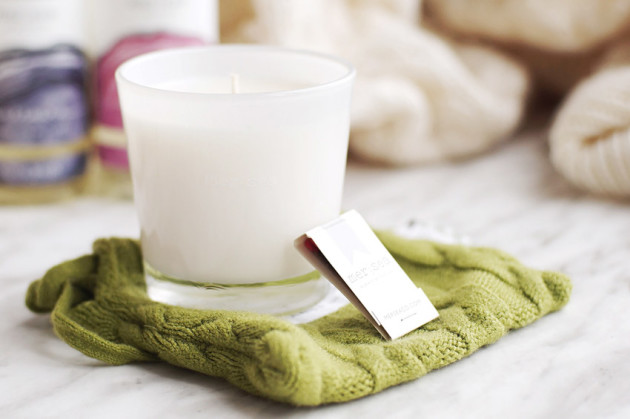 From there, I moved on to the Mer-Sea Sea Pines Sweater Sandbag Candle ($28 USD). It's pricey, but extremely giftable, with an adorable sweater-inspired pouch and a cute strip of branded matches included within it. (The matches are a really nice touch!)
A soy blend candle, Sea Pines has notes of pine and citrus. I thought it was too saccharine and grating at first… and then my partner and I picked up our first-ever real tree. It turns out that after years of thinking that pine-scented products were getting it all wrong, I was in fact the one in the wrong!
Pine trees smell weird indoors, folks. And this candle totally nails it.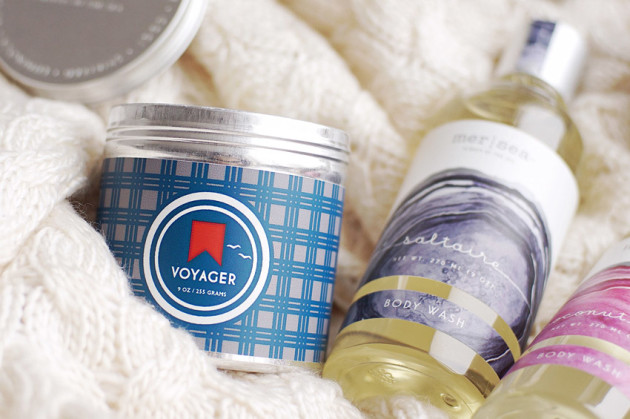 Finally, I wrapped up my Mer-Sea adventures with the Voyager Sea Tin Candle ($24 USD), an holiday-edition candle with a wintery print and listed notes of black pepper, tangerine, citrus flowers, and oak moss. I liked this one the most – it smells like a fancy bath product, and it's a totally genderless scent.
(I'm a big fan of the holiday Voyager print, too. So much cuter than a bare tin!)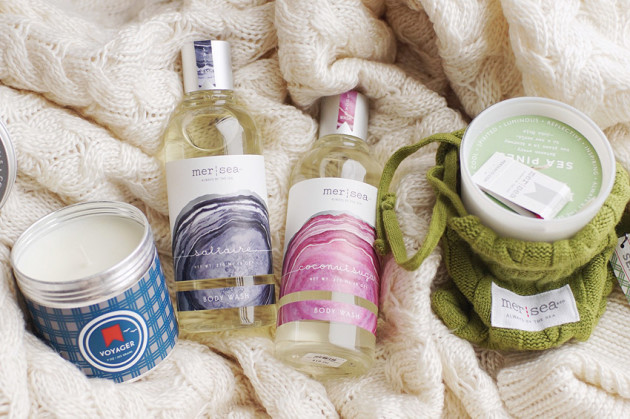 The verdict?
Mer-Sea is a brand that was new to me, and I totally think it fits the Antro aesthetic of new, giftable indie brands. But while all of these products are easily giftable, none of them really took my breath away.
The packaging and presentation of these is spot-on, but at the price point, I was definitely expecting more. More innovative formulas, more ingredient clarity (what's a "soy blend" candle? Blended with what?), and more unique fragrances.
Availability: Select items available at Anthropolgie in stores and online. Mer-Sea is also carried at a number of small retailers throughout the US – see their site for locations!