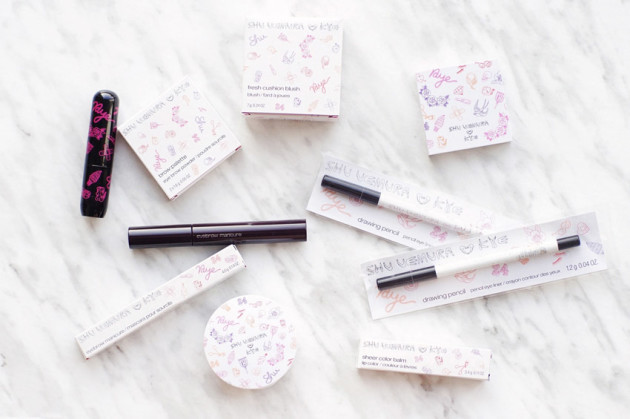 The products: KYE for Shu Uemura Summer 2016 collection
The KYE for Shu collection is this summer's Shu Uemura capsule collection, designed by fashion designer Kathleen Kye. It's inspired by the "new era fashion culture and hype beauty," and is chock full of trendy products and things that could basically just be summed as "edgy but also fresh."
I'm not always taken by celeb-designed makeup collections, not even Shu Uemura's, but the KYE collection really gets me. It feels very authentic, and I love that it celebrates a youthful energy and gender fluidity.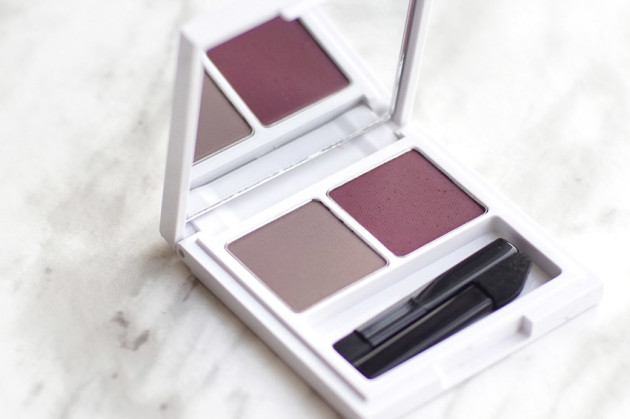 kye for shu "cappuccino/dark rose" brow:palette review
The brow products
The KYE for shu brow products are all about graphic, edgy eyebrows – and in this case, that means colour. 
I tried out the Shu Uemura Eyebrow Manicure in Dark Violet ($26 CAD) and brow:palette in cappuccino/dark rose ($55 CAD), and you know what? I really liked both of them. Shu does brows well, and these tinted versions of their regular products really hit the spot for me – although I wouldn't give you $55 for the brow powder.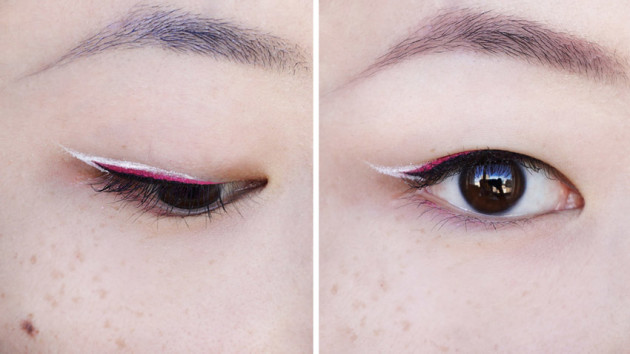 kye for shu swatches – ME pink 12 and M white 91 on eyes, eyebrow manicure in dark violet (left) and brow:palette in cappuccino/dark rose (right)
The Eyebrow Manicure is really where it's at. The formula is easy to apply and doesn't leave too much product on your skin, giving you definition and shape without really adding visual weight. And Dark Violet? It's gorgeous. It brushes up gently against the skin, leaving a muted lilac brow that glistens in its wake... it's a really lovely way to do colourful eyebrows while still looking totally daytime-appropriate.
(Yes, really!)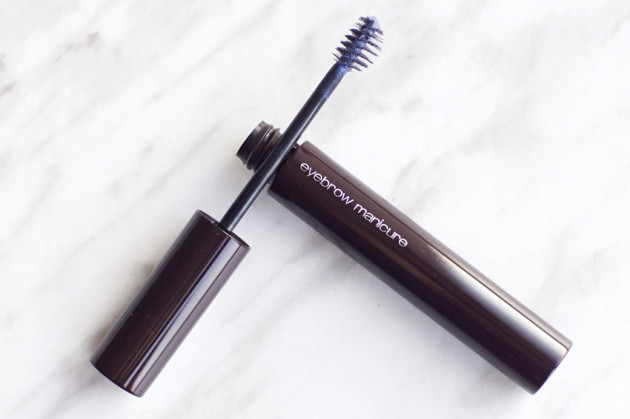 kye for shu "dark violet" eyebrow manicure review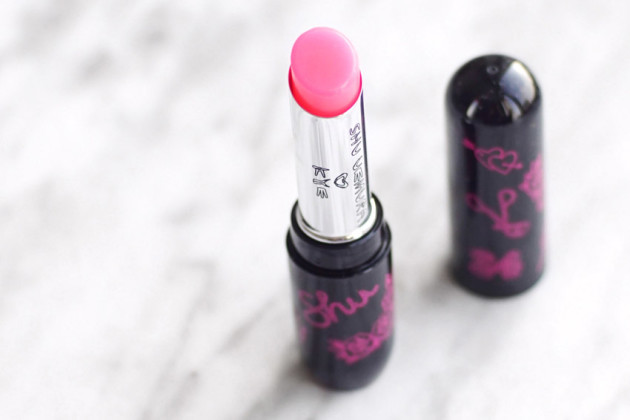 kye for shu "glow in pink" sheer colour balm review
The cheek & lip products
Okay, so full disclosure: these two product formats happen to be ones that I'm predisposed towards, so I'm maybe being a little lenient here.
I love alternative blush formats, so the KYE for Shu Fresh Cushion Blush ($39 CAD) caught my eye immediately. Hibiscus Orange is full of silicones and the sold-out Hisibscus Pink one would almost certainly look better on me, but the formula is just so cool – watery, sheer, shimmer-free, and dewy. It's a very Korean-inspired blush, right down to the names, but I hope we see more cushion blushes from Shu in the future.
For the lips, I also really liked the Shu Uemura Sheer Colour Lip Balm in Glow in Pink ($36 CAD), but I think they're overpriced. The KYE Sheer Colour Balms are all translucent, pH-adjusting neons, and they're really comfortable… but at the price, they're not a must.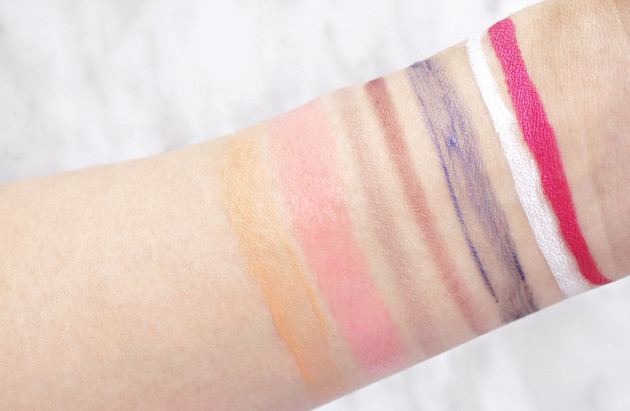 kye for shu swatches in indirect sunlight: hibiscus orange cushion blush, glow in pink sheer colour balm, cappuccino/dark rose brow:palette, dark violet eyebrow manicure, M white 91 drawing pencil, ME pink 12 drawing pencil.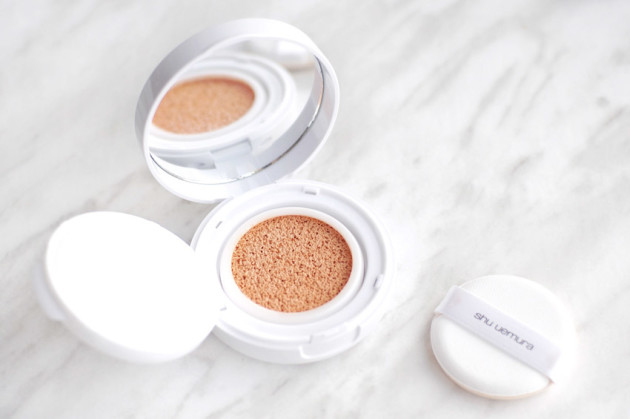 kye for shu hibiscus orange fresh cushion blush review
The eye products
I tried out two of the KYE Drawing Pencils ($28 CAD each), which are eyeliners from Shu's regular collection done up in adorable KYE packaging.
I've never been a fan of the Shu Drawing Pencil formula, and these are consistent with my past experiences. The matte M white 91 is a gorgeously opaque white eyeliner, but it snapped off on me the second I tried to swatch it. (And then again, and again, and again.)
The intense, metallic ME pink 12 fared better, but it too is very soft – the metallics are so buttery that you have to re-shape them as you line your eyes. However, they're also a total pain in the butt to smudge or remove, so if you have any upcoming end-of-summer pool parties planned, ME pink 12 is pretty much mandatory. It's like glittery indelible ink for your eyes!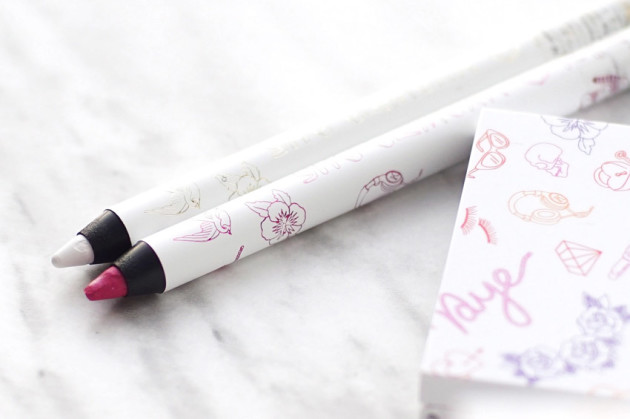 kye for shu drawing pencils in M white 91, ME pink 12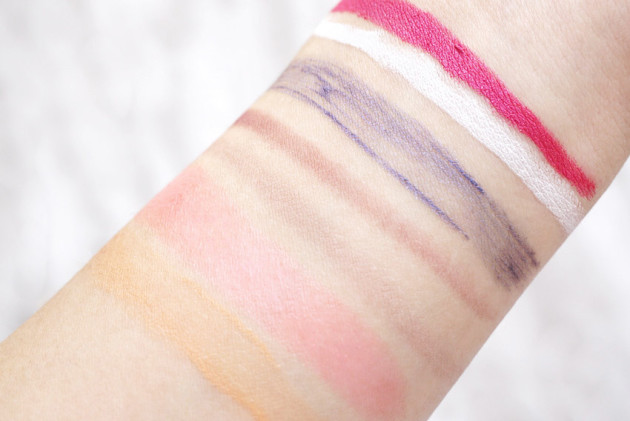 kye for shu swatches: hibiscus orange blush, glow in pink lip balm, cappuccino/dark rose brow:palette, dark violet eyebrow manicure, M white 91, and ME pink 12 eyeliners
Everything else
The KYE for Shu collection also includes a few cleansing oils and conditioners, but as they're just re-packaged classics, I won't be reviewing them here. I will note, however, that the pink Porefinist Fresh Cleansing Oil ($38-82 CAD) is my favorite Shu cleansing oil, though, and that the KYE packaging is even cuter in person!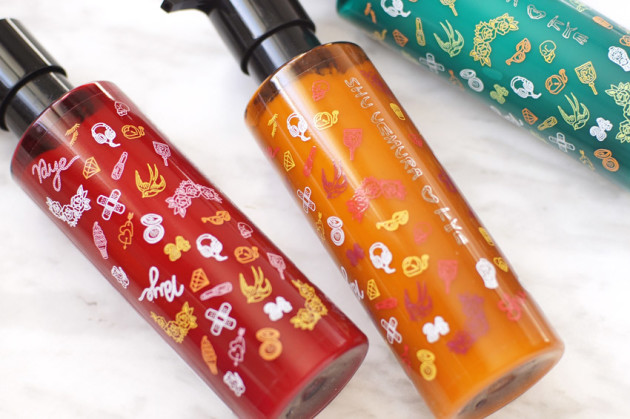 kye for shu art of hair conditioners
The verdict?
Shu Uemura releases a lot of really big makeup collections, but the KYE collection is my favourite Shu release in recent history. There isn't a single product that disappoints (well, the eyeliners are a pain, but they wear like a champ as long as you pretend they're gel pots), and the prices are very reasonable for Shu.
My top recommendations are the Dark Violet Eyebrow Manicure and Fresh Cushion Blush, but you really can't go wrong with anything here!
Availability: Limited edition summer 2016 at shuuemura.ca, shuuemura.com, and in-stores at select Holt Renfrew & Sephora locations.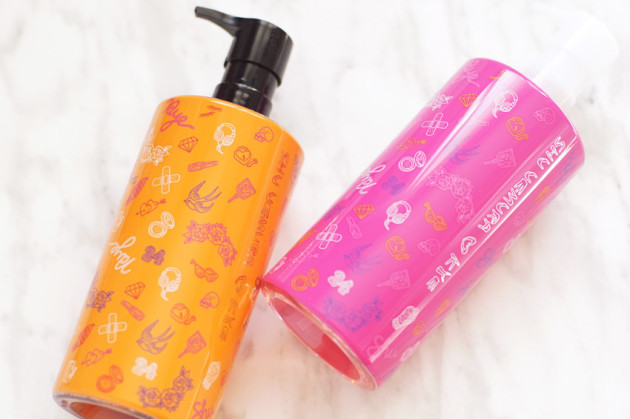 kye for shu uemura cleansing oils