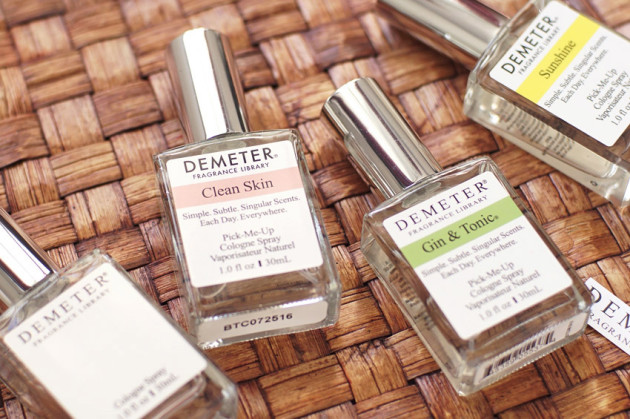 The products: Demeter Fragrance Library Gin & Tonic, Clean Skin, and Sunshine Cologne Sprays
You know when there's something that's so exciting that you want to share it with all of your friends right away? For me, this Demeter post is just that. (You guys are the friends, in case that part wasn't clear.)
I very recently received a personalized Demeter Foolproof Blending Trio from their Classic Catalogue thanks to a collaboration that I'm doing with the CBB, and I'm feeling pretty ready to review the trio. Demeter's single-note fragrances are all pretty comprehensible, so it wasn't too big of a task to get to know these three in depth.
Did you know that… Demeter is a family owned business? It's true! All of their products are also cruelty-free, and 95% of them are derived from natural or renewable resources.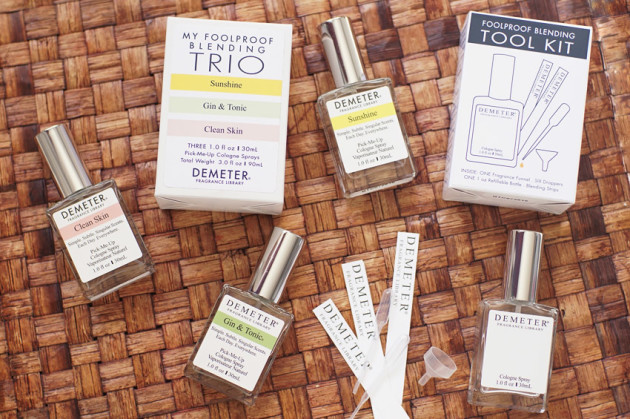 The scents on their own 
My kit included three bright, clean fragrances that were all a little sharp to my nose. They're not austere like the CB I Hate Perfume line is (fun fact, Christopher Brosius' first perfume line was actually Demeter), but they're fun. They're good for the price, and they're nice if you want a scent to briefly amuse your nose and then leave you alone.
(But for real: is this a thing that other people want? Because it's a thing that I want sometimes.)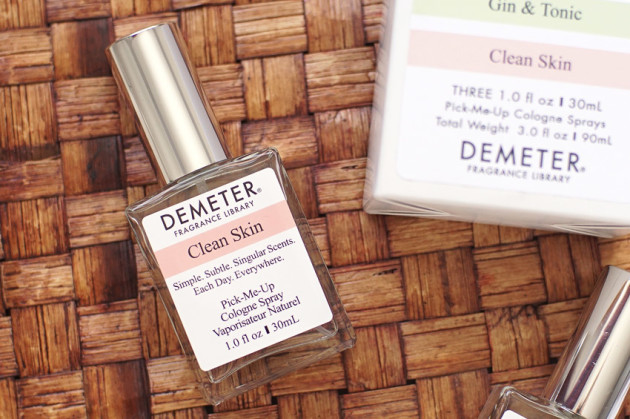 Clean Skin ($18 USD/1 oz), one of Demeter's most popular scents, smells remarkably different on the skin than it does on paper. I'm not a fan of the "floral candy" scent itself, but this is exactly how I love to wear my fragrances: in many spots, but very, very sparsely. It would be a lovely fragrance for someone just finding their olfactory footing.
After the first fifteen minutes, Clean Skin smells like a nice fabric softener. No complaints or judgement–a great fabric softener scent is super tough to find–but take from that what you may.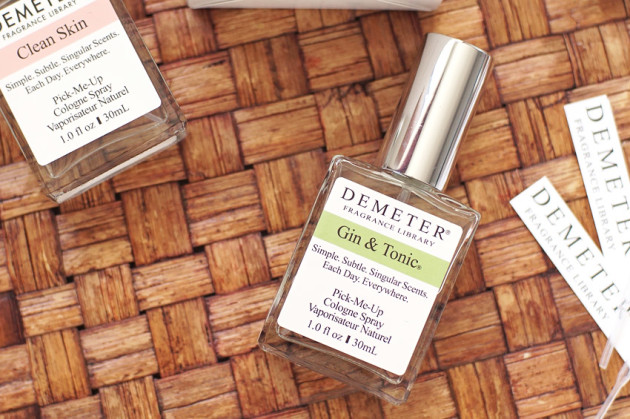 I was incredibly excited to try Gin & Tonic ($18 USD), and I liked it well enough – but it can be a bit obnoxious. It smells a bit like a drugstore shower product, sweet and tangy with plenty of citrus, but it's just not boozy at all on my skin.
Like most of the Demeter line, Gin & Tonic is fun to throw on but lacks any real longevity. It too plays much better on my skin than it does on paper (where it smells kind of like sticky booze), though, so your mileage may vary. On a hot day or with the right skin chemistry, this is a real treat!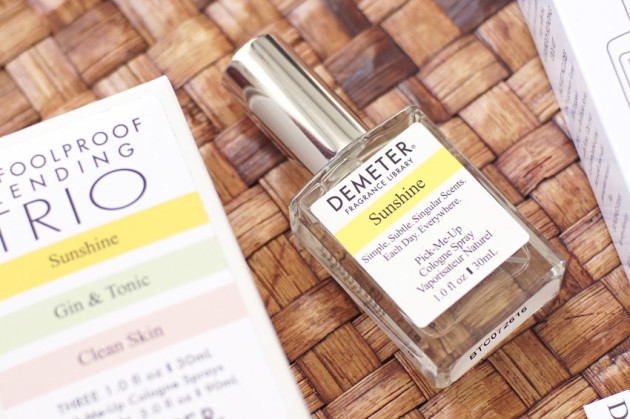 Finally, I spent some quality time with Sunshine ($18 USD), which had the most lasting power by far. It smells like the summer, not sunshine: warm and sweet and a little chemical-y.
I am loathe to say this about anything, but I hated it. I hated it all around. I'd rather smell like a chic robot than a human being with an urge to go to the exhibition, but if that's your thing… hey, maybe you could love this as much as I don't. Balance the scales for me.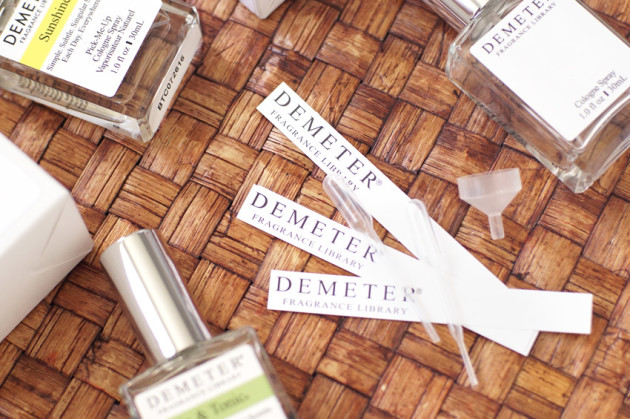 My custom-blended Sunshine Tonic
Is a Sunshine Tonic a drink, a cure for the blues, or a 9 AM shot of gin on the morning after?
I honestly have no idea, so I'll tell you what a Sunshine Tonic feels like instead. It's mostly Gin & Tonic with just a tenth of Sunshine, and it feels like summer afternoons. It feels like running in a grassy field slathered in mosquito repellant, water in the distance, cold feet and a chilly wind cutting the summer day. It's simple and heavy-handed, but just made of pure joy.
The sweetness of Sunshine is overpowering, and just a touch turns Gin & Tonic into a family-friendly affair. It's a weekend at the lake as kids, you know? Not something that you'd want to do every day, but something that makes you smile when you think of it.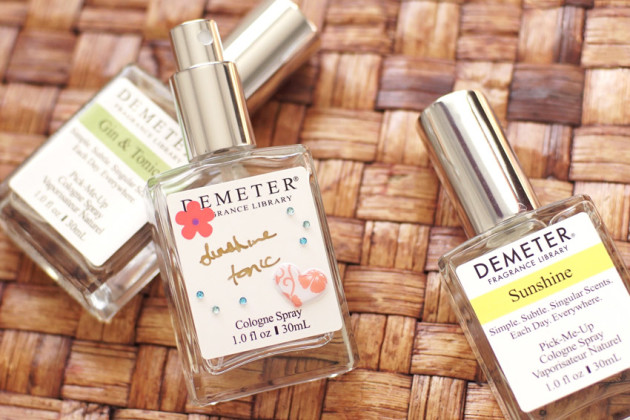 The verdict?
If you're going to love the Demeter line, you totally already know that you will. It contains an astoundingly wide range of very simple scents, and it gets you because they're just so easy to mix together.
I didn't love any of these scents on their own, but you know what? This fragrance blending kit is FUN. It's some of the most fun that I've had all month, and I would do it again at the drop of a hat.
So the scents smell a little cheap and don't have a lot of lasting power – it's not about starting a niche perfume business. It's about having fun; it's a Paint Nite for your nose, except it's easier to hide any botched projects and you don't have to desecrate the word "night" to do it.
Availability: $45 USD for the trio and blending kit. ($59.40 USD if bought separately).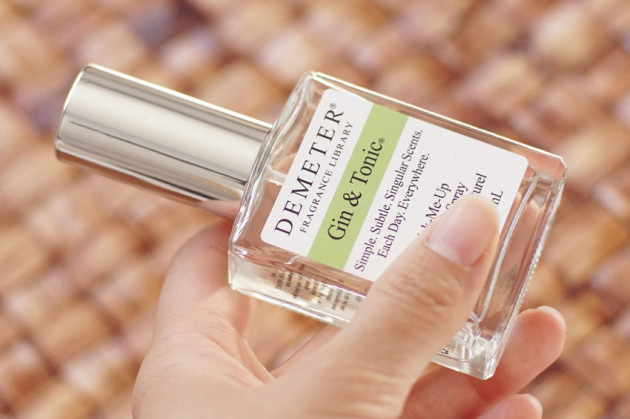 See the rest of the CBBers Demeter coverage as it happens…