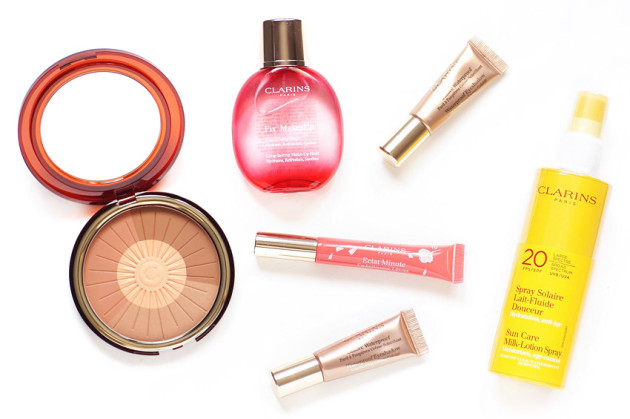 With my finicky eyelids, I spend a loooot of time waiting for brands to release really great, long-wearing eyeshadows that a) won't need a primer to not crease and b) aren't too shimmery. For some reason, they seem to be few and far between, and more often than not they're limited edition releases (like these two, which I adored and miss every time I put on eyeshadow.)
Clarins' new summer collection includes one such eyeshadow formula, and I'm absolutely smitten with both it and the collection's LE-packaged Instant Light lipgloss–which, yes, okay, I hadn't tried until now.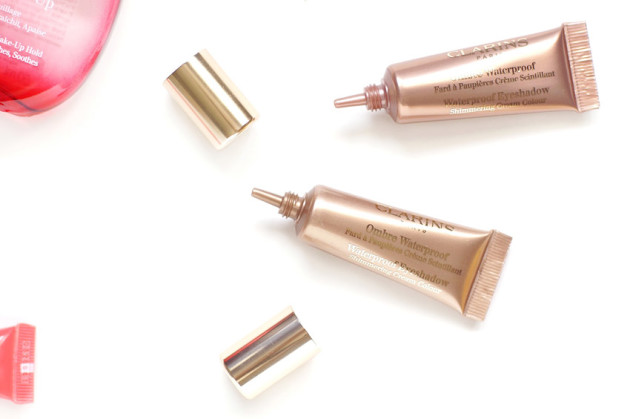 Clarins Waterproof Eyeshadow Shimmering Cream Colour ($24 CAD)
The limited edition Clarins Waterproof Eyeshadows come in little tubes (my favourite kind of eyeshadow packaging; it's hygienic and makes me feel far more artsy than I actually am) and are available in four shades. The formula contains orange blossom wax to help create a protective waterproof film, and it's so good.
While I know that cream eyeshadow formulas can be a little finicky, this formula is really worth the effort. These eyeshadows wear literally all day on my oily lids with zero creasing, and I don't need a primer underneath. My longest wear test was a whopping 10 hours long and saw no creasing and only a tiny bit of fading, and I bet I could have made it to a full 15 had I not then needed to go to bed and actually get some sleep for once.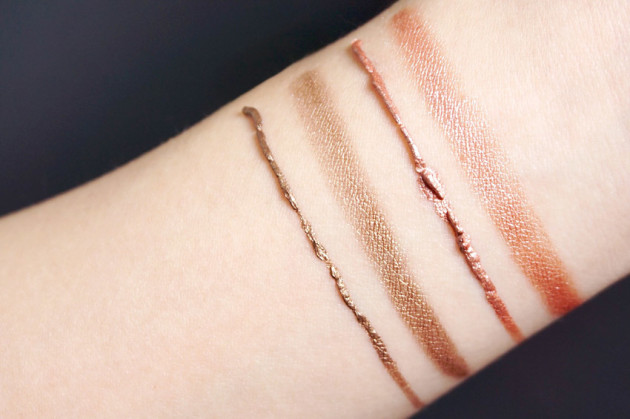 Clarins Waterproof Eyeshadow swatches in 02 Golden Sand, 01 Golden Peach
I tested out Golden Sand and Golden Peach, which are both sheer, warm, summery shades. They're shimmery without being gaudy (something that Clarins excels at), and while I found them to be a little too warm for my skintone, they still looked beautiful on their own.
The formula does dry down fairly quickly, but it blends well both with a fingertip or with a brush. And, once dry, it's totally set: there's no stickiness or smudging, and you'll need to take a makeup remover to your eyelid to get it off.
As a result, I find that these shadows perform best on their own, but they'll serve as an oil-absorbing base if you're willing to foil any subsequent powder eyeshadows. The dry finish doesn't lend itself to acting as a primer, though, so opt for a cream eyeshadow base instead if you're willing to exchange flawless wear for a sticky base.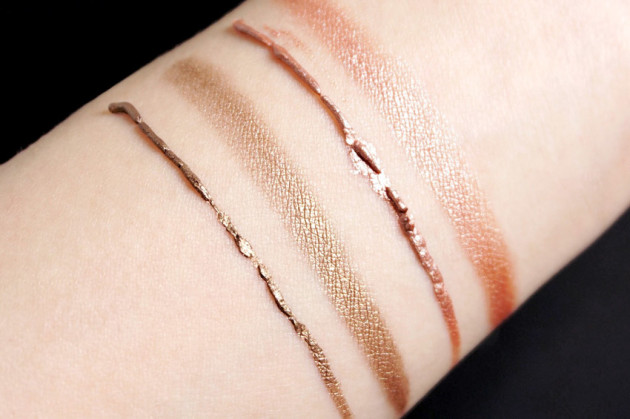 Clarins Waterproof Eyeshadow swatches in 02 Golden Sand, 01 Golden Peach
Clarins Instant Light Natural Lip Perfector ($25 USD/$20 CAD)
Clarins' Instant Light glosses are one of their most popular products, so I'm a little embarrassed to admit that I hadn't tried them until just now! (I was busy being distracted by their other lip products.)
The summer Sunkissed Summer 2016 collection showcases three brand new Instant Light Natural Lip Perfector shades (Pink Shimmer, Orange Shimmer, and Red Shimmer), each with a sheer tint and "soft gel texture" (hella accurate.) The 3D shimmer that's mentioned all over their product page is negligible; Pink Shimmer is a beautiful, milky coral pink with shimmer that's literally invisible unless you hold a swatch right up to your eye in direct lighting.
These glosses are vanilla scented and taste sweet, and the summer shades come packaged in a beautiful white & floral box with and white petals adoring the simple coloured tubes.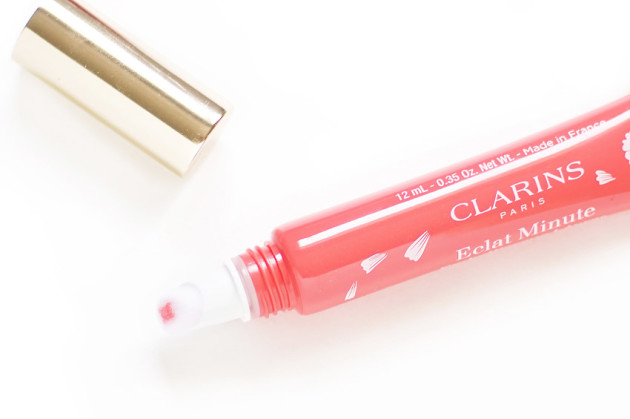 I really like this kind of applicator (think the celebrated child borne from an illicit affair between a doe foot applicator and a squeeze tube), and the plush texture of the gloss formula is really nice. It's not as moisturizing as I had expected, though–everyone always refers to these as a lip gloss crossed with a balm, but my lips just weren't feeling it.
They contain shea butter, wild mango, and vitamins A & E to repair and soften the lips, but with continued use, my lips were left feeling a little dry. For a lipgloss, they're pretty moisturizing; if you need a lip balm throughout the day, though, these aren't a two birds/one stone kind of deal.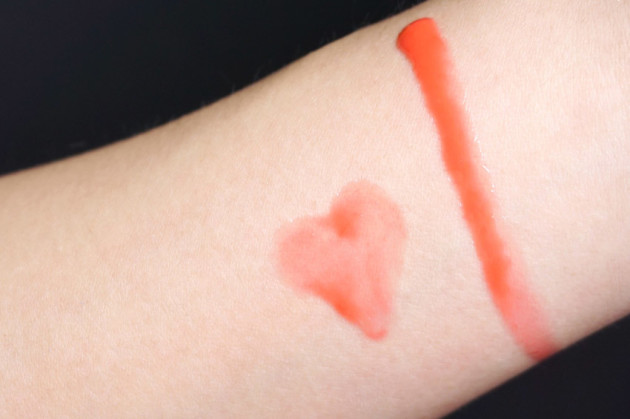 Clarins Instant Light Natural Lip Perfector swatch in Pink Shimmer (artificial lighting)
The verdict?
I really liked the Clarins Instant Light Natural Lip Perfector in Pink Shimmer as an easy, tasty summer gloss, but I looooved the new Waterproof Eyeshadows. They're perfect for beach days and afternoons at the pool, and will deliver a flawless shimmery eyelid that won't smudge or crease no matter how hard you run and play and sweat.
The formula of the new eyeshadows is really waterproof, too, which is awesome to see. My swatches didn't budge at all with water or hand soap and furious rubbing, but they came off easily with just a touch of cleansing oil, and when worn, they last all day and still look great at the end of it.
Availability: Available at department stores, pharmacies, and online at Clarins.com. Both formulas are silicone-free!