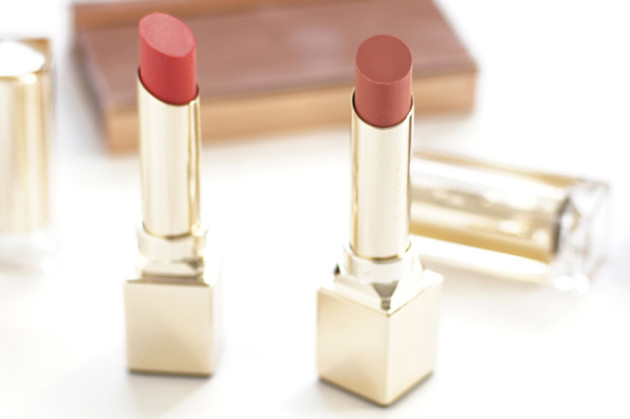 The products: Clarins Rouge Eclat Lipsticks in 26 Rose Praline and 24 Pink Cherry
It's no secret that I love Clarins lipsticks, but up until this season's new Rouge Eclat shades came and knocked it out of the park, I hadn't found my shade yet. These little potatoes are part of the Instant Glow Spring 2016 makeup collection, and folks: they are divine.
So divine that they can even distract me for a fraction of a moment from how stressed-out and wild small cat has been this week (cry).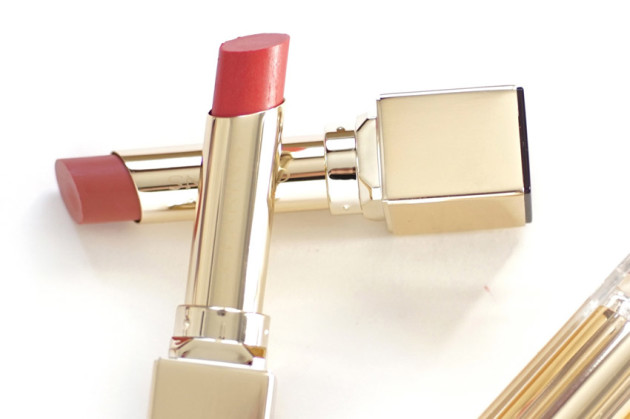 The formula: Clarins' Rouge Eclat lipstick formula is sort of the brand's answer to balmy lipsticks. They're not as pigmented as the Joli Rouge lineup, or as shiny as the Joli Rouge Sheers, and they're actually my favourite of the three because of it!
The Rouge Eclat formula is buttery and smooth, but it is NOT a glossy sort of buttery — it's more of an understated, "nothing" sort of lip, with a subtle shine that wears down almost to a matte finish. On my lips, it's about as hydrating as a mediocre lip balm (aka not super hydrating, but also not drying.) The Rouge Eclat lipsticks, like Clarins' other lip products, have a really uplifting, fruity scent that smells luxe and never gives me a headache.

Clarins 26 Rose Praline Rouge Eclat lip swatch, indirect sunlight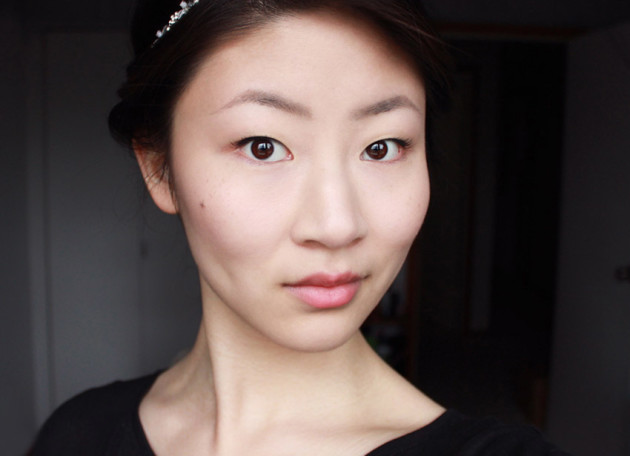 Wearing Rose Praline (and I have no idea what else, so I am desperately hoping that no one asks)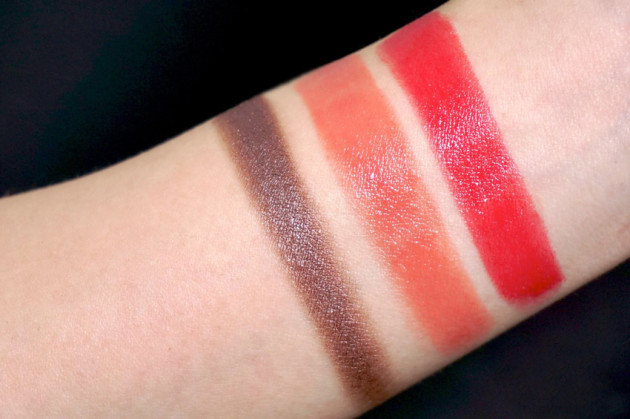 Swatched L-R: Clarins Ombre Iridescente in 07 Silver Plum; Rouge Eclat in Rose Praline and Pink Cherry
The shades: As I mentioned earlier, these two lipsticks are four of the new Clarins Rouge Eclat shades that were introduced this February. (The other two are 23 Hot Rose and 25 Pink Blossom, and all four are permanent!)
I thought Rose Praline was going to be too warm on me, but I've actually been wearing it almost every day this spring! It's a great day-to-day shade that looks more refined than my natural lip colour, but is still quite subtle. (If you have trouble wearing nude lipsticks, give Rose Praline a try — it has the same visual effect, but doesn't look as done-up.)
I haven't gotten as much wear out of Pink Cherry because I'm a sad sack who never has fun with her lip colours, but it would be a fantastic shade for the spring and summer. I can just imagine it with some bronzer and eyeliner on a trip to the beach!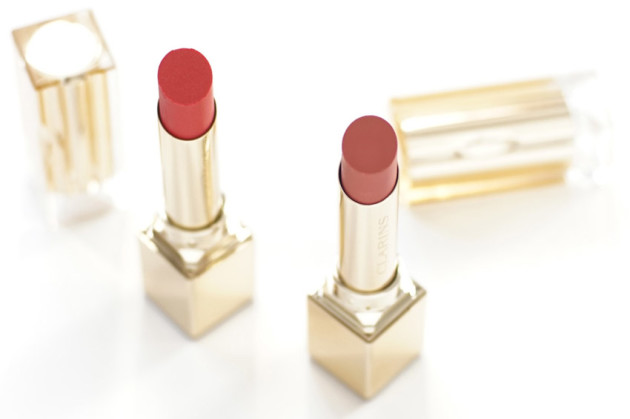 The verdict?
If you love Clarins lipsticks, you have to check out the new Rouge Eclat shades. They're creamy, comfortable, and super easy to wear, and Rose Praline has quickly become my very favourite Clarins lipstick of them all!
Plus, I mean, you can't beat that Clarins packaging and scent. These two always make me feel like I'm putting something super-indulgent on, no matter whether I'm headed to class or just hanging around in an old pair of sweats!
Availability: $28 USD/$28 CAD in department stores, pharmacies, and at Clarins.com. New permanent shades as of February 2016.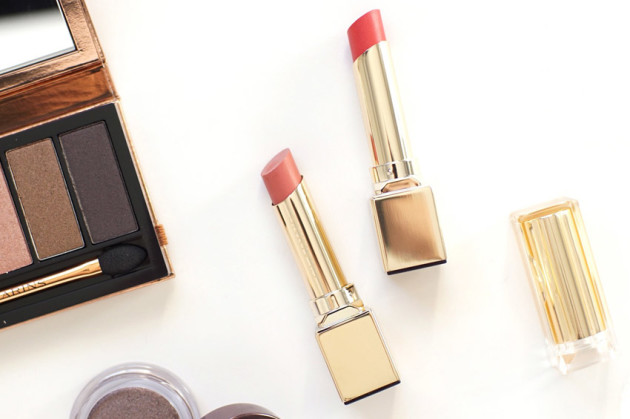 Clarins Instant Shine Spring 2016 Rouge Eclat lipstick review