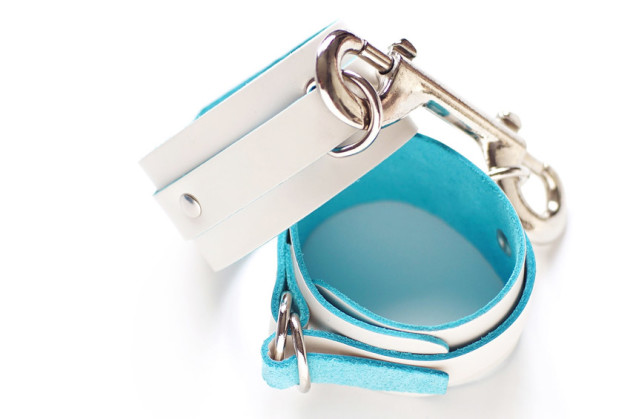 Today's Small Business Saturdays feature showcases something other than a skincare brand! (Cue cheers, clapping, and a lone sobbing skincare fanatic.)
Uh, anyhow. Today's feature brand is BS Atelier, a wonderful, sex-positive Spanish company with just the most beautiful, nostalgic, tongue-in-cheek aesthetic. They make both realistic toys as well as ones covered in stripes, rainbows, splatters, and even cow print, so there are lots of options on both sides of the spectrum!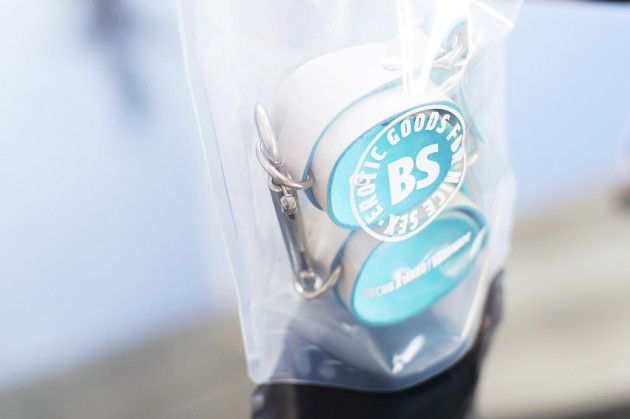 Even the BS Atelier packaging is cooler than you.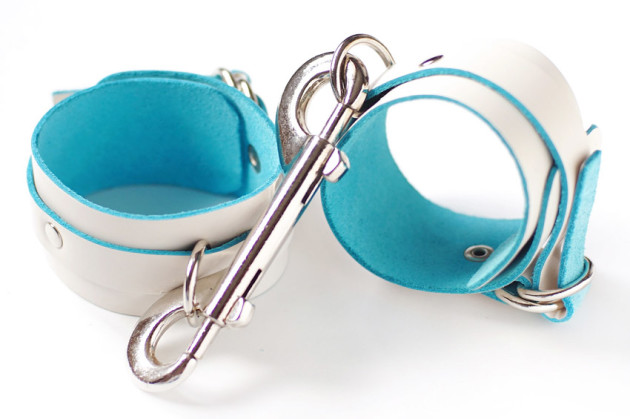 BS Atelier Handcuffs – White
BS Atelier Handcuffs (47.0 €)
BS Atelier focuses mostly on rope bondage, but I've loved their handcuffs for ages. Their leather cuffs are very simple and versatile, and no attention to detail is skimped on. They feature a loop-back closure for a custom fit, and the leather itself is pretty nice — it's unfinished, so it pills a little at first, but it's lightweight, flexible, and really comfortable. 
Mostly, though, I love that these cuffs don't look like hard bondage gear. I love the hardcore BDSM aesthetic as much as the next queer girl, but personally, I just can't pull it off! I thrive in a bedroom that can be giggled in, and I think it's fantastic that the BS Atelier team is offering such a cheery alternative for those who are into bondage but not necessarily the whole hardcore vibe.
(And I mean, how gorgeous would these be as outerwear?? I love how they're suggestive, but not so obvious that you'd be likely to make people uncomfortable.)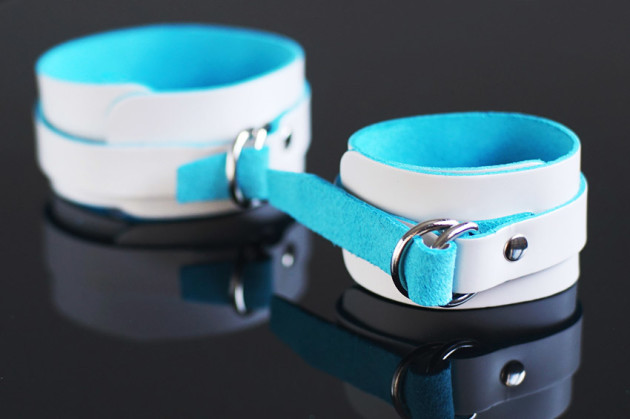 My one caveat: Before you buy, there's one last thing to note: The double snap hook that attaches these cuffs together is absolutely terrible! It's stiff and poorly-made, and I find that you have to pull down on the bar itself rather than on the sliding bit in order to get them open.
So, if you're planning on clasping these together, plan accordingly. Otherwise, just make sure to care for these cuffs as you would any piece of leather (treat them kindly and keep them out of major wet works) and you should be good.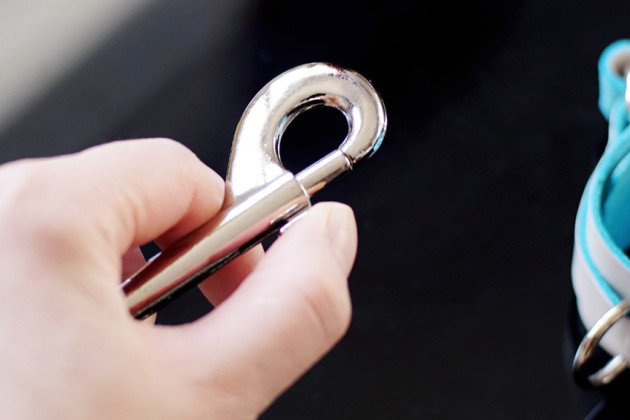 BS Atelier hardware – this is me pushing down on the clasp!!!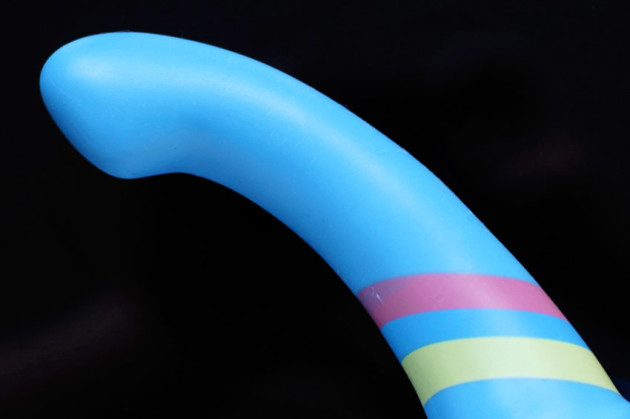 BS Atelier G-Spot Ella Dildo in Blue – Small
BS Atelier G-Spot Ella Blue (70.0 €/on sale at SheVibe)
I was also lucky to be able to test the matching G-Spot Ella in Blue thanks to the lovely team at BS Atelier. (The small size is featured here; it's available in S, M, and L at BS Atelier or just M through SheVibe). The striped Ella Blue print just as fun and uplifting as the white cuffs, and the two would make an absolutely charming gift together!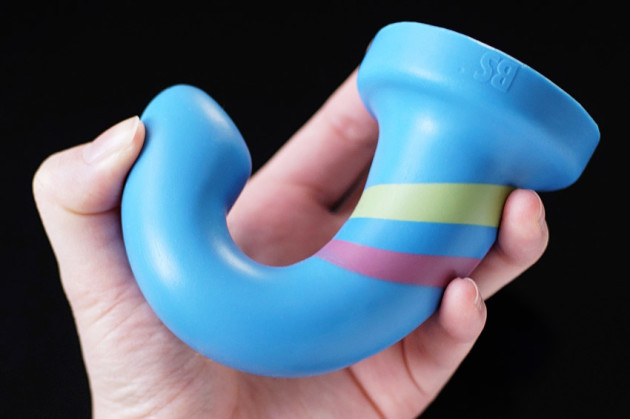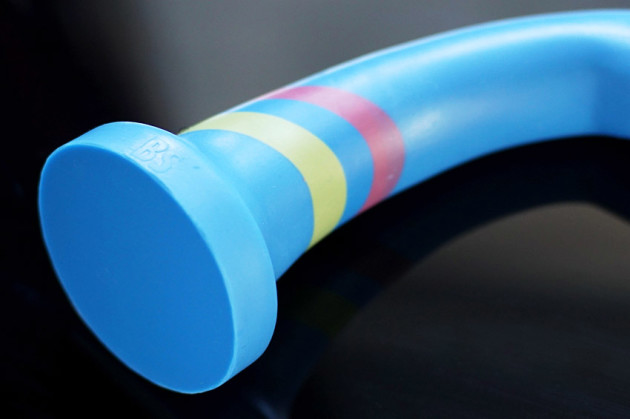 There are two tiny flaws in this dildo; a little circle next to the BS and a fine line in the red stripe. However, both are completely unnoticeable in use, and there is no seam anywhere on the product.
The Ella is hand-poured from 100% silicone and measures 5.5 inches (14 cm) tall. It's 1.5 inches (3.8 cm) wide at the base and 1.1 inches (2.8 cm) wide at its narrowest. I know that some bloggers aren't fans of the BS Atelier silicone, but I really like it — it's soft but springy and has a slightly velvety finish, kind of like a bouncy ball.
The Small G-Spot Ella is too short for comfortable use in a strap-on, but it's pleasantly squishy and holds its curve better than my Tantus or VixSkin toys. And, even though the curve is relatively unpronounced in the S, it feels absolutely mild-melting. I can only imagine how lovely it would be in the L.
» I would definitely recommend BS Atelier's G-Spot Ella line, but I'd advise ordering the medium or large size instead!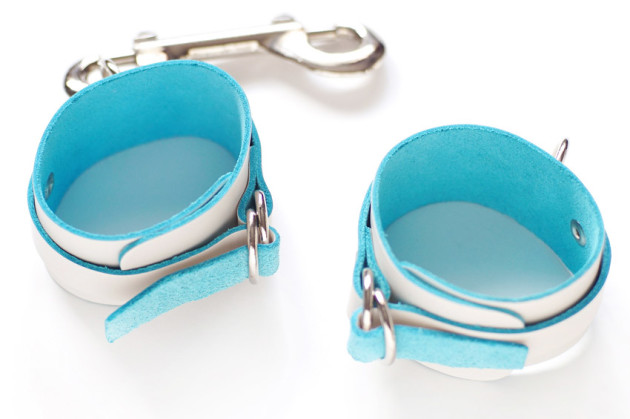 The verdict?
The BS Atelier White Handcuffs are a touch pricy, but man, are they ever beautiful. They're bright, lightweight, and comfortable, and would be a gorgeous accessory to pair with a summer dress… and take into the bedroom with you at the end of the day. That being said, I expected better quality hardware at $53 USD (ish), and I really hope to see these get even better in the future! (A vegan option, for instance, would be just amazing.)
The G-Spot Ella, on the other hand, is a total must-have. The soft, springy texture of BS Atelier's silicone and the small head on the Ella work well to offer just blissful stimulation, and while the Ella doesn't feel lifelike in the way that something like VixSkin does, I think BS Atelier might just do a g-spot curve even better!
Availability: 47.0 € for the cuffs; 70.0 €/$63 USD for the Ella. (Note: all BS Atelier toys are currently 15% off at SheVibe until Sunday night!) In Canada, you can find BSisNice at Come As You Are.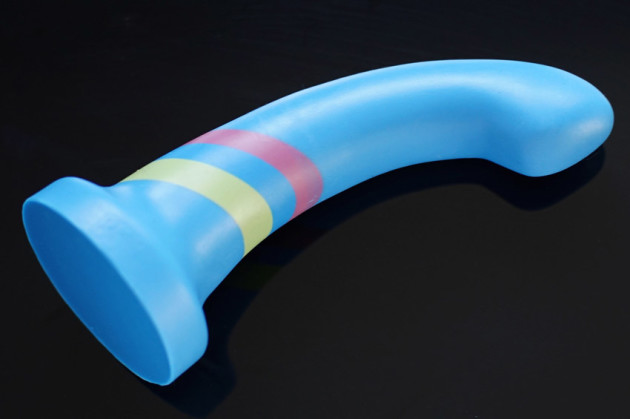 BS Atelier ("BS is Nice") G-Spot Ella Dildo in Blue – Small