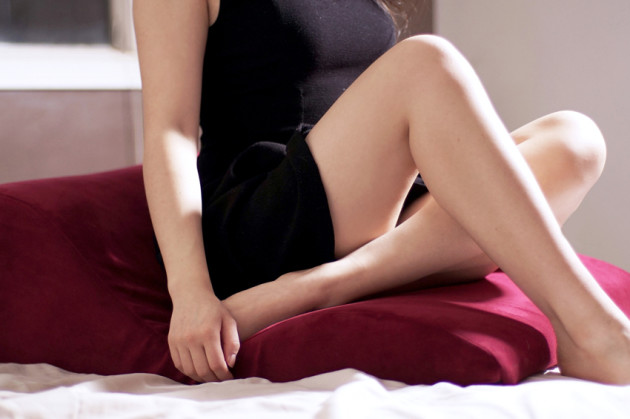 The product: Liberator Hipster in Velvish Merlot
Happy Valentine's Day Weekend, folks! I have something super special cued up for you guys today: a review of the Liberator Hipster.
I've had my eye on a Liberator for a while, and unlike the photos for this post, it did not disappoint. I'm going to be spending my weekend in an awesome cabin under the stars, but for all of you at home… here's a thing that you should totally look into owning.
(The first batch of images for this post came out looking way too dirty, so please enjoy this super-clean photo session featuring Tuna-kitty!)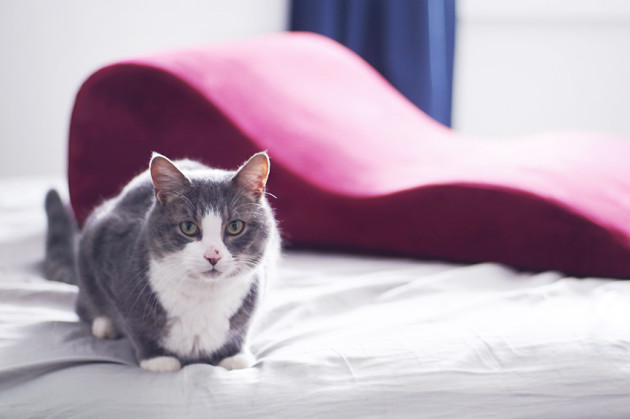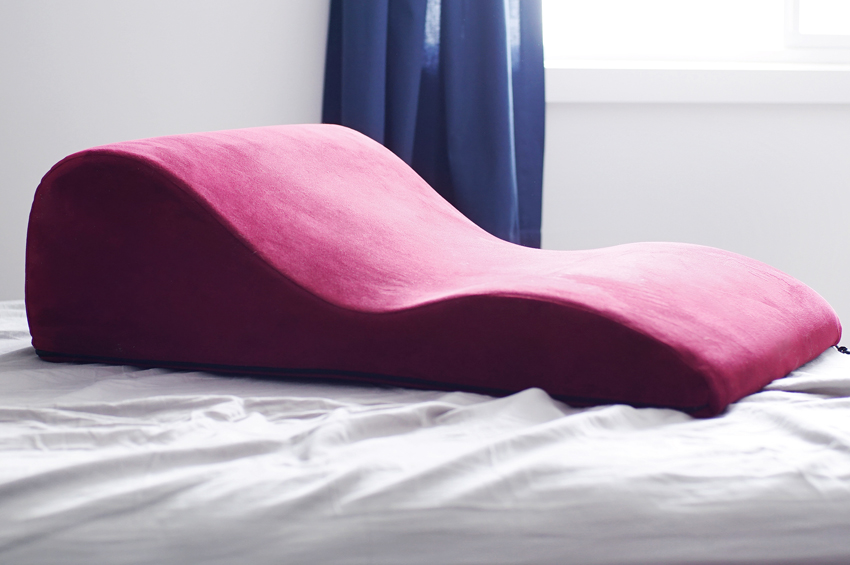 What's this "Liberator" stuff? For those of you who aren't weirdly nerdy about sex, Liberator is a line that basically makes furniture for banging supportive sex furniture. Their pieces let you mount toys, protect from spills, and support your body, and they're awesome for getting the angle juuuust right.
Because of a combination of fibromyalgia, a retroverted uterus, and really bad TMJ, I usually end up having to add supportive pillows and blankets during sex. I thought the Liberator would be a lot like that, and it is, but saying that is sort of like comparing hospital pudding to fresh crème brûlée.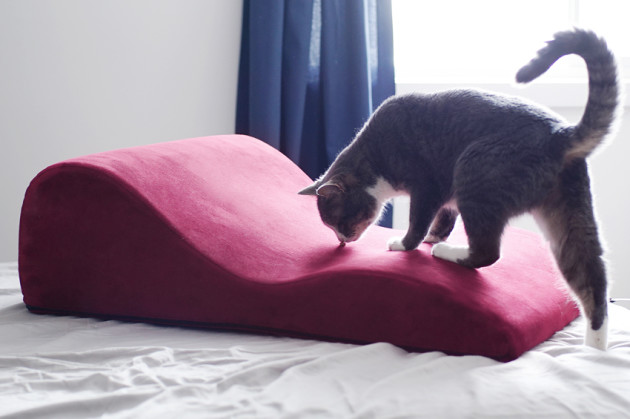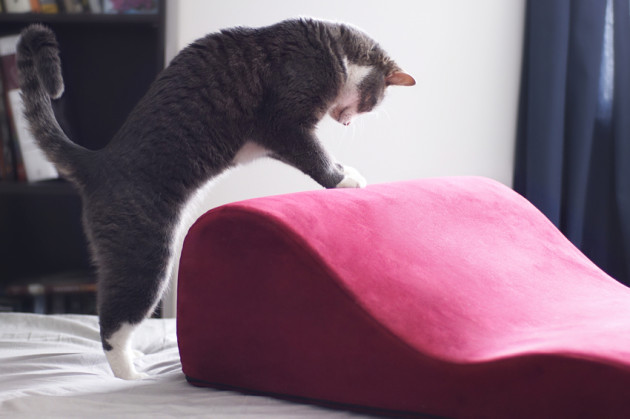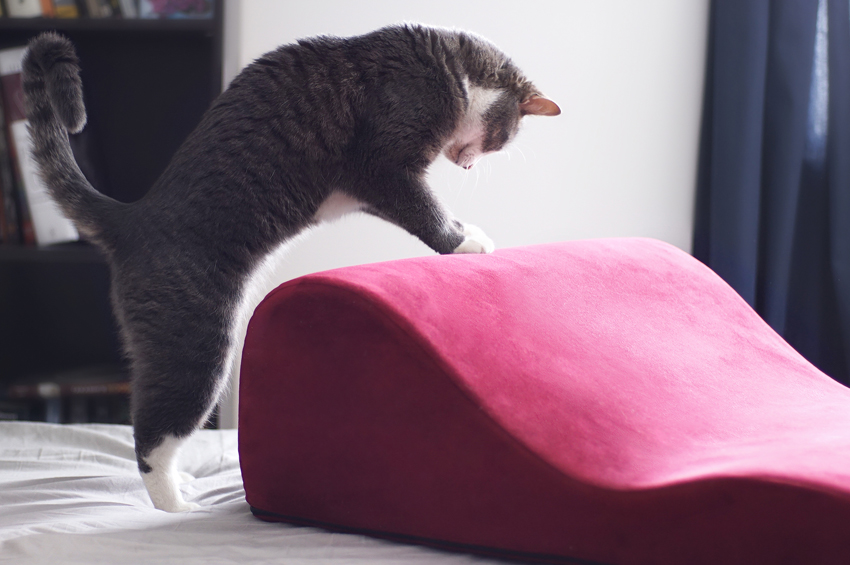 Outdoor kitty is wondering where all the food is and oh, hey, did someone say crème brûlée?
The Liberator Hipster: Liberator furniture is always shipped compressed, so my Hipster arrived in a small, discreet box no bigger than your average makeup press package. (Thank you, Liberator!) I then had to open up the eco-compressed packaging and allow air to rush back into the cushion's high-density foam, which was… I mean, it was awesome and totally OCD-satisfying and you should see it for yourself.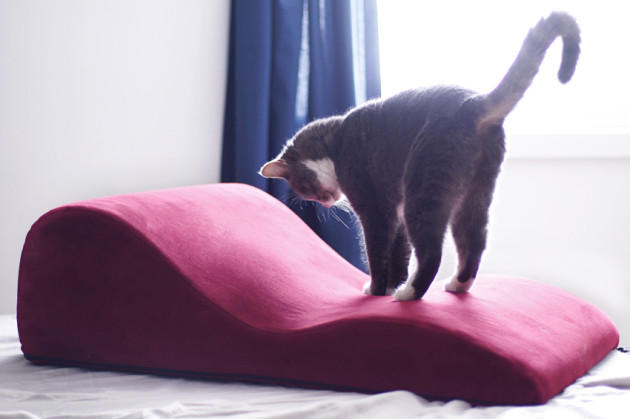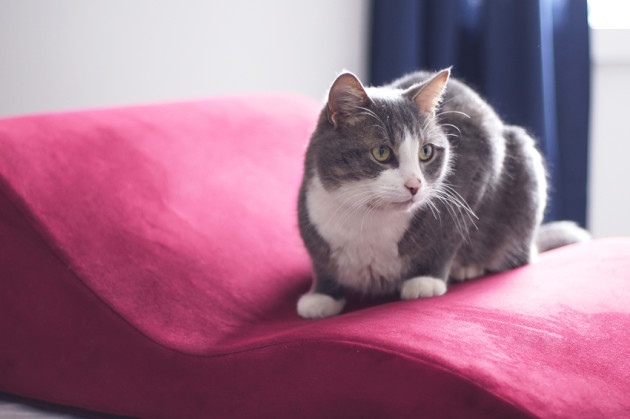 The Hipster is awesome, though. It's 33″ x 24″ and comes with a waterproof, machine-washable cover, and it features two curves for support and lift. I even found a "hidden" Liberator Ramp in it to help justify the price — just flip it over and you get all the lift without any of the curve.
I'm totally in love with the Hipster because it makes having sex way easier on my muscles and joints, but my boyfriend was the unexpected #1 fan: he's kind of obsessed with it. The taller curve takes a lot of the work out of his glutes, and the angle lets him get (in his words) "deeper than I've ever gone before." Thanks for that overshare, boyfriend.
Plus, the firmness of the material means that we have to do very little adjusting mid-coitus*, which is always a bonus!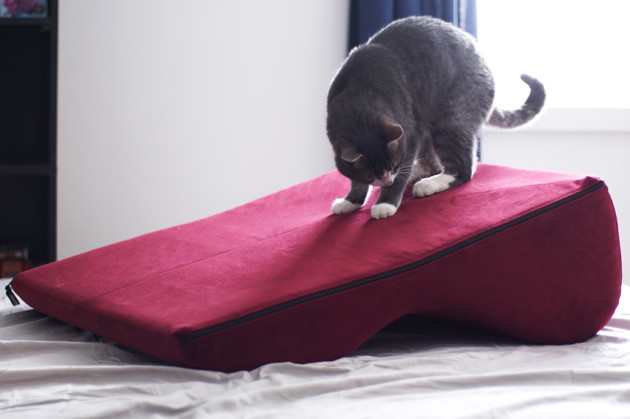 Tuna checking out the Hipster's hidden Ramp and wondering why there still isn't any food
The best ways to use the Liberator Hipster: Figuring out which Hipster positions did and didn't work for A and I was kind of a clusterfuck, and also some of the most fun I've ever had in the bedroom. Girl-on-top didn't work for us AT ALL (I still don't know where my legs were supposed to be going), but doggy-style with the Hipster is like–askdfghrrrrngh.
I thought this post could use some hilarious sex position names and bad stick figure drawings, so I give you now: four of our favourite ways to use the Hipster.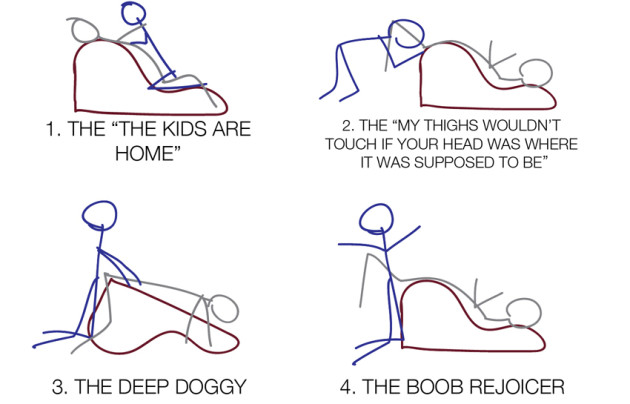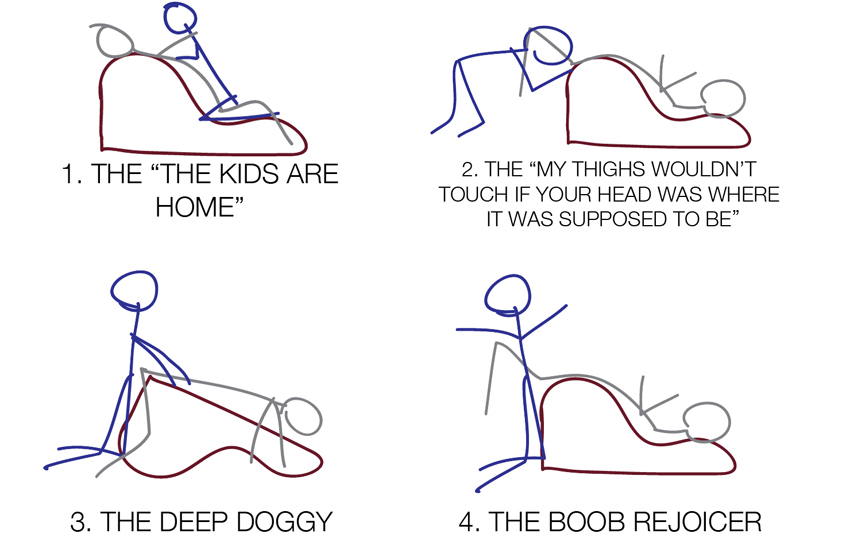 How to use the Hipster! (In blue and grey, to symbolize the "presently wielding dick" and "presently receiving dick" partners.)
A really likes position #1 because it feels really intimate, so I (of course) have decided that it is the Worst of the Worst (of the best). It's honestly pretty nice, but I object to all unintentional closeness and must therefore mock it until one of us dies.
My favourite position is #3, though, which takes away all of the "It feels like I'm being repeatedly stabbed in the uterus," and "I'm too short for this oh god ouch ouch ouch," aspects of doggy style and magically turns the position into one of the easiest, most comfortable positions ever.
Our very favourite way to use the Hipster, though, is #4: The Boob Rejoicer. I swear, this alone is worth buying a Hipster for. It allows for crazy deep penetration, and more importantly, it makes my boobs look awesome — or so I'm told. The Boob Rejoicer is so good that we rarely make it past the 5-10 minute mark, and it's a position that I don't think you (or your squishy pillows) could even halfway dupe without a Liberator.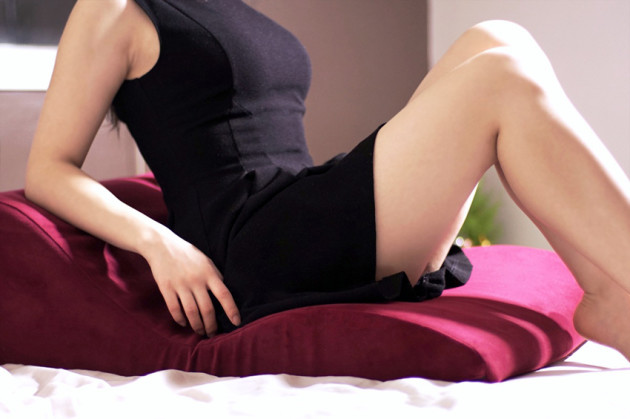 The verdict (and other Liberator options)
I can't remember the last time that I said this about a brand, but I honestly think that everybody (yes, everybody!) needs to own at least one Liberator piece. They're a must-have for couples with fatigue issues, and they seriously level up pretty much everything in the bedroom.
The Hipster and insanely popular Wedge/Ramp Combo are awesome, but Liberator stuff can be enormous (and doesn't come cheap). The Wedge and Decor Heart Wedge are more affordable options, and the Flip Ramp daylights as a space-saving ottoman.
So go fourth, dear readers! Make sex stuff easier on your poor little bodies, and think of me fondly when your glutes aren't sore after your next marathon session.
Availability: $160 USD at Liberator.com, where everything is presently 20% off with code KISSME. You can also buy Liberator products from my fave folks over at SheVibe, where the Hipster is on for $149.99!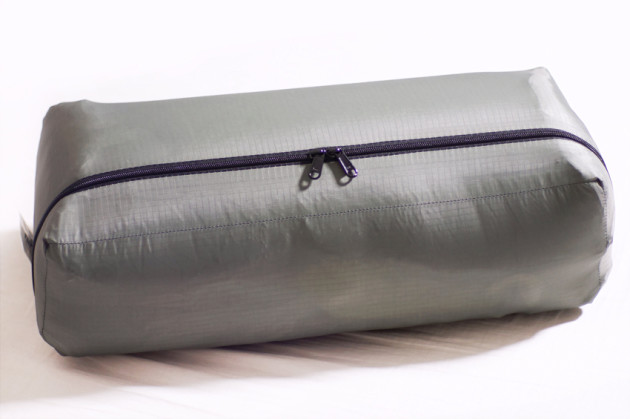 The tiny, compressed Liberator shipping package!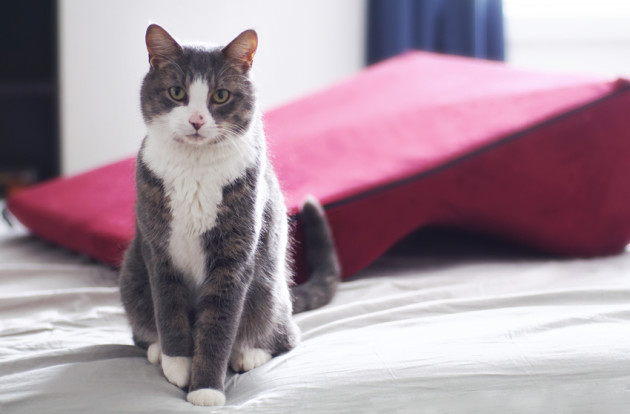 "I can't eat this. Get it out of here immediately. Let me show you how much I despise you by cozying up to you and then refusing to accept pets."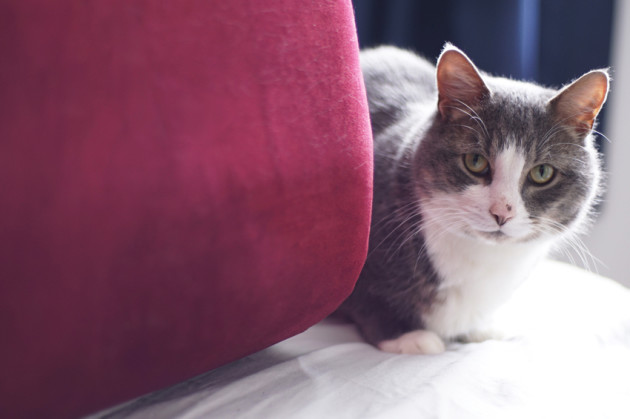 *I have ALWAYS wanted to use the word "coitus" in something, and now I have! (Raise your hand if you agree that "coitus" is a hilarious word that only gets funnier with each repetition.)