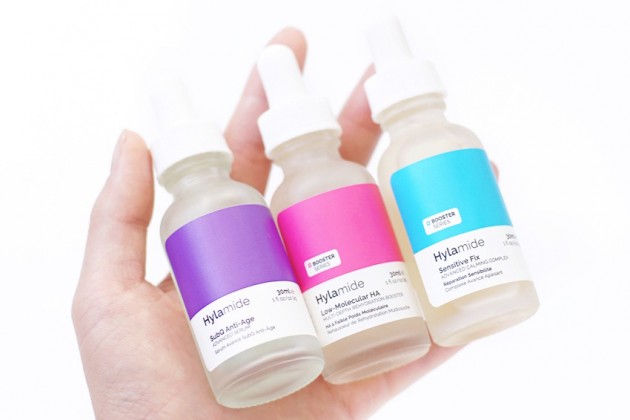 It's no secret that I love Deciem's SubQ Anti-Age Advanced Serum, so when I heard about the line's "boosters," my interest was immediately piqued. The boosters are designed to be used as an adjunct to your skincare routine, applied after your serum and before your moisturizer, letting you customize exactly what you want out of your regimen.
I was sent the Low-Molecular HA Booster by the lovely folks at Deciem, but I liked it enough to purchase the Sensitive Fix Booster on my own — and I couldn't be happier that I did.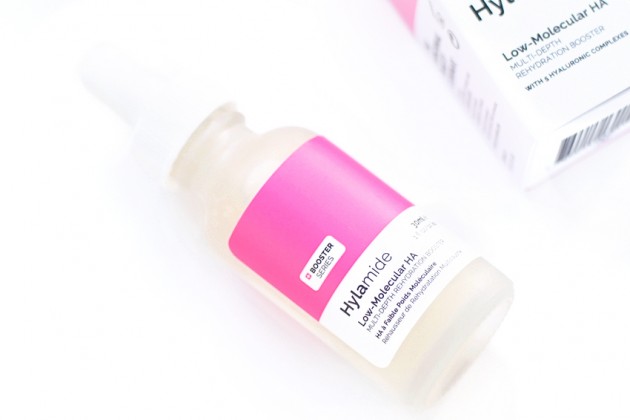 Low-Molecular HA Booster
The HA Booster contains 5 different hyaluronic compounds that target everything from lightweight surface hydration (hyaluronic acid ferment) to encouraging your skin to produce more hyaluronic acid on its own (HA precursor), but for some reason, I find that I get lots of little closed comedones when I use this.
The formula of the HA booster is a little weird, too. Like Fountain's Hyaluronic Molecule, it's very thick — not sticky, but almost… goopy? It dries to a "nothing" finish, but the application is a little weird!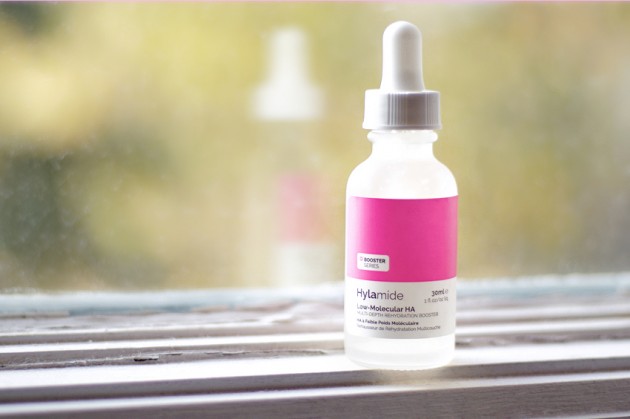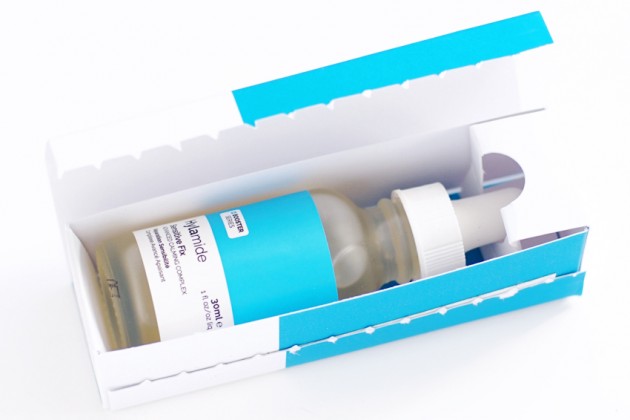 Sensitive Fix Booster
Okay, so this? This is where it's at. 
I was a little disheartened with my experience with Hylamide's HA booster, so I went and purchased their Sensitive Fix during the brand's 20% off Halloween sale. My order came out to a tiny $16.80 CAD including 2-day shipping, and it was marked as shipped literally twelve minutes after I made my order, so yeah, you could say that Mr. Sensitive Fix and I got off to a pretty good start.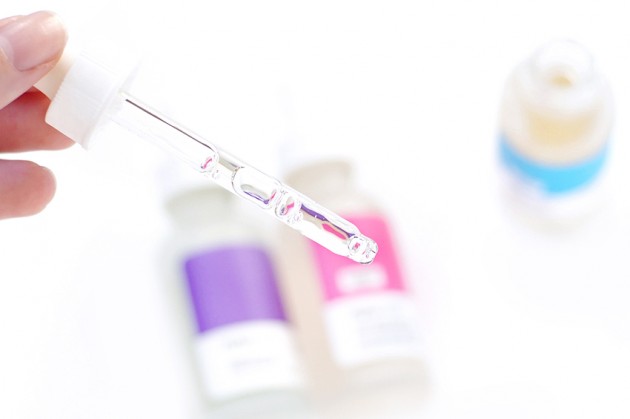 Sensitive Fix is meant to decrease irritation and redness with twice daily use. I don't have a lot of redness and it doesn't do anything for the redness that I do have (though I suspect those with serious redness will have different results), but what it does do is calm down my surface irritation. 
I have super-sensitive skin that sometimes feels like it's burning for no reason whatsoever, but Hylamide's Sensitive Fix kills the irritation almost immediately. It works much like the Guerlain SOS Serum does, with a very mild "hot" feeling followed by a dramatic decrease in irritation, except it's $20 CAD, not (have mercy) $104 USD.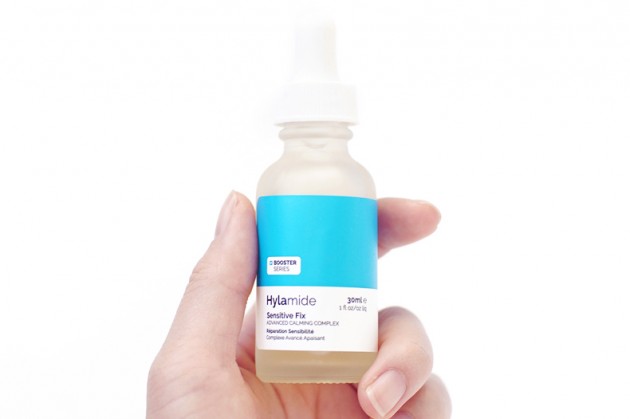 Now, this is a total over-share, but when I read that the Golden-Eye Grass Complex in this serum balances skin pH to reduce sensitivity in the immediate and short term, I, uh. Put it on not-my-face. And then I re-tested it on not-my-boyfriend's-face.
That's all I'm going to say about that, but trust me on this one: if you're experiencing pain on pink skin due to dryness or irritation, this stuff will calm it down in literally seconds. 
But I mean, don't try this one at home, kids.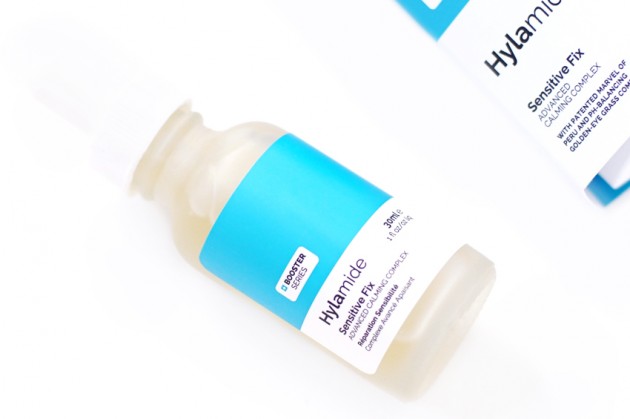 The verdict?
You NEED the Hylamide Sensitive Fix Booster. I'll admit that I was skeptical at first, but now that I've tried it, I really believe in its ability to calm down surface sensitivity in the short term. It was easily my best purchase of 2015, and I'll likely be stocking up with a second bottle before the end of 2016!
As for the Low-Molecular HA Booster? My skin is really dry, so it doesn't always slough off its layers correctly (hence the clogged pores), but I think those with oily, dehydrated skin will really like it. It does a great job of hydrating my partner's face without feeling heavy or greasy, and unless it's really dry outside, he can actually just use the HA Booster and nothing else!
Availability: $20 CAD each with FREE WORLDWIDE SHIPPING!! (the caps lock is definitely necessary) at Deciem.com. Also available at the Hudson's Bay Beauty Underground.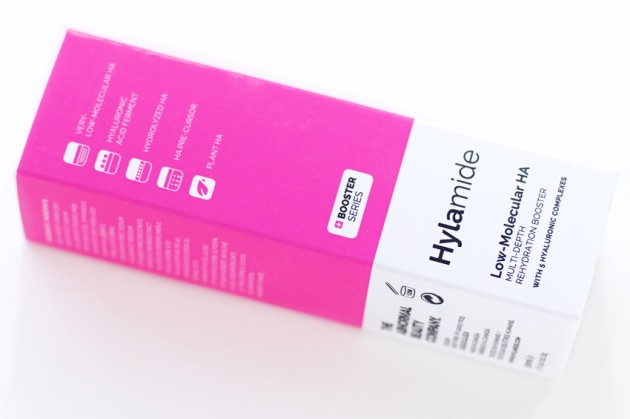 Hylamide Low-Molecular HA Booster ingredients:
Water, Hydrolyzed Yeast Extract, Sodium Hyaluronate Crosspolymer, Saccharide Isomerate, Pentylene Glycol, Tamarindus Indica Seed Gum, Hydrolyzed Sodium Hyaluronate, Tremella Fuciformis Sporocarp Extract, Sodium Hyaluronate, Trisodium Ethylenediamine Disuccinate, PPG-26-Buteth-26, PEG-40 Hydrogenated Castor Oil, Ethylhexylglycerin, Cetyl Hydroxyethylcellulose, Glycerin, Betaine, Citric Acid, Sodium Citrate, Polyglucuronic Acid, Potassium Sorbate, Sodium Benzoate, Lecithin, Chlorphenesin, Phenoxyethanol.
Hylamide Sensitive Fix Booster ingredients: 
Water, Sodium Hyaluronate Crosspolymer, Saccharide Isomerate, Butylene Glycol, Curculigo Orchioides Root Extract, Tamarindus Indica Seed Gum, Mirabilis Jalapa Extract, Trisodium Ethylenediamine Disuccinate, Propanediol, Pentylene Glycol, Glycerin, Lactobacillus/Eriodictyon Californicum Ferment Extract, Polyacrylate Crosspolymer-6, Citric Acid, Phospholipids, Ethylhexylglycerin, Sodium Citrate, Chlorphenesin, Phenoxyethanol, Leuconostoc/Radish Root Ferment Filtrate.