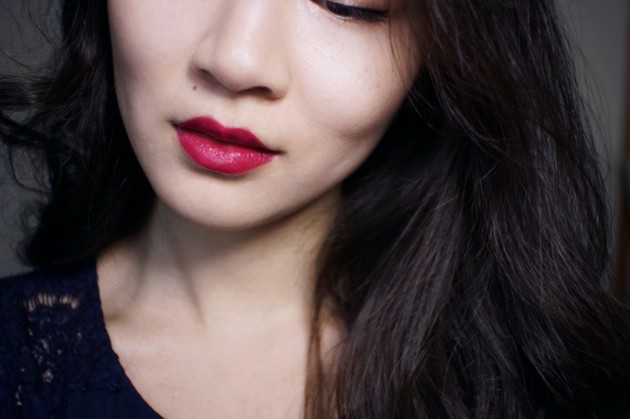 It's taken me a little while to really get into Pür Minerals, but now that I've done it… man, I don't think it would even be possible for me to go back. I've worn this look FOUR times over the past week (mostly without the lip), and it has performed like a freaking–uh, like something that performs really well. Every single time.
I am going to be reviewing EVERY product in this makeup look at some point, because I am beyond impressed with every one of them, but for today, I'm focusing on the Lip Lure (what a shade) and Epic Illusion Contour Kit (it's limited edition)!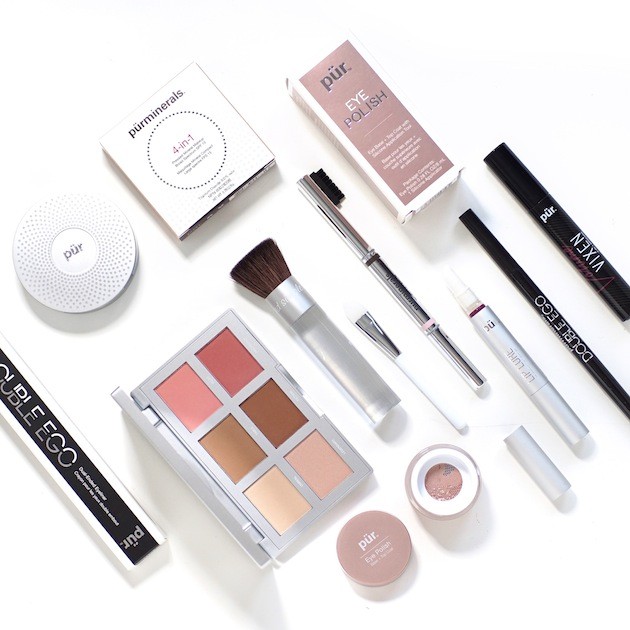 Products used for my Pür Minerals Christmas Eve makeup look. (Don't they look so pretty together?)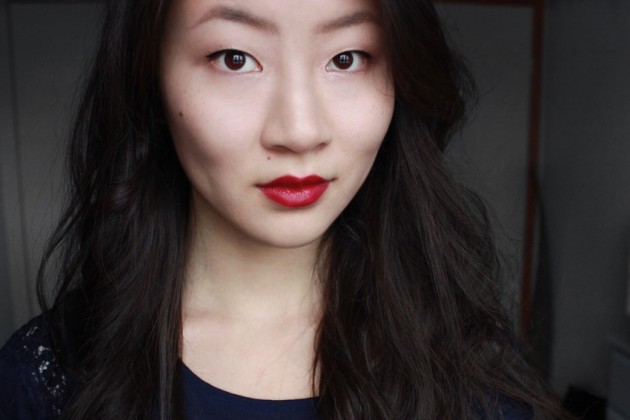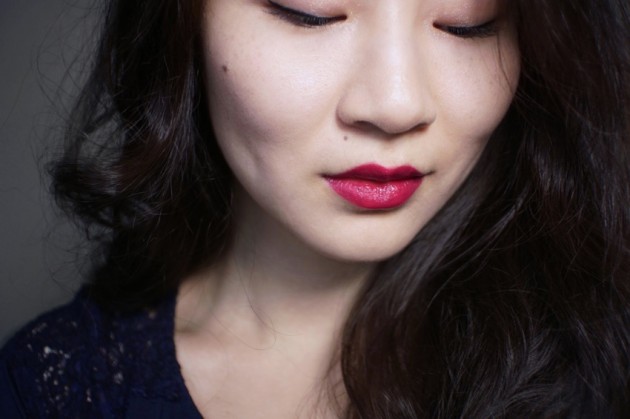 I'm wearing all Pür Minerals products in this look, from the eyes (Eye Polish in Satin, Double Ego Liquid Eyeliner in Milan, Wake Up Brow in Espresso/Hello Bright Eyes and Volume Vixen Mascara) to the lips (Lip Lure in Mystic and nothing else, not even lip balm).
Even the skin in this look (Epic Illusion Contour Palette and Pür's 4-in-1 Pressed Mineral Powder Foundation SPF 15 in the shade Porcelain, which actually matches my skintone!!!) is Pür Minerals — I didn't need any concealer or powder after using the 4-in-1, which was awesome (and super fast!)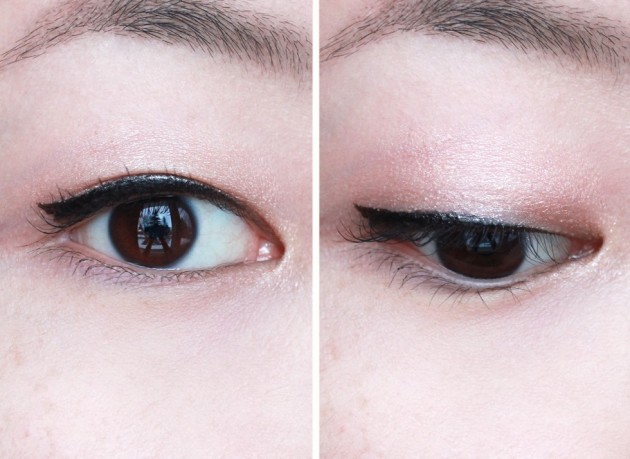 Pür Minerals Double Ego Liner in Milan, Eye Polish in Satin, Volume Vixen Mascara, and Wake Up Brow in Espresso. Plus the line's 4-in-1 Foundation to conceal my undereye area!
Pür Minerals Lip Lure in Mystic ($22 USD/$26 CAD)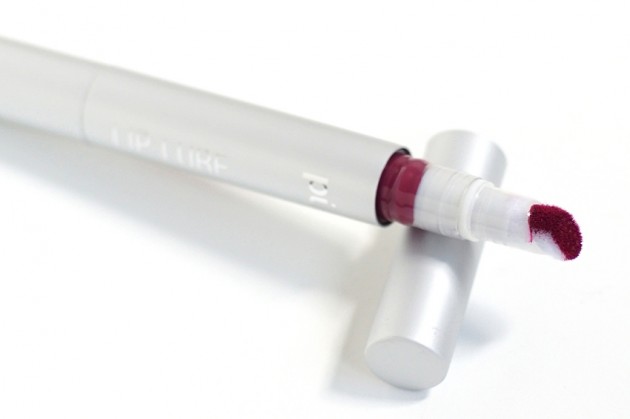 I personally think that the standout products of this look are the foundation and eyeshadow, but the Pür Minerals Lip Lure Hydrating Lip Lacquer in Mystic is certainly the most eye-grabbing. It's described as a "ripe blackberry with a hint of raspberry" by Pür Minerals, but on me, it reads more of a berry-red. 
My skin eats cool tones for breakfast, however, so make sure to check out the shade on bloggers with your skintone before buying! It's gorgeous and glossy on Glamorable, who describes the shade as a plummy burgundy, and it reads very purple against Brigette Ramos' warmer colouring. I have liked it on every single blogger (including myself) that I've seen it on, though, so it might just be one of those unicorn shades!

Pür Minerals Lip Lure swatches: Mystic in indirect sunlight (L) / indirect artificial light (R)
As for the formula? I'm in love. It's insanely pigmented, with a creamy, hydrating texture. I haven't worn this one for hours and hours–I've been eating far too often recently to really test out a colour this opaque–but within the hour or two that I have tested it for, it's been wonderful.
The liquid lipstick formula looks glossy if applied heavily or satin-matte if applied sparingly (I've applied it thinly here, believe it or not), and it hasn't made my lips feel even the littlest bit dry!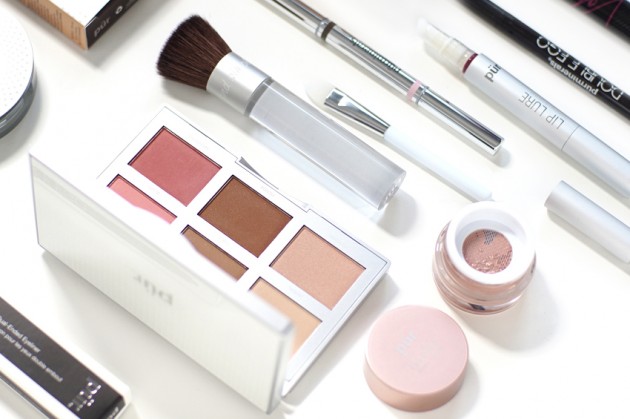 Pür Minerals Epic Illusion Contour Kit ($28 USD/$32 CAD)
The last Pür Minerals gem that I have to talk to you guys about today is the brand's limited edition contour kit.
Now, I'm not usually a fan of contour kits (they're always so warm and harsh), but… I like this one. It contains two rows of products (a yellowier row for lighter skin and a darker row below, as usual), with a highlighter, contour/bronzer, and blush in each row.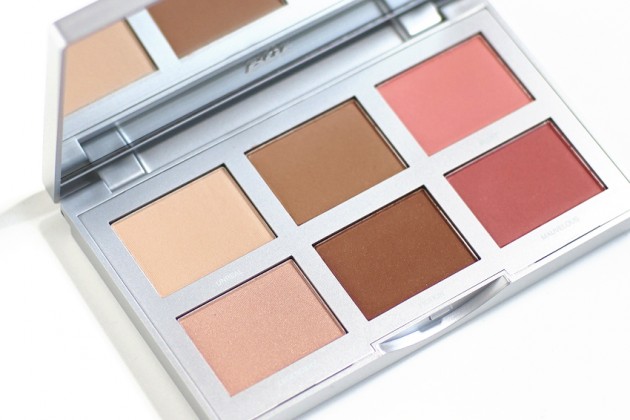 Even though both Fable and Fiction are too warm for me to really get a cut cheekbone with, I find myself reaching for my Epic Illusion palette. Bluff and Mauvelous are lovely and pigmented, with great undertones, and all of the products are easy to blend into the skin for a seamless application. (I've been mostly using Legendary, Fable, and Bluff.)
My one issue with this palette is that the highlighters, Unreal and Legendary, are too dark for my skin. They have a lovely, soft glow instead of a chunky glitter finish, but they're both darker than my skin!! This won't be a problem for most, but I'd say that if you're a Pür Minerals Fair or lighter, you might want to take a pass on this palette.
All in all, though? Definitely get Mystic, and have a look at Epic Illusion if you want a good powder contour palette. It's more wearable than most, and the price (a good $20-$50 cheaper than most contouring palettes on the market) can't be beat!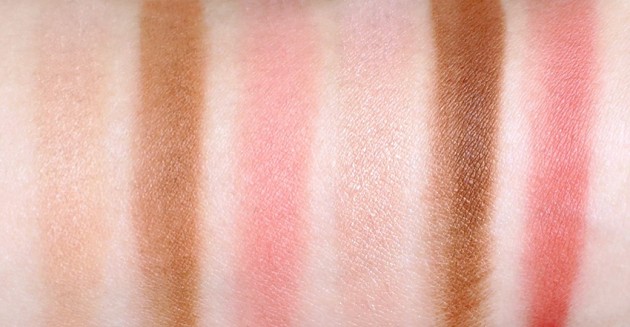 Pür Minerals Epic Illusion Contour Palette swatches – L-R: Unreal, Fable, Bluff, Legendary, Fiction, Mauvelous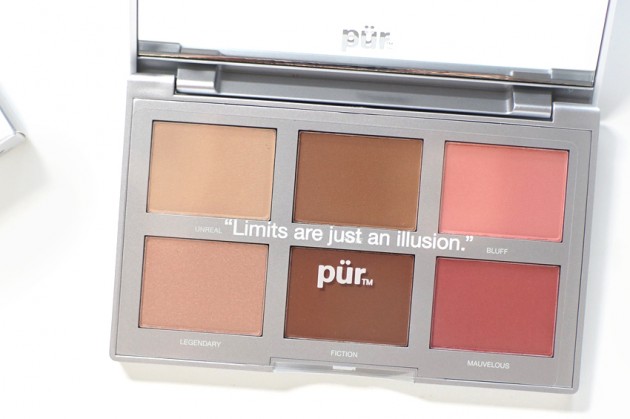 The limit does not exist. ;)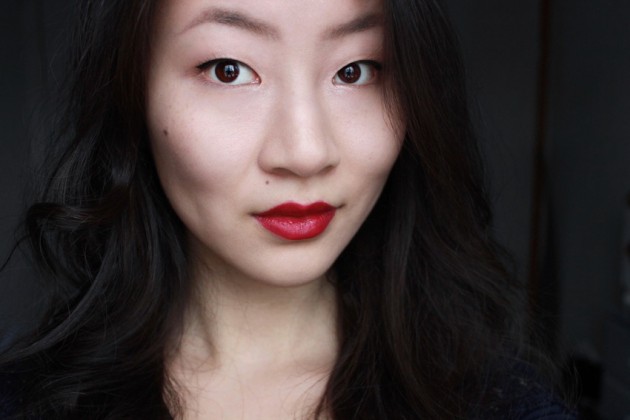 One last shot of this holiday-approved makeup look! See you guys after Christmas, probably — I'm going to be busy rocking this lip all of Christmas day.