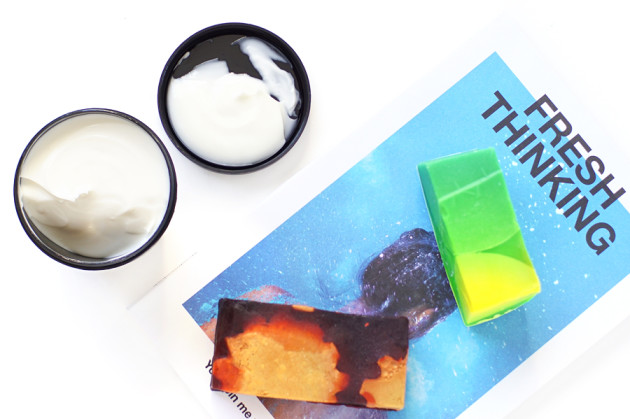 The products: LUSH Baked Alaska, Old Father Time, and Celebrate Hand and Body Lotion
Happy Decem-burr, dear readers! I'm super jazzed for the holidays this year despite the eerily warm weather we've been having, so I'm very temporarily suspending my regular to-review shelf in favour of some more festive finds.
Up first are a few cruelty-free, vegan products from LUSH's holiday range. Or, as they like to call it, the Christmas collection! (Because fuck political correctness, I guess?) (Um. Also, sorry for swearing at you bright and early on a Wednesday morning.)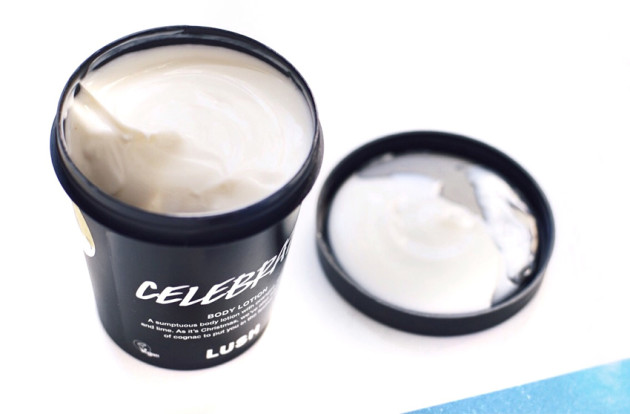 Celebrate Hand and Body Lotion ($32.95 CAD)
LUSH went a different route from most brands this winter & released a bunch of fruity and citrusy products for the holidays, so (of course) I had to check at least a few of them out!
Celebrate is one such product, and it's great — not really all that festive, but it's hydrating and lightweight and it smells super tasty. (True fact, my partner put his head in my lap yesterday, looked up at me, and said, "Your knee smells really good," with an almost reverent in his eyes.)
Love the scent? Celebrate is made with the same fragrance as Lush's Golden Wonder Bath Bomb.
This one is formulated with almond oil and cocoa butter, and scented with orange flower, lime, benzoin, and cognac oil. I get almost a lime/grapefruit feel from the scent, and I wouldn't be surprised if it was back for a third year in 2016 — it's that good.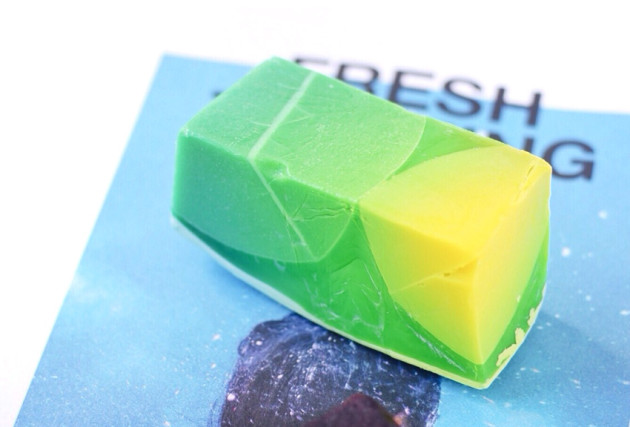 Baked Alaska Soap ($7.95 CAD)
Another fruity holiday product from LUSH this year is their Baked Alaska soap, which is fluorescent and cheerful and smells as zingy as it looks. I was expecting a sweeter/more gourmand scent based on the name, but I think the lemon myrtle, grapefruit, and ylang ylang blend really suits this bright cube of yellow and green!
Fun fact: Baked Alaska was actually inspired by "The Baked Alaska Story," a book about a snow empire built on a foundation of multi-coloured ice cream!
(I cut mine into a square after taking these photos, and goddamn, it is really cute square.)
Baked Alaska does smell a little bit lemon cleaner-y, so if you don't like your citrus scents bitter or sour at all, maybe skip this one.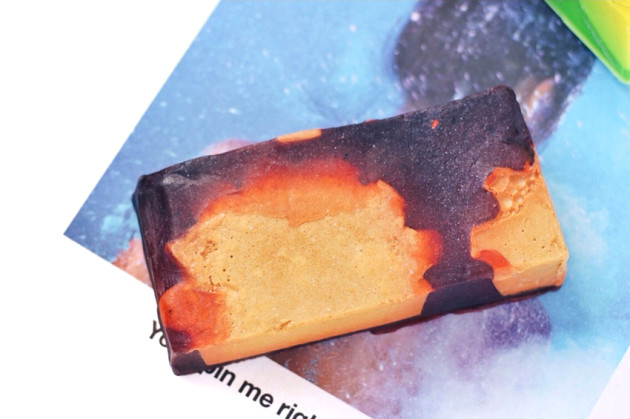 Old Father Time Soap ($7.95 CAD)
Old Father Time is a "properly" festive scent, dolled up in deep red and gold with notes of sage, thyme, and myrrh. This was the product that I was most excited to try from Lush's holiday range, but funnily enough, it was my least favourite!
I'm not crazy about the dark red colour that this tints the water with, and the scent is kind of weird. Don't get me wrong, it's cool, but it's… weird. It smells like spiced Kool-Aid blended with motor oil, and I am 100% certain that a lot of Lushies are going to LOVE it, but it's a very strong, saccharine scent. If you can, smell this one in person before buying — and if you love, stock up. It's only around for the holidays!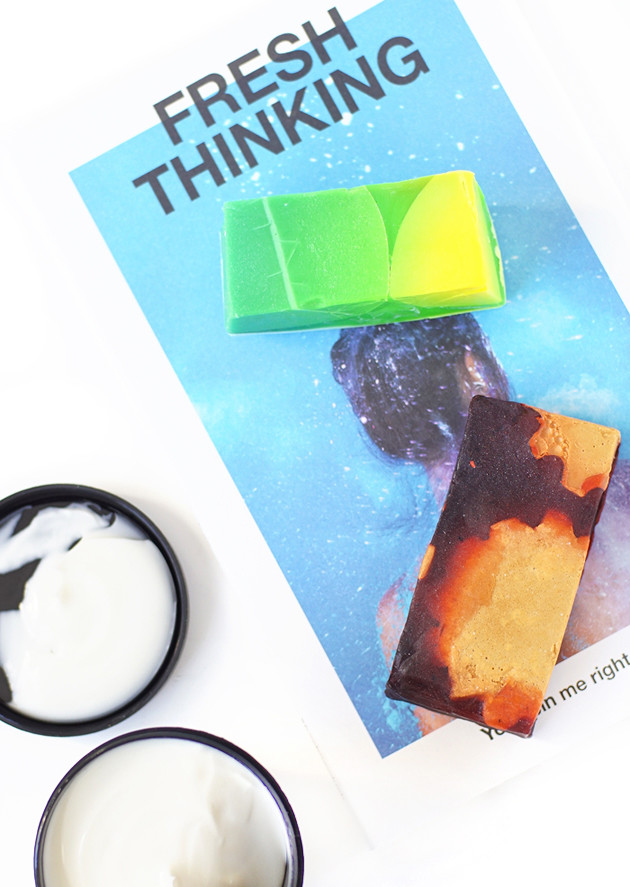 The verdict?
The LUSH holiday catalogue is, as usual, huge — and there's something in it for everyone, I think. I wasn't as smitten with these three products as I have been with other LUSH holiday products (the Sikkim Girls Body Lotion and Snowcake soap come to mind as particularly great ones), but it's awesome to see a brand doing something other than cinnamon and spice for the winter months. 
I would definitely recommend checking out the Celebrate Hand and Body Lotion if you like citrus, and make sure to keep your eyes peeled for another LUSH feature soon — I have a great little gift set to review in a couple of weeks!
Availability: Currently on shelves and online at LUSH. Limited edition!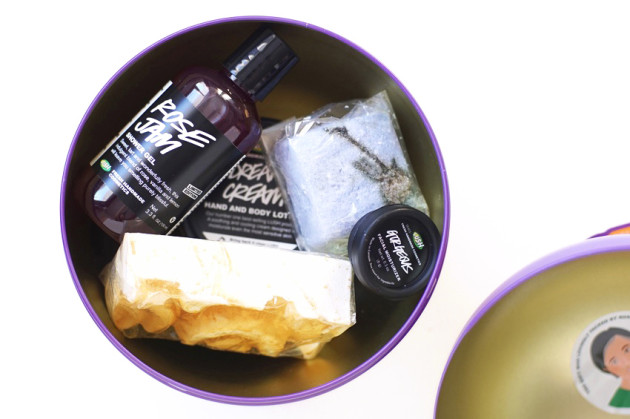 Coming soon: LUSH Winter Garden gift set review!
Read other reviews of the LUSH Christmas 2015 collection:
Celebrate Hand and Body Lotion ingredients
Almond Oil, Water, Fair Trade Organic Cocoa Butter, Glycerine, Stearic Acid, Triethanolamine, Brazilian Orange Oil, Cognac Oil, Lime Oil, Orange Flower Absolute, Tincture of Benzoin, Cetearyl Alcohol, Linalool, Limonene, Citral, Fragrance. 
Baked Alaska soap ingredients 
Water, Glycerine, Rapeseed Oil, Coconut Oil, Sorbitol, Fragrance, Lemon Myrtle Oil, Ylang Ylang Oil, Grapefruit Oil, Titanium Dioxide, Gardenia Extract, Sodium Chloride, EDTA, Tetrasodium Editronate, Sodium Hydroxide, Citral, Geraniol, Limonene, Linalool, Hydroxycitronellal, Alpha-Isomethyl Ionone, Yellow 8, Blue 1, Red 27, Red 33, Red 4 .
Old Father Time soap ingredients 
Fresh Sage and Thyme Infusion, Glycerine, Rapeseed Oil, Coconut Oil, Sorbitol, Water, Fragrance, Sodium Lauryl Sulfate, Red Currants, Myrrh Resinoid, Opoponax Oil, Rosewood Oil, Tuberose Absolute, Sodium Chloride, EDTA, Tetrasodium Editronate, Sodium Hydroxide, Benzyl Benzoate, Hydroxycitronellal, Linalool.
Shimmer: Radiant Gold Lustre, Gold Glimmer Lustre, Glacier Blue Lustre, Yoshi Yellow Lustre, Ollie Orange Lustre, Rosie Red Lustre, and Snowflake Lustre (Potassium Aluminium Silicate, Titanium Dioxide, Iron Oxides, Synthetic Fluorphlogopite, Silica, Blue 1, Yellow, Red 4, Red 33).