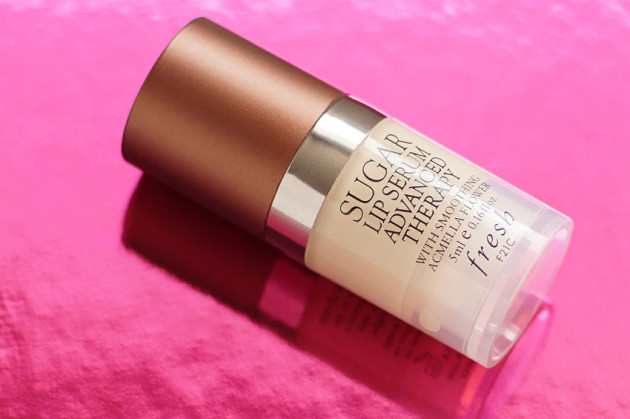 The product: Fresh Sugar Lip Serum Advanced Therapy
I skipped over the Fresh Sugar Advanced Therapy Lip Serum ($35 USD/$41 CAD) while reviewing the Fresh Sugar Lip Lovers set yesterday, but with good reason: I wanted to give it a full review today for everyone else who has been curious about this one.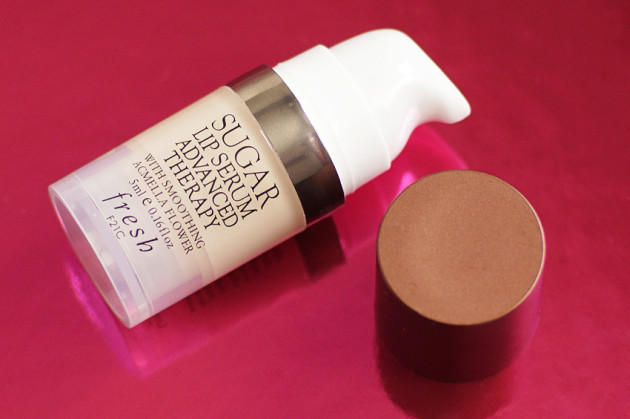 The premise: Lip serums are becoming more and more popular nowadays, but they're still a rarity in the beauty world. Fresh's Sugar Lip Serum is one of just a few that I can think of. I know that Lancer and Murad do one, and the Hourglass No. 28 Lip Treatment Oil and NIOD Lip Bio-Lipid Concentrate are similar, but nothing else comes to mind.
The Sugar Lip Serum Advanced Therapy is made to nourish the lips and improve definition, so maybe I'm not the best candidate for it — after all, I'm not really in the market for "fuller, younger-looking lips." But I had hoped that all of those skin-firming amino acids would result in a more hydrated, plush lip area, so I did as I was told and dispensed a drop every morning and night to spread over my lips.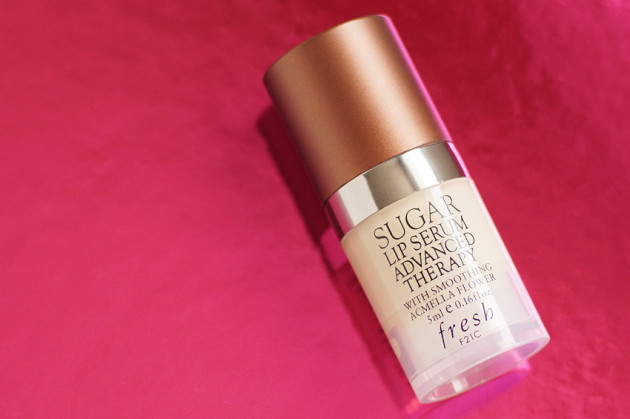 The practice: Sadly, after using this one on and off for a month and a half, I can't report that I saw results with this one. My lip contour area was not "immediately nourished and soothed;" my lips did not look "firmer and toned;" the serum did not immediately decrease lip roughness.
Instead, I found that this serum tasted bad, made my lips feel tight, and needed a healthy heaping of lip balm immediately thereafter to prevent dryness and cracking. Not only did it not smooth my lip area, I think it actually dried out my lips — and while I know that it doesn't promise to be the ultimate nourishing lip balm, I certainly don't think a lip product should dry out your lips!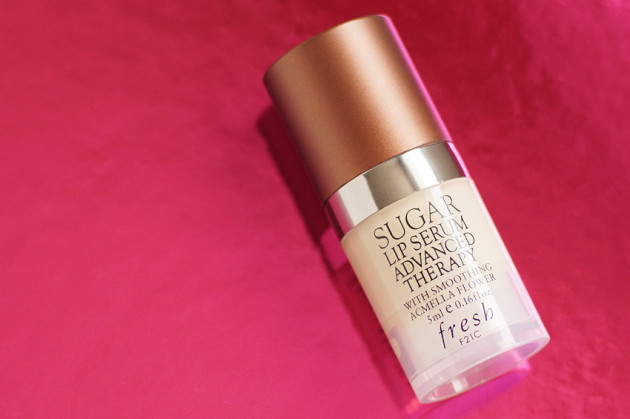 The verdict?
I'm really glad that I tried this one out, because as cool as I think it is, and as much as I adore its packaging, I think it's a solid "fail" for me. I'll continue using up this mini bottle if I can, just to see if I get results at any point, but for now… I'm not impressed.
The Fresh Sugar Lip Serum made my lips feel tight and dry, and comes with a metaphorically bitter $41 CAD price tag and a literally bitter formula. I say skip this serum, spend your $40 on a new pair of Fresh Tinted Lip Treatments, and apply an anti-ageing moisturizer to your lip area instead!
See what other bloggers had to say:
Beautygeeks, who I once embarrassed myself by fangirling over very, very publicly, loves it for overnight plumping;
Beyond Blush is also a big fan; and
Beauty Reflections liked it, but didn't think it was worth the price.
There are surprisingly few reviews out there for this lip serum, so if you've tried it, I would really love to hear your thoughts in the comments below!