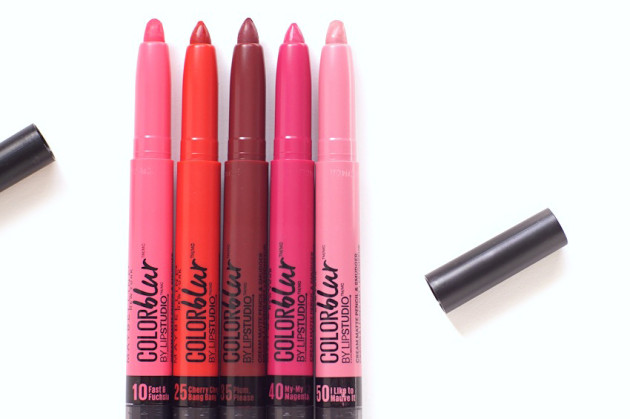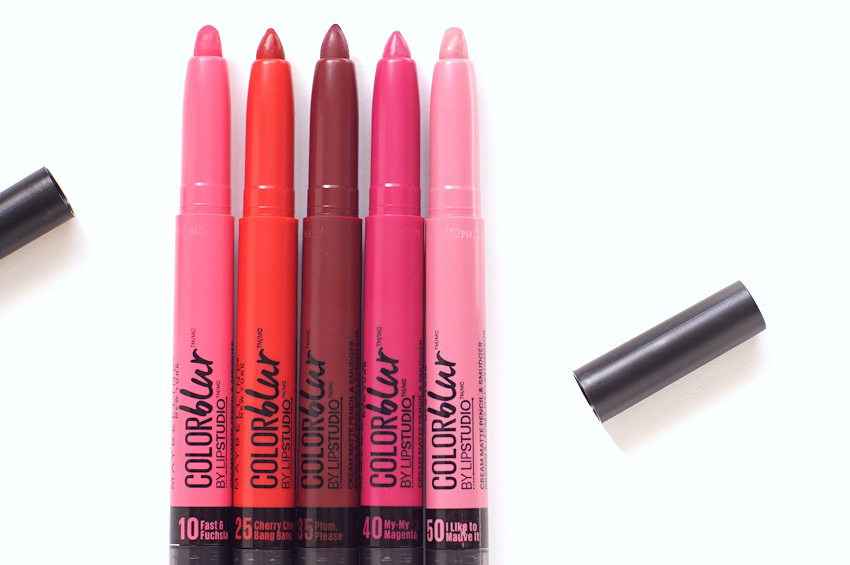 The product: Maybelline ColorBlur by LipStudio Cream Matte Pencil & Smudger
↳ in 10 Fast & Fuchsia, 25 Cherry Cherry Bang Bang, 35 Plum Please, 40 My-My Magenta, and 50 I Like to Mauve It
This summer, Maybelline launched a new take on the matte lip that caught my eye immediately: their ColorBlur pencils, which, while perhaps not singular in formula, are entirely unique in execution.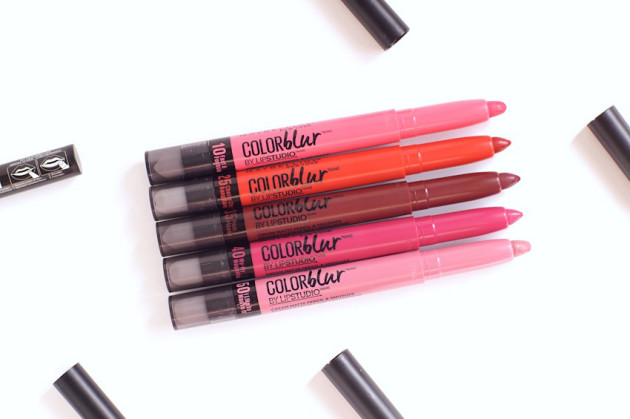 The concept & packaging: The ColorBlur Cream Matte Pencils are twist-up matte lip pencils packaged in thin, matte packaging (which feels surprisingly chic for the drugstore).
On one end is a tapered lip pencil; on the other, a dual-sided, asymmetrical silicone smudger that does a delivers a softly or sharply defined lip without getting a single fingertip dirty. The smudger comfortably creates a "softly blurred look" by blending the pencil from the centre of the lip outwards, and is not anything like the sad little smudging ends you sometimes see on eyeliners — you know the ones.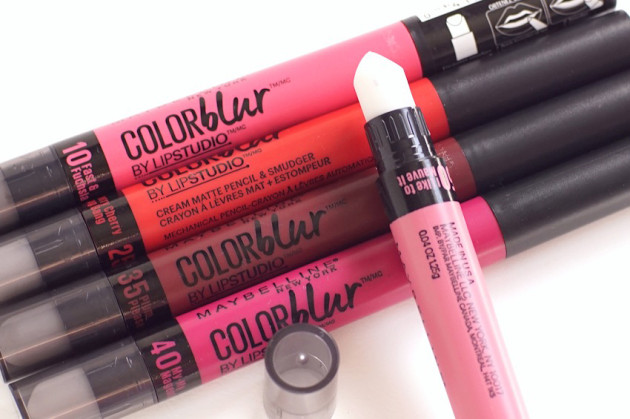 Maybelline ColorBlur silicone smudger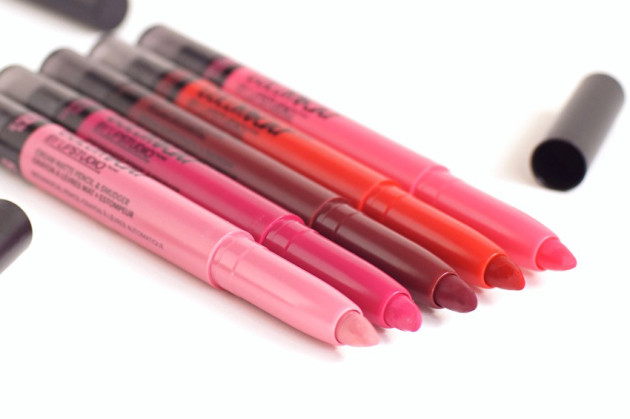 Maybelline ColorBlur Cream Matte Pencils (L-R) in I Like to Mauve It, My-My Magenta, Plum Please, Cherry Cherry Bang Bang, and Fast & Fuchsia
The shades: There are ten ColorBlur shades currently available, and I got to try five of them. First, two gorgeous pinks: 10 Fast & Fuchsia, a vivid coral pink, and 40 My-My Magenta, an intense, blue-based pink. Next, 50 I Like to Mauve It, a pretty MLBB lip colour that I've been getting a lot of wear out of — it's been living in my purse for weeks.
Finally, there's the orange-red 25 Cherry Cherry Bang Bang, and 35 Plum Please, a dark plum/red… but more about that in a minute.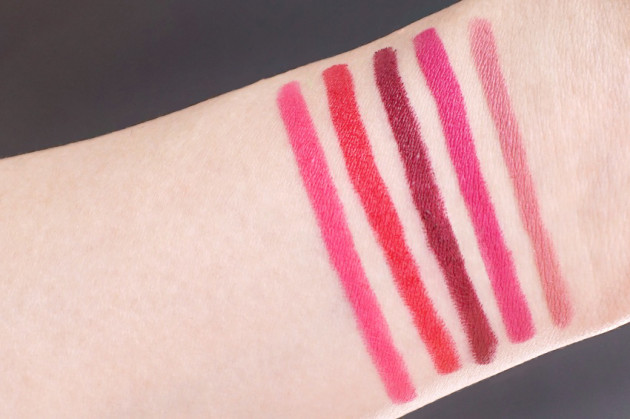 Maybelline ColorBlur Matte Lip Pencil swatches in 10 Fast & Fuchsia, 25 Cherry Cherry Bang Bang, 35 Plum Please, 40 My-My Magenta, and 50 I Like to Mauve It
The formula: The ColorBlur formula is vivid, super-smooth, and easy to work with, but after an hour or two (like with all mattes, and many non-matte lipsticks), I do find it to be too drying for me.
However, the formula applies very evenly, without catching on lines or migrating when I press my lips together. The exception to this rule is no. 35 Plum Please, which catches on everything — you can even see it in the swatch. But don't fret! There's a fix to this problem.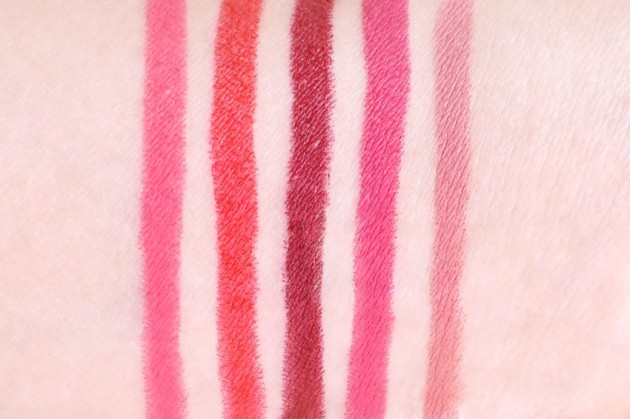 Maybelline ColorBlur swatches in Fast & Fuchsia, Cherry Cherry Bang Bang, Plum Please, My-My Magenta, and I Like to Mauve It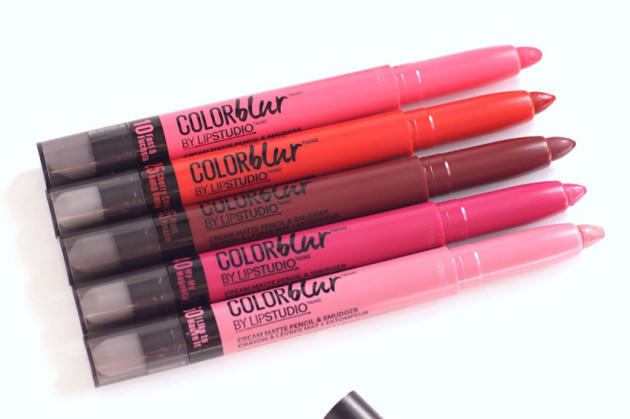 Maybelline ColorBlur Cream Matte Lip Pencils, from top to bottom: Fast & Fuchsia, Cherry Cherry Bang Bang, Plum Please, My-My Magenta, and I Like to Mauve It
The ColorBlur secret: For some reason, the ColorBlur pencils play very, very nicely with petroleum-based moisturizers. It makes them comfortable, softly glossy, and in the case of Plum Please, both even and absolutely gorgeous. 
I couldn't get quite the same results with lip balm as I could using German Nivea Creme, which seemed to disturb the formula just enough to make it forgiving and hydrating while leaving the colour vivid and opaque. (For a still-matte finish, I bet they would work brilliantly with a silicone-based mattifying moisturizer, too!)
Maybelline ColorBlur in Plum, Please swatched (L) and swatched with Nivea overtop (R)
I snapped a quick shot of Plum Please before and after the Nivea (above), as well as a full-face shot of how gloriously it pairs with Nivea. My apologies for the graininess; in my excitement, I took these photos late at night!
Also wearing: Annabelle EyeInk2 MistakeProof Eyeliner in Black ($10.95 CAD), Clinique Chubby Lash Fattening Mascara in 04 Massive Midnight ($17 USD/$25 CAD — I am obsessed with this mascara right now!!), Lise Watier Ombre Velours Suprême in Pêche Velours and Rose Thé Velours ($25 CAD); Senna Matte Eye Color in Sphinx and Intrigue to contour ($18 USD), applied with the Make Up For Ever 150 Precision Blush Brush ($40 USD/$46 CAD — I swear, this brush gives the most killer cheekbones).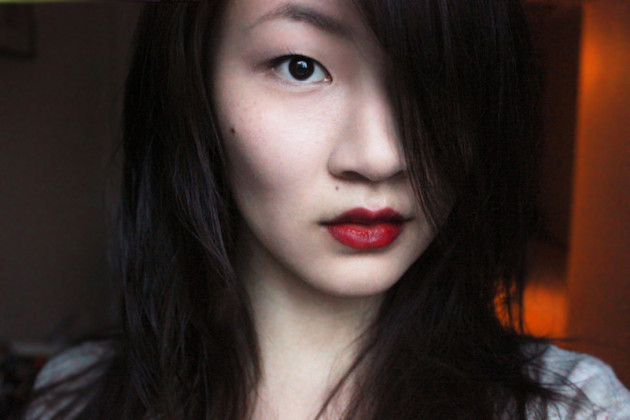 Wearing Maybelline ColorBlur in Plum, Please with Nivea overtop — I was surprised by how much I loved this lip!
The verdict?
From the one-of-a-kind smudger to the super-smooth formula, I've really enjoyed using the Maybelline ColorBlur lip pencils. They're not flawless (I wish they were more hydrating), but all matte pencils are at least a little bit drying, and Maybelline totally nailed the colour range with these.
My opinion? Unless you have really dry lips, the ColorBlur lip pencils are definitely worth checking out — if not for the forgiving formula and great colour range, then for the fact that they're so unique.
Availability: $11.99 CAD at drugstores and mass market retailers. Available online (US) at Ulta & Amazon.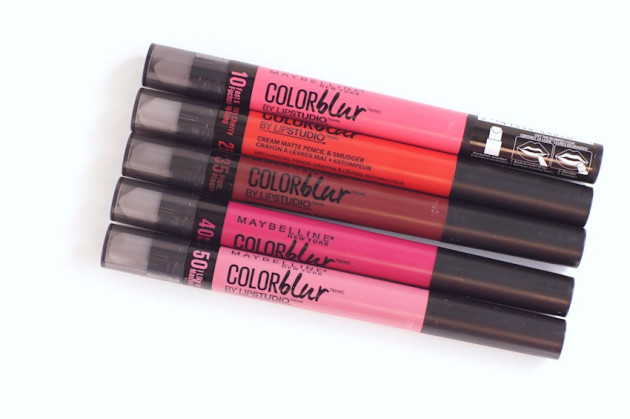 Maybelline ColorBlur Cream Matte Pencil and Smudger review