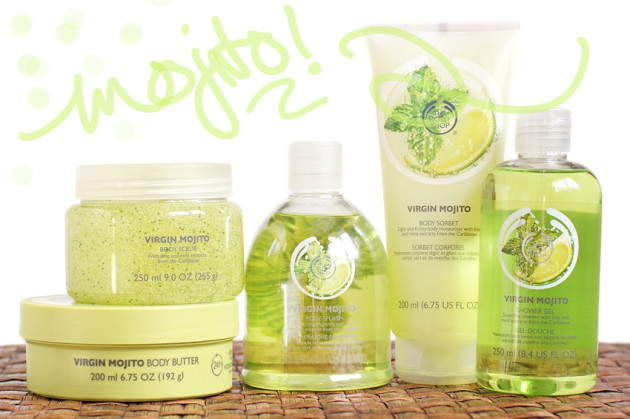 The products: The Body Shop Virgin Mojito collection ($9 CAD-$22 CAD)
When I was fifteen, surgery was a cakewalk. Sleep it off in the hospital, grab a burger on the way home, ready for a road trip by Friday. But at 23, and when you find out after the operation that you might not be able to eat normally for up to six weeks? I'm going nuts over here. Telling a Chen she can't eat is like telling a dog it can't pee on things. Eating is where I get all of my joy. 
So, I mean, I've been hitting the mojitos pretty hard to help cope. Virgin skincare mojitos, that is. (I don't want to find out what happens when you mix rum with open wounds and morphine.)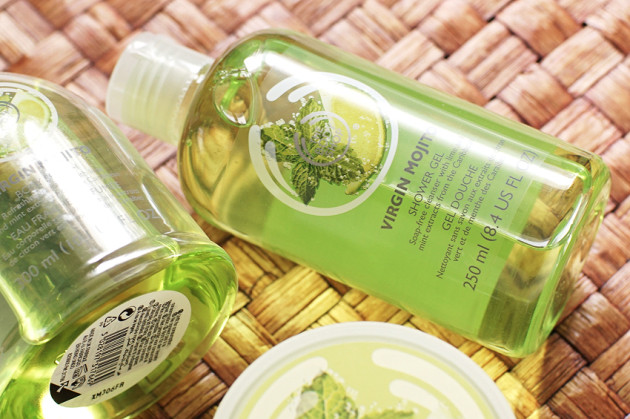 The scent: I was told that you either love or hate The Body Shop's new Virgin Mojito scent, but I mean… I love it; my boyfriend loves it; Julie from Swatch and Review and her boyfriend love it; Zoë from Writing Whimsy and Steph from Fun Size Beauty both totally love it.
It's summery and fresh, and smells like taking a sip of a delicious wall of lime with just a hint of mint and that tart bite of citrus peel. (It's totally 100% deserving of the cheeky little "NOT FOOD!" labelling.)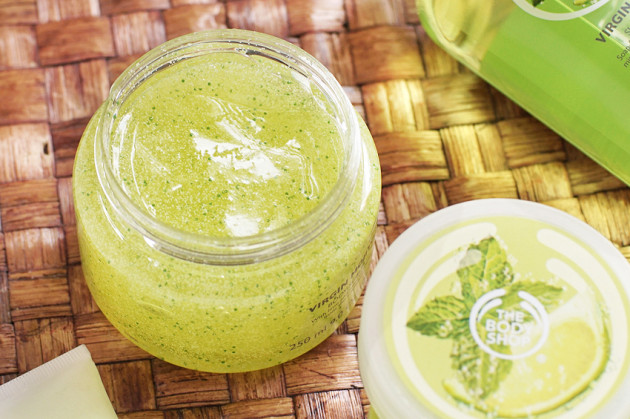 In the shower
The Body Shop has offered up two ways for you to get your mojito on in the shower this summer: the Virgin Mojito Shower Gel ($9 CAD) and the Virgin Mojito Body Scrub ($22 CAD).
I'm still trying to figure out if the beads in the mojito body scrub are regular beads or micro beads (the latter of which end up in lakes and rivers, basically just hangin' out and killin' fishes), but I have to admit defeat, here: I'm not eco-knowledgeable enough to tell the difference, and I need some help to figure out if I can indulge or if I need to pitch this! 
I'm hoping for the former–didn't The Body Shop swear off micro beads a few years ago?–because that jelly-like texture looks like waaaay too much fun not to use.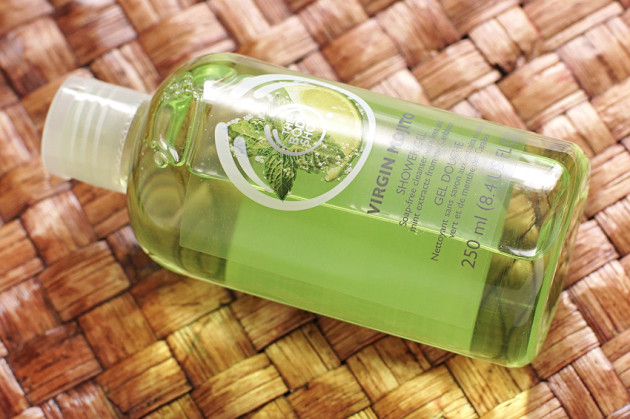 On the other hand, I've been guiltlessly indulging in the Virgin Mojito Shower Gel pretty heavily. The Body Shop's Shower Gels are possibly my favourite product from the brand — they just always smell so good, and at $9 CAD (or less; a bunch of them are on for $5 right now), they're so cheap.
I love being able to get a Body Shop scent fix at a price tag that I don't have to think about (I mean, it's not exactly Byredo, but is far from drugstore stuff). This tall glass of deliciousness is no exception!
After the shower
Coming out of the shower, you have three options: The Body Shop Virgin Mojito Body Butter ($20 CAD), a classic that has too many 'cones for me to touch (I used to adore these), the Virgin Mojito Body Splash ($20 CAD), which is delightfully splishy-splashy but honestly kind of a pain to apply (splashes, man. We should have left them behind in the '90s), and the Virgin Mojito Body Sorbet ($15 CAD).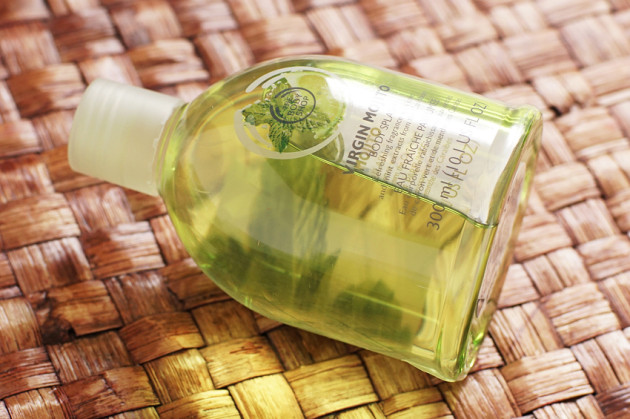 The Body Sorbets are a product that I'm split on. On one hand, they're $15 (sometimes even less!), and they all, without a doubt, smell awesome. But on the other, they're just not hydrating — like, even when I get other people to use them, they don't find them to do a thing. And they pill up like a bad primer if you try to make them hydrate more by applying extra.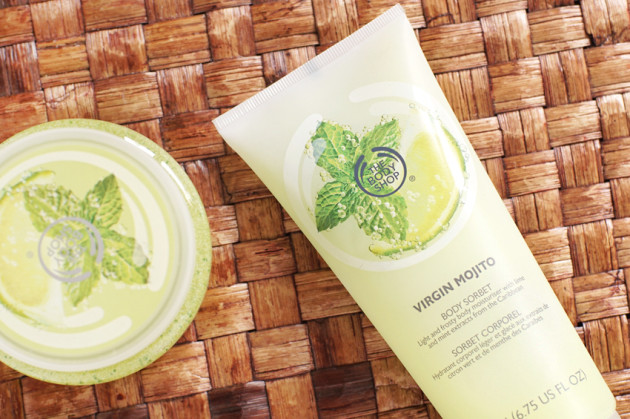 Buuut (and there's always a but) they're $15. And silicone-free. And I guarantee you, they are the only tasty-smelling 'cone-free body lotions that you're going to be able to find for that price — believe me, I've looked.
So, you know. I hate them… and also, I own three. (This was, for interest's sake, the only one of the three that was a press sample. I bought the other two with my own money and darn it, I was happy to.)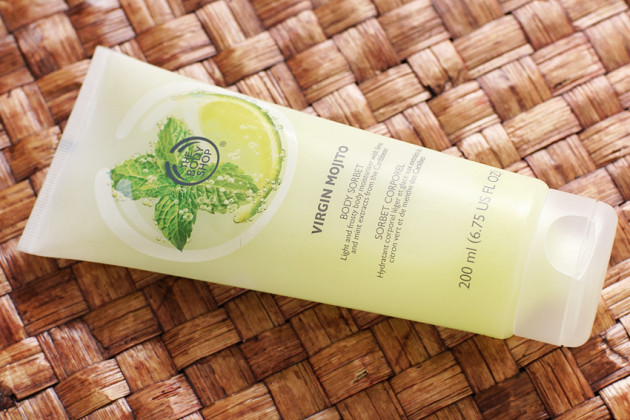 The verdict?
Out of all of the limited edition collections that The Body Shop has come out with recently, the Virgin Mojito one has been, by far, my favourite. I love the delicious, limey fragrance (it's so summery!) and I'm quite happy with the product offerings.
My recommendation? Get the shower gel for sure. Then, if you can use silicones, buy the Body Butter. But for those who can't… get the Body Sorbet instead. You'll probably hate me for it, but at the same time, you're totally not going to regret it in the least.
Availability: $9 CAD & up at thebodyshop.ca and The Body Shop stores. Limited edition.