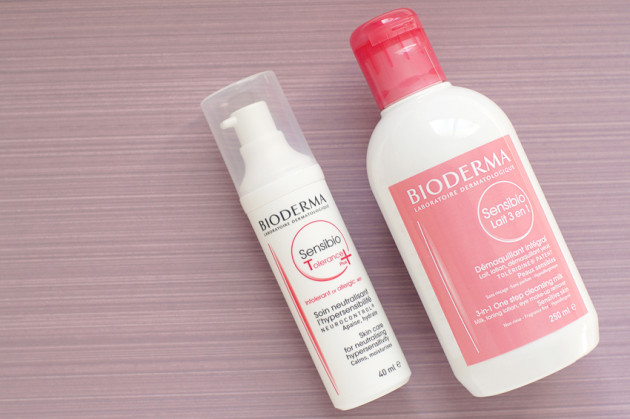 Like many of you guys (I'm convinced that theNotice is becoming some sort of hub for the ill and the allergic) and a reported 62% of women, my skin can be extremely reactive. It freaks out in the presence of silicones, it hurts when I touch it too much, and certain sensitive-skin-approved products still make it burn or break out in a rash.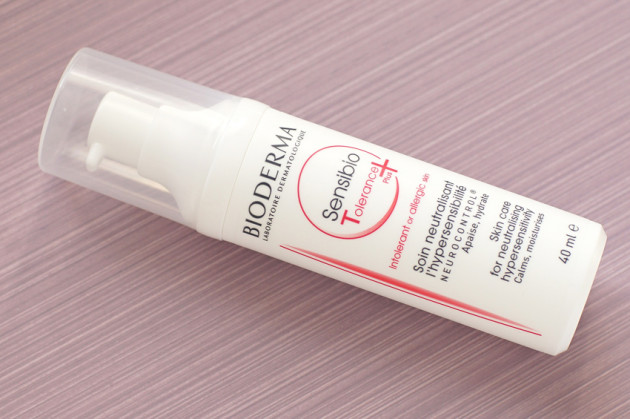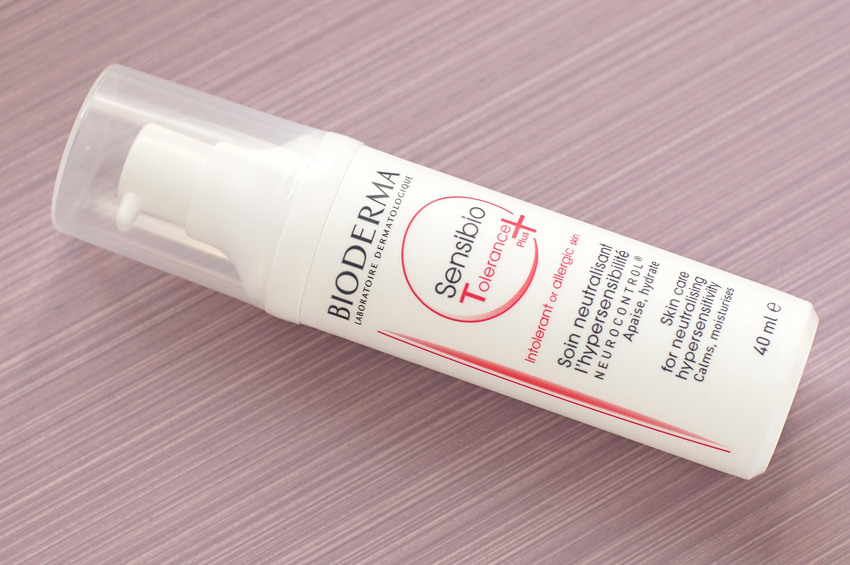 Bioderma Sensibio Tolerance + for neutralizing hypersensitivity ($26.95 CAD)
The science: According to Bioderma, there are two types of skin reactivity: sensitive skin and intolerant skin. Sensitive skin only really rears its head when the skin's tolerance threshold is reduced, but intolerant skin reacts to stimuli nearly constantly. It's caused by a hyper-excitability of the skin's nerve fibres, a weakened barrier function, and inflammation (both keratinocytic and neurogenic).
The Sensibio line is aimed at intolerant or allergic skin, and Tolerance + uses a neutralizing hypersensitivity agent to reduce the hyper-excitability of the skin's nerve fibres and diminish the skin's inflammatory cascade reaction. It also helps fortify barrier function with Sodium PCA and comes in simple, functional packaging with a 100% airtight hermetic seal (so it's preservative-free at no risk to your skin.)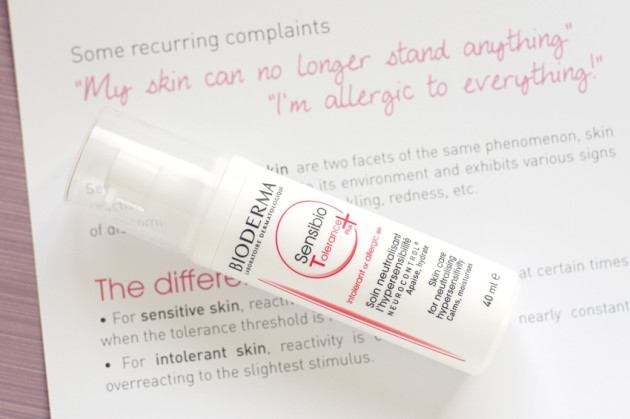 The formula: Tolerance +  is a simple, fragrance-free moisturizer with a very dermatological feel. It's thin and smooth, but it leaves my skin feeling velvety and thoroughly protected — and it never makes my face burn or tingle, no matter how dry or irritated it is.
A couple of the products that I'm using right now to help lift some old scars make my skin sting a little, so I've been applying them mixed with Tolerance + or in alternating applications. It's a hard to say quantitatively how much the Tolerance + has helped, but my skin feels less reactive to touch and cleansing throughout the day, and the moisturizer itself is pleasant to use even without the "neutralizing hypersensitivity" aspect.
Bioderma Sensibio Tolerance + ingredients:
Aqua, Cocoglycerides, Glycerin, Silica, Glyceryl Stearate, Sodium Citrate, Capryloyl Glycine, Mannitol, Xylitol, Rhamnose, Sodium PCA, Acetyl Tetrapeptide-15, Undecylenoyl Glycine, Sclerotium Gum, Sodium Hydroxide. 
Bioderma Sensibio 3-in-1 One Step Cleansing Milk ($18.95 CAD)
The Sensibio line now contains a cleansing milk too, which cleanses, tones, and removes eye makeup. (I think it replaced the old Sensibio Lait.) Like the Tolerance + moisturizer, this 3-in-1 milk is gentle and fragrance free, and contains Toléridine to soothe and decrease inflammation.
The packaging sort of reminds me of SACHAJUAN, for some reason, and the cleansing milk itself is made to be a rinse-free, surfactant-free formula. (I totally rinse it off anyways, though. No-rinse cleansers are way too weird for me.) It's most similar to my Neutrogena Creamy Cleanser (similar), but the two are actually so different that the small price jump feels totally justified.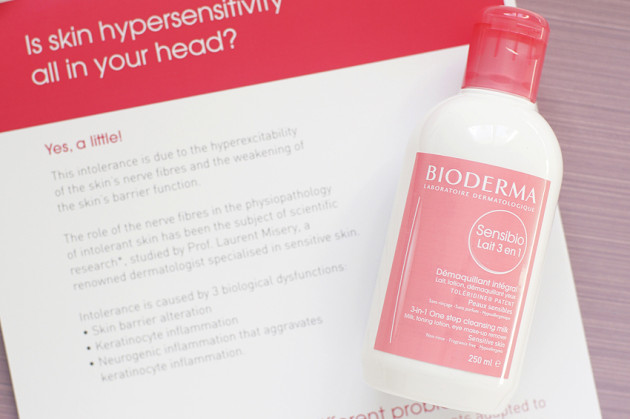 Bioderma's Sensibio cleansing milk is a white, milky gel, and it doesn't have that "cushy" feeling going on that some gel cleansers do — but it washes away leaving my skin feeling more comfortable than almost anything else from the drugstore, and it's not at all stripping.
Those with really oily skin will probably feel like this one leaves a bit of a film behind, but for my dry, sensitive skin, this is pretty much the dream. 
Bioderma Sensibio 3-in-1 One Step Cleansing Milk ingredients:
Aqua, Glycerin, Ethylhexyl Palmitate, Mineral Oil, Polypropylene Terephthalate, Glycyrrhetinic Acid, Mannitol, Xylitol, Rhamnose, Fructooligosaccharides, Laminaria Ochroleuca Extract, Ammonium Acryloyldimethyltaurate/VP Copolymer, Pentylene Glycol, Ethylhexylglycerin, Disodium Edta, Caprylic/Capric Triglyceride, Sodium Hydroxide.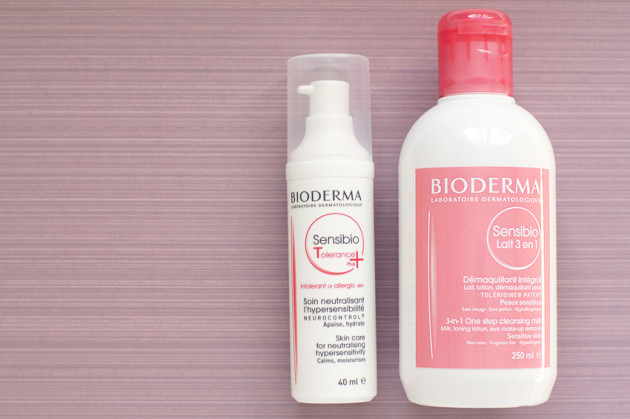 The verdict?
If you like your skincare simple, the Bioderma Sensibio line is going to be right up your alley. More importantly, however, if your skin is sensitive or reactive, I think you'll like these products a lot. They're very affordable for treatment products, and even if you can't commit to them for a whole month, my skin really loves both of these products when it's feeling sensitive.
The Bioderma Sensibio cleansing milk and moisturizer are definitely worth having on hand for use when everything else just burns (filed under: things only those with reactive skin will understand), and I'd say I would be quite likely to re-buy them both once I run out!
Availability: Eyelash wishes & drugstores across Canada.