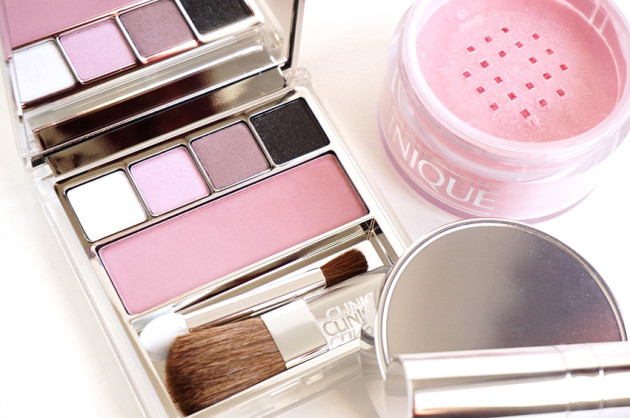 » Inspired by "the tulles and velvet fabrics in vivid pinks, glittering whites and vibrant purples" in The Nutcracker.
Clinique The Nutcracker Act I Palette ($36 USD/$46 CAD)
The pink Nutcracker Act I Palette (not to be confused with the purple-themed Act II) contains an All About Shadow Snowflake Suite quad in the shades Sugar Cane (available as a single), Crystal Pink, Mushroom (also in Clinique's Greys 8-Pan Palette), and Boron, as well as a Blushing Blush Powder Blush in Plié Pink.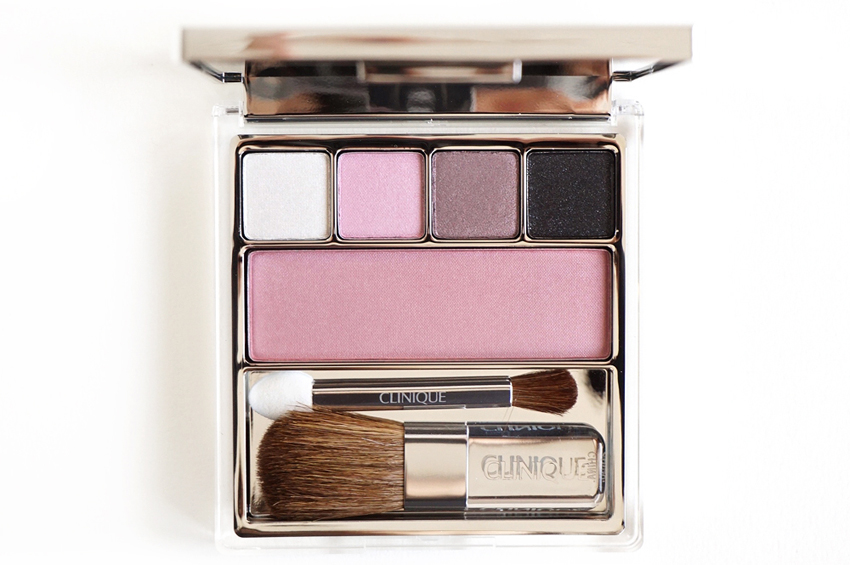 Clinique The Nutcracker Act I Palette
The shadows were much dustier than I'm used to seeing from Clinique, and apply fairly sheerly but with little fallout. I adored the taupey Mushroom and the Blushing Powder Blush in Plié Pink, which gave my cheeks a seriously gorgeous pink glow, but the other three shades in the palette (a boring shimmery white, a super-sheer pink heaped with silver glitter, and a boring sparkly black) were a big letdown for me.
At $46 CAD, I think this palette is worth it if you really adore those two top performers (all five pans are of middling-to-good quality), but it's not getting a standing ovation from me. While it's not like, the worst, I know that Clinique can do a lot better than this in terms of quality — and knowing that, it's hard not to expect more from the brand.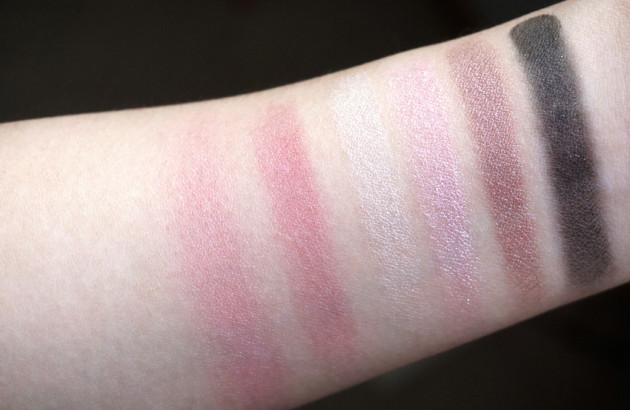 Clinique The Nutcracker Act I Palette swatches: Blushing Powder Blush in Plié Pink (heavy/light), All About Shadow Quad in Snowflake Suite (Sugar Cane, Crystal Pink, Mushroom, Boron).
Blended Face Powder & Brush in Snowflake Dreams ($24 USD/$29 CAD)
Okay, so this one was another pretty-but-nonsensical letdown. Who, in their right of mind, needs ANOTHER shimmery powder?! I see at least five of these come out each holiday season from brands high and low, so someone must be buying, but this kind of product is just not up my alley.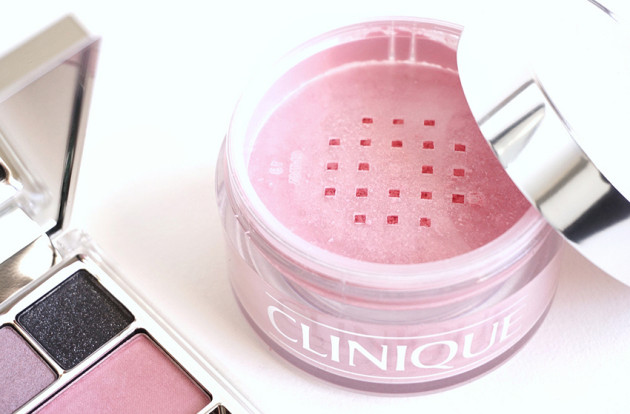 Clinique Blended Face Powder in Snowflake Dreams
Snowflake Dreams, which comes with a non-optional scratchy brush, is intended to add shimmer to the shoulders, neck, and chest, but the glitter is just too big and unidimensional — it's just chunks of silver glitter in a crazy-sheer pink base. This Blended Face Powder would be great for an actual performance of The Nutcracker (theatre makeup, after all, has to be extremely obvious for the audience to see it), but in real life, it's way too much.
Unless you were putting on some sort of crazy, Nutcracker-themed party with strobe lights and strippers, I guess? In which case this would probably be an awesome product to dust all over your body. I wouldn't know; raves aren't really my thing. (But I bet a Nutcracker-themed one would somehow manage to be really, really cool.)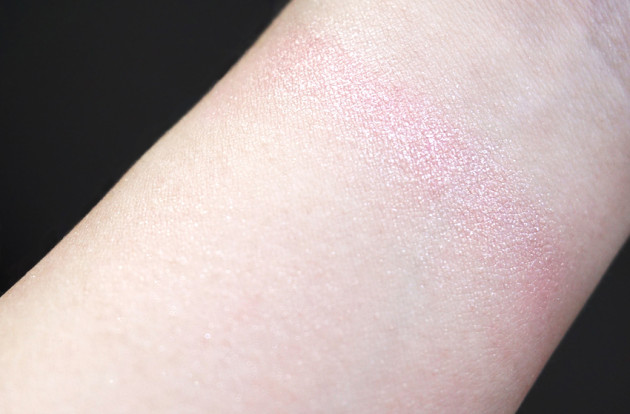 Clinique Blended Face Powder swatch in Snowflake Dreams (brushed on below/patted on heavily over primer above).
The verdict?
As much as I love Clinique, this collection is an act that I would not like to see again. (Aside: what's the best theatre performance you've ever gotten to experience? For me, it was a four-hour-long production of Pride and Prejudice. Worth every damn minute — to this day, I regret not seeing it again before it closed.)
I would love to see Plié Pink released as a standalone blush, and if you can get your hands on Mushroom, absolutely do, but aside from that — skip The Nutcracker Suite, and save your pennies for one of Clinique's 8-pan palettes instead.
Availability: Online at Clinique and exclusively at the Hudson's Bay in Canada.