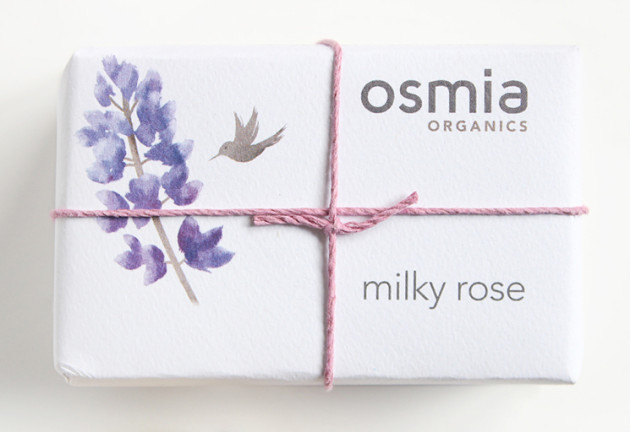 The product: Osmia Organics Milky Rose Soap
…also known as the perfect gift. Forgot about a Christmas party that you need a hostess gift for? Osmia Milky Rose. Got a mom that's crazy hard to buy for? Osmia Milky Rose! Spent the whole year working so hard that you forgot to get yourself something this holiday season? Osmia Milky Rose. 
(Or a vacation. If you have not taken a vacation all year, you should probably get yourself one of those, too. Pronto.)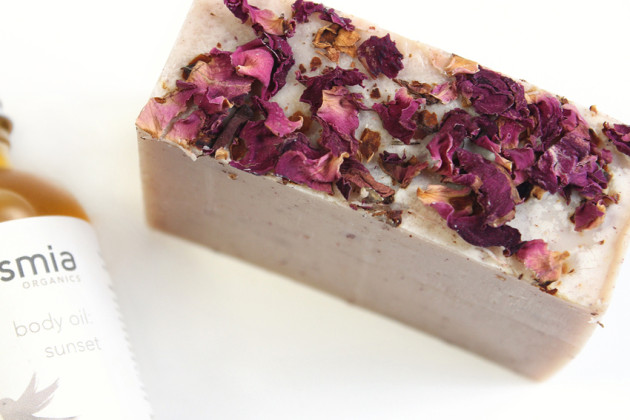 The formula: Like the Oh So Soap that M shared with you last week, Milky Rose is made from a base of saponified oils/butters and buttermilk powder, which make it both super gentle and thoroughly cleansing. It leaves my skin feeling squeaky-smooth, which is kind of like squeaky-clean, except without the stripping, drying half of the equation.
I usually use Dove's Sensitive Skin Beauty Bar, which leaves my skin feeling a little less squeaky than Milky Rose, but isn't actually any more moisturizing. The big pull for Milky Rose, however, is that Osmia products never seem to get mushy the way drugstore bar soap does. (You know how it is; you find a great bar soap and five uses in, it's half gooey-mush-puddle. As far as I've seen, Osmia's bars are quite literally made of sterner firmer stuff than that.)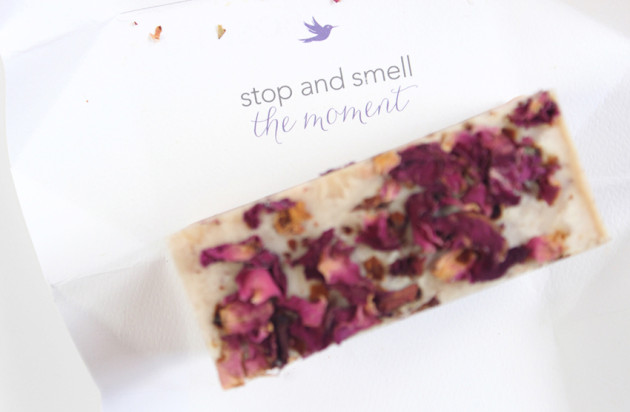 The look and feel: Most natural soap bars are 3-4 oz, but Osmia's clocks in at a hefty 5.5 oz — and a whopping 6 oz for their wavy-topped bars. They're quite stiff, and get quite slick (not soft!) in the shower.
Milky Rose comes topped with organic rose petals and is blended with bitter orange and palmarosa essential oils, and it smells very fleetingly herb-y. Osmia says that this bar "feels like a serious splurge – luxurious, elegant, and so moisturizing," and I have to tell you — I agree with them on all three counts.
I would, however, totally love to see Milky Rose change into a wavy-topped bar, like many of Osmia's other soaps. They're so pretty.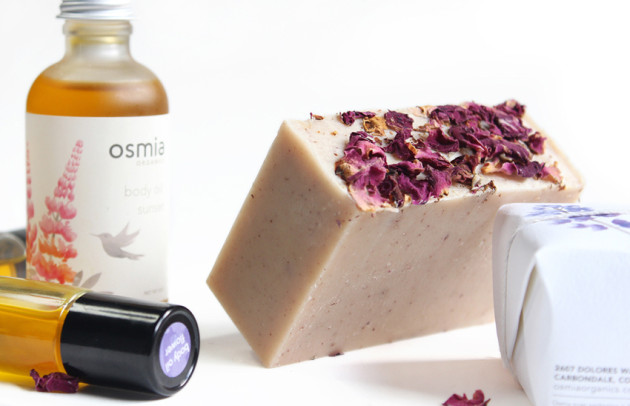 The verdict?
Yes, yes, yes! I know that $12 ($10 today) is a lot to pay for one bar of soap, but if you want something small to "splurge" on (is $12 even a splurge??), get this soap. It feels utterly luxurious, works really well on dry skin, and makes an absolutely beautiful gift year-round.
And, in case you need any more convincing, it's also cruelty-free, 15% off, and a great way to support a small businesses! Buying it practically makes you a saint. :P
Availability: $12 USD at Osmia Organics, but the entire site is 15% off with free shipping in the US for their holiday sale, so today it's only $10.50! (And when you buy it, make sure you pick up Sunset, too — it's generously perfumed with one of my favourite scents ever.)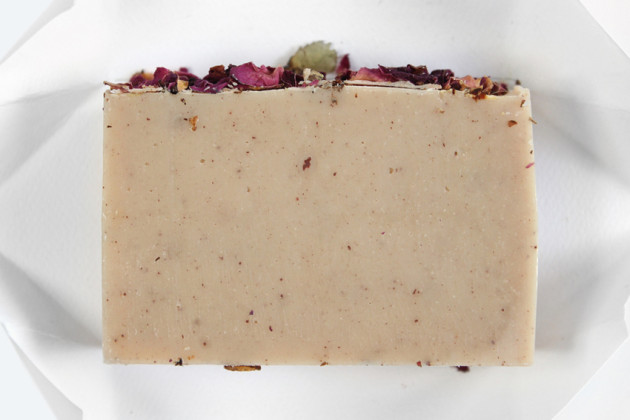 Osmia Milky Rose Soap (5.5 oz)
Osmia Milky Rose Soap ingredients:
Saponified oils/butters (olive, shea, and coconut), coconut milk, kaolin (australian pink) clay, buttermilk powder, roses, proprietary blend of essential oils, rosemary antioxidant, GMO-free vitamin E oil. (98% organic.)