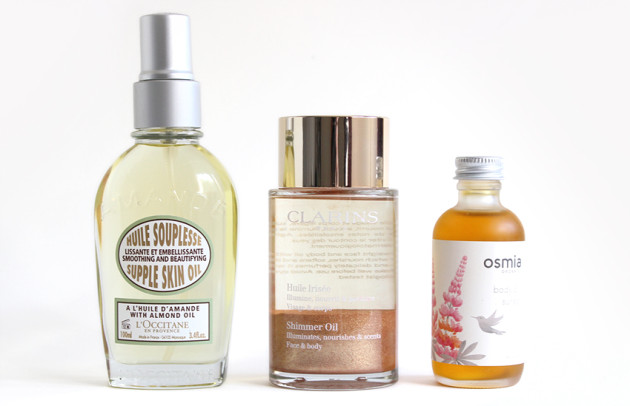 For something that sprays: L'Occitane Amande Supple Skin Oil ($ /3.4 oz)
With a formula containing over 50% sweet almond oil (and following up with fractionated coconut oil), the makeup of L'Occitane's Amande Supple Skin Oil is pretty great. It hydrates well despite its lightweight texture, and comes in a gorgeous glass bottle with a spray dispenser — and while I don't think it'll make well-hydrated skin any more firm or supple (as it claims), any good body oil will do that for chronically dry skin!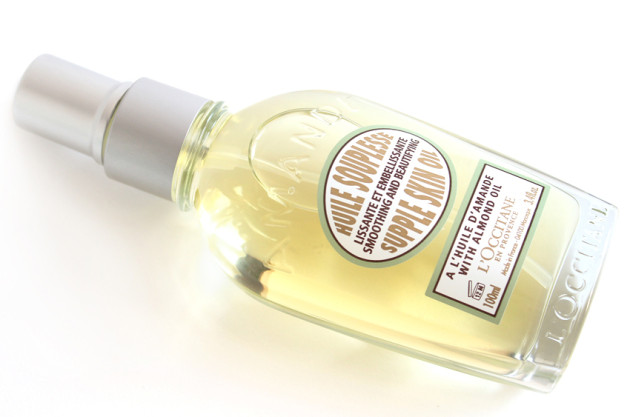 However, despite the fact that I love the feel and presentation of this oil, I personally hate the scent. It opens with just a second of beautiful, nutty synthetic almond, but turns into something sharp and cloying once misted and rubbed in; something that sits in the back of my throat with painful honey-sweetness.
But, to each her own: I adore the idea of honey scents, but for some reason, I just can't stand them in practice. If you love scents like Lise Watier's Something Sweet or Marc Jacobs Dot (or anything with honey in it!), I bet the L'Occitane Amande body oil would work beautifully for you.
L'Occitane Supple Skin Oil ingredients:
Sweet Almond Oil, Caprylic/Capric Triglyceride, Fragrance, Oleyl Alcohol, Camelina Sativa Seed Oil, Rosa Canina Fruit Oil, Sunflower Seed Oil, Bergamot Fruit Oil, Carrot Seed Oil, Tocopherol, Dioleyl Tocopheryl Methylsilanol, Limonene, Coumarin, Linalool, Citral.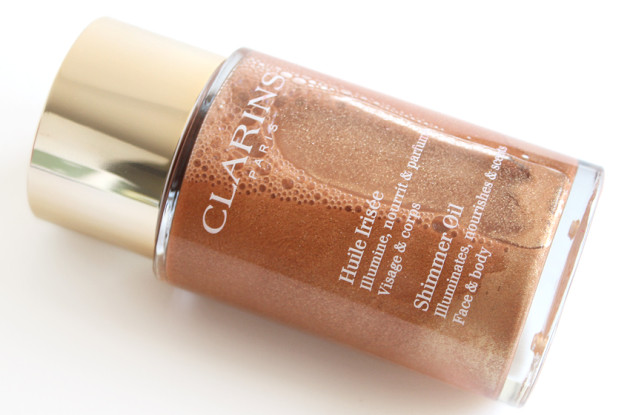 For shine and shimmer: Clarins Shimmer Oil for Face & Body ($ /3.3 oz)
Of these three oils, Clarins' is the only one I haven't tested — and for good reason. This beautiful bi-phase oil (the shimmer separates out) has wonderful, chunky-chic packaging and a captivating amount of warm shimmer particles, but it's actually a silicone-oil: the formula contains plenty of glittering minerals, but its liquid phase is based mainly on coconut oil fractions and cyclopentasiloxane.
For those of you who missed out last year, this is an exact copy of Clarins' Splendours Body Oil, from the packaging to the ingredients; the packaging simply lost the "Splendours" label and picked up a "face & body" descriptor.
Clarins Shimmer Oil ingredients: 
Caprylic/Capric Triglyceride, Cyclopentasiloxane, Hydrogenated Polyisobutene, Isononyl Isononate, Hazel Seed Oil, Mica, Titanium Dioxide, Iron Oxides, Bisabolol, Fragrance, Silica, Tocopheryl Acetate, Tocopherol, Hexyl Cinnamal, Limonene, Tin Oxide, Sunflower Seed Oil, Coumarin, Linalool, Farnesol.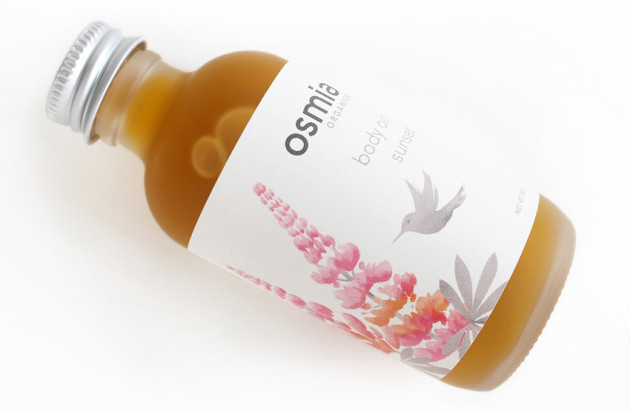 For a sexy scent: Osmia Organics Sunset Body Oil ($30 USD/2 oz)
I seriously need to try out some new Osmia oils, because Sunset still has me smitten — months after the first time I tried it. Their oils are all-natural and beautifully scented, with a luxurious fractionated coconut oil & jojoba base that delivers wonderful, completely lightweight moisture.
I've tested quite a few body oils since falling in love with this one, but Sunset is still my favourite by far. The delicate, feminine scent lasts all day long (it's a super-sexy rendition of vanilla; slightly spicy and just barely floral), and though the price tag is a little high, it's an easy compromise to make — it may be sold as a body oil, but it can definitely double as your perfume.
Osmia Organics Body Oil ingredients:
Caprylic/Capric Triglyceride (Fractionated Coconut Oil), Jojoba Oil, Kukui Oil, Sweet Almond Oil, Rosehip Seed Oil, Cannabis Sativa Hemp Seed Oil, Avocado Oil, Borage Seed Oil, Evening Primrose Oil, Sea Buckthorn Berry Co2 Extract, Rosemary Co2 Extract, And A Proprietary Blend Of Organic And Wild-Harvested Essential Oils And Co2 Extracts.