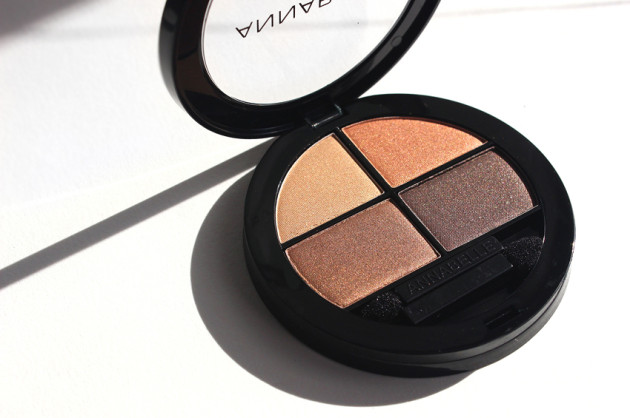 The product: Annabelle Cosmetics Eyeshadow Quad in Chai Chai Chai
This week is kicking my butt, you guys. It's already Thursday and I've barely gotten out of bed because my abdominal muscles hurt so much — they're so tender that touching them makes my head spin, which: never a good sign.
So, well, let's talk makeup. I picked out a stellar product from one of my favourite lines today, and hopefully writing about it'll help cheer me up a bit!
Annabelle Eyeshadow Quad in Chai Chai Chai
The product: Chai Chai Chai includes four gorgeous, super-smooth eyeshadows that are a dream to apply and blend. They're crazy pigmented for a drugstore product, and apply vividly even without primer, never crumbling or kicking up dust.
The top two shades are a little more frosty than the bottom two, and the chocolate brown (third swatch) is just divine — it's rich and dense, even more-so over primer, with a beautiful, uninterrupted finish. The darkest brown is a little drier than the rest, but makes up for it with a smattering of silver shimmer that twinkles as you move about.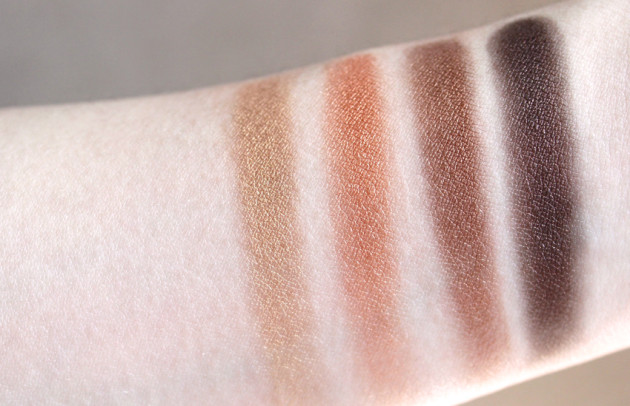 Annabelle Eyeshadow Quad in Chai Chai Chai, swatched dry on unprimed skin
What impressed me most about these shades, I think, was how wearable they are. Yes, the overall feeling of the palette is very bronze, but it's not so warm that I couldn't wear it around if I wanted to. (If you love metals or warm colours but can't always pull them off, this might be a good one to try.)
And, if warm bronze isn't your thing, these quads come in cooler options, too — stormy grey-blues, cooler taupes, mossy browns, and purple-pinks.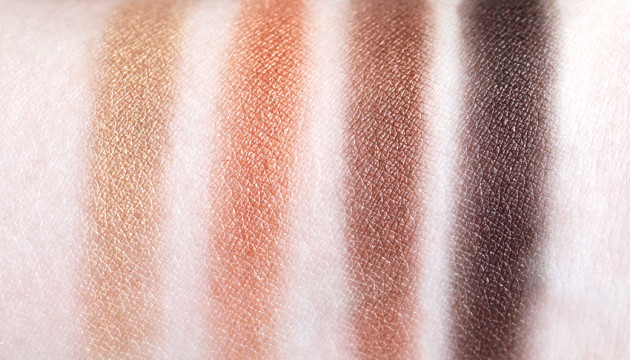 Annabelle Chai Chai Chai swatches

The packaging: Where this product flounders (just a little!!) is its packaging. Chai Chai Chai comes with two applicators that are really just too small to be of any use — "crapplicators," if you will.
It's also a really hard palette to get open, which is both a positive and a negative: on one hand, it can be frustrating, but on the other, I feel 100% confident just throwing this into my bag, because it's definitely not going to spring open if jostled the wrong way.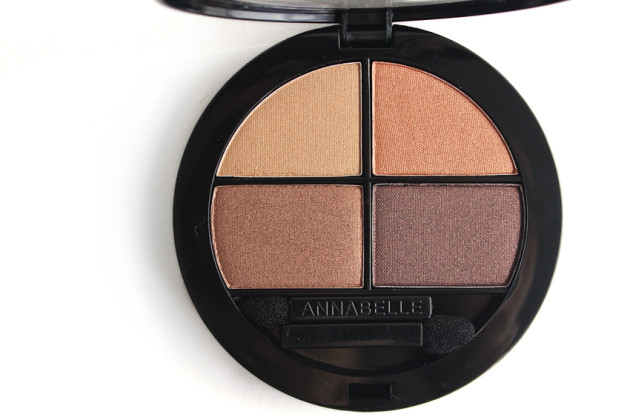 The verdict?
Annabelle consistently proves itself to be one of the best budget brands out there, and this quad is no exception. While the particular colour palette of Chai Chai Chai was a little too warm for my preferences (though it worked ok with my colouring), I would absolutely recommend these quads if you're looking for a great drugstore palette for day-to-day use or travel!
Availability: $10.95 CAD at Annabelle.ca & in most drugstores across Canada.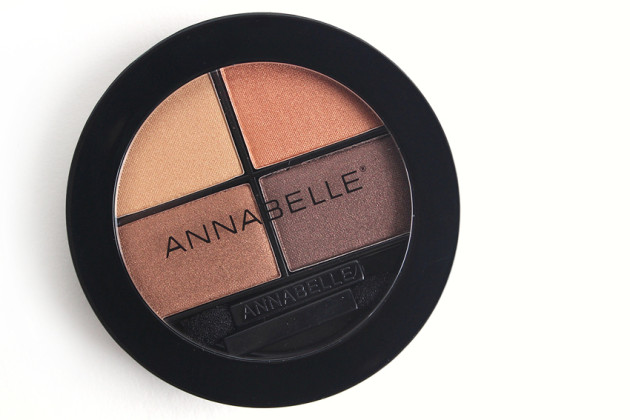 Annabelle Eyeshadow Quad ingredients:
Talc, Synthetic Fluorphlogopite, Magnesium Stearate, Dimethicone, Octyldodecyl Stearoyl Stearate, Silica, Calcium Sodium Borosilicate, Calcium Titanium Borosilicate, Aluminum Starch Octenylsuccinate, Phenoxyethanol, Tin Oxide.
+/- Manganese Violet, Mica, Iron Oxides, Titanium Dioxide, Ultramarines, Ferric Ferrocyanide, Carmine, Black 2, "Blue 1 Lake"