As you all know, I'm not one to complain… very much. When I run into problems behind the scenes at theNotice, 95% of the time, you never hear about it — whether that's a PR firm who's upset over a product getting a bad review, or a rep for the company who could stand to learn a few things from Emily Post.
Over the past few months, though, I've been going through one of the most upsetting interactions I've ever had with a company. I don't have any other form of recourse for their behaviour (you can't Yelp an online store, after all — can you?), so here's a warning for any of you in Canada who are thinking about buying cosmetic ingredients and packaging from Saffire Blue.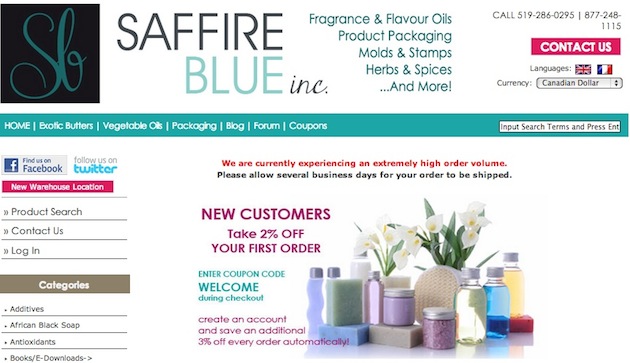 I made an order at Saffire Blue this January (just shy of $100), and it arrived in early February. When I opened up the box, however, I found that a number of the items I bought were missing — seven of them, to be precise.
I contacted the company immediately, and contacted them again a week later when I hadn't heard back from them. We exchanged a handful of emails, and then, after about a week, the folks at Saffire Blue suddenly stopped responding.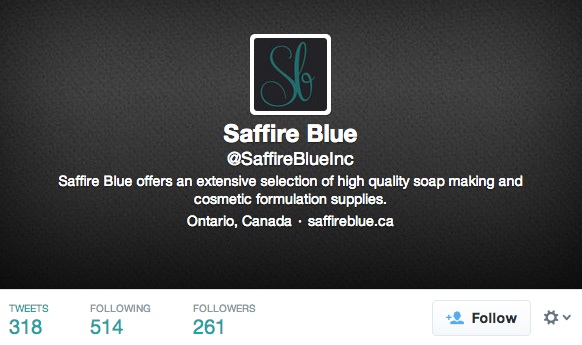 I called them out on it on Twitter to help speed things up (PayPal's insurance is time-limited) because the squeaky wheel gets the grease, right? But instead of saying "oops, sorry, we'll get right on that,", they instead made public claims saying I had never contacted them, even though their customer service rep had replied to many of my emails, and I have a record of all of them.
I had paid for the order through PayPal, so I opened up a dispute about the items. Throughout the course of this interaction, their CEO repeatedly stated that they had offered to send me the missing items — a request which I had been making for weeks, and which they had denied each time. Each time I offered to take them up on it, they immediately backtracked and said that they would only reimburse me for the cost of the missing items, and refused to send them out or refund me the cost of shipping for the missing items — a cost which was worth 4x the value of the items, which made up over half of what they charged me for shipping, and which they never had to pass forward to the shipping carrier.

Sure, I'm raving — but probably not in the way you wanted.
PayPal has now said that my only form of recourse is to file against them for fraud. I don't intend to do this over a few dollars' worth of items, but I did want to get a post on their company out there in the open.
If you need to buy raw ingredients or packaging materials in Canada, I encourage you to avoid Saffire Blue at all costs. They have a great selection, but their business practices are unhelpful, humiliating, and quite frankly, fraudulent. I'm not saying you should avoid all small retailers (this is the only time I've had anything but gold-star service from any online store, big or small!), but remember: even in the business world, you can't count on everyone to be honest or professional.
What have your worst experiences with online shopping been? Is there anyone that you'd like to warn us about?