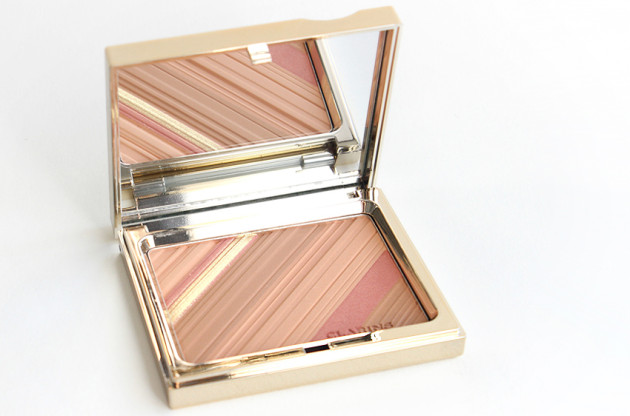 The products: Clarins Graphic Expression Face & Blush Powder
This post comes a little late in the year, but as both this powder and the Graphic Expression Forest eyeshadow quad (review later this week) are still available, I'm hoping you'll be able to forgive me.
These two gems launched in the Clarins Fall 2013 Graphic Expression colour collection, and would make wonderful Christmas gifts — the quad depending on the skintone of the recipient, and this Face & Blush Powder for, well, anyone.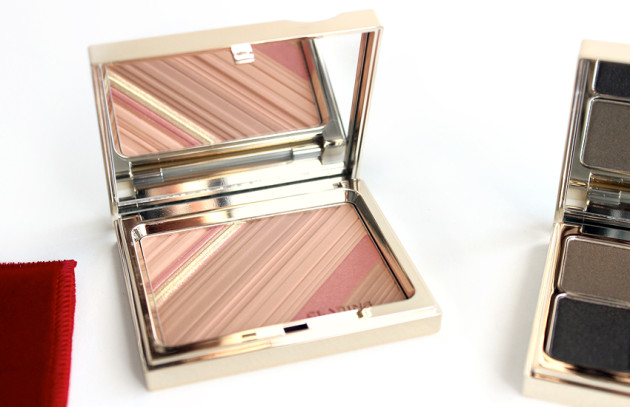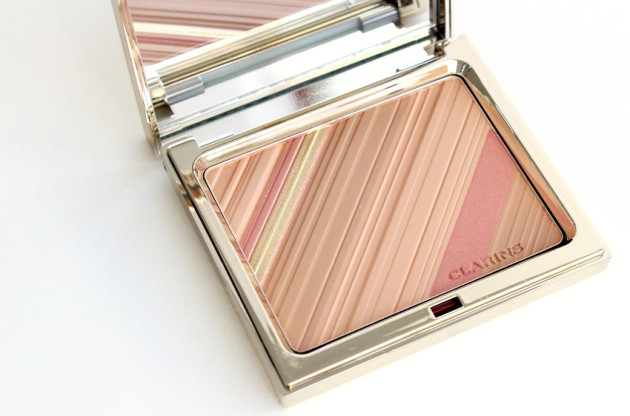 The formula: Like all of the other Clarins powders I've tried, the Graphic Expression Face & Blush Powder has the most beautiful, delicate violet fragrance. It's soft and ethereal, but with this wonderful fruity edge, tamped down by a hint of powder.
I've never been able to test their powders for all-over wear, as all of the ones I own are either too dark, too shimmery, or too silicone-y (or a combination thereof), but I've never read an outright bad review for them. Christine (Temptalia), for instance, found that Graphic Expression "wore well for eight and a half hours, and it did seem to help prolong the wear of [her] foundation slightly (by about a half hour)," while Karen (Makeup and Beauty Blog) notes that it "does slightly darken on [her] skin over time."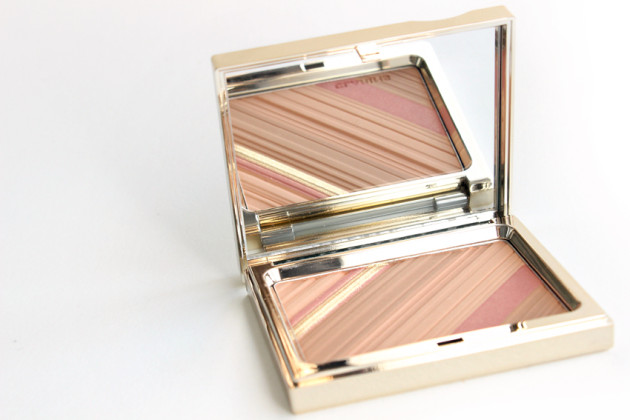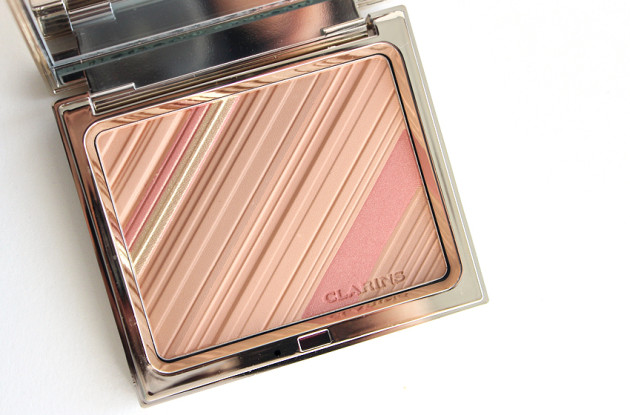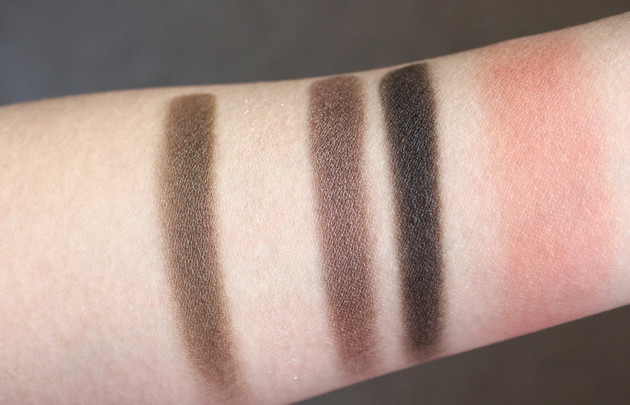 Swatched L-R: Clarins Eye Quartet Mineral Palette in Forest (4), Clarins Face & Blush Powder in Graphic Expression (blended)
The shade and finish: More peachy than last spring's pinky-peach Palette Eclat, and much darker than 2010's apricot-peach Barocco Face Palette, Graphic Expression has a bit of gold shimmer woven through its formula, too. The stripe of gold overspray comes off to reveal a wider pink strip, but the two pink portions carry a hint of finely milled shimmer right down to the bottom of the pan.
Both the light and dark beige/peach strips are smooth and completely matte, with a dry-satin finish. If you use all of the shades at once, the resulting colour is just as surprisingly pigmented as the Palette Eclat was, with a warmer, peachier lean and a very softly frosted finish — but only if you build it up tons, as in a blush or bronzer.
When worn all over, this is, again, warm and peachy, almost orange (but a good orange). The more you buff it in, the more the shimmer seems to come out, but it's glowy and imperceptible from a foot or more away. If last spring's palette gave a glow with its rosy tones, then this one gives it with its subtle shimmer.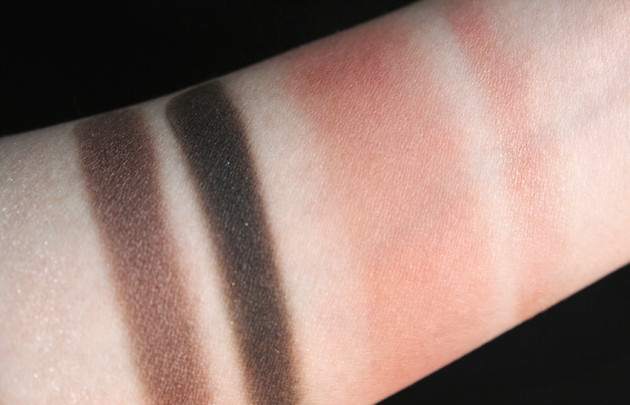 Clarins Graphic Expression Face & Blush Powder swatches: without & with overspray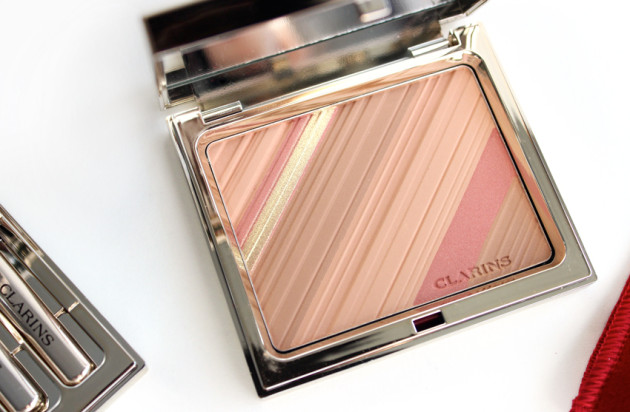 What makes it such a perfect gift: I mean, look at it. If you had to give one makeup item to someone — why not this? More portable and budget-friendly than something like Guerlain's Meteorites, Clarins' Graphic Expression powder is almost alarmingly versatile across skintones, functioning as everything from an all-over radiance powder to a blush or bronzer.
The design of the Face & Blush powder changes with each season, but it too is always so well thought-out: intricate and mesmerizing, with strips of colour that go straight down. I really liked spring's design, but this one really is much more holiday-appropriate — its lines upon lines remind me of ribbons or wrapping paper, and I just think it would make such a lovely gift.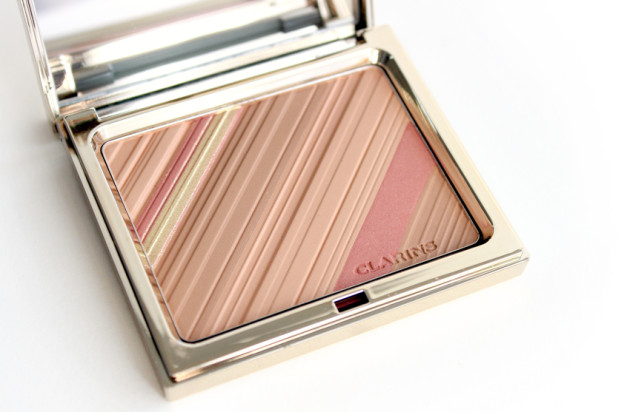 The verdict?
Clarins cheek palettes are always gorgeous in tone and design, and the Graphic Expression Face & Blush Powder is no exception. I love Clarins powders for their beautiful violet scent, and though their Face & Blush Powders' tones (typically peach or pinky-peach) suit my complexion better in the summer, they're wonderful all year 'round on neutral and warm skintones.
As always, I would recommend this powder as a brightening, all-over powder for darker skintones, and as a blush or contour on lighter ones.
While this palette isn't quite as holiday-perfect as Clarins' Barocco collection powder was (yes, I'm still in love with its aesthetic, even after all these years), it's definitely more than holiday-ready.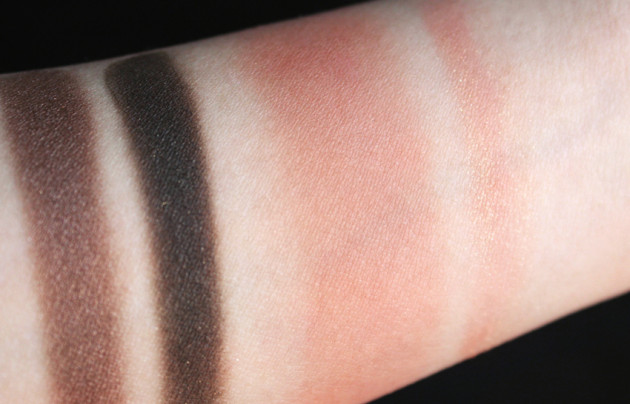 Clarins Face & Blush Powder in Graphic Expression: swatched without & with overspray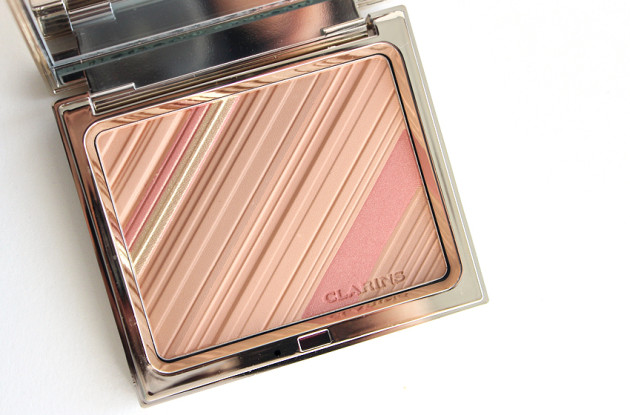 Clarins Graphic Expression Face & Blush Powder