Our New This Week (& etc) posts always operate on the same concepts–new products and collections featured in scrollable widgets,–but I thought I'd try something a little different today.
Rather than everything that's come out recently, here are just a few of my holiday picks, in (clickable!) images with text (actual words!) beneath.
Dior Golden Winter Holiday Look 2013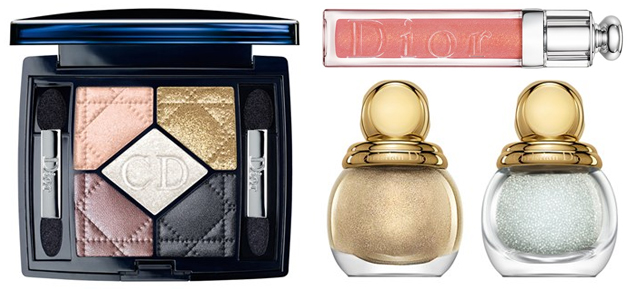 Dior 5 Couleurs Eyeshadow Palette in Golden Snow ($60.00) – One of two Golden Winter eye quints, Golden Snow seemed like a good inclusion for this post. It's a soft, pretty palette that's both lovely to look at and (presumably) easy enough to work with, making it ideal gift-giving material (especially for lighter, cooler skintones).
Dior Addict Gloss in Enchanted Rose ($29.50) – Again, one of two shades in the Golden Winter collection, and again: pretty easy to wear. I'd actually panic if someone gave this to me, because my intense fear of shimmery lip products would take over, but — well, I hear shimmer is a thing people actually like. (I guess that's why it's found in 80% of the lip colour market, and beginning to infiltrate even the skincare ranks.)
Dior Diorific 3D Jewel Manicure Duo ($39.00) – These are weird, admittedly, and packaged in those strange little bottles that no one actually seems to like. The concept, however, is pretty novel for a mainstream brand: the shimmering gold is made to be a base colour, and the silvery shimmers (clear crystal micro pearls) are meant to be applied on top. Think Ciaté, but more chic.
Armani Holiday 2013: #400 reds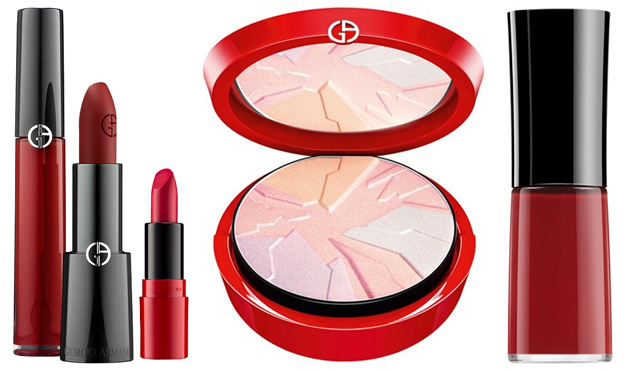 Giorgio Armani Red Lip Holiday Set ($60.00) – Available also in nude (here), this year's holiday lip set is all about Armani #400. It includes the brand's signature red in the Rouge D'Armani, Flash Lacquer, and Rouge Ecstasy CC (deluxe sample) formulas, all wrapped up in a basic black cosmetics bag.
Giorgio Armani Eccentrico Face Palette ($88.00) – I may be the only person in the beauty blogosphere that isn't angry about this palette's overspray, but ugh. I love, love, love. A four-in-one multicolour illuminator palette, the light pink, orange, purple, and white overspray comes off to reveal much darker, less shimmery iterations of each shade. (The shades, in case you're wondering, blend together to create a beautiful pinky-coral — see it on Temptalia, Belletristic Beauty, & Best Things in Beauty.
Giorgio Armani Nail Lacquer in #400 ($20.00) – Just to wrap up the #400s, you know?
& because you can't go wrong with candles during the holidays…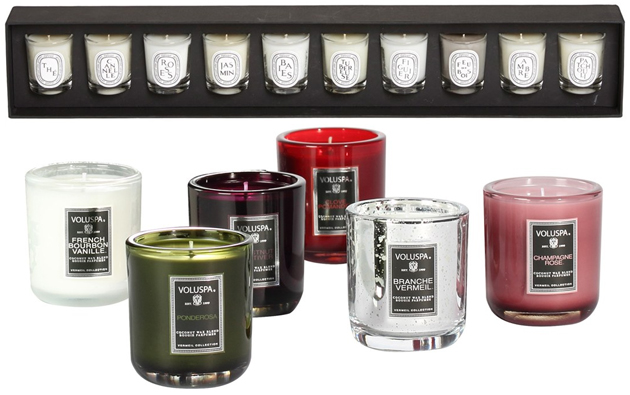 diptyque Candles, Set of 10, Nordstrom Exclusive ($130.00) – $130 is a lot to spend on ten two-inch candles, but when they're diptyque… I feel like a lot of people are going to be pretty forgiving of the price. At 1.2 oz each, they're a half-inch shorter than the brand's mini candles, and work out to $10.82/oz. (The standard diptyque candle is 3.5″ in height, burns for up to 60 hours, and works out to $8.96/oz).
↳ This set contains The, Cannelle, Roses, Jasmin, Baies, Tubereuse, Figuier, Feu de Bois, Ambre, and Patchouli. 
Voluspa Votive Candle Set ($50.00) – Perfect for those of us who aren't about to spend over $100 on a set of candles (even though they really, really want to), the Volupsa line is a great one to have a look at. I love their French Bourbon Vanille scent in particular, and the coconut wax of these six 3 oz, 2 3/4″ candles should burn for up to 25 hours each (making set a steal by comparison at $2.78/oz).
↳ This set contains Chestnut and Vetiver, Champagne Rose, Ponderosa, French Bourbon Vanille, Branche Vermeil, and Clove Pomander.