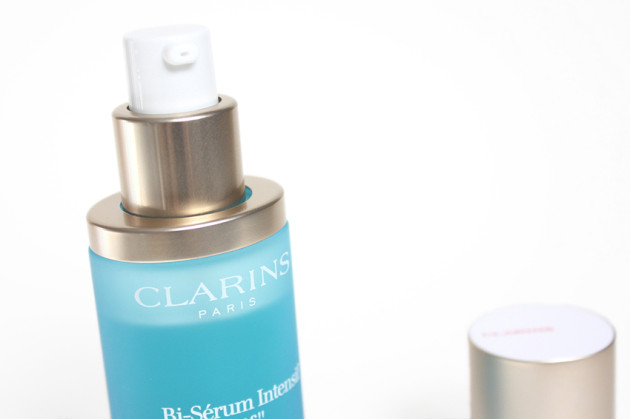 The product: Clarins HydraQuench Intensive Serum Bi-Phase
The formula
Designed to nourish the skin at multiple levels, Clarins' approach to the HydraQuench serum is one that encompasses the best of both worlds, relying on both plant extracts and synthetics to achieve the best results possible.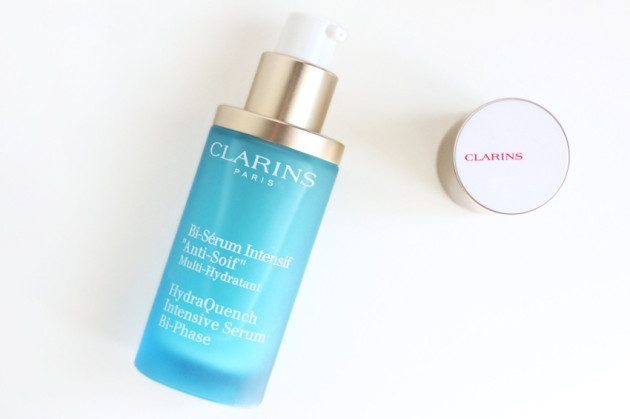 With a focus on hyaluronic acid and fair trade, ethically sourced Katafray bark extract from Madagascar, this bi-phase blue liquid works to lock in water at the surface & restore hydration deeper in the dermis. It's made to be suitable for all skintypes, from dry to oily, and has a very lightweight lipid phase — honestly, with the matte finish and weightless texture, I wouldn't have thought there were any oils in the formula at all. It can be a little tacky, but isn't greasy in the least.
To top it all off, the HydraQuench Intensive Serum is fragranced with a fresh, summery scent: not ever a company to do fragrance by halves, Clarins lists a green apple top note, a rose heart, and a woody base.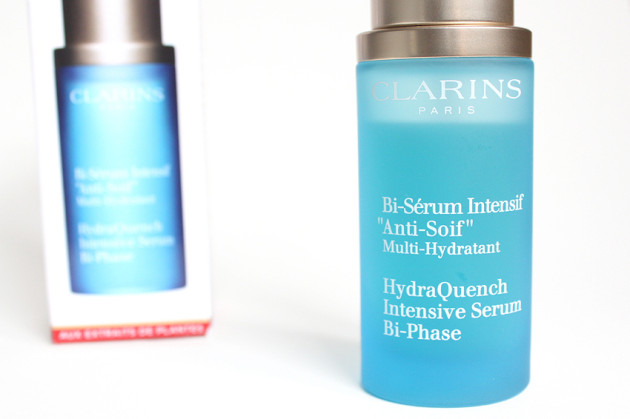 My experience with the HydraQuench Serum 
In my own personal experience (the italics are totally necessary, because you have to remember that my skin is weird), I didn't find the Clarins HydraQuench serum to be, well, intensive enough. However, I happen to have extremely dry skin that isn't caused by systemic dehydration or over-stripping — it's the kind of skin that takes well to night moisturizers being used during the day, and doesn't even blink in the face of a Vaseline or Aquaphor "sealant" on dry winter days.
That said, though, I honestly believe I'm in the minority with this product. Wherever I go (on the internet; I don't go places in real life), I hear nothing but raves for this serum. It's a far cry from my personal experience (which is that I like this, and do use it, but it won't make my dry patches disappear), but I think it's much closer to the norm.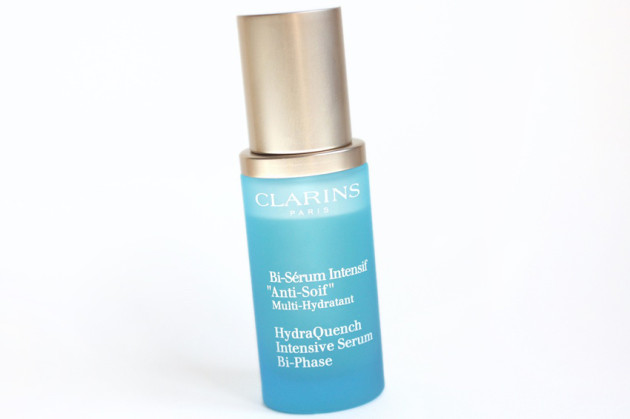 Clarins HydraQuench Intensive Serum Bi-Phase – separated
Where the HydraQuench serum really excels is on combination oily/dehydrated skin. From what I've read, the people who really love it (and I mean who really, fanatically, all-out love it) tend to be the ones who find most serums too heavy or greasy, but still really need that boost of hydration.
It makes sense, with the incredibly lightweight formula and non-greasy finish, at least in my head! If you've loved (or hated) this one, tell me about it in the comments — I'd love to hear more about your skin type and results.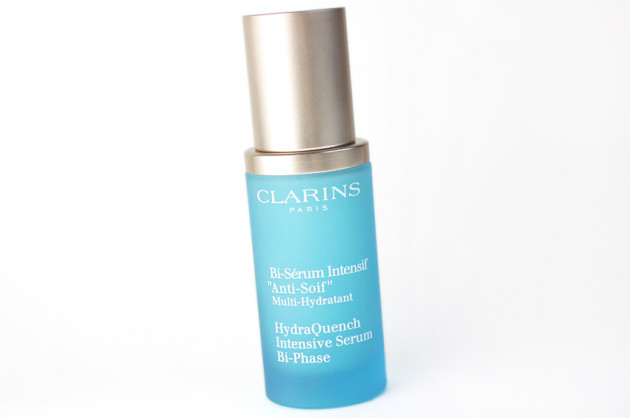 Clarins HydraQuench Intensive Serum Bi-Phase – shaken/mixed
Don't believe me? Believe Lisa Eldridge. 
Like a lot of the makeup world, I take Lisa Eldridge's word as gospel. With over two decades of experience, Lisa's career is something out of a [makeup artistry] fairy tale: not only has she done countless celebrities, covers, and fashion shows, but she's currently working as the Creative Director of No. 7, creates makeup tutorials for Chanel's Make-Up Confidential, and writes ELLE UK's monthly The Beauty Guru column.
When someone with that much experience calls a serum "the best product for hydrating the skin I've used in a long time," well. You kind of have to give it its dues, you know?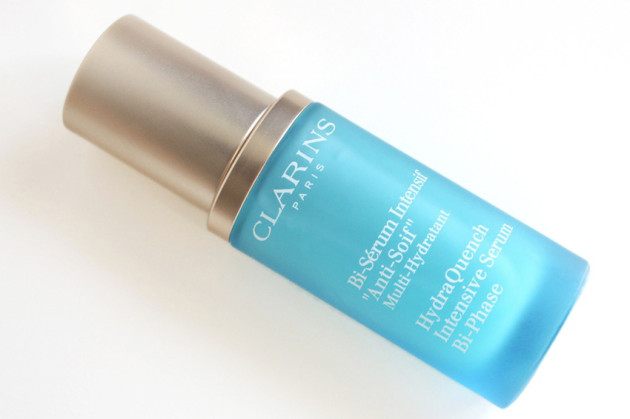 The verdict?
I'm very hesitant to give a "verdict" for this one, but in the spirit of review-based beauty blogging: you'll just have to take it with a grain of salt.
If you have normal to oily skin with dehydrated patches, I honestly think that this will work quite well for you. For extremely dry skin, however, it may not be enough! With its light, non-greasy finish and functional-luxurious packaging, I think the Clarins HydraQuench serum is a pretty darn good bet for anyone who needs an extra boost of weightless moisture in the hot summer months — but not if your skin is stubbornly dry.
Availability: $58 USD/$58 CAD for 1 oz; $70 USD for 1.6 oz.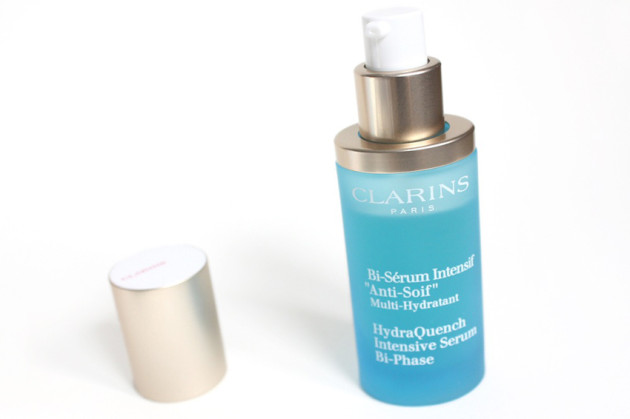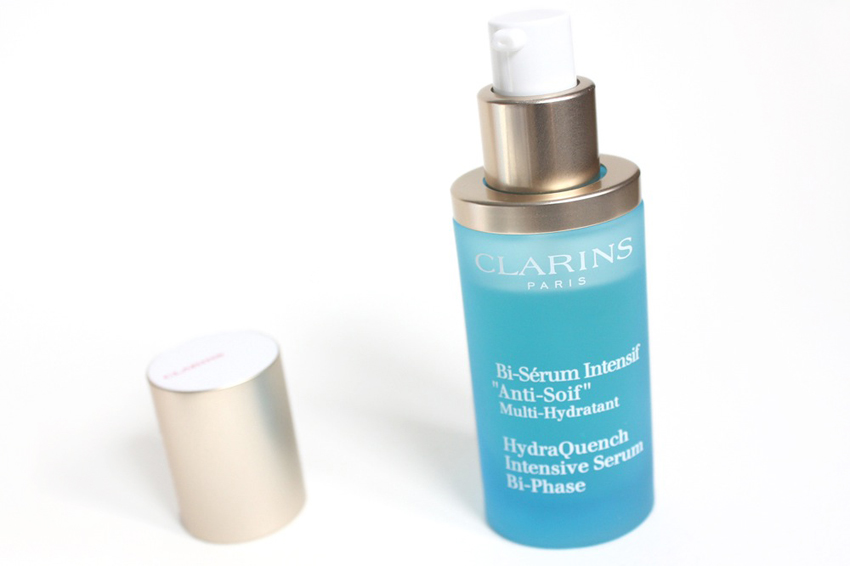 Clarins HydraQuench Intensive Serum Bi-Phase ingredients:
Aqua, Glycerine, Isohexadecane, Isononyl Isononanoates, Hydrogenated Polyisobutene, Sodium PCA, Trehalose, Plukenetia Volubilis Seed Oil, Benzophenone-4, Sodium Chloride, Parfum, Phenoxyethanol, Tocopherylacetate, Ethylhexylglycerin, Tromethamine, Xanthan Gum, Sodium Hyaluronate, Disodium EDTA, Alcohol, Caprylyl/Capryl Glucoside, Carrageenan Extract, Butyl Methoxydibenzoylmethane, Alfalfa Extract, Cedrelopsis Grevei Bark Extract, Pyrus Sorbus Bud Extract, Sorbic Acid, Tocopherol, CI 42090 (Blue 1), CI 60730 (Violet 2).