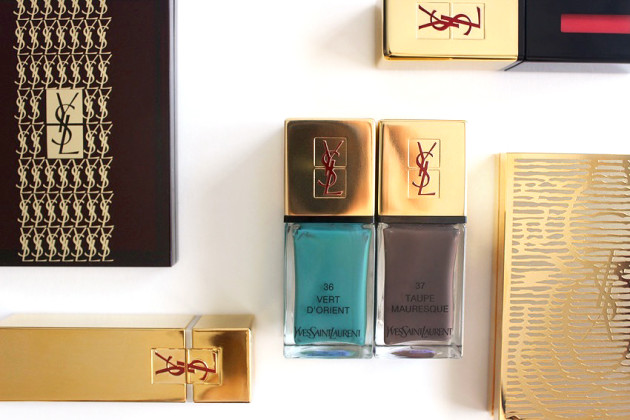 The products: Yves Saint Laurent La Laque Couture in No. 36 Vert d'Orient
The collection: Prefaces for limited edition products are usually easy, because I can just link to the collection teaser. This time, however, I'm going to have to take a moment — I was so enamoured with Vert d'Orient when I swatched it that I haven't even found time to do the collection overview yet (but I have to share the polish with you anyways)!
The two limited edition YSL Summer Look 2013 nail varnishes (the other is No. 37 Taupe Mauresque, which you may recognize from this YSL Tie & Dye Top Coat review) are made to compliment No. 14 Violine Surrealiste, a cult favourite from the La Laque Couture range. They're calling it a "colour extravaganza," and, well — they're not wrong.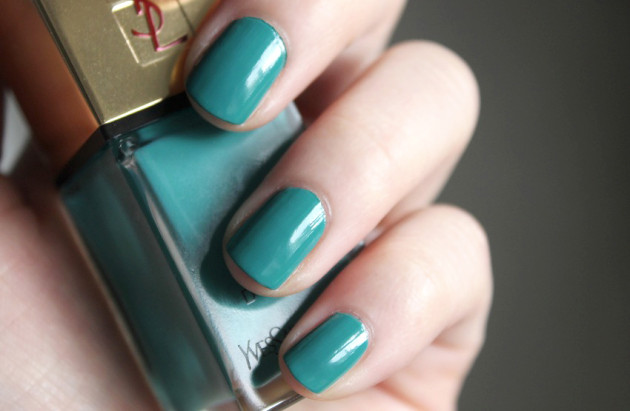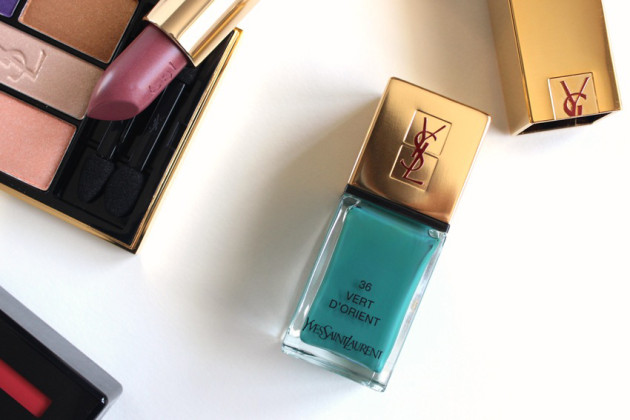 The shade: Described simply as a "deep, radiant green," Vert d'Orient (just like all the other La Laque Coutures I've ever tried) completely exceeded my expectations. The gorgeous, cream-finish polish toes this fantastic blue/green balance — in most rooms, it reads as a deep, rich, slightly-smoky green turquoise; with tungsten lights, however, it looks more like an emerald with a soft yellow undercurrent.
Vert d'Orient feels like the middle of summer, sweltering and humid. It's amazingly complex and deep, despite its theoretically very basic finish and formula: rather than relying on texture and shimmer to add interest, YSL does it all with just a handful of [amazingly well-blended] pigments.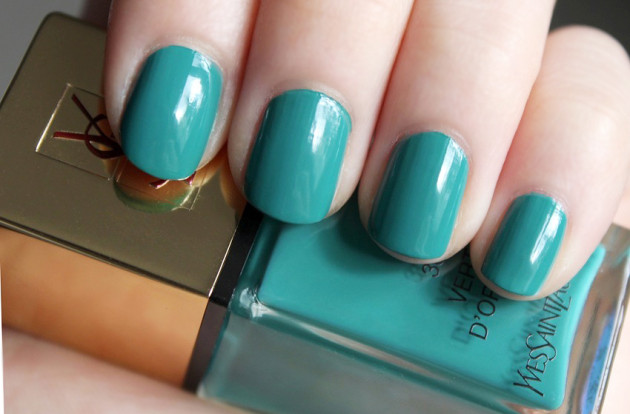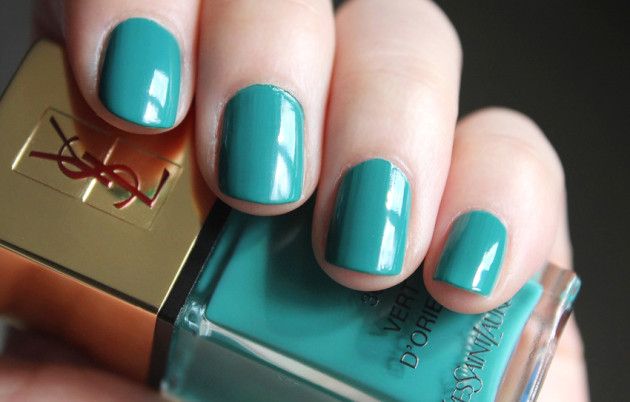 The formula: Again, just as with all the other YSL La Laque Couture polishes I've tested before, Vert d'Orient applies absolutely beautifully. With a fairly wide, thin brush and a cream-finish formula, it's practically foolproof: even a shade as bold as this is a cinch to get smooth and even.
Though YSL's polishes aren't marketed as being fast-drying, their perfect viscosity almost makes them seem as such — by the time I've gotten to my pinkie finger, my thumb is just about ready for another coat. For a shade like this, I'd recommend three thin coats of polish for optimal ease & opacity, but two thicker ones will work as well.
The verdict?
Like last season's Jade Impérial, YSL La Laque Couture in No. 36 Vert d'Orient is a green that both green-lovers and… well, I don't want to say "green-haters," but that green-not-so-lovers will love. With a fantastic formula and stunning, complex green hue, it's well worth a look if you're on the hunt for a striking, slightly unusual statement nail. 
Availability: $25 USD/$27 CAD, permanent as of May 2013. Find them at Holt Renfrew & select The Bay, Murale, and Sephora stores.