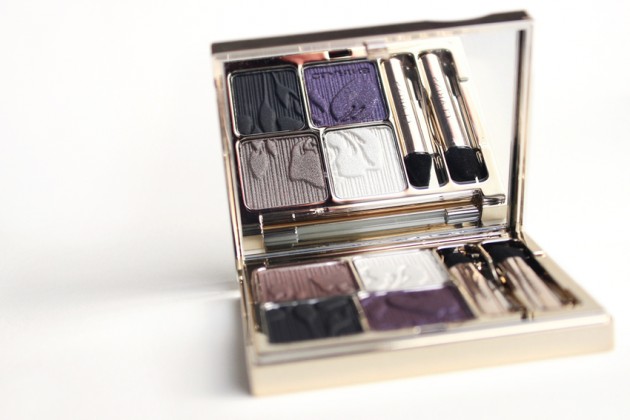 The product: Clarins Ombre Minérale 4 Couleurs in 10 Iris Blossom
There are a lot of gorgeous (seriously; gorgeous) products in this Spring's Clarins Rouge Eclat collection, but I have to say — Iris Blossom? Total. Stunner.
I know I promised this review ages ago, so without further adieu, I hope you enjoy the post!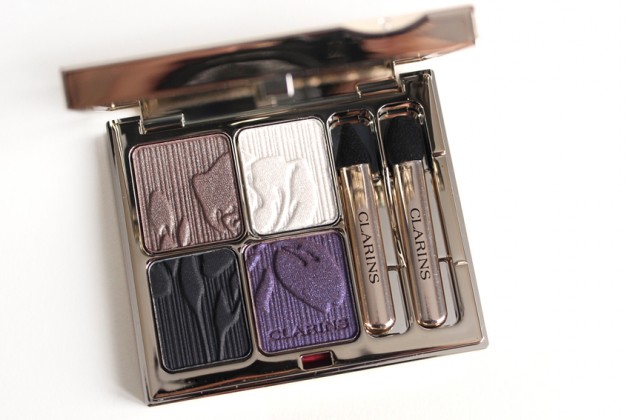 The formula
Like the other Clarins Eye Quartets, Iris Blossom contains four eyeshadows with fairly hard-textured formulas. One is a sheer liner/crease shade that builds up easily and foils well; one is a translucent shimmer; and two (of course) are smooth, gorgeous mid-tones. 
Again, as with the other quads, I found Iris Blossom very easy to create both day and night looks from — things like foiling (or focusing more on the bottom two shades) are great for adding drama, and the mix of tones and textures add a fantastic amount of depth to any look created.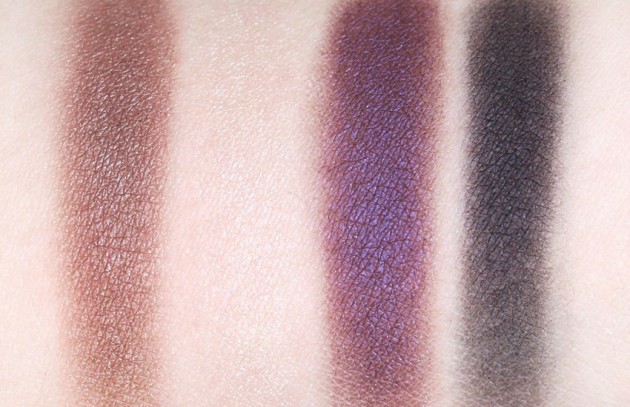 Clarins Iris Blossom quad, swatched in indirect sunlight (dry on primed skin)
The shades
To start with the top two shades, this gorgeous wheat-y taupe (which is to say, more yellow and brown than violet and grey) is perfect for creating a neutral lid — it's very smooth, and delivers the most pigment out of these four shades.
As its shimmery shade (great for highlighting the inner corner or adding interest to the middle of the lid!), Iris Blossom contains an extremely sheer white, packed with shimmer. It's still complex enough to add some interesting texture, but doesn't have any shards of glitter — I like it, but I think it could be better.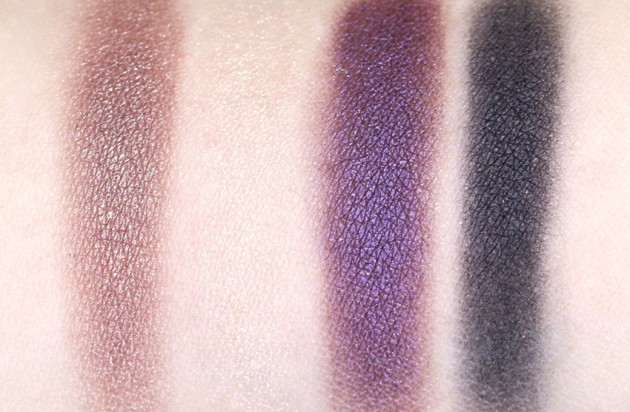 Clarins Iris Blossom quad, swatched in indirect sunlight with flash
Then, for the depth and drama, we have a stunning violet with blue reflects… but warmer undertones. Without flash or foiling, it's much more subdued (see the top swatch), but the temperature and shimmer difference really makes the shade pop! with movement. It has good pigmentation and texture, but isn't quite as buttery as the taupe.
Finally, as with the other Clarins quads, we have a dark shade (perfect for use as liner or in creating a smokey eye). In this case, it's a sheer, matte charcoal, and as always, I love it — Clarins' darkest shades are always quite hard, making them easy to work with but still leaving room for foiling or layering.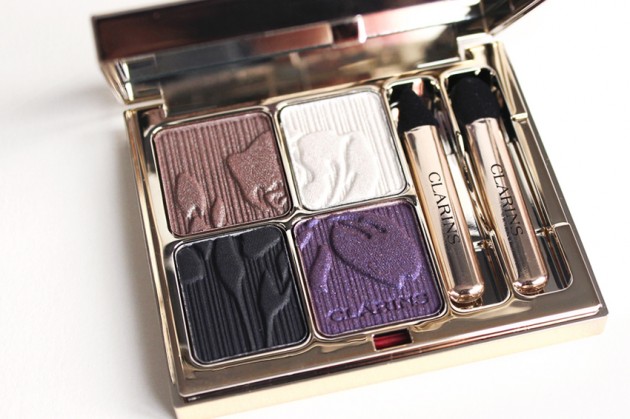 The verdict?
At $42 USD/$42 CAD (look at that gorgeous lack of a price difference!), I would absolutely recommend Iris Blossom if you're looking to get into colour, but you're wary of going too far with it on your first try.
I was asked last week about what would make a great first Clarins quad, and I think it varies by person and need. To answer the question in context, though: while this one doesn't show off just how awesome those sheer shimmers can be, I still do think it would make a great "first Clarins!" if you have a soft spot for violets and taupes.
(I know I do).