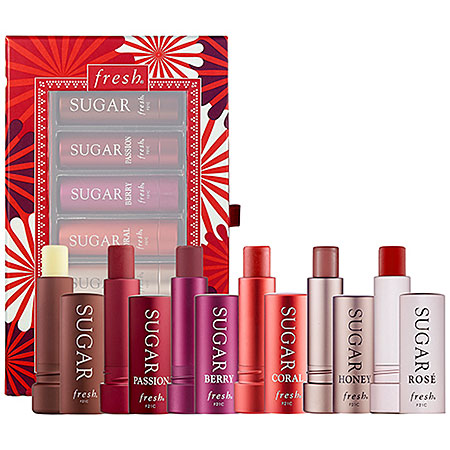 I have been strangely fond of the Fresh Sugar Lip Treatments as of late — there's something about their heavy, weighted packaging & twist-end closure that just sits really well with me.
At $22.50 USD ($26 CAD), they're priced higher than I think we'd all prefer, but sometimes the little luxuries make the best gifts, you know? The products that you know someone will really enjoy, but wouldn't necessarily splurge on if left to their own devices.
Living inside the box (for once) 
But then I started thinking about beauty gifts, and boxed gifts, and the ones that hang on trees (on Christmas trees, not just random backyard pines upon their own volition), and I wanted to throw together a few ready-to-go boxed sets for all of you. They're quick, easy, and all you have to do is add some wrapping paper and a ribbon.
And, alright, some of this panic stems from the fact that your last ship date for Sephora.ca is tomorrow, in order for standard shipping to get a package to your door by the 24th. Our American readers and friends have a bit more time (Dec. 18th), but the 25th is sneaking up on us pretty quickly!
And, finally, a quick preview of a boxed set that's coming up…
The Best of Burt's Bees Set ($24.99 CAD), which contains their Coconut Foot Crème, Almond Milk Beeswax Hand Crème, and cult-status Lemon Cuticle Cream, all of which are paraben-, silicone-, and cruelty-free!