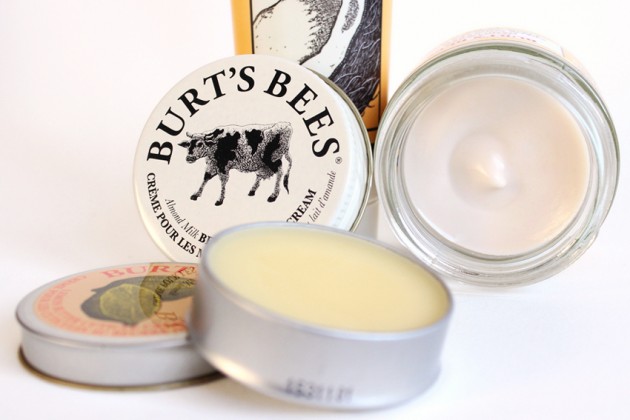 The product: Burt's Bees Best of Burt's Bees set (Holiday 2012)
This year's Best of Burt's Bees set ($24.99 CAD) contains three full-size Burt's bestsellers, and is basically a hit of major hydration in a box. With targeted treatments for dry hands, feet, and cuticles, I like to think of it as my little "prairie saviour" box — perfect for soothing your holiday-shopping-tired feet and wind-chapped hands. 
(And by wind-chapped, I totally mean shopping-mall-chapped.)
The Lemon Butter Cuticle Cream
A Burt's Bees classic, the Lemon Butter Cuticle Cream is waxy and unyielding, and takes a moment to apply . That said, though, it does its job well — that same waxy texture also means that it's highly portable (in any climate), and stays on your cuticles like nobody's business.
I haven't tested this out long enough to give it a ringing endorsement, but from what I've seen of it so far, it definitely does a great job of locking in moisture without getting your fingertips or hands greasy. You don't have to use a lot of it each time, and what you do put on withstands a respectable amount of wear & washing, to boot.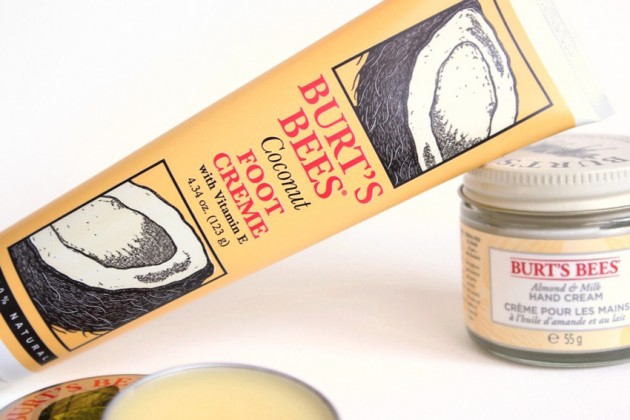 The Coconut Foot Cream
Rather unexpectedly (for someone who rarely-if-ever uses foot creams), this was my favourite of the bunch! Despite living on the prairies and having chronically dry skin, my feet don't actually tend to get terribly dry — less so than the rest of my body, even.
The Burt's Bees Coconut Foot Cream is strangely gelatinous, while still being petroleum-free and 99% natural. Like their Peppermint Foot Lotion, Burts' coconut cream feels luxurious and has a bit of a minty tingle — but that's where the comparisons end.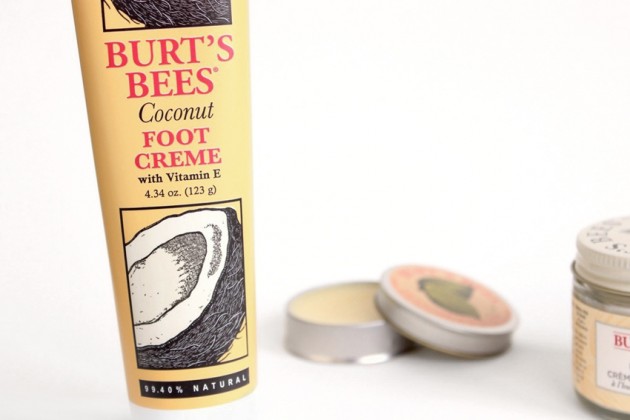 Where the peppermint lotion is thin, white, and sinks in quickly, this one reminds me of a thick honey butter, flavoured with a slightly-spicy coconut and a little sticky. It's made to sink in overnight (follow up with cotton socks, of course), and delivers deep hydration while having what I'd actually describe as quite a pleasing scent!
The Almond Milk Beeswax Hand Cream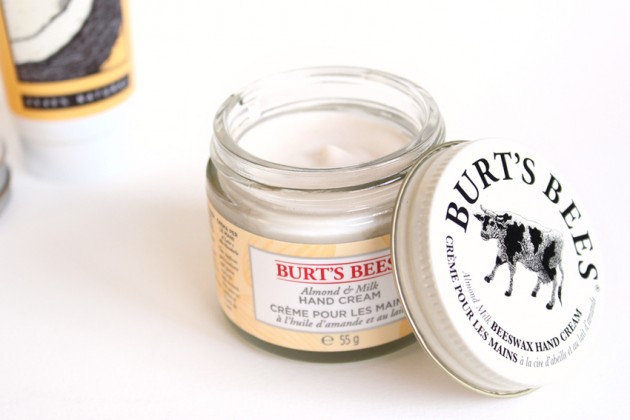 Like the coconut foot cream, Burts' Beeswax Hand Cream has a lovely, interesting texture — in this case, the texture of a waxy butter, solid in the jar but which melts easily as it's worked into the skin.
While rich and moisturizing in terms of formula, my complaint with this product lies in its portability and fragrance. The latter is overdone (a problem I have with a surprising number of Burt's Bees products), and has a sharp, synthetic edge that may be headache-inducing for some. And, while the 2 ounce jar is a great sink-side or desk-drawer addition, it's far from portable — just something to consider, with the way hand creams need re-application in climates like the prairies!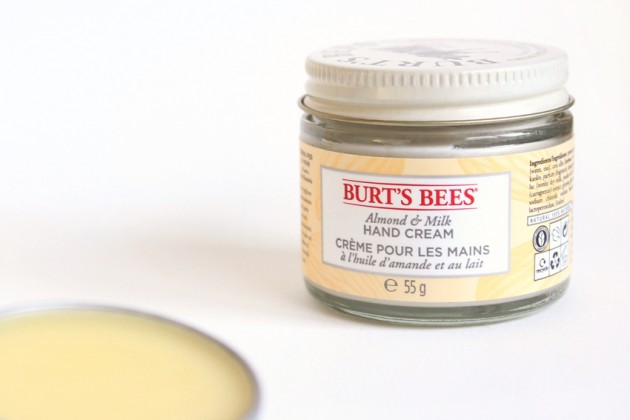 The verdict?
At $25, this set is a good deal… but only if you already love all three of the included products. With the way I (don't) go through products, I tend to prefer sets like the Burt's Bees Tips n Toes Kit  — that is, ones that let you try out a lot of different products, rather than those that get you stocked up with old standbys.
So, while I liked this set, I'd actually recommend that you give the other one a go, instead! (Or, hey, any one of these.) Something like the Tips 'n Toes Kit is just $19 CAD for the same awesome formulas plus three others, but minus the commitment of full-sized containers.
Or, y'know, skip the hand care entirely and just go for the Coconut Foot Cream. I'm having a lot of fun with the texture! And, okay, the giant hit of moisture and tasty fragrance are pretty nice too, I guess.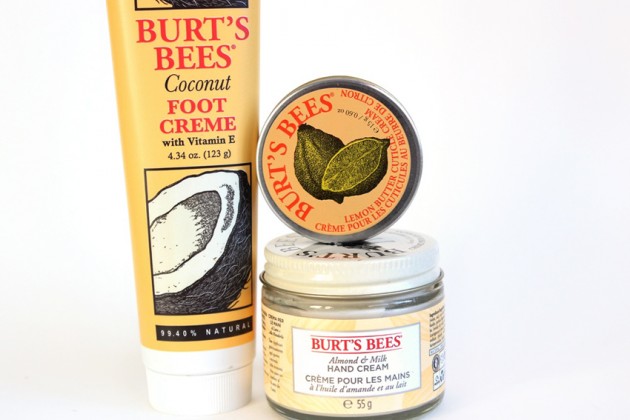 The ingredients
Coconut Foot Creme: glycerin, olive oil, oat flour, lanolin, coconut oil, quillaja extract, oat oil, rosemary leaf oil, tocopherol, fragrance.
Almond Milk Beeswax Hand Cream: sweet almond oil, water, beeswax, aloe leaf juice, kaolin, fragrance, grapefruit seed extract, nonfat dry milk, tocopherol, carrageenan extract, glycerin, soybean oil, stearic acid, glucose, sodium chloride, sodium benzoate, sodium borate, glucose oxidase, lactoperoxidase, linalool.
Lemon Butter Cuticle Cream: sweet almond oil, beeswax, lemon peel oil, cocoa seed butter, candelilla wax, beta-carotene, rosemary leaf extract, tocopherol, sunflower seed oil, soybean oil, canola oil, limonene, citral.