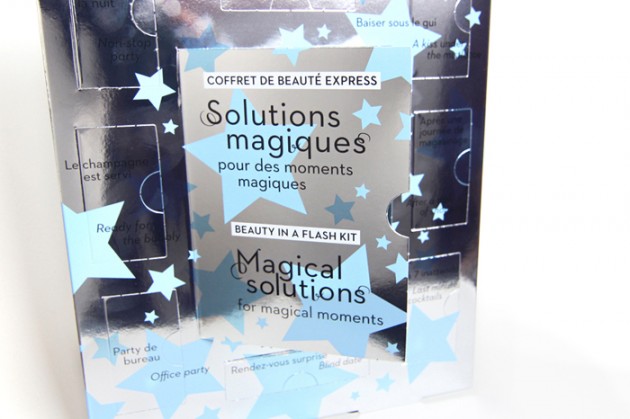 The product: Lise Watier Beauty in a Flash Kit
As those of you on a silicone-free skincare regimen (aka the 'cone-free diet, as I like to refer to it in my head) will already know, finding a beauty kit that's entirely silicone-free is a hard feat — a kit that's largely skincare-based, even moreso.
These sets are few & far between, with the exception of a few natural beauty lines, but Lise Watier has put out a very cool Advent-calendar-inspired exception to the rule this Holiday season.
In the kit ($42 CAD), you'll find…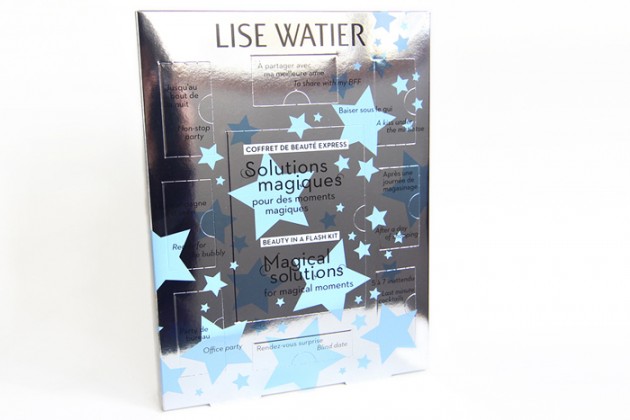 Seven Flash Lift Radiance Vials
On the periphery of the kit are seven re-closable plastic Flash Lift Radiance vials, regularly $27.00 for 7. They're described as an all-ages "magic potion," designed to lift, firm, smooth the appearance of wrinkles, erase signs of fatigue, and give instant radiance to all complexions.
I'm sure I don't have to remind you that instant fixes never produce the same results as long-term skincare (or, I guess, an actual facelift,) but who couldn't use a bit of a pick-me-up at this time of year? Between December deadlines, holiday shopping, and a constant lack of quality sunlight (at least in Alberta), I think we're all a little more lackluster than we'd like.
Aqua, Butylene Glycol, Glycerin, Hydrolyzed Wheat Protein, Hydrolyzed Silk, Rutin, Green Bean Seed Extract, Palmitoyl Oligopeptide, Palmitoyl Tetrapeptide-7, Allantoin, Niacinamide, Tocopheryl Acetate, Sodium Hyaluronate, Cetyl Hydroxyethylcellulose, Dipotassium Glycyrrhizate, Disodium EDTA, Hydrogenated Castor Oil, PEG-7 Caprylic/Capric Glycerides, Polysorbate 20, PPG-26-Buteth-26, Xanthan Gum, Potassium Sorbate, Benzyl Alcohol, Phenoxyethanol, Parfum, Mica, Titanium Dioxide.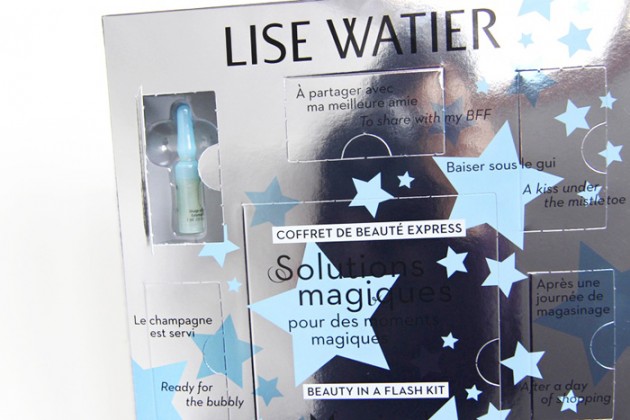 Three pairs of Bio Lift Eye Patches 
To go along with the Flash Lift vials, our fairy godmothers at Lise Watier have slipped in three pairs of their Bio Lift Eye Patch (regularly $34 for 6 pairs). These ones are a little less instantaneous, needing 15 to 20 minutes overtop moisturized skin for full efficacy, but promise similar results: smoothing, softer lines, and an overall less-tired eye area.
Aqua, Glycerin, Carbomer, Sodium Polyacrylate, Aloe Barbadensis Leaf Juice, Witch Hazel Extract, Soy Protein, Allantoin, Tocopherol, Polysorbate 80, Tartaric Acid, Butylene Glycol, Methylparaben, Propylparaben, Ethylparaben.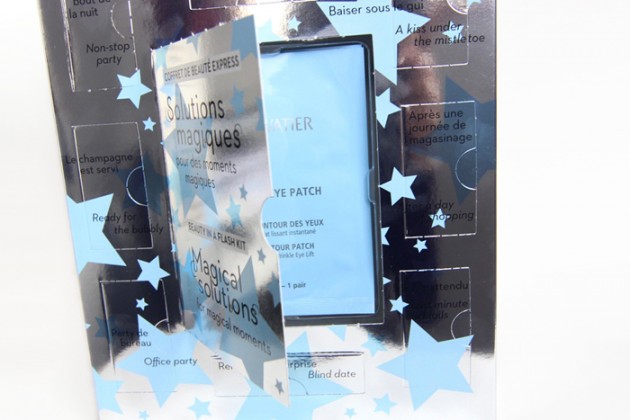 One Vent du Sud sample
And, to finish off your primping, there's a small sample of Vent du Sud included in the kit. Part of their Bora Bora collection earlier this year, the fragrance is peppered with vanilla and jasmine, and is pretty standard fare. It's quite fruity, with just a hint of florals, and comes a very strong, sweet overtone as promised.
While not something I'd wear on a regular basis, Vent du Sud is honestly a delicious scent. For lovers of Marc Jacobs Dot, etc.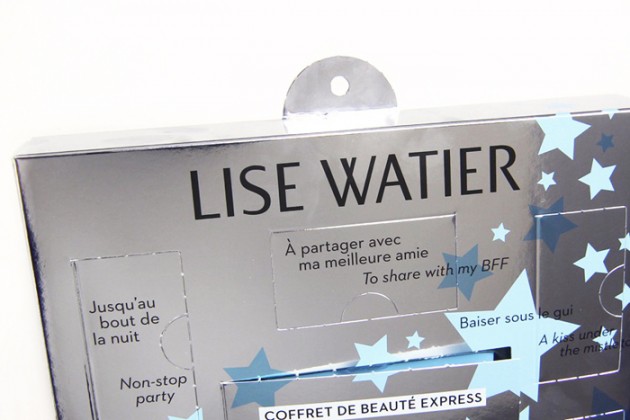 And a very handy hanging tab. 
There is, however, no partridge, nor a pear tree. But sometimes it's the little things, you know? Things like being able to pop up a tab on the back and hang the kit on the back of your bathroom door, or prop it up against your makeup mirror on the countertop.
…and then sometimes it's the fact that you can enter to win a year's worth of Lise Watier products and get $5 off at lisewatier.com, just by sharing a holiday greeting card on Facebook (or with five friends).
The cards, for the record, are notable for one key point: the drawings all have some seriously cute hair. I kid you not.