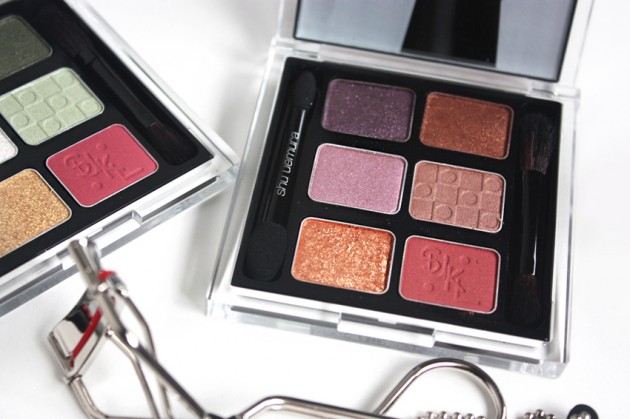 Included in this year's karl lagerfeld x shu uemura holiday collection are two eye & cheek palettes, and — you guys. You guys. They're absolutely gorgeous; I honestly cannot wrap my head around why the internet hasn't started freaking out about them yet.
Oh, well. With palettes like these, it's bound to happen soon enough. (Smoky Velvet swatches/review coming up soon as well!)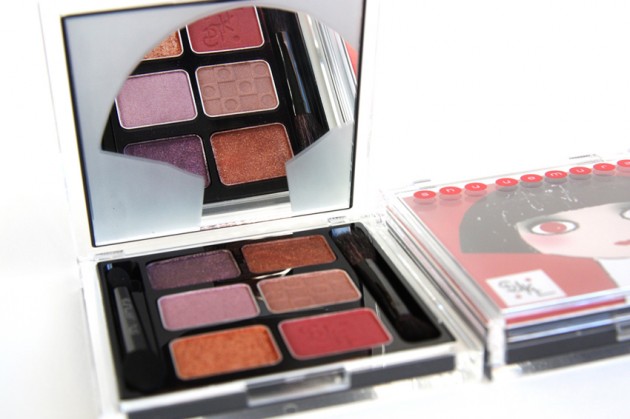 The textures
This is the first time I've gotten around to trying Shu eyeshadows, and I have to admit: I'm a little ticked that I hadn't tried them earlier. You always hear about how great the Shu Uemura eyeshadow textures are, but the silk smooth eye shadow formula is literally like nothing I've ever tried before. The formula is distinctly a powder, but just from the way it feels, you'd almost think it was a whipped cream.
On top of that, the way Shu does glitters is absolutely stunning. With a wide variety of particle shapes and sizes (large "shards" of clear reflects, coloured shimmer, finely-milled sheen, and "normal" shimmer of varying size), the effect is just so complex; wet-finish and absolutely mesmerizing.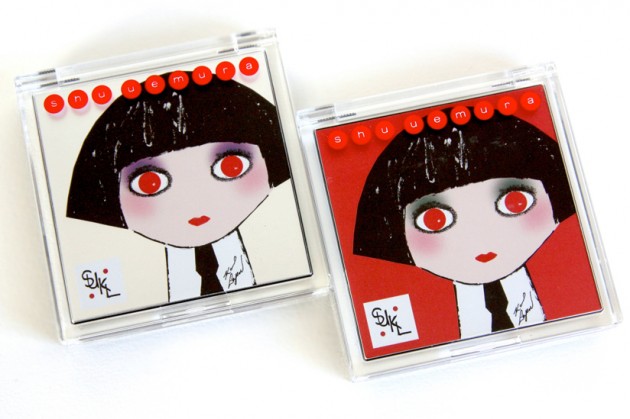 The Prestigious Bordeaux Eye & Cheek Palette contains two super-velvety eyeshadows (top two), two eyeshadows with beautiful, complex shimmer and glitter (middle left and bottom left), one to-die-for medium brown with a normal-but-so-much-better-than-normal eyeshadow texture, and one glow-on blush.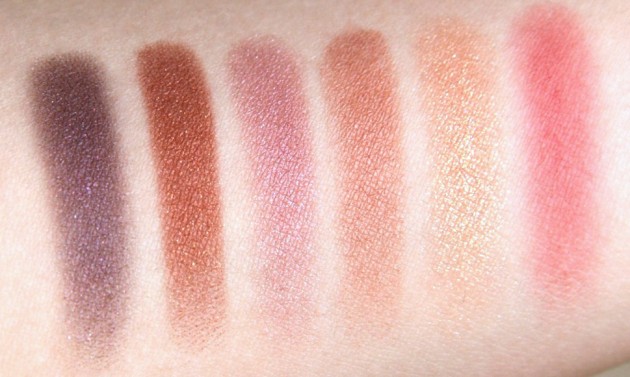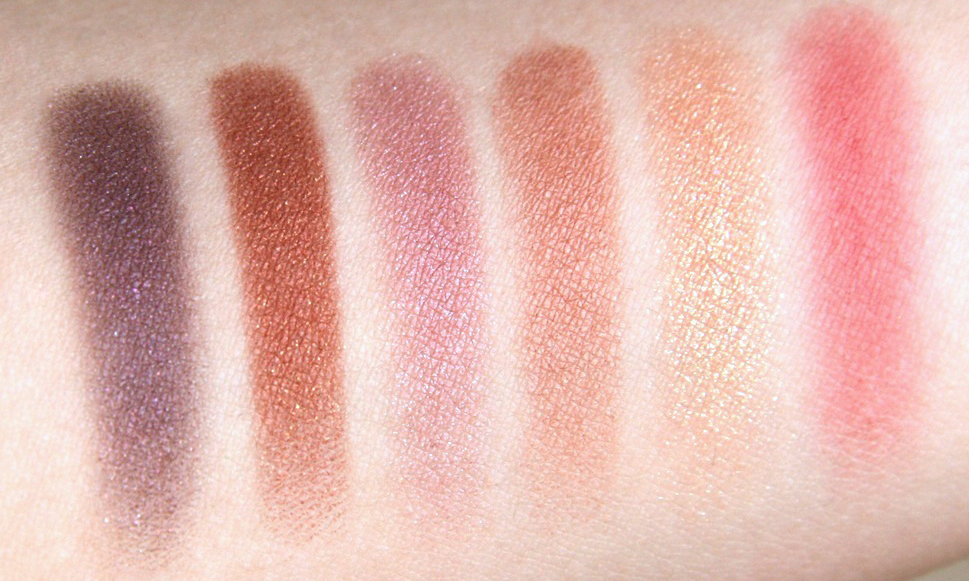 Prestigious Bordeaux swatches, dry on primed skin. Click to enlarge.
A few notes on each individual shade, using Shu's descriptions of each to distinguish them:
Glitter wine (top left; silk smooth) – despite its name, this shade sits firmly in the plum family. With a brown pigment base and sparse violet particles, it wears more brown than it swatches, and contains both blue- and red-violet reflects. Expect a red-violet undertone, and a dusty wash of brown with a subtle violet lean if sheered out.
Deep brown (top right; silk smooth) – reads more copper when swatched than when in the pan. Bright and warm, with both gold and on-tone shimmer.
Pale purple (middle left; glitter) – swatches more red than expected. This light purple is sheer and peppered with light violet/crystal shards, applying as a glassy mauve-pink rather than a smooth lavender.
Soft brown (middle right; frost) – surprisingly, my favourite shade of this palette! This soft, light brown has a gorgeous, finely-milled frost finish (think sheen with no shimmer), and wears with a surprising visual lightness.
Brick gold (bottom left; glitter) – though chunky in the pan, this warm orange-gold smooths down into shards of melon, clear, and violet (!) shimmer in a melon-gold base. It's by far the most unexpected shade in the palette up-close, what with the violet reflects, and all the better for it.
Coral rose (bottom right; blush) – red satin finish with gold microshimmer. Sheers out well to give a lovely glow without glittery flashback. Dustier, warmer, and browner than the red Smoky Velvet blush.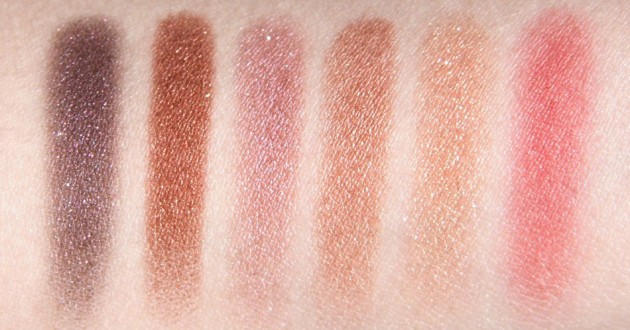 Prestigious Bordeaux swatches, in more-harsh lighting. Click to enlarge.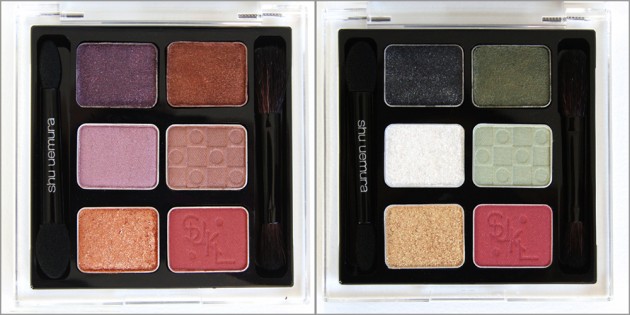 Karl Lagerfeld for Shu Uemura, Prestigious Bordeaux Eye & Cheek Palette (on left)
The verdict?
Overall, I was very fond of this palette, though it's worth noting that it was much less colourful than I had anticipated. Instead of bright violet lids, the finished effect is more of a brown-plum, making it wearable for the office as well as for a night out. (Eye look coming up soon!)
As an ardent lover of both violet eyeshadows and wet-finish glitters, this eyeshadow palette is right up my alley. At $65 USD/$85 CAD, it's admittedly a pricier buy (go for the Blackish Satin Purple Painting Liner for a bit of Karl x Shu luxury under $30), but the quality is definitely there.
Availability: online at Shu Uemura; in stores at Holt Renfrew in Canada.
—
A few quick comparison swatches
In the centre, the gold/peach from the Prestigious Bordeaux palette (bottom left) swatched next to the gold from the Clarins Odyssey Eye Quartet Mineral Palette Long-Lasting. On right, the Glow-On Blush pans from the Smoky Velvet and Prestigious Bordeaux Shu Uemura palettes, respectively.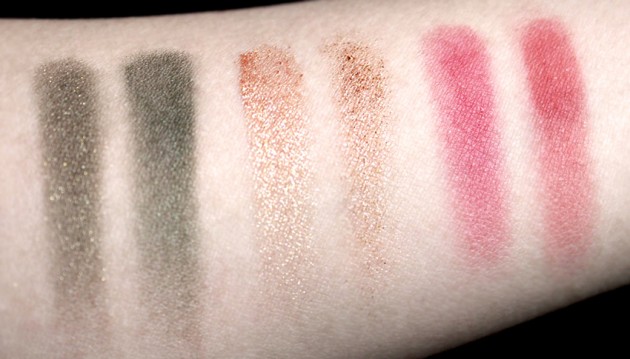 Centre: Shu, Clarins / Right: Smoky Velvet, Prestigious Bordeaux
Ingredients & packaging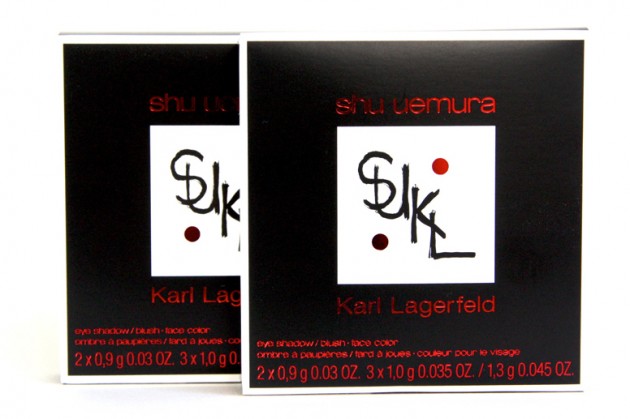 Karl x Shu boxes (hahaha, shu-boxes.)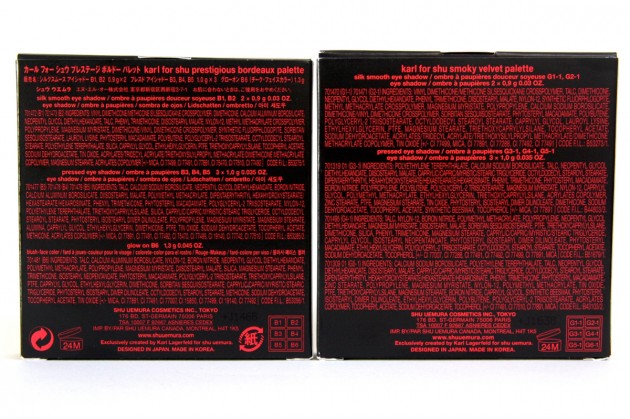 karl for shu prestigious bordeaux palette – ingredients (left)