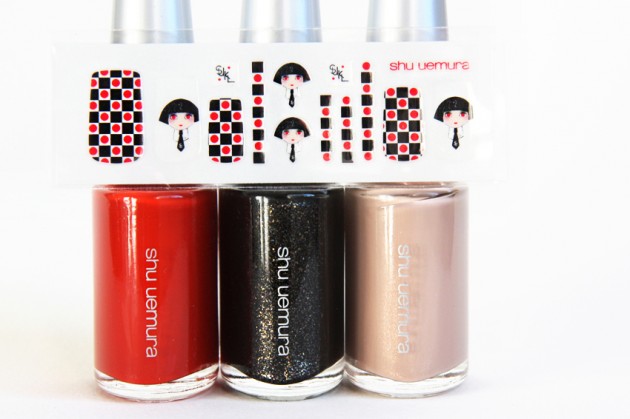 The product: Karl Lagerfeld for shu uemura Nail Lacquer in Shu Shu Red, Karl Black, and Royal Beige
When it comes to this Holiday's Karl x shu collection, the nail lacquers are probably the easiest item to tackle, honestly. From the awkwardly-shaped curler to the seriously stunning palettes (upcoming!), this'll probably be where I have the fewest words to say.
Probably, hopefully, maybe.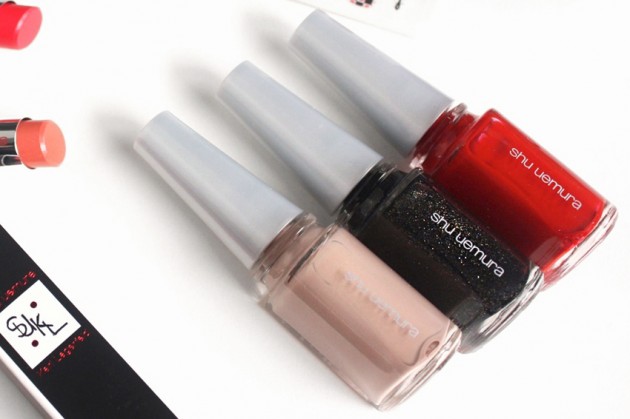 Shu Shu Red
To start off, we have a stunning burnt orange-red with a glossy, shimmer-free finish. Smooth and well-pigmented, it's ridiculously easy to apply, but (as could be expected from anything this saturated) a little harder to get off without staining your fingers terribly.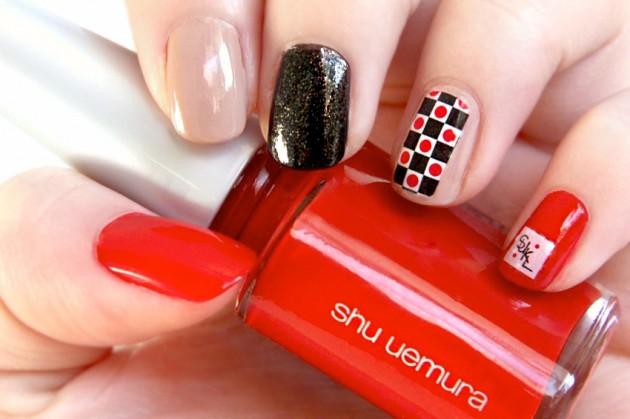 I usually gravitate to bluer reds (less orange/yellow than this one), but it's hard to fault such a stunning shade. Shu Shu Red is a fantastic, warm, subdued "red," and it's perfect for late autumn/early winter.
Royal Beige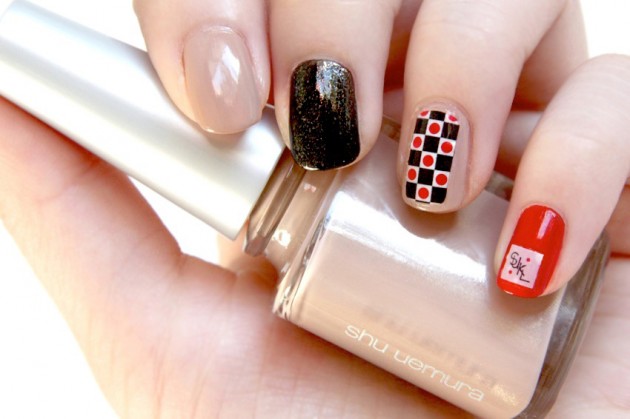 As a lover of neutral nails, Royal Beige was the shade I felt most drawn toward. The formula, however, just isn't up to par: while the shade avoids the fate of many drab neutrals with ethereal gold microshimmer (and I mean microshimmer) keeping it from looking flat, it's hard to recommend it at $18.
I like it in theory, but Royal Beige sits heavy on the nails with any more than one thin coat — and needs at least three for full opacity.
Karl Black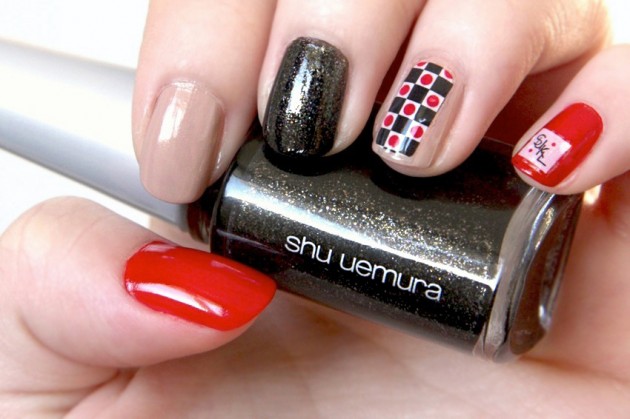 Next up is Karl Black, which–while a little harder to apply–is probably the most unique shade of the three varnishes. This inky black isn't quite as dense, but the extra coat is worth it: the formula is packed with gorgeous gold flakes and mixed microshimmer, which give the polish a stunning complexity. The final effect has more depth than a layered topcoat, but the added texture isn't really in-your-face, either.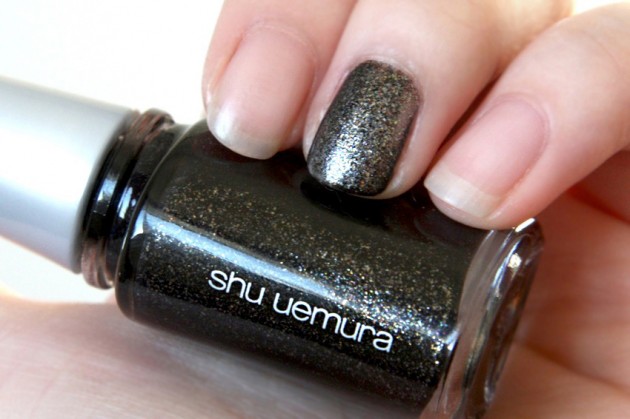 While removing this one, I noticed that the flakes and base colour remove at different rates, which reads like a challenge if ever I met one was interesting. If you're up for something a little more finicky, try applying two coats of Karl Black, then removing the black pigment gently to uncover a unique metallic finish. (Add a matte or glossy topcoat for better wear & a smoother feel.)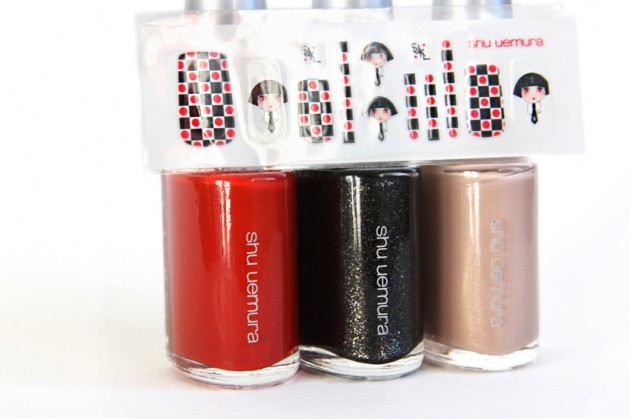 & those darling nail stickers… 
Aren't they adorable? (And a nice added touch to the collection — each varnish comes with a strip of stickers, which peel off their paper backing & stick firmly to your nail, over polishes, under topcoats, or even on their own.)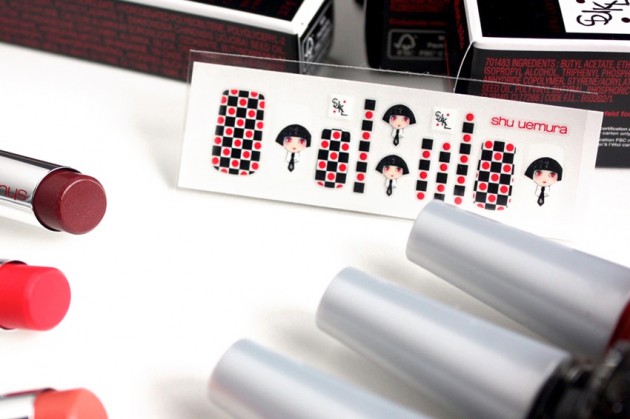 The verdict?
At $18 each, I don't think any of these are must-haves — but Shu Shu Red and Karl Black are definitely nice-to-haves! Royal Beige is one you can pass on, I think; though the shade and shimmer are absolutely gorgeous, the formula's just not quite as good.
These are definitely more of a luxury than a necessity, but hey: it's a holiday collection, after all! The three shades do work gorgeously together, conveying a "holiday" vibe without leaning on it like a crutch, and the collection overall is a great buy for a Karl Lagerfeld fan.
(Don't front, readers. Deep down, aren't we all, at least a little?)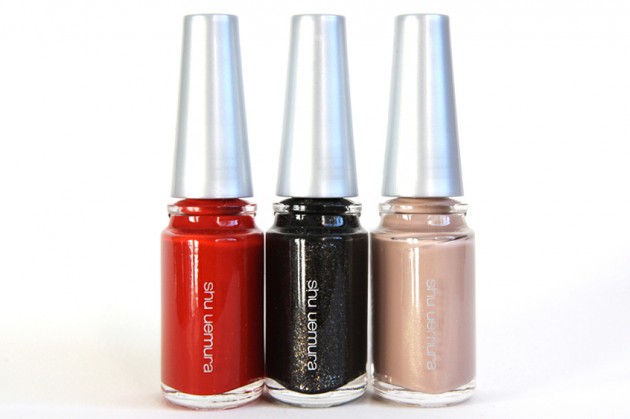 Karl Lagerfeld x shu uemura nail color in shu shu red, karl black, and royal beige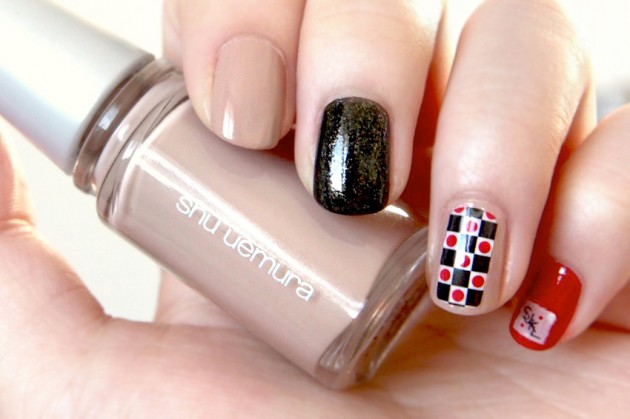 Karl Lagerfeld for shu uemura – nail swatches & stickers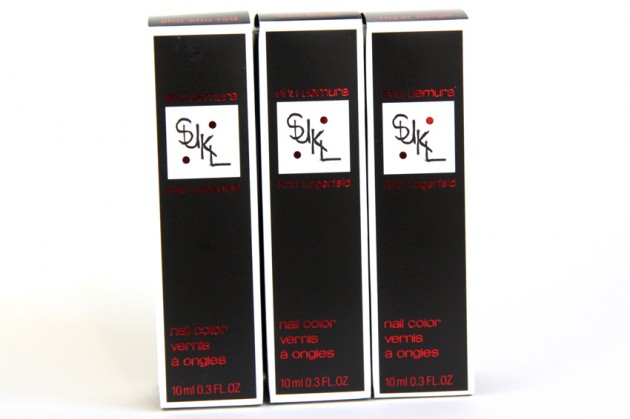 Karl Lagerfeld for shu uemura: Mon Shu Holiday 2012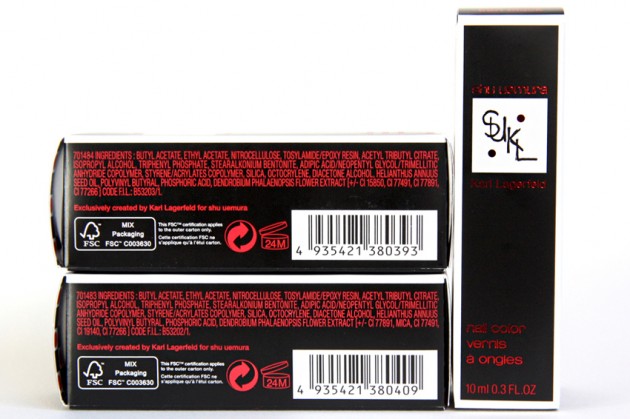 shu uemura nail color ingredients – Karl Lagerfeld collection