Full disclosure: I am way too busy right now to compile a complete list of this year's Black Friday beauty deals. (Oh, wouldn't it be nice to blog full-time!) That said, though, the sales offered by two of the most prominent beauty retailers really stuck out for me, so I thought I'd give them a shout-out.
$10 Beauty Deals at Sephora, online & in stores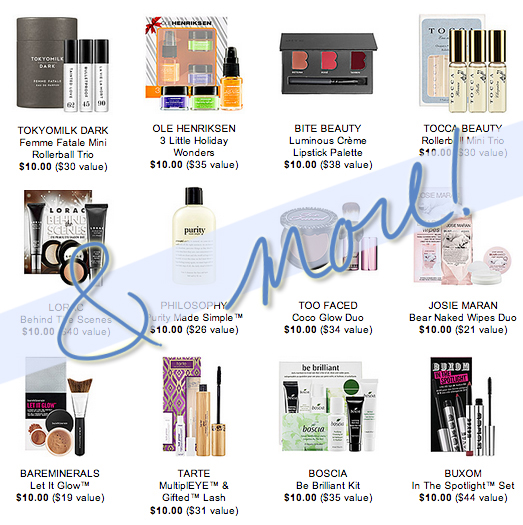 I'm sorry, what was that? Also available in Canada, you said?
That's right — many of this year's Black Friday sets at Sephora.com extend to Sephora.ca, too. They're $12 instead of $10, but hey, it's no less exciting! There's a bit of everything in there, and even if you don't need anything for yourself, a lot of them would make fantastic stocking stuffers. (I'm thinking hard about those rollerball trios, but I should probably hold back on fragrance purchases for at least a couple years months!)

Buy-two-get-one nail lacquers at Nordstrom, PLUS free shipping on all orders!
Here's one for the nail addicts, on Butter London, Deborah Lippman, THE NEW BLACK, and Nordstrom-brand varnishes. As usual, the free polish must be equal-or-lesser-value from the same brand, and are restricted to the American mainland, etc etc etc.) These brands almost never go on sale  in Canada (hey, did you know that Indigo is now carrying butterLONDON? Weird, but awesome.), so take advantage if you can.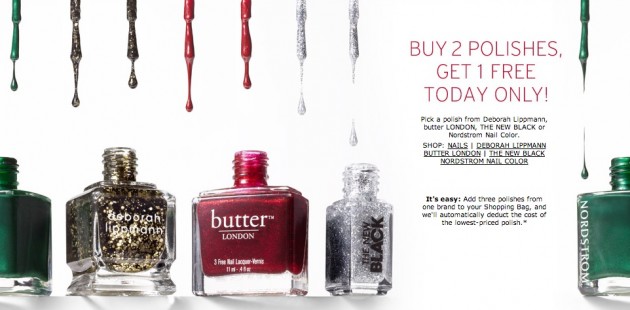 Now's a great time to stock up on THE NEW BLACK ombré sets, Lippmann glitters, or Butter London, um, everything!
Happy shopping, beautiful.