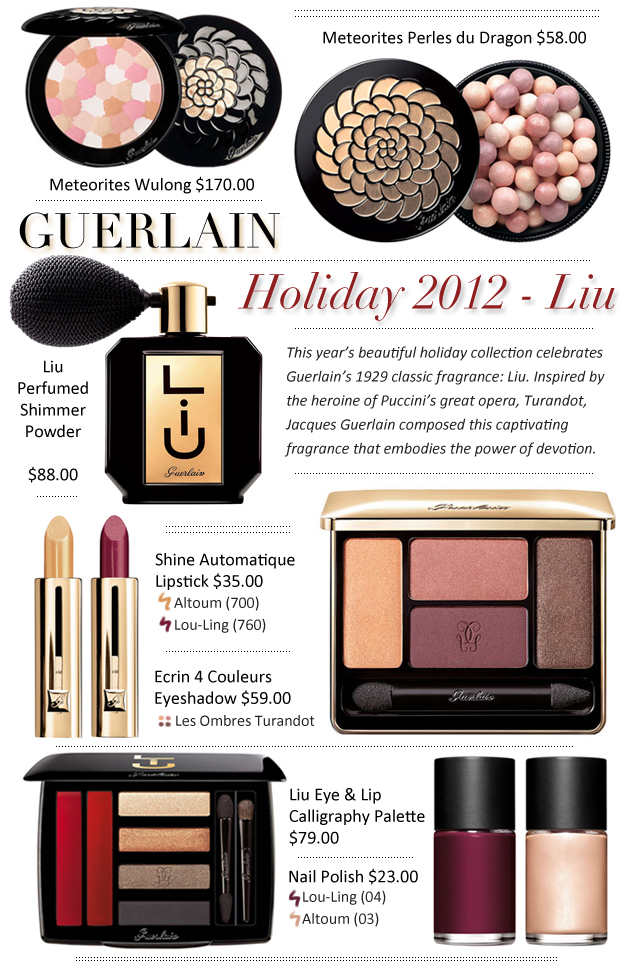 Guerlain Liu collection for Holiday 2012

Guerlain Liu Eye & Lip Calligraphy Palette (LE) ($79)
This collector's palette draws inspiration from the art of calligraphy and Asian beauty rituals. With two dramatic shades for the lips combined with three iridescent eyeshadows, the ingeniously designed palette provides all make-up essentials in one place.
The extra-flat black Chinese lacquer style case features a large panoramic mirror and two brushes that deliver high-precision application just like calligraphy instruments.
Guerlain Liu Shimmer Powder Face, Body, & Hair (LE) ($88)
The star of this collection reveals a light-as-air loose powder that enhances the face, body and hair with an iridescent golden veil. A mere press of the bulb releases the powder, leaving Liu's mesmerizing aromas in its wake: a composition of aldehydes, sensual roses, vanilla, iris and woody notes.
Many will recognize Liu's original bottle with its elegant black glass case and golden letters reminiscent of a Chinese tea caddy. A black woven bulb has been added transforming this legendary fragrance into a desirable and feminine makeup accessory.
Guerlain Meteorites Wulong (LE) ($170)
The name of this travel pressed powder means "Black Dragon" and it combines six shades to ensure a pure, flawless and luminous complexion regardless of skin tone. Matte shades are paired with two white and gold illuminating shades that add subtle radiance.
The delicate black metal powder compact is sculpted with a gold mother-of-pearl rosette and tucked inside a black suedette pouch bordered with red stitching.
Guerlain Meteorites Perles du Dragon (LE) ($58)
Meteorites Perles du Dragon is named for this Year of the Dragon, and pays tribute to this mythical animal, a symbol of the emperor of China, whose primary source of power lay in a pearl, synonymous with happiness, wisdom and abundance.
Like nighttime jewels, it cloaks the face in incredible radiance: pale pink and beige even out the complexion, white and gold illuminate, while plum and rosewood brighten areas of shadow and erase fatigue as the night goes on.
Guerlain Ecrin 4 Couleurs Eyeshadow ($59)
Les Ombres Turandot – Two matte and two iridescent textures are combined to perfection. Refined down to the slightest detail, the elegant golden case travels in a black suedette pouch with red topstitching.
Guerlain Nail Polish ($23)
Altoum – Gleaming gold
Lou-Ling – Stunning plum
Guerlain Shine Automatique Lipstick ($35)
Altoum – Gold adorned with tone-on-tone sparkle worn on bare lips to illuminate with a sophisticated nude veil or as a top coat.
Lou-Ling – Enchanting plum set off with a golden sparkle.