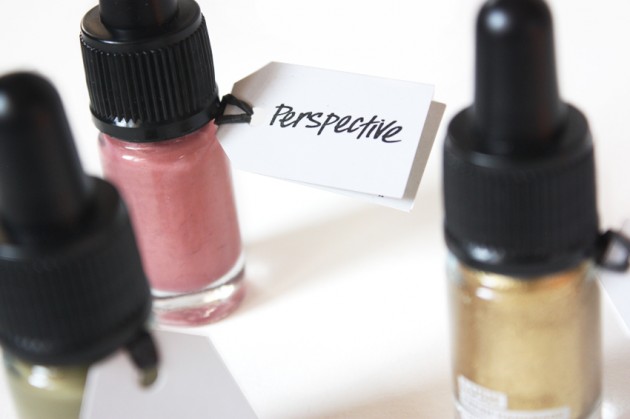 The product: LUSH Emotional Brilliance Liquid Lipstick in Perspective
(I thought about grouping these reviews, but let's be realistic: there's no way that post would have been under the 1000 word mark. Liquid lipstick today; eyeliner and cream eyeshadow coming up soon!) 
The texture: Okay, alright, so I was ridiculously excited for the new Liquid Lipsticks — but I kind of hated the formula. It's super-smooth in the sort of way that's almost oily, and I know (I know, I know) some people adore formulas that feel like oil and powder, but I'm sticking resolutely to my fondness for the ones that feel more like lip balm and pigment.
To be fair, though, it's really down to a matter of preference. I'm not a fan of products like this one, but it was certainly lightweight, non-drying, and pigmented!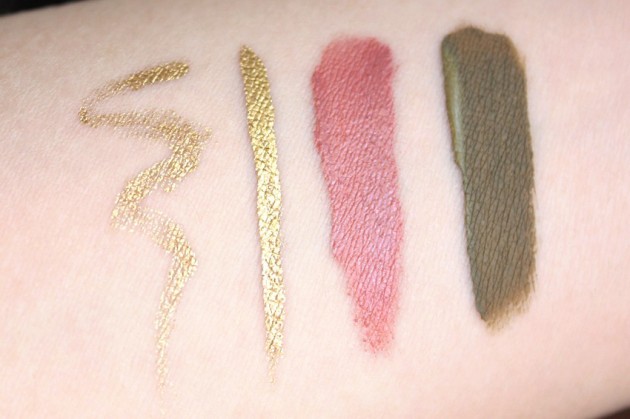 Swatched from L-R: LUSH Liquid Eyeliner in Fantasy, Liquid Lipstick in Perspective, and Cream Eyeshadow in Wise.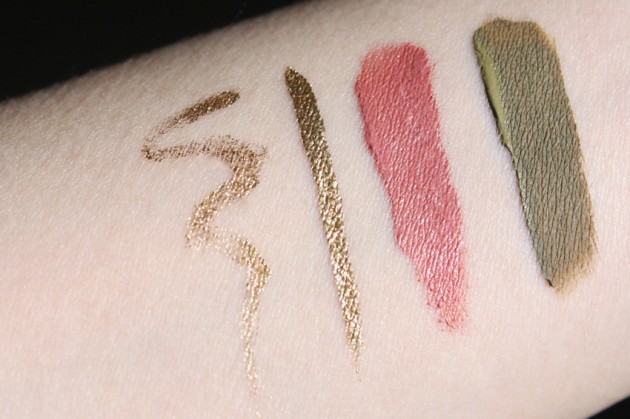 LUSH Emotional Brilliance swatches in direct sunlight.
The surprise: While the feel of this lipstick is too oily for me, I'm actually quite fond of the formula as a liquid blusher. Thin and easily blendable, it both layers and absorbs easily — reminiscent of the Clarins Instant Light Blush I reviewed last Spring, both in format and in price, but with a better shade range (and wider availability).
With a jojoba oil and candelilla wax base, the hydrating formula feels too oily for my lips, but works well (and wears well) on my cheeks. Enough said.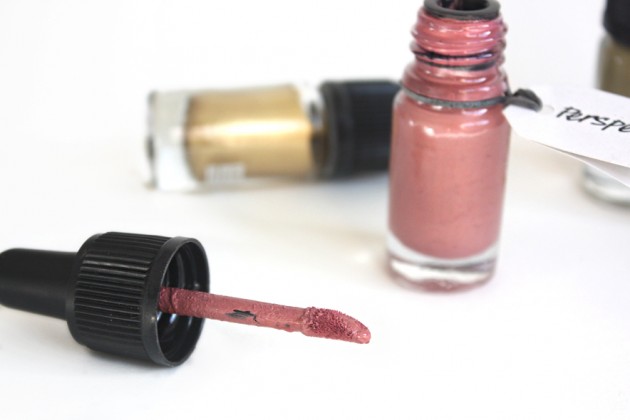 The shade: Perspective is described as a natural, dusky rose, but I wasn't crazy about it against my skintone. (See it worn as a blusher in this Anna Karenina makeup look from last week.) Unlike many of the other shades, it has a finely-milled shimmer component, which translates a bit frostily on my dry lips — but give it a look if you have a warmer skintone & happen to be on the market for a neutral lip shade!
I'm not sure if it varies by colour, but this one never quite dried down on my lips. From reviews that I've read of the Emotional Brilliance line, though, I'm willing to guess there's a bit more pigment (and a slightly drier finish) in some of the bolder shades, so do try to read reviews for the exact shade you'll be buying!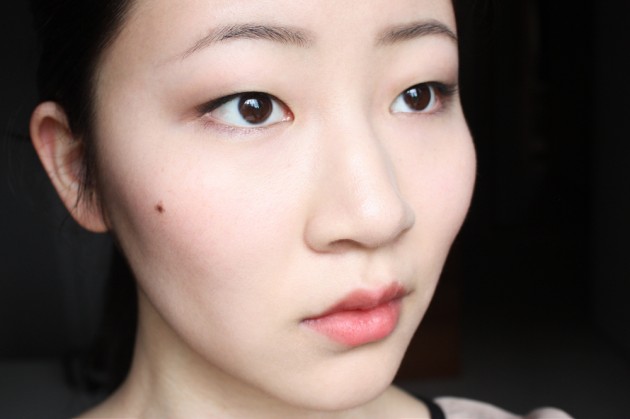 LUSH Perspective Liquid Lipstick – on cheeks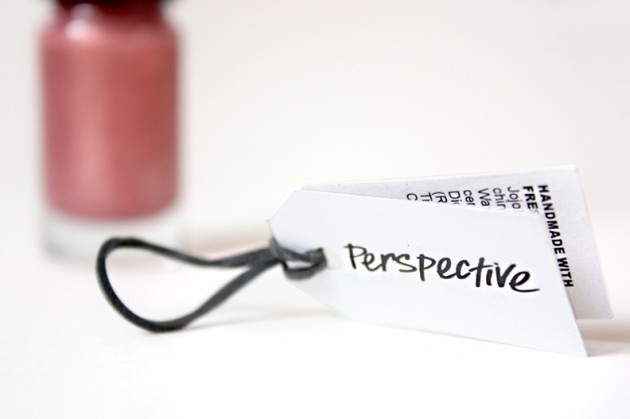 The verdict?
I'm a bit divided on this one, to be honest. On one hand, $22.95 for 0.2oz isn't a bad price (though nor is it a fantastic one), and I love the way LUSH has set up the Emotional Brilliance range. On the other, though, I wasn't crazy about this lipstick — but I think a lot of that had to do with the shade.
For a hydrating, slick-finish, paraben-free liquid lipstick (or for a seamless, silicone-free liquid blusher), give this formula a try. I wasn't wooed by Perspective, but there are some definite stunners in the range!
(I have my eye on Drive, Glamorous, Decisive, and Confident… will have to check them out in-store sometime. Photos behind the cut!)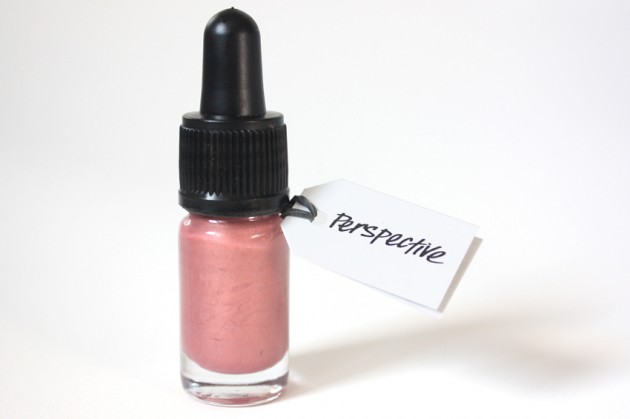 LUSH Emotional Brilliance Liquid Lipstick in Perspective
The ingredients: 
Jojoba Oil, Candelilla Wax, Titanium Dioxide, Rose (Rosa damascena) Wax, Tin Oxide, CI45410, CI77019, CI77491.
*Please note: this ingredient list is different from the one on the LUSH site! Same base, but the colourants listed on the Perspective product page are slightly different from those in the product's physical tag.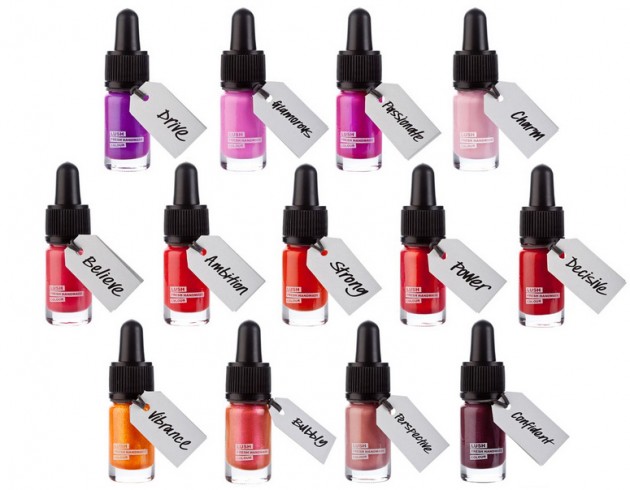 LUSH Emotional Brilliance Liquid Lipstick – full range