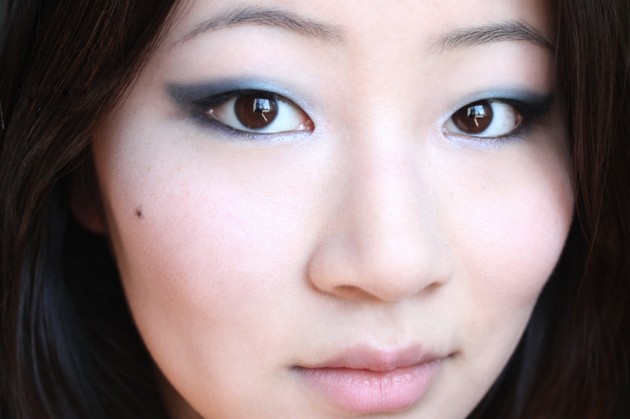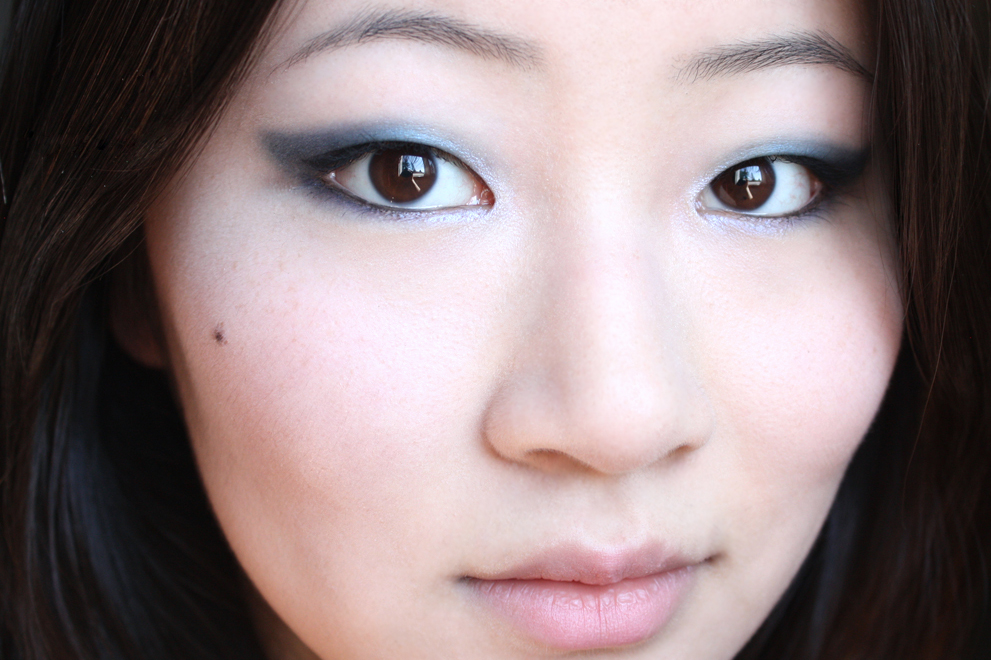 Man, I haven't done a blue smokey eye in ages. I'm pretty sure I went with a winged shape (cat-eye makeup, winged smokey eyes, whatever you want to call it) last time, too, which just goes to show how predictable (read: boring) I am.
This time, though, I thought I'd play around a bit with shape. In the image below, you have the same look in three different ways, changed with nothing more than a dry q-tip and a couple brisk buffing motions. At left is the most wearable, basic shape; on the far right, the most winged, dramatic effect. (The full-face shots are with the eye on the right.)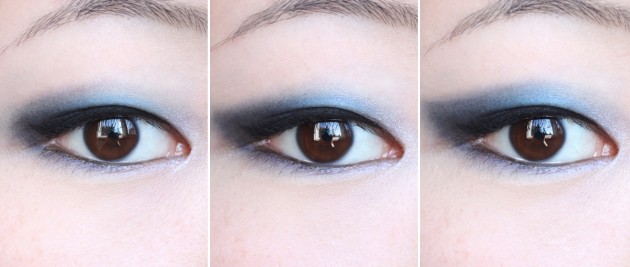 I can't believe it took me this long to try my MAC Casual Colour — I spend most of the summer bare-faced, but I'm really regretting it in this one instance. I've used Have A Lovely Day! here, and I'm absolutely smitten with both the colour and the formula: it's comfortable, looks natural, and still manages to tone down my own lip colour without ending up all strange and milky.
I've used Senna Fantasy in the inner corners, here, then taken Annabelle Lagoon (soon to be discontinued) through the lid. The outer wing is mainly Annabelle B-Ray, darkened further with a basic matte black eyeshadow.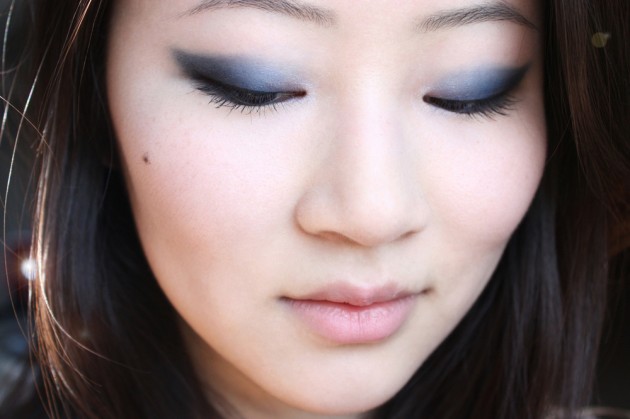 Products used
EYES – colour : Annabelle Mono Eyeshadow in B-Ray and Lagoon, Senna Eye Shadow (Glow) in Fantasy, NYX Eyeshadow in Black.
EYES – basics: Annabelle Smoothie Jumbo Eye Pencil in Licoriche, Clinique High Impact Extreme Volume Mascara in Extreme Black, Ellis Faas Eyeliner in Black, MAC Eye Shadow (Matte2) in Blanc Type.
LIPS AND CHEEKS: MAC Casual Colour Lip & Cheek Colour in Have A Lovely Day!
SKIN: Hard Candy Glamoflauge in Light, theBalm timeBalm in Lighter Than Light, and Marcelle Face Powder in Translucent.