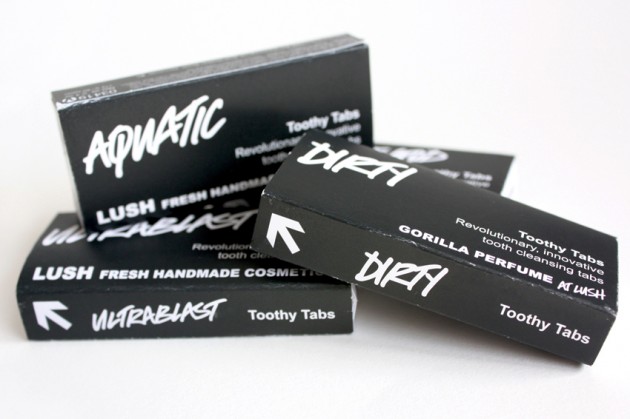 The product: LUSH Toothy Tabs
   ↳ in Dirty, Ultrablast, Breath of God, and Aquatic
The creation: LUSH created Toothy Tabs–their new-this-year and entirely unique solid toothpaste–to strip down conventional ideas about toothpaste. Free of plastic packaging (these no-frills boxes are made out of 100% recycled paper, and can in turn be recycled) and preservatives, the tabs differ drastically from a tube of Colgate or Crest both in formula and in form of delivery, which makes them a really unique (and travel-friendly) experience.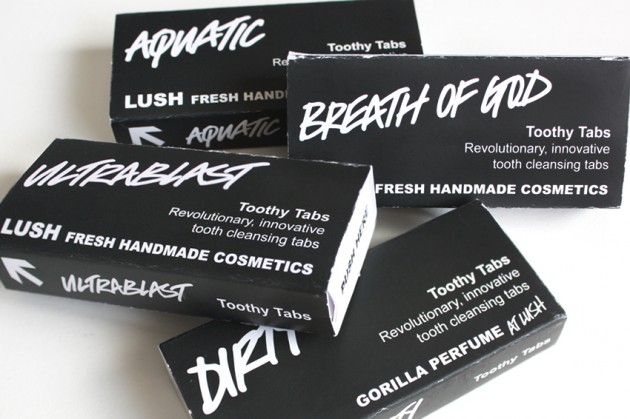 How they work: Created by Helen Ambrosen, one of the company's co-founders, the tabs are made from a sodium bicarbonate + cream of tartar base, with essential oils and spices to give a light, clean aftertaste instead of the typical aggressively minty one. The oils were chosen both for their scents (Simon Constantine, who designed the seven flavours, describes it as perfuming someone's breath) and for their antiseptic qualities, meaning they both clean your palette and help prevent bacteria that leads to bad breath.
"A gentle surfactant creates the foaming effect that helps dissolve the bacterial build up on your teeth, which you can get rid of completely by brushing. Sodium bicarbonate helps to thoroughly clean and whiten your teeth and the cream of tartar helps to make the solid form. Dicalcium phosphate is included to help polish the teeth, glycerine acts as a humectant while saccharin sweetens."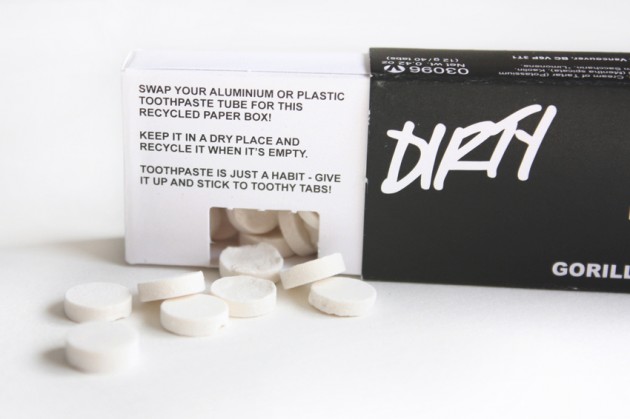 My thoughts on the Toothy Tabs
I've been testing out LUSH's [no longer] new Toothy Tabs for a good few months, now, and I still find myself waiting for them to "click." They're really cool, of course, and super-portable, but I'm not really sold on the taste. They're a lot better than most natural toothpastes, for sure, and less agressive than the drugstore's seemingly endless supply of super-spicy offerings, but the baking soda makes them overbearingly salty, overall.
Travel- and texture-wise, though, I quite like these. I keep a few tabs in a tiny plastic baggie in my purse, and they're so much more compact than a small tube of toothpaste. (Easier to use, too; you just pop one in your mouth and chew, no finicky toothpaste tube caps involved.) They froth up really nicely when brushed as normal with a wet toothbrush, creating a more dense foam than I've ever gotten from toothpaste.
The verdict?
At $3.95 CAD for a box of 40 tabs, LUSH makes it pretty easy to try out the Toothy Tabs. In the long run, yeah, you're paying more for your toothpaste, but (if you can find a flavour that you like,) I think they're well worth the cost.
The tabs are portable, convenient, eco-friendly, and come in seven flavours — way more than your typical toothpaste. (Is this still true? I've used Colgate Winterfresh for coming up on ten years now!) If you're looking for a vegan-friendly toothpaste, or you want a natural toothpaste that tastes strange without actually tasting awful (ahem, Tom's of Maine), give these a try.
The flavours featured in this post…
Ultrablast: peppermint, spearmint, wasabi, and lavender oils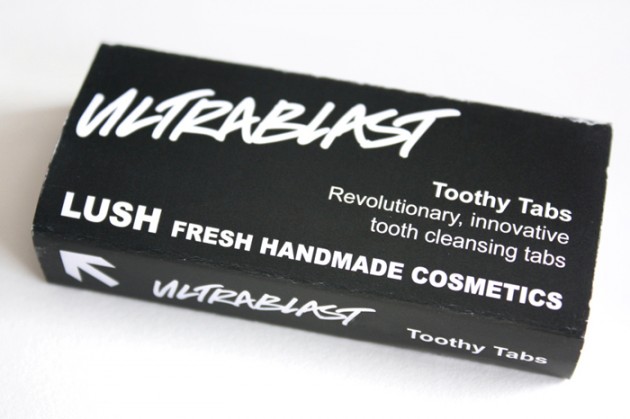 Breath of God: sandalwood, fennel, and vanilla. (Inspired by the Breath of God scent from LUSH's Gorilla perfume range.)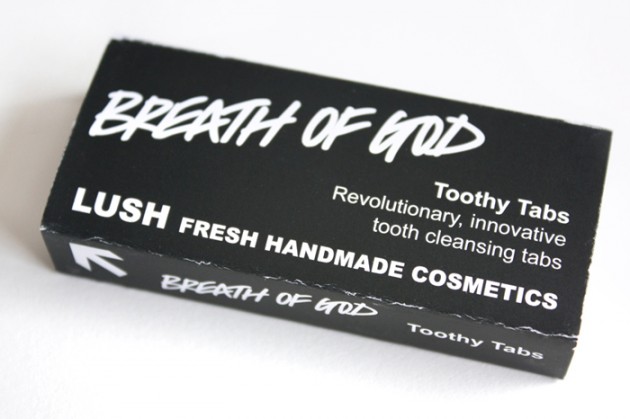 Dirty: spearmint and neroli. (Inspired by the Dirty perfume range.)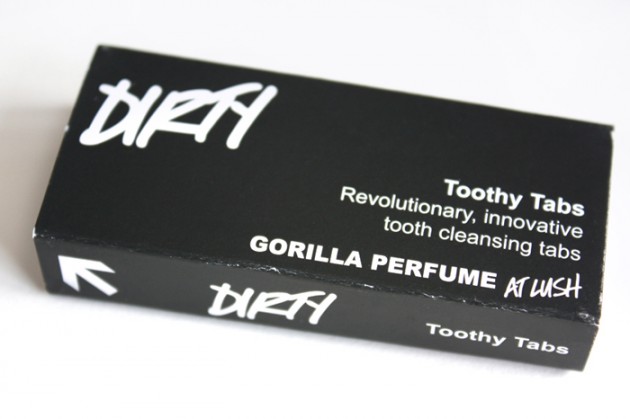 Aquatic: Earl Grey, lime, and jasmine.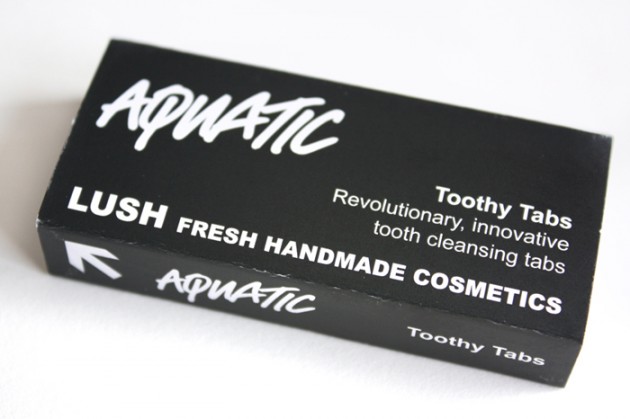 Example ingredients: (taken from the Breath of God tabs)
Dicalcium Phosphate, Sodium Bicarbonate, Cream of Tartar, Glycerine , Lauroyl Sarcosine , Sandalwood Powder, Kaolin , Benzoin Gum, Vanilla Powder, Myrrh Gum, Fennel Seed Powder, Citric Acid , Sodium Saccharin.