The product: Annabelle Hawaïan Hues Eyeshadow Palette
Included in this season's Aqua Queen collection (alongside the new Biggy bronzer; review soon), Annabelle's new eyeshadow palette contains ten new paraben-free eyeshadows in a mix of finishes and shades. I almost wish that these were all part of the regular line–I would love to have entire pans of a few,–but it's kind of nice that they aren't.
The palette, which retails for a mere $12.95, is a steal at just over a doller per shade. If you really love one or two of these eyeshadows, I'd say snap up a few backups now, while they're still on shelves!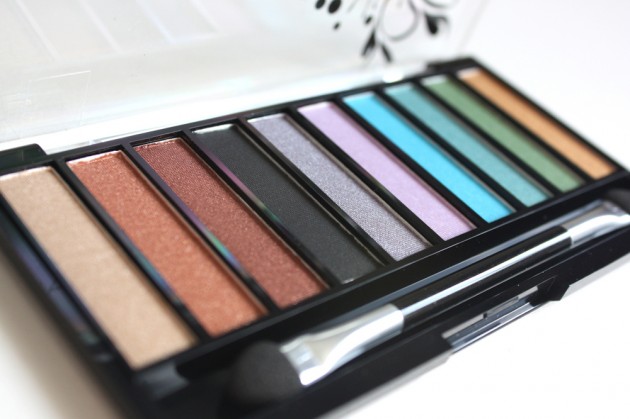 The formula: Like Annabelle's Mono and Trio eyeshadows, the shadows in this palette are nothing to scoff at. While not as buttery as a brand like Senna, or as intense as something from Make Up For Ever, they're more than decent for the drugstore — easily on par with a handful of mid-range brands, in terms of quality and colour complexity.
Each shade is smooth and blendable, both applying and buffing out easily & evenly. The intensity of individual shades will be covered below.

Annabelle Hawaïan Hues Eyeshadow Palette swatches (dry on primed skin).
The shades: In terms of everyday shades, Hawaïan Hues includes two light/medium neutrals (a sheer, shimmering beige and a warm, shimmery-but-pigmented coppery orange), two medium/dark neutrals (a buttery, intensely pigmented, frost-finish coppery brown and a smooth, blendable matte black), and two violet shades (a lovely grey-violet with silver shimmers and a sheer, glowing lavender).
In the palette are four brights, as well —  a buttery, pigmented bright blue that's more pigment than finely-milled shimmer (though it has plenty of both), a shimmery blue-green (more teal than turquoise), a shimmery, grassy green, and, finally, a shimmery bright yellow.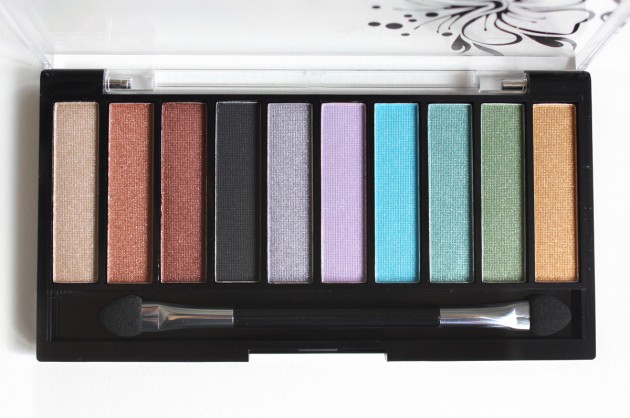 Annabelle Hawaïan Hues Eyeshadow Palette — click to enlarge.
Aside from the shimmering beige & the glowing lavender, whose light pigmentation is very obviously deliberate (and stunning), all of these shades range from medium to strong opacity — even the green and yellow eyeshadows. None of them suffer from any chalkiness or patchiness when applied or swatched, but keep an eye out for glitter fallout after you apply!
I was really impressed by the Hawaïan Hues palette, to be honest, and I'd love to see more of these from Annabelle. While some shades were better, they were all still good — a consistency in quality that you often don't even see from high-end brands, much less drugstore ones. (Ahem, MAC limited edition quads, we're looking at you.)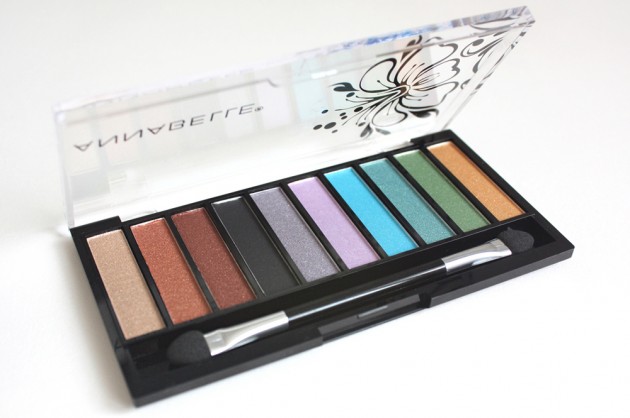 The verdict?
Honestly, if you still feel yourself needing a "verdict" at this point, I think you need to brush up on your reading comprehension skills. :P
With solid, compact packaging and ten well-chosen shades, I'd recommend this one in a heartbeat. Paraben-free and under $15, it's worth picking up whether you're a colour lover or you're just now beginning to move away from the neutrals!

Annabelle Eyeshadow Palette swatches — Hawaiian Hues, under different lighting.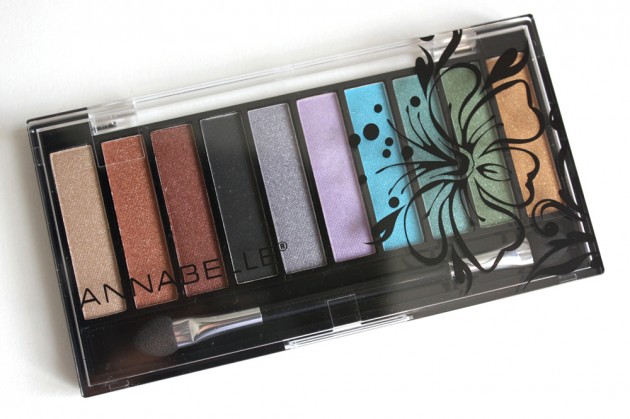 Annabelle Aqua Queen Eyeshadow Palette packaging. Approx 4″ by 2.4″, or 11cm by 6cm.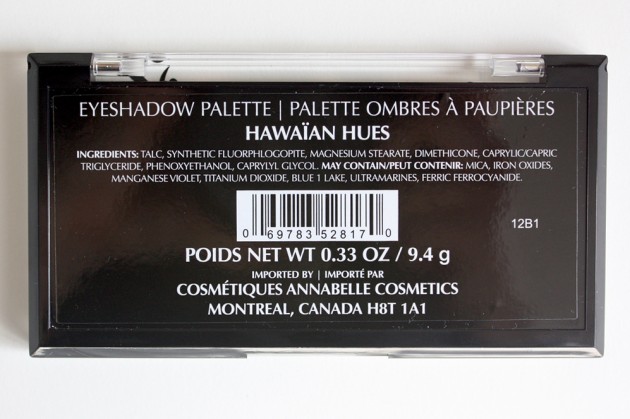 Annabelle Hawaïan Hues Eyeshadow Palette ingredients (paraben-free).