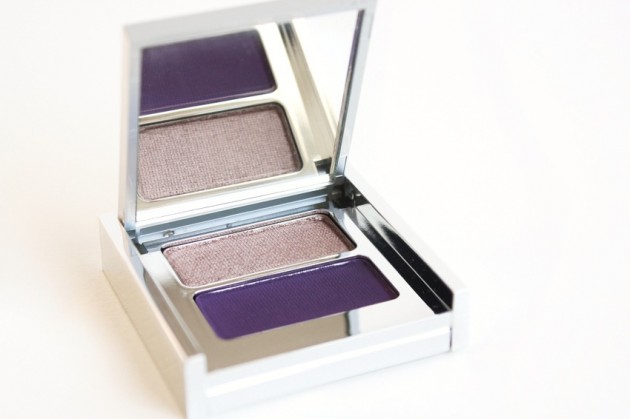 The product: Vasanti Silky Eyeshadow Duo in Mount Rushmore
Mount Rushmore (seen in a look & briefly discussed here) is the first Vasanti eye product I've tried, and it really, really didn't disappoint. If anything, I think it's even more gorgeous in person than it is on their website; the taupe a little warmer and the violet more moody; more grey.
I'm not crazy about the packaging (the shiny silver edges fingerprint like mad), but for the product inside, I'd put up with a lot. The lid's a little flimsy when open, but the hinge feels quite secure when shut, and I like the compact size. Honestly, though, this duo could probably be housed in a four-inch glass cube and I'd love it anyways, because seriously, violet and taupe.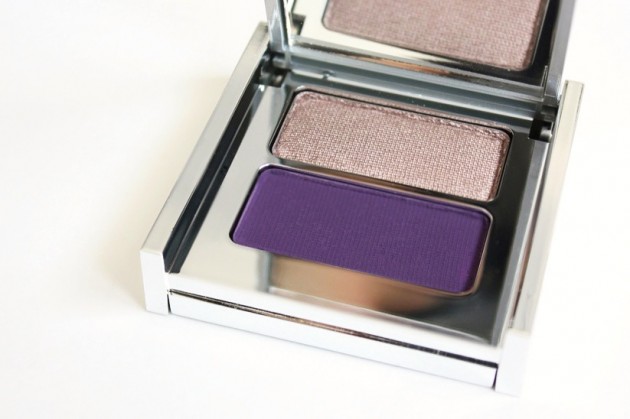 The shades
Okay; let's start with the taupe. It's… well, it's kind of a taupe lover's dream come true, to be honest. Finely-milled shimmer, a blendable (but not overly blendable) texture, a paraben-free formula; this one has it all.
For a taupe, though, it's all about the shade, not the formula. And this shade is lovely – yellow undertones rather than red, tiny bits of silver microshimmer, and a lovely greyish-brown base throughout. It's more or less neutral; not warm in the way most brown-taupes are, but not muddy in the way grey-taupes tend to be, either.
Applied dry, this is more of a semi-sheer light yellow-taupe; wet or over primer, it's a more opaque medium-taupe.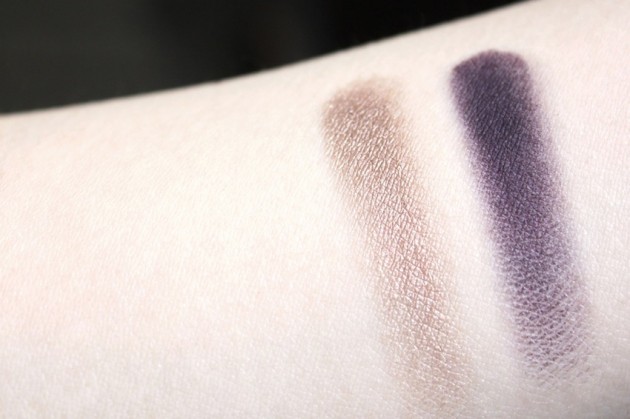 The matte violet isn't quite as perfect; but then, when were matte shades ever as easy to pin down? I've yet to find the perfect matte formula at all, much less a perfect matte formula from anywhere within the violet range, but I think Vasanti did a terrific job formulating this one.
While bright and perhaps a little red in the pan, the purple shade in this duo swatches as more of a matte blackened grape – perfect for a dramatic smokey eye, but easy enough to blend out that it could make a good daytime colour, too, if used sparingly. For a $10 matte eyeshadow (the duo's $20; I'm taking some liberties with the math here), the quality is stellar.
Without a primer at all, the violet goes on a little patchy; with a primer, the colour is more solid, but still very blendable. When applied damp (photos behind the cut, at the bottom of this post), it becomes an intense, inky black-grape.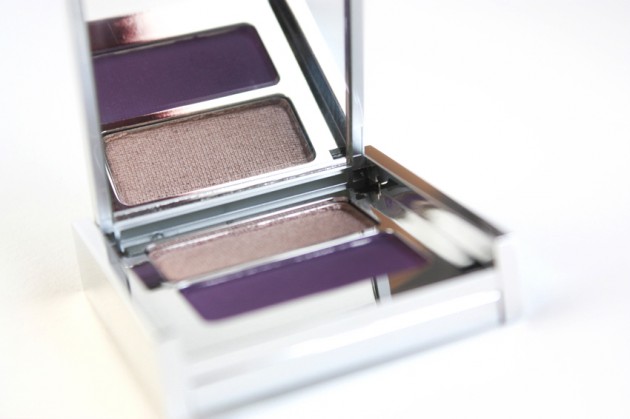 A quick comparison
Shimmery taupes and matte violets are probably the two most prominent lovechilds (lovechildren?) of the entire beauty blogging world, so–of course–I had to include a few swatch comparisons. And, likewise as obviously, the two most well-known of each of those categories are MAC Satin Taupe and Make Up For Ever 92, both with cult followings of their own.
Satin Taupe is fairly close to the top shade of this duo, but it's not quite a dupe. Vasanti's version is less red and very marginally less buttery; think violet + chrome undertones, rather than brown + red. With my cool-toned skin and oft sleep-deprived eyes, I prefer Mount Rushmore by a long shot.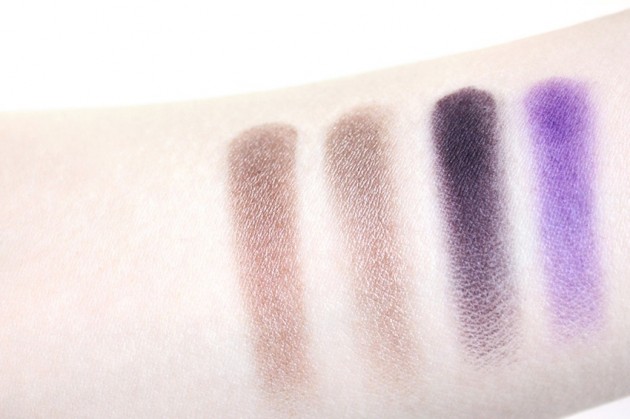 Swatched L-R: MAC Satin Taupe, Vasanti Mount Rushmore (x2), Make Up For Ever 92
The two violets, on the other hand, couldn't be more different. MUFE 92 gets lighter, brighter, and almost flourescent when swatched, while Mt. Rushmore presents darker, blackened, and almost slightly desaturated. I can't recommend one over the other, really, because they're much too different – I use 92 to intensify violet tones in other shadows, for instance, which I know for sure Mount Rushmore couldn't do.
Worth noting about the violets, though: while Make Up For Ever 92 is notorious for awful red staining, I didn't notice any staining at all with Mount Rushmore, even when swatched wet.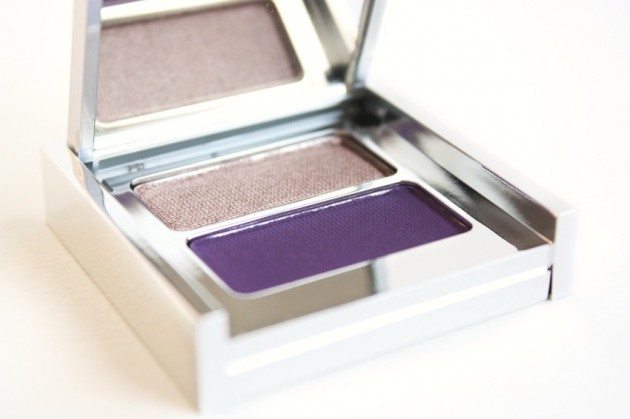 The verdict?
Yes. Absolutely yes. At $20 CAD, this not-tested-on-animals eyeshadow duo is a bit pricey for a drugstore buy – but worth every penny. It's a beauty blogger's violet and taupe lover's dream come true, and while the availability's a little thin on the ground (in-store only in Canada, but the Vasanti site ships worldwide and they do sell out of some other online shops as well), the quality is definitely there.
I can definitely see why Mount Rushmore is quickly becoming one of Vasanti's bestselling eyeshadow duos, and I have to admit, I'm a little confused as to why more companies aren't doing violet/taupe duos! I know Bare Escentuals came out with The Cliffhanger recently, but I can't think of any others. (If anything else comes to mind, let me know in the comments!)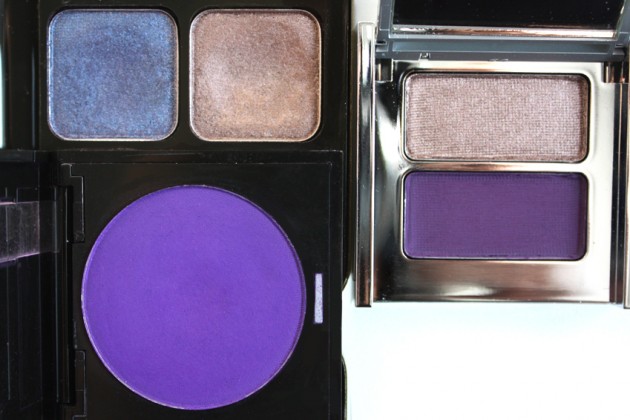 Vasanti Mount Rushmore vs. MAC Satin Taupe (top) and Make Up For Ever 92 (bottom)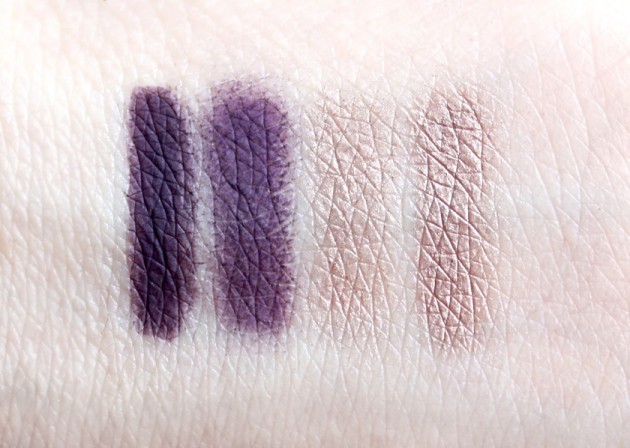 Vasanti Mount Rushmore swatches – middle two swatched dry on unprimed skin; outer two swatched wet.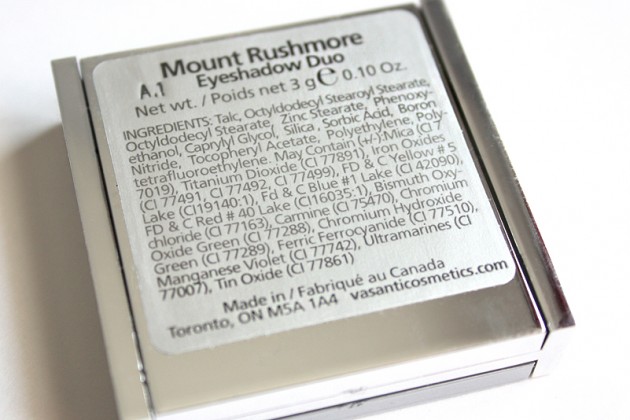 Vasanti Silky Eyeshadow Duo ingredients – Mount Rushmore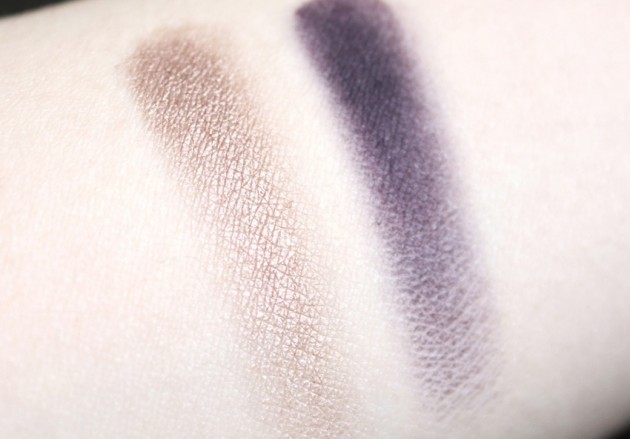 Vasanti Mount Rushmore Silky Eyeshadow Duo swatches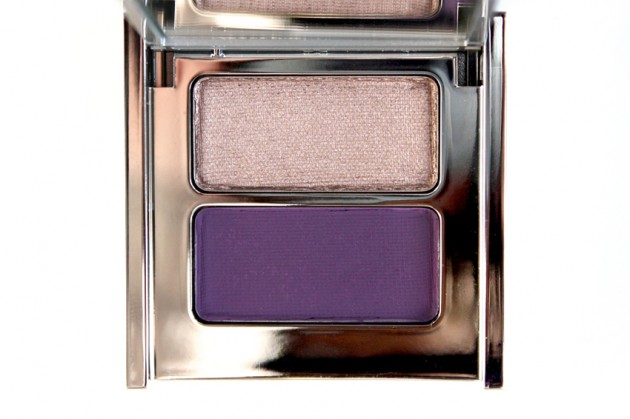 Vasanti Mount Rushmore Silky Eyeshadow Duo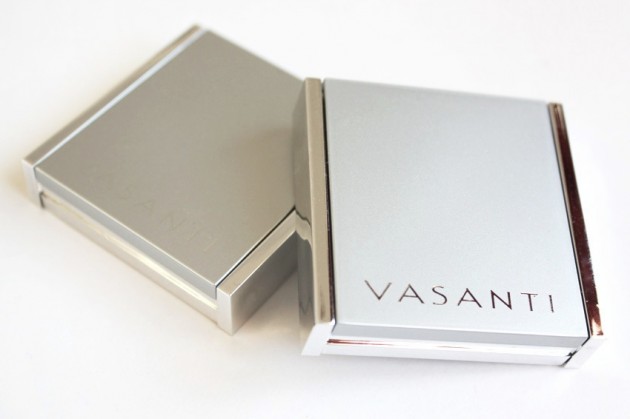 Vasanti Eyeshadow Duo, Powder Blush packaging