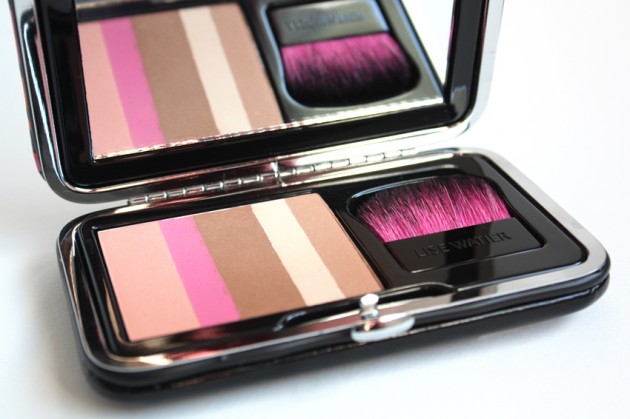 The product: Lise Watier Summer Sunset Bronzing Powder
Of the entire Lise Watier Summer Sunset collection, the one product that's really won my heart has been this bronzing palette. I haven't tried out all of the products yet, but the tones in this one are just right — it gives a very clear, effortless bronze, which is exactly what I've been loving this season.
I have a tendency to fall in love with one bronzer at a time, one for every year, and I have a feeling this is going to be my bronzer of 2012 — last year was  FaceFront Third Kiss Rocket Bronzer; the year before that, Annabelle Haute Gold Zebra Bronzing Powder. (True to form, I wore them more or less religiously for a few months, and… haven't really touched either since.)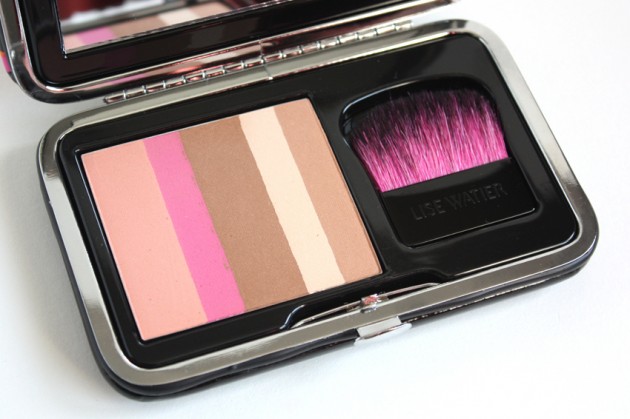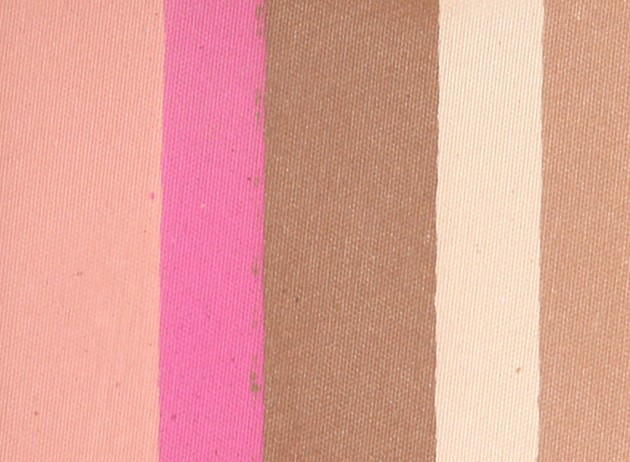 The shade: Reminiscent of Chanel's Soliel Tan de Chanel bronzers (limited edition this summer and last – Beauty Look Book has a great post on both years' bronzers, here), Lise Watier's Summer Sunset compact contains five different shades, which blend together to create a lovely glow (minus the $60 price tag).
The brand recommends using the strips of colour in two separate swipes: a focus on the brown shades to add a bronze glow to the high points of the face, and a focus on the pink shades (the two on the left) to add colour on the apples of the cheek. I would have liked to see a bit more pigmentation out of the pink and peach shades–I had to go over each a good ten times for this intensity–but I think the shades themselves were all very well-chosen.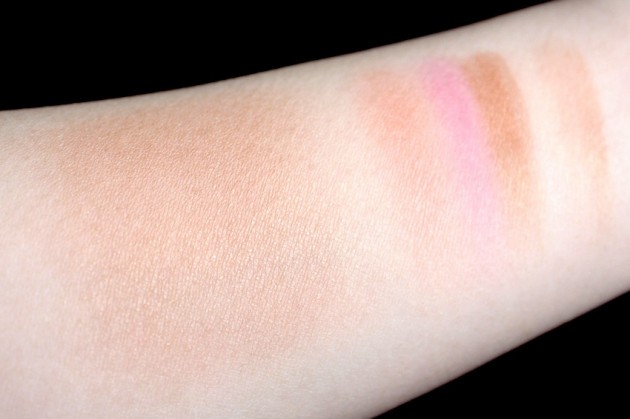 Swatched alone, the compact houses a pinky peach; a clear, bright pink; a rich golden-brown; an ivory-gold hilighter; and a light gold-bronze. The two bronze shades pack the most shimmer and the softest textures, while the ivory is more glow than shimmer, and the pink and peach are translucent mattes. Blended together, you get a soft, rosy-bronze shade; best for lighter skintones, but good for darker ones as well, if you want a  glow and a bit of colour but don't expect it to fake a tan.
Summer Sunset's texture was hard enough to irritate me at first (I prefer my bronzers on the soft side), but it layers flawlessly and without a hint of chalkiness. What really makes this product worth a second look, though, is how finely-milled it is — the gold shimmer gives a gorgeous luminescence to the skin, but it's smaller and less overtly noticeable than the shimmer in any of my other bronzers.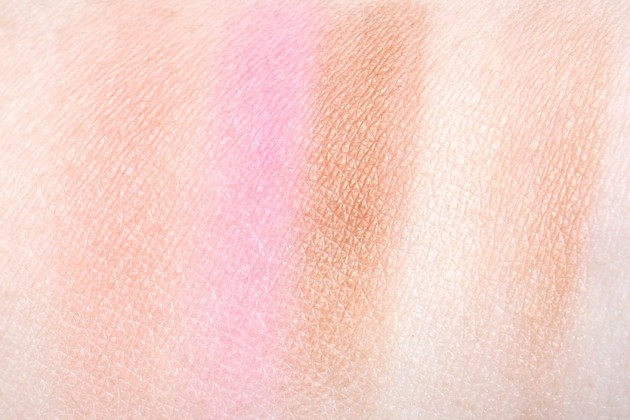 Lise Watier Summer Sunset Bronzing Powder swatches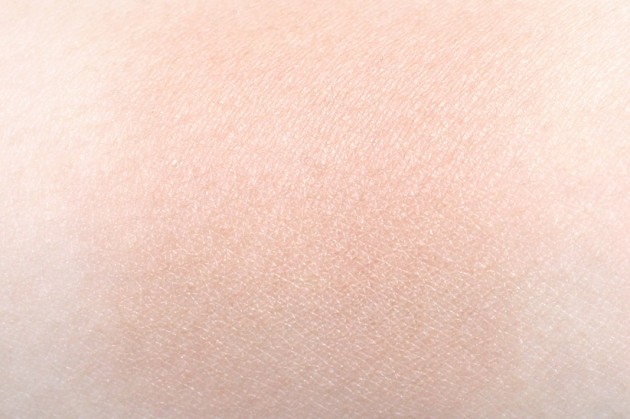 Lise Watier Summer Sunset Bronzing Powder swatch, blended
The packaging: Okay, so I'm not crazy about the aesthetic of this packaging – fuchsia and orange stripes don't really do it for me. If you love brights, though, these clutches (all of the Summer Sunset palettes come in the same packaging) are a bit brilliant, not to mention quite on-trend for Summer 2012.
In a move that I think was very cool, Lise Watier has made this packaging (in a way) reusable: once you've hit pan and finished up your products, both the mirror and pans can be removed, to use the case as a small clutch, card case, or clutch/mirror combination.
(The brush is a nice addition, too; I don't usually like in-compact applicators, but I'll make an exception for bronzers. Thin, flat brushes are great for layering on bronzers sheerly — sort of like a fan brush, but more compact and with more control. And, alright, I'll admit that the black-and-fuchsia bristles are rather charming.)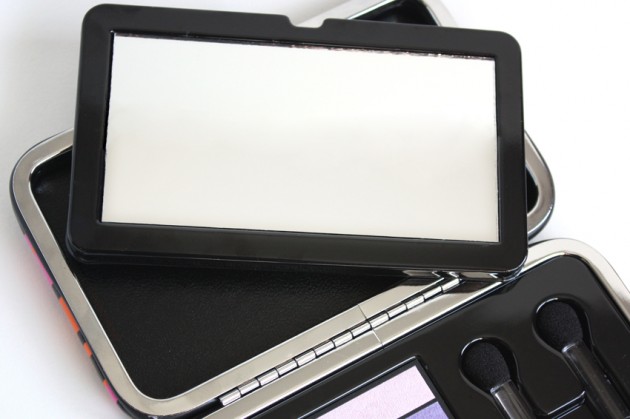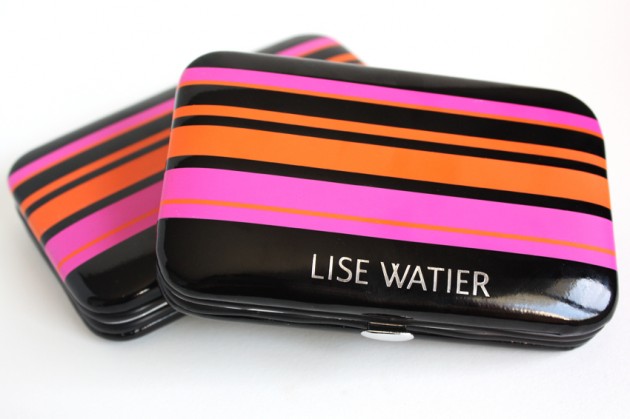 The verdict?
At $35CAD for 11g, Lise Watier's Summer Sunset Bronzing Powder is on the pricey side for a mid-range buy. It delivers a gorgeous colour, though, more summery glow than autumn fake-tan, and I can't find anything even vaguely resembling a dupe for it in my collection. (For shade, yes. For shimmer and finish, no.)
If you're looking for a natural, luminous summer bronzer, give this one a try. Lise Watier has gotten the peachy-bronze shade just right, and while sheer, the quality is definitely there: it layers without a hint of a powdery finish, and the golden shimmer is more finely-milled than any other bronzer I've found.
Talc, Aluminum Starch Octenylsuccinate, Isopropyl Lanolate, Lauroyl Lysine, Cyclomethicone, Cetyl Acetate, Nylon-12, Octyldodecyl Stearoyl Stearate, Glyceryl Caprylate, P-Anisic Acid, Chlorphenesin, Oleyl Oleate, Acetylated Lanolin Alcohol, +/- Mica, Ci 77891 (Titanium Dioxide), Ci 77491, Ci 77492, Ci 77499 (Iron Oxides), Ci 15850 (Red 7).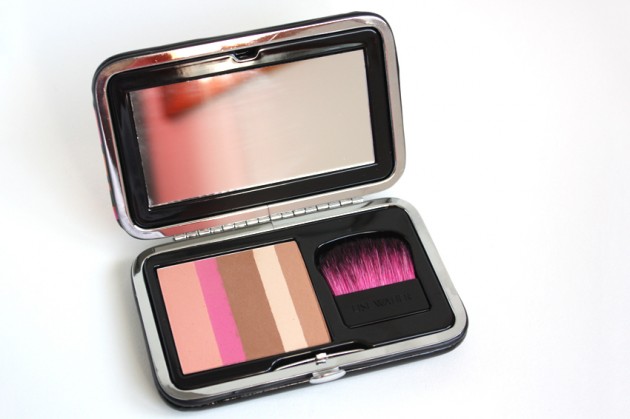 Lise Watier Summer Sunset Bronzing Powder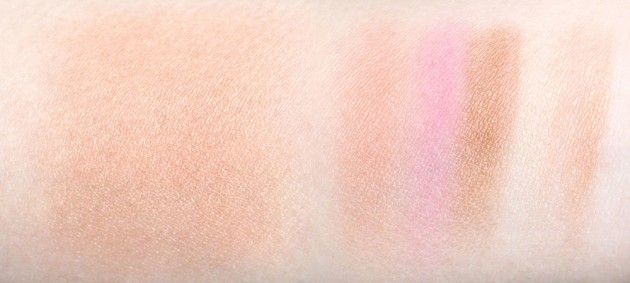 Lise Watier Summer Sunset Bronzing Powder swatches: blended, unblended. 
Indirect sunlight; swatched heavily.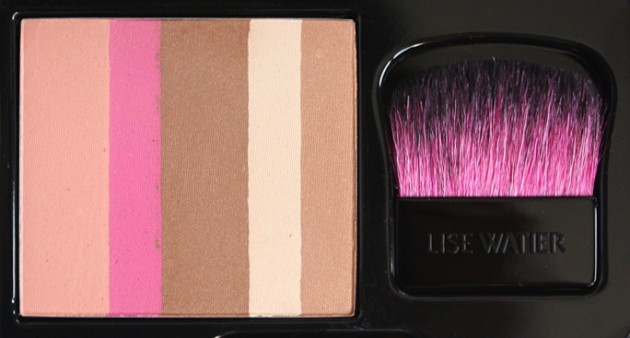 Lise Watier Summer Sunset Bronzing Powder bronzer and brush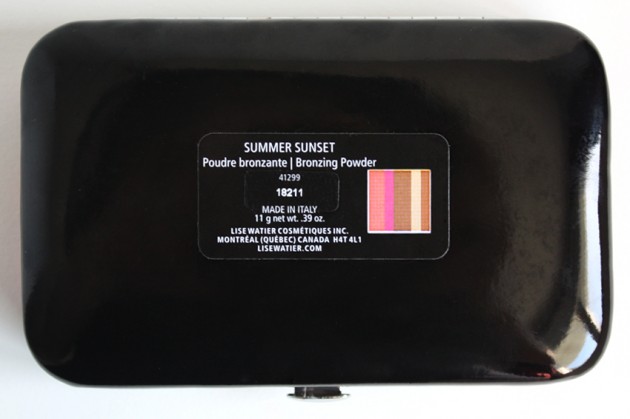 Lise Watier Summer Sunset Bronzing Powder label