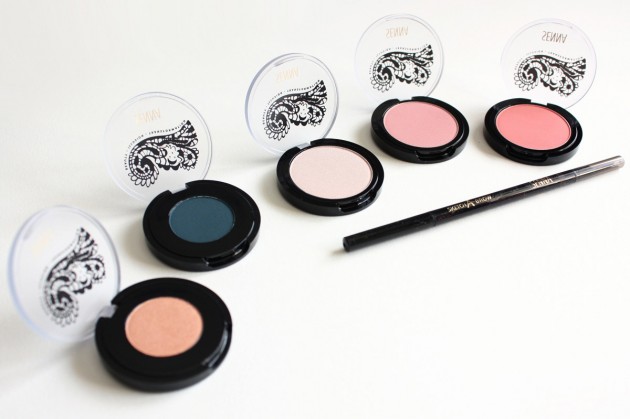 Just a few teaser images & collection info for this Spring/Summer's Senna collection, the gorgeous, '60s-inspired Mod Muse. I've already featured a number of the products in looks over the past little while, but the reviews should ready quite soon. The collection's larger than I had expected (I won't be reviewing it all, thank god!) but as far as I'm concerned — as long as it's Senna, the more the merrier!
(I think we'll start with the Sheer Face Colors, because: you guys? These are fabulous.)
In the collection 
Barely Base – Sheer Mineral Makeup SPF 20
Skin turns on, beams up with dewy hydration & flawless freshness. Feels bare but keeps you untouched from sun & photo-aging. $40.
Fair – cool porcelain

Vanilla – neutral ivory

Light – soft beige

Glow – radiant beige

Warm Beige – honey beige

Medium – golden tan

Dark – deep tan
Cream Lipstick
Hydrating formula gives maximum colour impact. $20.
Posey – bare rose

Surrender – doll pink

Affair – teased pink

Demure – tender nude

Dare – op art violet pink
Lip Lacquer
Playful colours make lips super shiny, soft & conditioned. $20.
Ballerina – spun sugar pink

Wistful – barely bare

Flaunt – precious pink

Bloom – hot house coral

Eye Color
Color rich pigments last all day and blend easily. $16.50. 
Essence – pastel peach matte

Arabesque – sunlit peach glow

Silhouette – silvered khaki glow

Adonis – smoky teal matte

Fantasy – blue violet glow
Velvet Eyeliner
Long wear powder pencils accentuate eye color. $18. 
Black Forest – evergreen

Black Violet – rich purple
Sheer Face Color
Velvety smooth luminous tints imbue the most natural finish. $18.50. 
Clarity – ripe coral

Très Jolie – hushed pink

Enlighten – just glow

Sketch-A-Brow
Fines micro point creates natural fullness. $18. 
Blonde – neutral blonde

Light Taupe – light neutral grey-brown

Dark Taupe – medium dark brown

Mink – rich deep brown
Itsy Bitsy Lashes
Micro-mini fakes create super natural flirt without fuss or trimming. $15. 
Brushes
New artistic shapes make face painting more fun. 
Precision Angle 30 – super firm for brows & eye lining with powders or creams. $18.50.

Precision Shadow 31 – baby taper for spot focus eye shadow in crease or over lids. $18.50.

Oval Shadow 32 – firm taper for intense eye color in crease or over lids. $26.

Airbrush Blender 29 – shaggy multi-tasker for blending & applying blush or foundation. $28.

Airbrush Fan 28 – softly shagged for feathery sheer blushing & hilighting. $26.