The product: Senna Mod Muse Powder Blushers
Senna's powder blushers were one of the first I tried, surprisingly enough, but I hadn't really fallen in love with any of the shades until very recently. (I'm quite fond of Faded Rose, but I'm too much of a colour fanatic to get really excited over it.) That said, though, so I've also never disliked a Senna blush, either.
Of course, that all changed when Mod Muse came out. Have you ever felt like a colour was made for you; that rare little "aha!" moment where you somehow, crazily enough, actually manage to find exactly what you're looking for? I'm probably just being ridiculous, but I kind of adore Clarity and Très Jolie.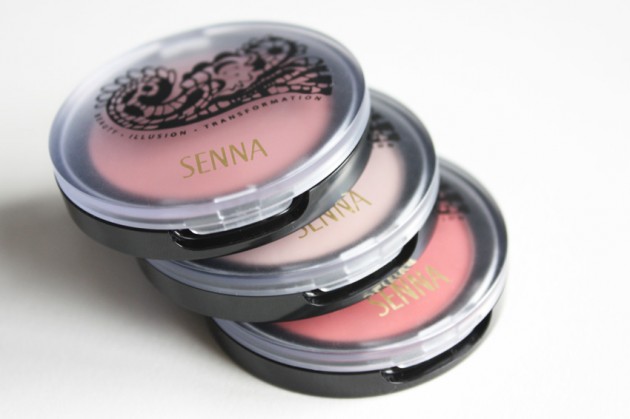 Senna Enlighten, Très Jolie, and Clarity Sheer Face Color swatches (heavily, then lightly)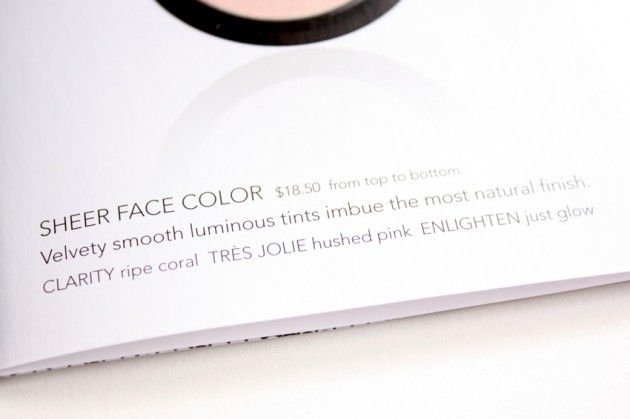 The formula: Senna's blushes are lovely to work with; medium-sheer but quite buildable, and scent-free, to boot. They're softer than a MAC or NARS blush, feeling more velvety than powdery, and I like it — they're not so soft that they kick up powder everywhere, but the easily blendable formula makes it a snap to get a perfectly polished (and not overdone) cheek.
From the six or seven (I know, I have a problem) Senna blushes that I own, I'd actually say I like the formula more than MAC's, and I find it's more consistent – they're all medium-pigmented, rather than some being intensely pigmented and others being annoyingly sheer. What can I say; I like knowing what I can expect!
The shades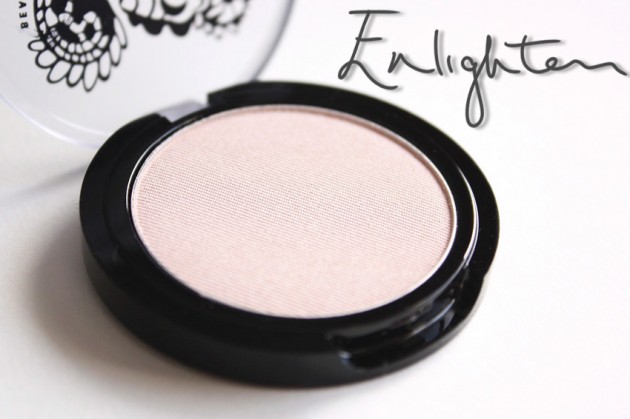 The website describes Enlighten (labelled as a Sheer Face Color Powder Blush here & in the press release, but listed as an Eye & Cheek Color online) as a "nude light pink glow." I think they got the nude glow right, but I'm not really seeing the light pink – it's more of a white-beige, maybe with really subtle pink undertones. It's the kind of colour that would probably look phenomenal as a satiny shirt or an eggshell wall colour, to be honest.
(And that'd not a bad thing; I'm really, really fond of wall colours.)
Quite unlike the other two Mod Muse cheek products, though, Enlighten is really obvious on the skin – it's a bold, flashy hilighter, and it'll be great if you want a noticeable product. Really, really pretty, but not the kind of product I'd use every day.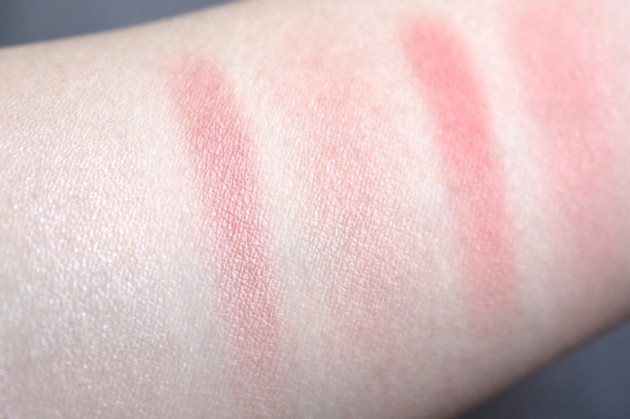 Senna Enlighten Face & Eye Color, Très Jolie Sheer Face Color, and Clarity Sheer Face Color swatches
Très Jolie is described as a "clear glowing pink," and I'd call that a more accurate description. It's a really gorgeous, muted light pink with fine shimmer – glowing is absolutely spot-on.
I have a major soft spot for washed-out cheek colours (there's something really ethereal and delicate about them; the way they impart colour without being pushy or overly bright), so I'm loving Très Jolie. I wouldn't recommend it for dark skintones (it probably wouldn't show up), but for very light to light-medium colouring, it would be a fantastic go-to shade.
(And I hate to recommend a limited-edition product as a staple, but: this would be a fantastic first blush! It's natural, wearable, and both blendable and buildable – meaning it'll work with you as you get the hang of blush application, but you won't outgrow it as your technique improves.)
Très Jolie vs. Lancome Rose Fresque (bottom left), MAC Well Dressed (top left), and NARS Mata Hari (top right)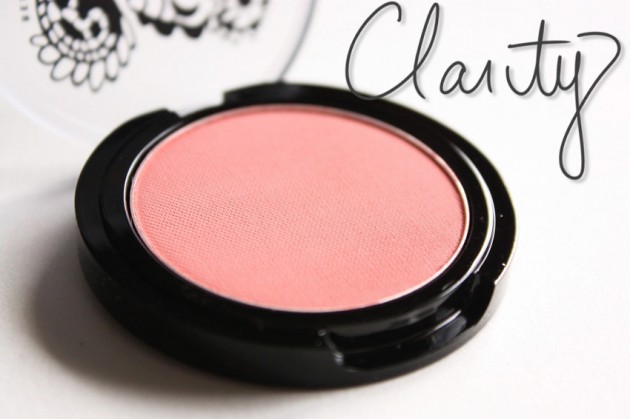 And, last but not least, Clarity. It's described as a "clear coral matte," and oh my god, yes. It's a bright, wearable, matte coral with exactly the right amount of white and pink in it — the kind of shade I've been thinking of since last Summer (or possibly even the one before it.)
In the Senna Sheer Face Color formula, Clarity is fabulous – easy to sheer out for the shy-of-cheek but easy to build up for an evening look, too. Honestly, I can't say enough about it. If you've been wanting a blush in the vein of Illamasqua Hussy or MAC Fleur Power, make sure to have a look at this one, too!
The verdict?
Um, yes. Please. 
Senna's Sheer Face Colors are always a (more or less) sure bet, but the two shades featured in the Mod Muse collection are particularly lovely. They're not really a "save" ($18.50 for 0.12oz, which is on par with mid-range blushers), but the formula is solid, and the shades — gorgeous. 
I'm less thrilled with Enlighten, the Eye & Face Color masquerading as a powder blush, but it definitely does what it's supposed to. If you're looking for a subtle luminizer, keep looking, but if you want a hilighter that packs a punch, it's worth a look.