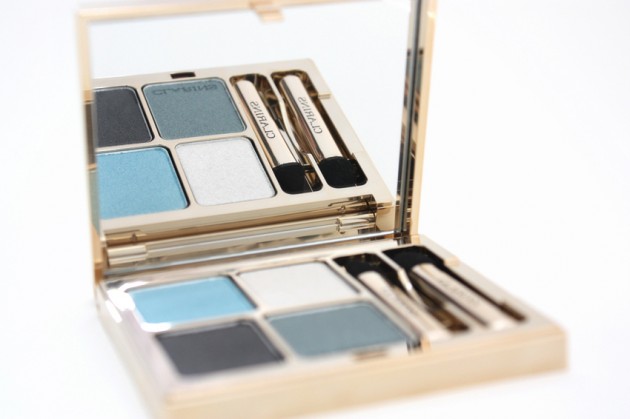 The product: Clarins Ombre Minérale 4 Couleurs (Wet & Dry Eye Quartet Mineral Palette Long-Lasting) in Blue Sky
The aesthetic: It feels like the sort of day to start off with the good stuff and work our way down, so I think that's what I'll do. The four shades in Blue Sky work brilliantly together, creating a number of gorgeous, soft eye looks with (depending on which shades you use & where) a lovely aqua, charcoal, or teal undercurrent.
Honestly, I don't know how they could have done a better job with the colour scheme of this palette. It's very light, ethereal, and Spring; it feels like a new season without being either bright! bright! bright! or boring pastels. It very much lives up to Clarins' promise of an ode to lightness, creating a very forgiving, wearable blue eye.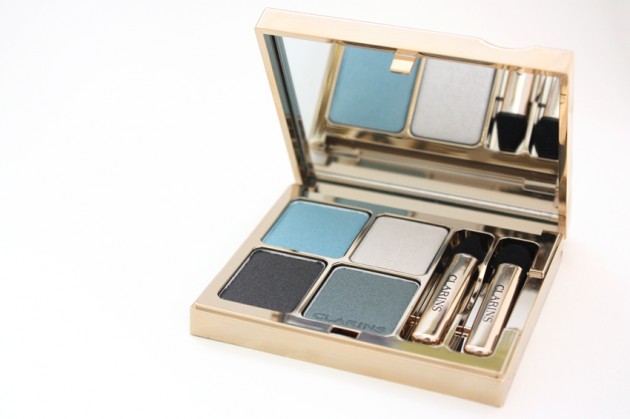 The shades: Clarins describes the colours in Blue Sky as "subtle-shine shades," with a silvery turquoise, a greenish grey, a grey eyeliner, and a white illuminator.
I didn't love the super-sheer, shimmery white, but I'll give it a pass, as it's described as an illuminator. (I think it would make a great inclusion in a palette of mattes or satins, but with three other shimmery shades, I'd have preferred a more opaque off-white illuminating shade). I liked the bright aqua ("silvery turquoise") more – it has a really lovely, subtle duochrome, the light blue flashing silver when tilted.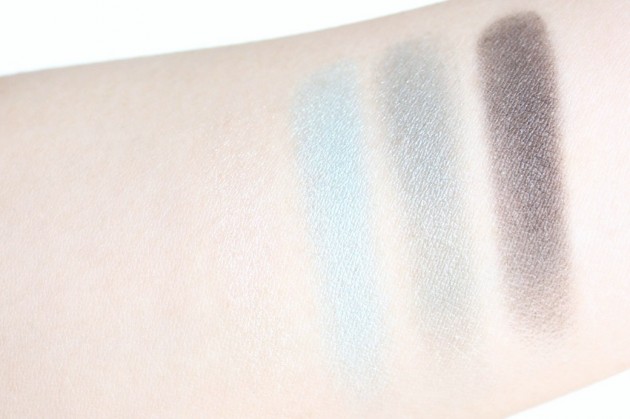 Clarins Blue Sky Eye Quartet swatches – dry on primed skin
The darker two shades are my favourites of the palette. The greenish grey (I like to think of it as a desaturated teal) is a gorgeously unique shade; enough grey to make it sophisticated rather than sloppy, but still green enough to add some colour to the eye area. The shimmery charcoal, on the other hand, is intense and sooty (just like a charcoal should be), but with enough finely-milled silver shimmer to keep it interesting rather than just another boring dark grey.
The illuminator, teal, and charcoal are all shimmery, with particles that (as clichéd as it is) rather twinkle against the skin. The aqua, on the other hand, has that metal-smooth finish that doesn't sparkle so much as it shifts.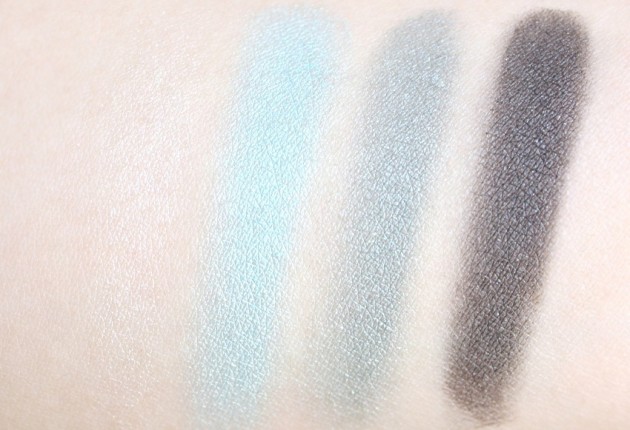 Clarins Blue Sky quad swatches – foiled on primed skin
The opacity: Alright, so here's the catch. With the exception of the charcoal, the shades in Blue Sky range from extremely sheer to fairly sheer, when applied dry. They're a good deal more opaque when applied wet (and/or over primer), of course, but I just think they're too sheer to warrant the price tag.
The illuminator is excusably translucent, and the dark charcoal is perfectly intense, but the blues (the most important shades in the quad) are a bit lacking. I just can't get the vividness that I want out of them without foiling, which is extremely frustrating, because I'm crazy about the shades in the pan. Blue Sky is still a good quad (particularly against darker skintones), but it doesn't quite reach the Clarins standard of excellence.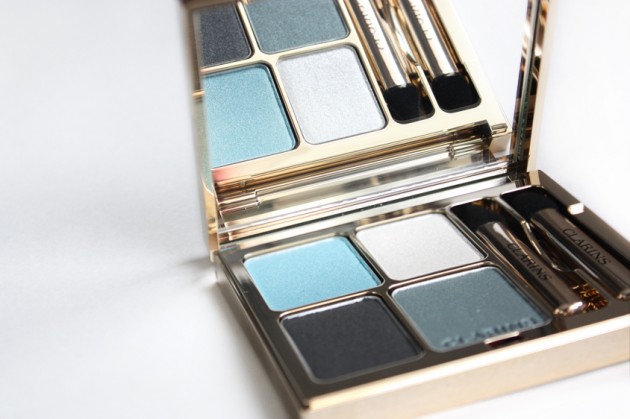 The verdict?
As much as I love this quad, I can't help but feel it's a tiny bit of a letdown. Of my three Clarins quads (and that's a whole other can of worms – how do I only have three? How on earth do I manage to talk about them so much if I only have three?), this is my least favourite. The shadows just don't seem quite as smooth, and (with the exception of the lovely, shimmery charcoal), they're less pigmented, too.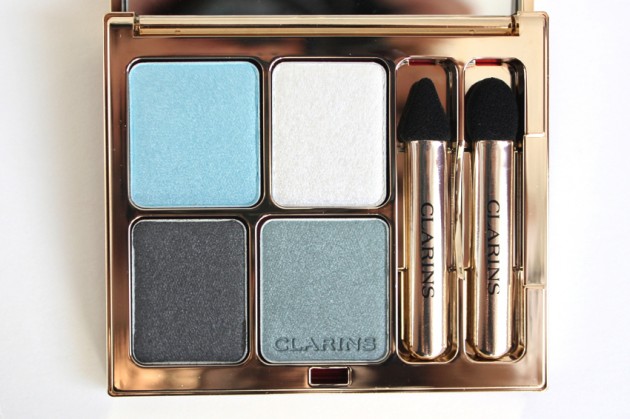 While I think the colour scheme is spot-on, $42 is a lot to pay when two of the four shades could be better (read: when both the teals should have, in my opinion, been more pigmented).
Try it if you're looking for wearable, age-appropriate (all-ages-appropriate) blues. Because, honestly? Aqua is a hard colour for any age to pull off, but Clarins manages to make it totally chic.

Skip it if you like your shadows to be more than medium-sheer; you only want to pick up one Colour Breeze item (I think this is the weakest product in the collection); or you just want to try out a Clarins quad (again, I think there are better ones).
With everything said and done, I'd give this quad a very tentative yes. For a quad of blues, just in general, it's good. For Clarins, however, (a brand that I'm quickly learning to love), I had expected more!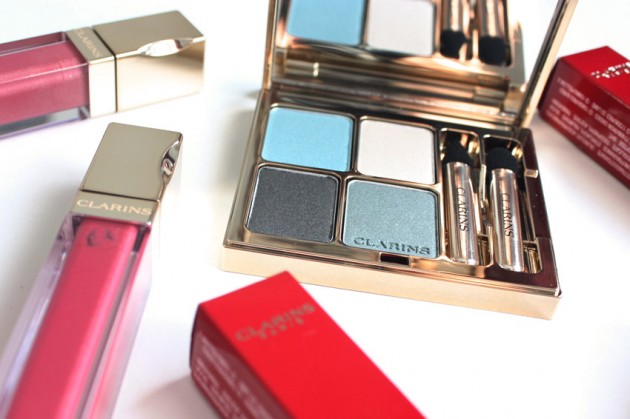 More Colour Breeze (Clarins Spring 2012)…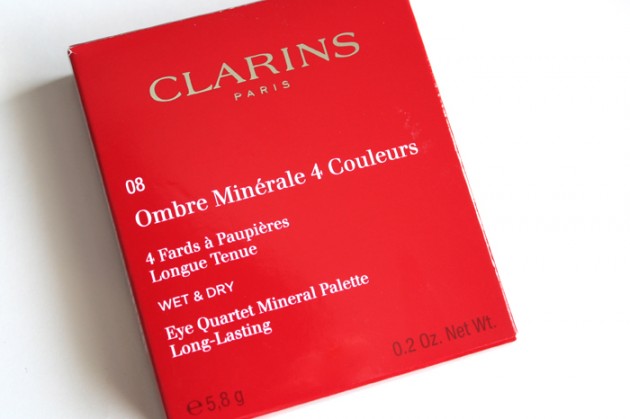 Clarins Blue Sky box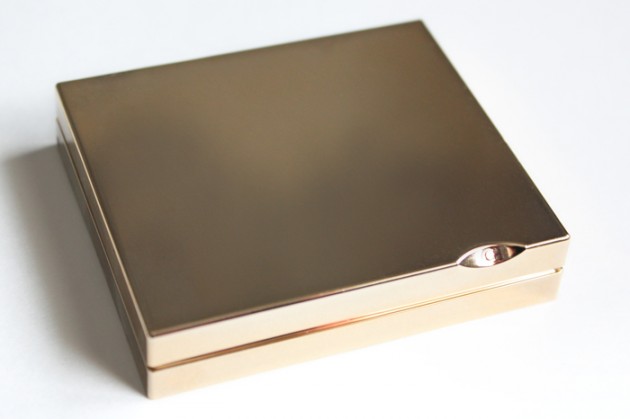 Clarins Eye Quartet Mineral Palette case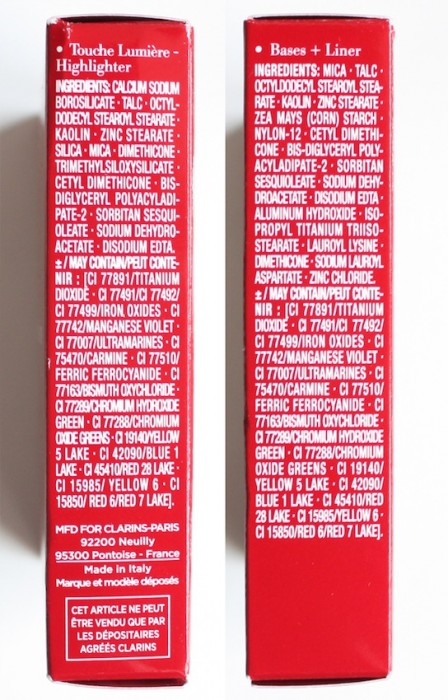 Clarins "Blue Sky" Eye Quartet Mineral Palette (Ombre Minérale 4 Couleurs) ingredients