I believe I promised eye swatches, yes?
Here are two of the shades featured in our review — just two, because (in true Rae fashion), I accidentally took two photo sets with Intense Plum and none at all with Intense Ivy. So; the inky black and bright plum today, and we'll leave the charcoal and green for another morning.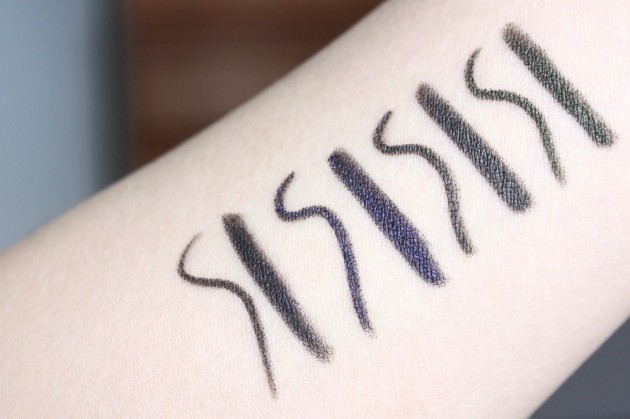 Swatched L-R: Clinique Quickliner for Eyes Intense in Intense Black, Plum, Charcoal, and Ivy.
Intense Black
The terrible thing is (well, I mean, there are lots of terrible things in the comedy of errors leading up to this post, but this one is the most relevant) that I didn't note down any of the other products used in these photos. So don't get too curious, because I probably won't be able to answer your questions! ;)
I believe, for Intense Black, it's the highlighter shade from Clarins' Graphites quad that I've applied through the lid, over translucent primer. A bit of concealer under the eyes, but nothing else on the lid, and nothing on the lashes.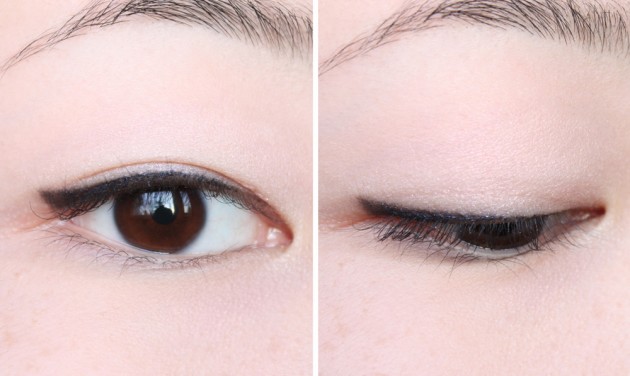 Clinique Intense Black lid swatch
Intense Plum
There's an ultra-nude eye that on a pretty frequent basis, especially when testing out or photographing liners or mascaras – a look that's very natural; almost undetectable (even on film), while still adding a bit of depth to the eye area. I'm not 100% sure, but I can say with a reasonable amount of certainty that that's what I've done here. I think.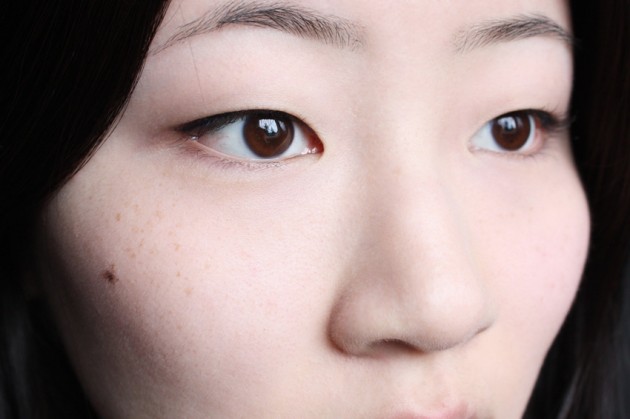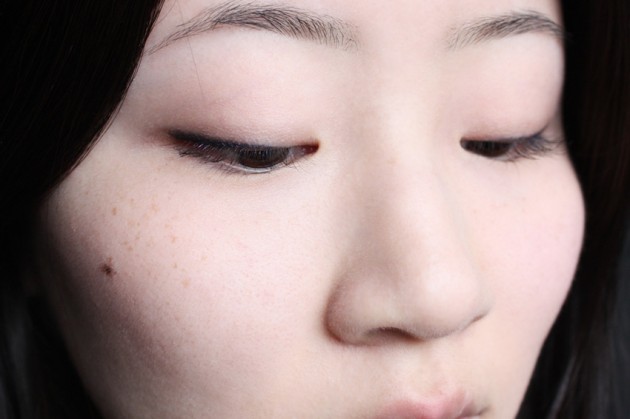 For a look like this one, it's just a bit of (1) primer through the lid, (2) black liner pushed into (but not above or below) the lashline, and (3, 4) two eyeshadows – a subtle highlighter on the inner 2/3, plus any brown or taupe on the outer third.
If you don't have a favourite nude eyeshadow combination, try these highlighter swatches for your lid shade & these taupe eyeshadow swatches to add depth! (I've been partial to using a matte medium brown, recently, but I'm afraid I haven't enough shades in that vein to swatch them en masse… yet.)
What really "makes" the look isn't the products, but how much of them you use and how you apply them: the difference between a regular "natural eye look" and this one is just the amount of blending. Which is to say, apply sparingly and blend the crap out of everything. 
Finish by (5) adding eyeliner, if you'd like, (6) a quick coat of mascara – always a tubing one, for me, – and (7) blending in a bit of concealer under the eyes.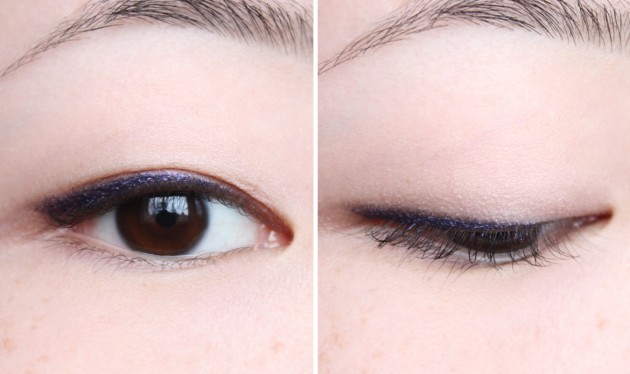 Clinique Intense Plum lid swatch
More Quickliner for Eyes Intense coverage…