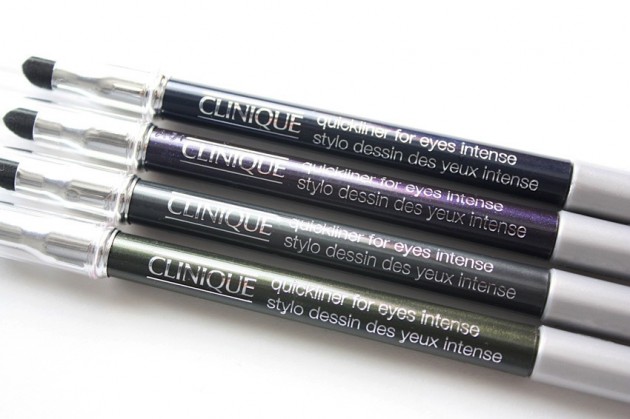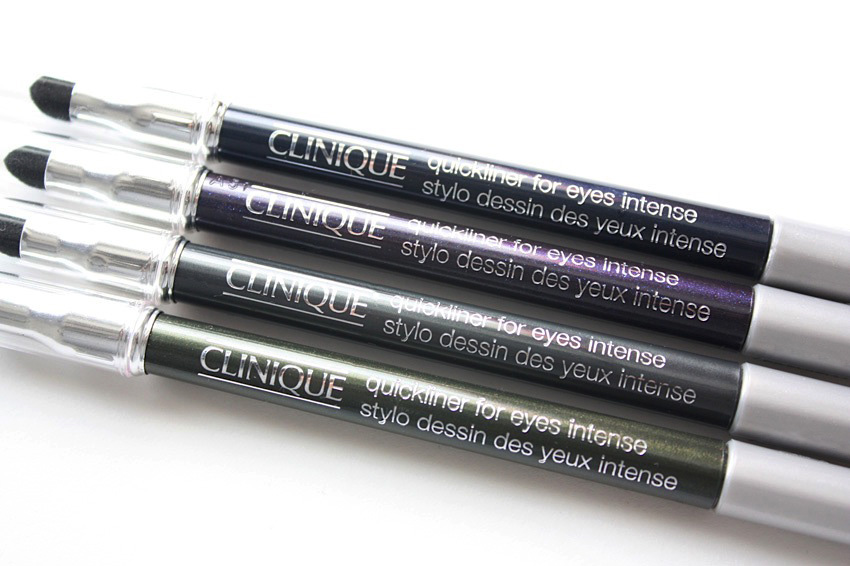 The product: Clinique Quickliner for Eyes Intense
  ↳ in Intense Black, Intense Plum, Intense Charcoal, and Intense Ivy.
The application: Okay, so, not the easiest pencil to get on – depending on the look you're going for. I usually wear fairly clean eyeliner, with a bit of a wing at the end, and these are a bit terrible for that! I sort of have to get it on, then grab a liner brush, and smudge it into shape.
If you're looking for a smokey, sexy, smudgey eyeliner, though… well, look no farther. These smudge like a dream. The buttery sort of dream, which probably revolves around desserts and has a plotline worth about 1200 calories, and ends with the dreamer eating an entire cheesecake or rolling around in butter or something.
Seriously. They're the butteriest pencil liner I've ever come across, which is terrible if you're going for a precise line, but absolutely wonderful if you're a fan of a softer, smokier line.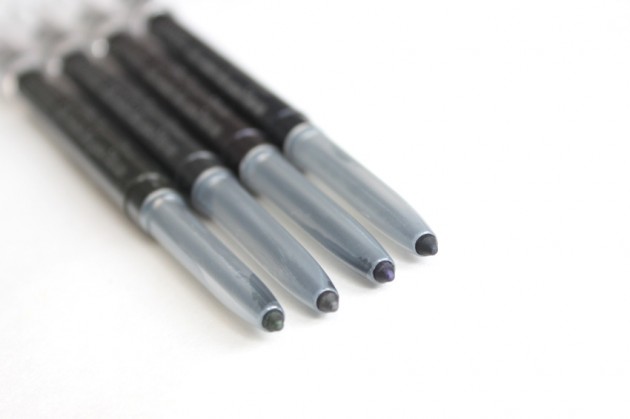 The wear: Unfortunately, the wear is the one thing about these liners that's not up to par. With my oily monolids, I can get only five or six hours out of these before the colour starts to transfer – and that's with primer and powder eyeshadow underneath. (For my lids, that's about on par with other popular long-wearing liners, like MUFE's Aqua Eyes, but definitely less than what I get with a good liquid liner.) If a liner can't hold up for at least ten hours, I'll definitely think twice before wearing it – even if the product's this pretty!
I do have really picky lids, though, so don't write these off without giving them a go. I have actually read very positive reviews about the wear time of these, so I guess it's another "your mileage may vary" type of product!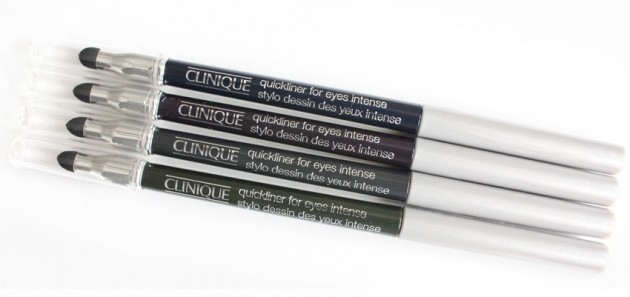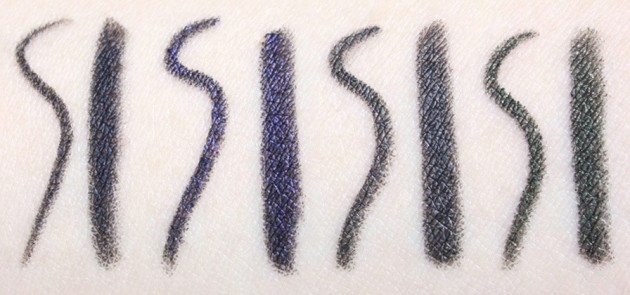 Swatched L-R: Clinique Intense Black, Intense Plum, Intense Charcoal, and Intense Ivy.
Indirect sunlight, no flash.
The shades: When Clinique said "Intense," they weren't joking around. The Quickliner for Eyes Intense liners come in six shades, four of which are featured here – and yeah, they're pretty damn intense. (Missing from this post are Intense Chocolate and Intense Midnight, a rich brown and a dark blue, respectively.)
Intense Black (01) is an opaque, cream-finish black with absolutely no shimmer. Intense Plum (02) is a playfully sparkly dark violet – tons of very finely milled violet and blue-violet shimmer interspersed in a creamy black base colour. Intense Charcoal (05) is a gorgeous gunmetal grey with incredibly refined silver and gold microshimmer – think "brushed metal" rather than "shimmery". Intense Ivy (07) is a dark olive green with gold shimmer – very, very pretty.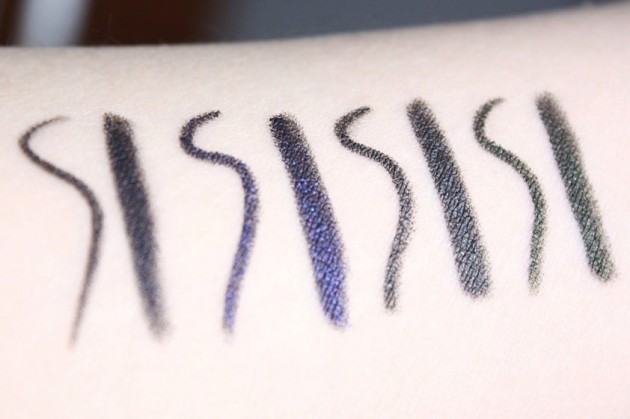 Clinique Quickliner for Eyes Intense in Intense Black, Intense Plum, Intense Charcoal, and Intense Ivy.
The packaging: Clinique has done a surprisingly clever (not surprising because it's Clinique; surprising because it's so perfect) job of packaging these liners, keeping the shape and function of the Quickliner Intense range, but making them different by colouring the tubes correspondingly.
What really gets me, though, is that they've factored in shimmer, too: like the shades inside, the packaging of Intense Black is completely shimmer-free, while Intense Charcoal's tube is slightly metallic, and both Intense Plum and Intense Ivy are wrapped in shimmering colour. Talk about attention to detail!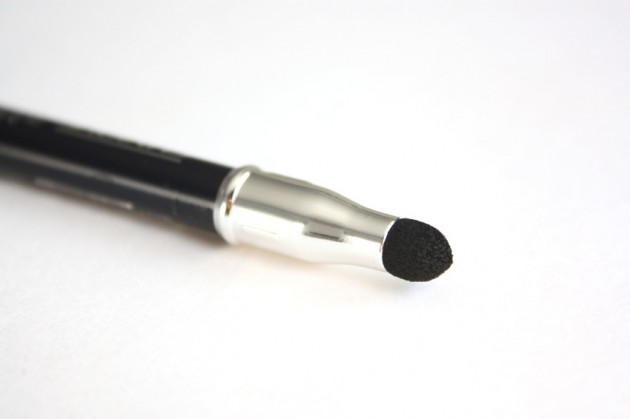 The verdict?
They're good, but… they're not quite there yet. Clinique's Quickliner for Eyes Intense formula is buttery, blendable, and (just as promised), really intense – but it doesn't have the wear that I'd want out of a liner.
I don't want to write it off completely, though, because I do find the formula to be quite unique. If you don't have difficult lids, these would be the perfect way to get the look (and creaminess) of a gel liner, but with the convenience of a pencil – something that I don't feel has been achieved by anyone yet.
The ingredients:
Cyclopentasiloxane, Iron Oxides (CI 77499), Synthetic Beeswax, Microcrystalline Wax, Mica, Trimethylsiloxysilicate, VP/Hexadecene Copolymer, Myristyl Alcohol, Tocopherol, Lecithin, Ascorbyl Palmitate, Glyceryl Stearate, Magnesium Silicate,Glyceryl Oleate, Citric Acid.
Aside: these remind me quite a bit of Annabelle's SmudgePaint Gel Eyeliners (which don't wear very well on my lids either, but have been very well-received by the blogging community). All of the super-soft intensity is there, but Clinique's version is much lighter and easier to throw into your handbag.
(That said, though, Annabelle's delivers a lot more product for the price, and would probably deliver a sharper, more easily controllable line, thanks to the different format.)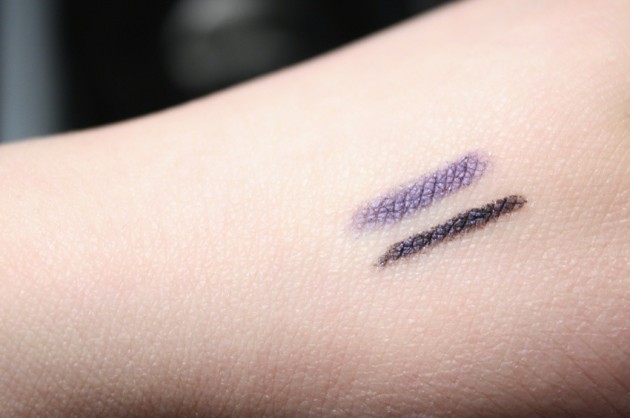 Top swatch: Urban Decay 24/7 Glide-On Eye Pencil in Ransom; 3 swipes needed for this intensity. 
Bottom swatch: Clinique Quickliner for Eyes Intense in Intense Plum; just one light swipe. 
Still upcoming…
Eye swatches of each shade (well, I say "eye swatches," but some of them are basic EOTDs and some have face photos, too. I'm not so great with the whole "consistency" thing.)
Comparisons with the original Quickliner formula – please hold all questions about how they differ until then! :)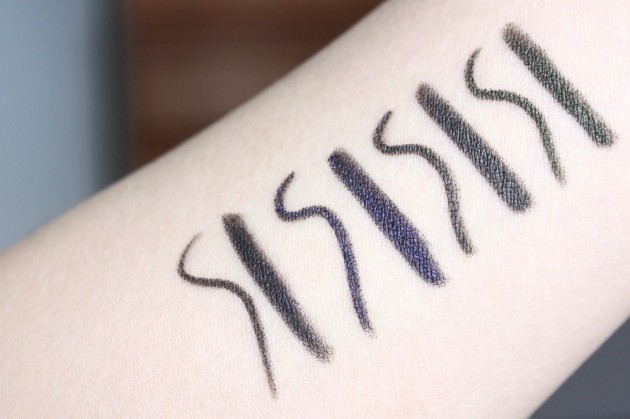 Clinique Quickliner for Eyes Intense in Intense Black, Intense Plum, Intense Charcoal, and Intense Ivy.